Alternative to Spray Bottle – Misting Fans, Aerosol Cans!
Alternatives to spray bottles include misting fans, trigger sprayers, pump sprayers, aerosol cans, and squeeze bottles.
Spray bottles are common tools for dispensing liquids in a mist form. However, there are several other alternatives that can be used depending on the specific needs and context.
Misting fans are great for dispensing water in hot climates or during physical activities.
Trigger sprayers and pump sprayers offer more control over the spray and are used for specific applications like gardening.
Aerosol cans are useful for dispensing substances that require a fine mist like hairsprays or deodorants.
Squeeze bottles, on the other hand, dispense liquids in a more controlled manner and are used for applications like sauces or condiments.
Misting fans are perfect for cooling off in hot weather or during physical exercise.
Trigger sprayers and pump sprayers offer a high level of control over the dispersion of the liquid.
Aerosol cans provide a fine mist which is ideal for products like hairspray and deodorant.
Squeeze bottles allow for controlled dispensing of liquids and are often used in culinary applications.
Choosing the right dispenser for your needs can greatly improve the user experience and effectiveness of the product.
For example, a misting fan would be the perfect choice for a day at the beach or a long outdoor run to cool off quickly.
On the other hand, if your objective is to cover a larger area with a liquid, such as in gardening, a pump sprayer would be more suitable.
Your choice should be guided by the specific requirements of your activity
Advantages of Using an Alternative to Spray Bottle
| Alternative | Description | Usage |
| --- | --- | --- |
| Pump Bottle | This operates by pushing down on the top to dispense a specific amount of liquid. | Can be used for oils, lotions, soaps, etc. |
| Squeeze Bottle | As the name implies, you squeeze these bottles to dispense the liquid. | Widely used for condiments or glue. |
| Roller Bottle | A rolling ball on top dispenses a small amount of liquid. | Often used for perfumes or essential oils. |
| Dropper Bottle | These bottles have a dropper incorporated in the lid for more precise delivery. | Commonly used for medicine or potent essential oils. |
| Pressurized Canister | These are sealed containers that release a mist when activated. | Typically used for aerosol products like hairspray or paint. |
| Foam Dispenser | These bottles mix liquid with air to produce foam. | Commonly used for hand soap or shaving cream. |
| Jar | These are open containers which require the user to scoop or pour out the liquid. | Often used for creams or ointments. |
Advantages of Using an Alternative to Spray Bottle
Key Takeaway
Different gardening tools, not just spray bottles, can be used for watering and nurturing plants.
Sprinkling cans and hose nozzles are great alternatives to spray bottles as they can cover more area and are easier to use.
Drip irrigation systems are a more sophisticated alternative, they consistently deliver water directly to the roots of a plant, conserving water.
Sponge or cloth watering is also an effective method for delicate plants, ensuring adequate water supply without overwhelming the plant.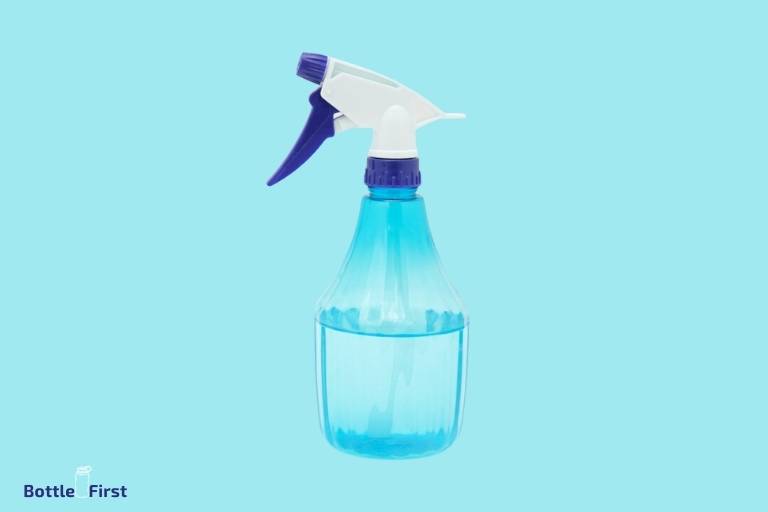 Five Benefits of Using an Alternative to Spray Bottle
Spray bottles are a common tool used by gardeners for watering plants, applying fertilizers, pesticides or for indoor cleaning activities. (Source: Gardeners.com)
Spray bottles might not be sufficient for larger gardens, therefore tools such as hose nozzles or sprinkling cans can be more efficient. (Source: Gardener's World Magazine)
A Drip irrigation system is a type of micro-irrigation system that has the potential to save water and nutrients by allowing water to drip slowly to the roots of plants, minimizing evaporation (Source: US Department of Agriculture)
Sponge or cloth watering is a gentle method used for delicate or new plants where direct water can damage them. It is done by soaking a sponge or cloth in water and gently applying it to the base of the plant. (Source: Plant Care Today)
There is also a technological alternative such as self-watering planters. These pots have a reservoir of water that slowly feeds moisture to the plant. They are excellent for people who travel or forget to water their plants regularly. (Source: Good Housekeeping)
1. Why Look For Alternatives To Spray Bottles
Environmental Impact Of Spray Bottles
Spray bottles are a common household item used for various purposes, from cleaning products to personal care products. However, it's important to consider the environmental impact they have.
Here are some key points to consider:
Plastic waste: Spray bottles are often made of plastic, which is a non-biodegradable material. This means that when disposed of incorrectly, they contribute to the ever-growing problem of plastic waste in landfills and oceans.
Energy consumption: The production and transportation of spray bottles require energy, primarily derived from fossil fuels. This energy consumption contributes to carbon emissions and climate change.
Chemical leaching: Some spray bottles are made with low-quality plastic, which can potentially leach harmful chemicals into the contents, especially when exposed to heat or sunlight. This poses health risks, which we'll discuss further in the next section.
Health Concerns With Chemical Sprays
In addition to their environmental impact, chemical sprays used in spray bottles can also have implications for our health.
Here are the key points to be aware of:
Inhalation risks: When we spray certain chemicals using a spray bottle, they become airborne particles that we can breathe in. This can lead to respiratory issues, particularly if the chemicals are toxic or irritants.
Skin contact: Some chemicals found in spray bottle products can be harmful to the skin, causing irritation, dryness, or even more severe reactions such as dermatitis. This is particularly relevant for individuals with sensitive skin or pre-existing skin conditions.
Allergies and sensitivities: For people with allergies or sensitivities to certain chemicals, using spray bottles with these substances can trigger allergic reactions or exacerbate existing health conditions.
Environmental impact (reminder): Chemicals in spray bottles not only affect human health but can also have detrimental effects on the environment, such as contaminating soil and water sources when not disposed of properly.
By understanding the potential environmental impact and health concerns associated with spray bottles, it's clear that alternative options are worth considering.
In the following sections, we'll explore a list of alternatives that can effectively replace spray bottles while minimizing these concerns.
2. Water Mist Options
Handheld Misting Fans
Handheld misting fans are a fantastic alternative to spray bottles when it comes to providing a refreshing mist of water.
These portable devices are convenient and easy to use, making them perfect for any situation where you need a quick cooldown.
Here are some key points about handheld misting fans:
Provides instant relief: With just a press of a button, handheld misting fans produce a fine mist of water that instantly cools you down on hot days. The mist evaporates quickly, leaving you feeling refreshed and revitalized.
Portable and lightweight: Handheld misting fans are compact and lightweight, making them the ideal companion for outdoor activities, such as camping, hiking, or sporting events. You can easily slip them into your bag or pocket for quick access to a cooling mist wherever you go.
Multiple speed settings: Most handheld misting fans offer adjustable speed settings, allowing you to control the intensity of the mist. Whether you need a gentle misting or a stronger burst of cooling, you can customize the fan according to your preference.
Rechargeable batteries: Many handheld misting fans come with rechargeable batteries, eliminating the need for constant battery replacements. Simply charge the fan before heading out, and you can enjoy hours of cooling mist without any interruptions.
Versatile usage: Handheld misting fans are not only limited to personal use. They can also be used to keep pets cool, mist plants, or even provide relief to sunburned skin. Their versatility makes them a handy tool to have in various situations.
Plant Mister Bottles
If you prefer a more natural option for misting, plant mister bottles are an excellent choice.
These bottles are specifically designed for spraying water onto plants, but they can also be repurposed as an alternative to spray bottles.
Here's what you need to know about plant mister bottles:
Gentle misting action: Plant mister bottles produce a fine mist that gently covers the foliage of your plants without causing any damage. This gentle misting action is also suitable for misting your face or body, providing a refreshing sensation during hot days.
Easy to refill: Plant mister bottles typically have a removable top or nozzle, making them easy to refill with water whenever needed. You can use them to mist your face, hair, or even add moisture to the air in dry environments.
Stylish designs: Plant mister bottles often come in aesthetically pleasing designs, adding a touch of elegance to your gardening routine or personal misting needs. You can find them in various materials, such as glass or durable plastic, to suit your preferences.
Compact and portable: Similar to handheld misting fans, plant mister bottles are compact and portable. You can conveniently carry them in your bag or keep them on your desk for a quick spritz of hydration whenever desired.
Eco-friendly option: Using plant mister bottles as an alternative to spray bottles helps reduce the consumption of single-use plastic. By opting for a reusable option, you contribute to a greener environment while still enjoying the benefits of a refreshing mist.
Consider these water mist alternatives as a convenient and eco-friendly replacement for traditional spray bottles.
Whether you choose a handheld misting fan or a plant mister bottle, you can enjoy the cooling and hydrating effects without any hassle.
Stay refreshed and beat the heat with these fantastic options!
3. Pump Action Bottles
Are you looking for an alternative to traditional spray bottles? Look no further than pump action bottles.
These versatile containers offer a convenient and efficient way to dispense various liquids without the need for a trigger mechanism.
Whether you're cleaning, gardening, or even cooking, pump action bottles can make your tasks much easier.
Here are some key points to know about pump action bottles:
Easy to use: Pump action bottles feature a simple mechanism that allows you to dispense the liquid with just a few pumps. This makes them ideal for anyone who prefers a more controlled application compared to traditional spray bottles.
Versatile: Pump action bottles can be used for a wide range of applications. From household cleaners and hair styling products to cooking oils and beauty products, these bottles offer flexibility in storing and dispensing different liquids.
Avoid clogging: Unlike trigger spray bottles, pump action bottles are less prone to clogging. The pump mechanism provides a consistent flow of liquid without the risk of nozzle blockage, ensuring a smooth and uninterrupted application.
Adjustable dosage: With pump action bottles, you have the ability to control the amount of liquid you dispense. Many bottles come with adjustable nozzles or a dial on the pump, allowing you to customize the dosage according to your needs. This helps eliminate wastage and ensures efficient use of the liquid.
Packaging options: Pump action bottles come in various sizes and materials, providing you with options to suit your specific requirements. Whether you need a small bottle for travel or a larger one for regular use, there's a pump action bottle that will meet your needs.
Longer shelf life: The pump mechanism in these bottles helps minimize exposure to air, reducing the risk of oxidation or spoilage of the contents. This makes pump action bottles a great choice for storing liquids that are sensitive to air or light.
Environmentally friendly: Pump action bottles are often made from recyclable materials such as plastic or glass. By opting for these bottles, you contribute to reducing waste and minimizing your environmental impact.
Pump action bottles offer a practical alternative to traditional spray bottles. Their ease of use, versatility, and adjustable dosage make them a valuable asset in various settings.
Whether you're looking for a new way to store and dispense your cleaning supplies or want to simplify your cooking routine, pump action bottles are definitely worth considering.
4. Atomizer Dispensers
Perfume Atomizer Bottles
Did you know that you can ditch your traditional spray bottles and opt for an atomizer dispenser instead?
Perfume atomizer bottles are a perfect alternative that allows for easy, on-the-go application of your favorite fragrance.
Here are some key points about perfume atomizer bottles:
They are compact and travel-friendly, making it convenient to carry your perfume in your purse or pocket.
The atomizer design ensures that you can apply your perfume with a fine mist, providing a more even distribution and a longer-lasting scent.
Refilling perfume atomizer bottles is a breeze. Simply remove the top, use a pipette or small funnel to transfer your fragrance, and you're good to go.
Using an atomizer dispenser also helps you control the amount of perfume you apply, preventing wastage and ensuring your fragrance lasts longer.
With a variety of stylish designs available, you can find a perfume atomizer bottle that matches your personal style.
Essential Oil Atomizer Bottles
If you prefer using essential oils, then an atomizer dispenser is also an excellent choice.
Essential oil atomizer bottles offer the same benefits as perfume atomizer bottles, but cater specifically to your aromatic oil needs.
Here's what you need to know about essential oil atomizer bottles:
These bottles are designed to handle the delicate nature of essential oils, ensuring the preservation of their therapeutic properties.
Atomizer dispensers allow for controlled application of essential oils, whether for personal use or in aromatherapy practices.
The fine mist produced by an atomizer ensures that essential oils are evenly dispersed, maximizing their effectiveness.
Refilling essential oil atomizer bottles can be done easily, making it convenient to switch between different oils or blends.
The portable nature of these atomizer bottles allows you to take your favorite essential oils with you wherever you go, promoting relaxation and well-being throughout the day.
By using perfume or essential oil atomizer bottles, you can say goodbye to bulky spray bottles and enjoy the benefits of portable, controlled application.
Whether you're a fragrance enthusiast or an essential oil lover, an atomizer dispenser is a stylish and practical alternative worth considering.
So why not make the switch and elevate your on-the-go fragrance experience today?
5. Sprinkle And Pour Alternatives
In addition to spray bottles, there are various sprinkle and pour alternatives that can come in handy for different tasks.
Here are a few options to consider:
Squeeze Bottles:
Squeeze bottles are versatile and can be used for various purposes. They come with a small nozzle that allows for controlled pouring or streaming of liquids.
These bottles are ideal for dispensing oils, dressings, condiments, or any liquid that needs to be applied or distributed in small quantities.
Squeeze bottles come in different sizes, making them suitable for both home and professional use.
They are easy to clean and refill, making them convenient for reuse.
Dropper Bottles:
Dropper bottles are great for precise dispensing of liquids. They are commonly used for essential oils, medicines, or any product that requires careful dosage.
These bottles typically have a rubber dropper attached to the cap, allowing for easy control over the amount of liquid being dispensed.
Dropper bottles are available in various sizes, allowing you to choose the one that suits your needs.
They are compact and portable, making them a convenient option for travel or on-the-go use.
Remember, choosing the right alternative to a spray bottle depends on the specific task at hand.
Whether you opt for squeeze bottles or dropper bottles, these alternatives provide practical ways to sprinkle or pour liquids with precision and ease.
FAQ About Alternative To Spray Bottle: List
Are There Any Alternatives To Spray Bottles?
Yes, there are several alternatives to spray bottles that you can use for various purposes.
What Can I Use Instead Of A Spray Bottle?
Instead of a spray bottle, you can use a misting pump, a squeeze bottle, or a reusable applicator.
Is A Misting Pump Better Than A Spray Bottle?
A misting pump can provide a finer and more controlled spray compared to a spray bottle.
Can I Use A Squeeze Bottle For Spraying?
Yes, a squeeze bottle can be used for spraying liquids, but it may not provide as fine a mist as a spray bottle.
How Can I Choose The Right Alternative To A Spray Bottle?
Consider the viscosity of the liquid, the size of the area to be sprayed, and the desired spray pattern when choosing an alternative to a spray bottle.
Conclusion
There are a myriad of alternative options to the traditional spray bottle that can provide convenience and efficiency in various situations.
From squeeze bottles and trigger sprayers to misters and foamers, each alternative offers unique benefits and versatility for different tasks at hand.
The eco-friendly options, such as refillable spray bottles and reusable misters, not only reduce waste but also promote sustainability.
Additionally, the innovative advancements in technology have resulted in the development of battery-operated sprayers and touchless dispensers, offering even more convenience and ease of use.
Regardless of your specific needs, there is undoubtedly an alternative to the spray bottle that can cater to your requirements.
So next time you find yourself in need of a spraying solution, consider exploring these alternatives and discover the one that suits your needs best.
Embrace change and enhance your spray bottle experience!