Are Deer Park Water Bottles Bpa Free? Yes!
Yes, Deer Park water bottles are BPA free.
Quick Overview
BPA, also known as Bisphenol A, is a chemical that is often found in certain types of plastics and can seep into food or beverages.
The company that manufactures Deer Park water, Nestlé Waters North America Inc., has stated that they do not use BPA in their plastic bottles.
Their bottles are made from PET (polyethylene terephthalate) and rPET (recycled polyethylene terephthalate), both of which are recognized as safe for food contact by the FDA.
Deer Park's commitment to providing consumers with safe and high-quality drinking water is demonstrated through their decision to use BPA-free materials for their packaging.
Their bottles are manufactured using PET and rPET, both proven to be safe for food contact by the FDA.
This ensures that the integrity and safety of the water inside isn't compromised by harmful chemicals such as Bisphenol A.
So, individuals who choose Deer Park can feel confident about their choice knowing they're consuming water housed in BPA-free containers.
Bpa Free Deer Park Water Bottles Chart
| Brand | Product | BPA-Free Status |
| --- | --- | --- |
| Deer Park | Spring Water | Yes |
| Deer Park | 100% Natural Spring Water | Yes |
| Deer Park | Sparkling Water | Yes |
| Deer Park | Distilled Water | Yes |
| Deer Park | Fluoride Enhanced Water | Yes |
Bpa Free Deer Park Water Bottles Chart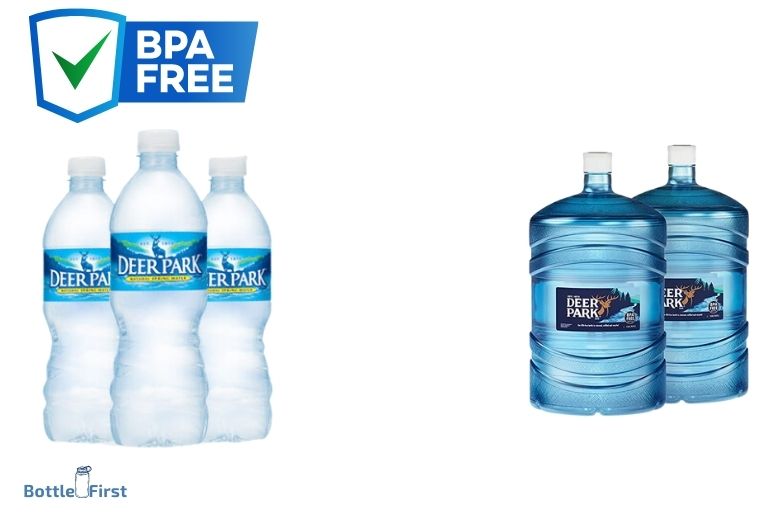 BPA-Free Deer Park Water Bottles Overview
Deer Park water bottles are made of PET (polyethylene terephthalate) plastic, which is a lightweight and recyclable material.
PET plastic is BPA-free, meaning that it does not contain Bisphenol-A, a potentially harmful chemical that has been found in some plastics.
BPA (Bisphenol-A) is a chemical that is used to make certain plastics and epoxy resins. It has been linked to potential health risks such as hormone disruption and various health conditions.
Deer Park's commitment to safety and sustainability ensures that their water bottles do not contain BPA, making them safe for use by consumers.
Deer Park Water Bottles: A Closer Look
Deer park bottled water has surged in popularity as people choose healthier options for their beverage choices. One question that arises frequently is whether deer park water bottles are bpa free or not.
We'll dive into the manufacturing process of deer park bottles, the materials used in them, and any claims made by deer park regarding bpa levels.
Deer Park bottles water from a natural spring in Pennsylvania, claiming it's 100% natural with no additives.
Also, the company underwent a five-step filtration process to remove any impurities, chlorine, and contaminants to ensure its consumers only receive crisp and refreshing water.
Manufacturing Process Of Deer Park Water Bottles
The deer park water bottles are manufactured using a highly automated process, including the bottle's molding, filling, labeling, and packaging.
It starts with preform production that goes through extensive heating, cooling, and stretching that results in creating a hollow bottle.
The bottles are then inspected to ensure their quality before being filled with pure water and labeled.
Materials Used In Deer Park Water Bottles
Deer park uses polyethylene terephthalate (pet) plastic as the material for their bottles, which is a safe polymer and widely used for food and beverage containers.
The pet bottles are lightweight and withstand high pressure without cracking, making them easy to transport and handle.
Additionally, pet is recyclable and can be used to produce other products such as soda bottles, carpets, and fleece.
Any Claims Made By Deer Park Regarding Bpa Levels
Deer Park asserts its plastic water bottles are BPA-free, a common compound in plastic products like food containers and water bottles.
However, studies show that bpa can seep out of the plastic and into the water or food contained within it. Bpa is known to be a harmful chemical that can cause hormonal imbalance, especially in children and pregnant women.
Thus, deer park's commitment to providing safe, bpa-free bottles assures its customers that they're making a healthy choice.
The company's commitment to using bpa-free materials ensures that its customers receive a healthy beverage option that meets modern safety standards.
Understanding Bpa-Free Labeling
Deer park water is a popular brand known for its high-quality water bottles. Concerns about the health effects of bisphenol a (bpa) in plastic water bottles have made people wonder if deer park water bottles are safe to use.
In this post, we will answer the question: are deer park water bottles bpa-free? And if so, what does that mean for consumers?
Explaining Bpa-Free Labeling Regulations And Standards
BPA is a chemical used in making certain plastics and resins, associated with health concerns like cancer, infertility, and developmental issues.
Because of its potential health risks, many companies have switched to using bpa-free plastics in their products.
The us food and drug administration (fda) regulates the use of bpa in food packaging and has set guidelines on bpa levels in plastic products.
If a product claims to be bpa-free, it must meet the fda's definition of having less than 0.5 parts per billion of bpa.
Differentiating Between Bpa-Free And Non-Detectable Bpa Levels
Important to remember: A "non-detectable BPA" label doesn't guarantee a product is truly BPA-free.
Non-detectable bpa levels mean that the bpa content is below detectable levels, not necessarily that there is no bpa at all.
Best practice: Seek products with BPA-free labeling for assurance they contain no BPA.
Highlighting The Significance Of Independent Testing For Bpa Levels
Independent testing labs are essential in verifying whether a product labeled as bpa-free is truly free of bpa.
Third-party testing confirms products meet rigorous standards and comply with FDA guidelines for BPA-free certification.
Companies may also conduct internal testing, but independent testing provides a higher level of credibility and assurance to consumers.
Deer park water bottles are bpa-free and meet the fda's definition of having less than 0. 5 parts per billion of bpa. Consumers can be assured that deer park water bottles do not contain any bpa, as they adhere to strict fda guidelines.
Deer Park also conducts independent testing to validate the accuracy of their BPA-free labeling, providing consumers with product safety assurance.
The Science Behind Bpa-Free Plastic Alternatives
In today's world, bpa, an industrial chemical, has gained a bad reputation for its potential to pose harmful health risks.
Even after research, there are still uncertainties regarding its safety. New bpa-free alternatives have been introduced, but are they completely safe?
Examining The Alternatives To Bpa, Like Pet And Tritan
Pet (polyethylene terephthalate), a plastic commonly used in water bottles, is considered bpa-free.
Pet has been approved by the fda for its safety in food packaging.
Pet is recyclable and has a low carbon footprint.
Tritan, another bpa-free alternative, is a copolyester producing a clear and tough plastic.
Tritan is widely used in baby bottles and sports water bottles.
Debunking The Myths Surrounding Certain Bpa-Free Plastics
The myth that all bpa-free plastics are safe is false.
Some bpa-free plastics may leach chemicals that can lead to negative health consequences similar to those of bpa.
Bpa-free plastic products will have a number in the recycling triangle, indicating the type of plastic used in the product.
Any plastic categorized with number 3, 6, or 7 should be avoided as these numbers aren't considered safe.
Weighing The Benefits And Drawbacks Of Various Bpa-Free Plastics
Pet is easily recyclable, widely used, and has a low cost. However, it may still leach chemicals in certain conditions.
Tritan is durable, dishwasher safe and bpa-free but is more expensive compared to other alternatives.
Evaluating bpa-free alternatives depends on what is important to the individual and their needs.
Although some bpa-free plastic options may be safer, research into their toxicity continues. It is essential to be mindful of product safety, choose products wisely, and recycle them appropriately.
Conclusion
This article highlights that Deer Park water bottles are BPA-free, crafted from safe and durable materials.
However, it is important to make an effort in reducing plastic waste by utilizing reusable bottles and other environmentally conscious options.
By doing so, we can all contribute towards a healthier planet for future generations. Thanks for reading, and stay hydrated!
FAQ On Bpa Free Deer Park Water Bottle
Is Deer Park Water Bpa-Free?
Yes, deer park water bottles are made without bpa, ensuring that the product is safe for use.
Are Deer Park Water Bottles Recyclable?
Yes, deer park water bottles are recyclable and can be collected with other plastic bottles for recycling.
Can I Reuse Deer Park Bottles?
It is not recommended to reuse deer park bottles as these are for one-time use only, with no guarantee of the bottle's durability.
What Is The Shelf Life Of Deer Park Water?
The recommended shelf life for deer park water is two years from the date of manufacture.
Where Can I Buy Deer Park Water Bottles?
Deer park water bottles can be purchased at most grocery stores, supermarkets, and online retailers.