Can a Water Bottle Explode in a Hot Car? Yes!
Yes, a water bottle can potentially explode in a hot car due to the heat causing the pressure inside the bottle to increase significantly.
When a car gets too hot, it can cause the water inside a plastic bottle to heat up. As the water heats, it expands, increasing the pressure within the bottle.
If this pressure becomes too high, it can cause the bottle to rupture or explode.
High heat can cause the water inside a bottle to expand and increase in pressure.
This increased pressure can lead to the bottle rupturing or exploding.
The explosion risk can be exacerbated if the bottle is made of a weaker plastic material.
Leaving a bottle in a hot car may also lead to chemical leaching from the plastic into the water.
In addition to the risks of an explosion, it's important to note that leaving a plastic water bottle in a hot car can also lead to health risks.
When subjected to high temperatures, certain types of plastics can leach harmful chemicals into the water, potentially making it unsafe to drink. Therefore, it's best to avoid leaving water bottles in hot cars.
Exploding Water Bottles In Hot Cars
| Potential Factors | Explanation |
| --- | --- |
| Temperature Rise | When the temperature rises, the water inside the bottle can heat and start to expand. This can potentially cause the bottle to burst if the pressure becomes too great. |
| Bottle Material | The type of material the bottle is made from can impact its ability to withstand heat. Plastic bottles can soften and deform under high temperatures, which can also lead to a burst. |
| Bottle Sealing | If the bottle is tightly sealed, the expanding air and water inside have nowhere to go, increasing pressure and the likelihood of an explosion. |
| Amount of Water | A completely full or completely empty bottle is more likely to explode than one that's partially full. This is due to the relative amounts of water and air inside, and how much they expand in heat. |
| Duration of Exposure | The longer a bottle is left in a hot car, the more likely it is to explode. Heat exposure over time causes more expansion and pressure build-up. |
Exploding Water Bottles In Hot Cars
Key Takeaway
It's been proven that a water bottle can potentially explode in a hot car due to heat exposure.
The explosion is not necessarily triggered by heat alone, but the combination of heat, the water bottle's material, and pressure changes.
Preventing a potential explosion scenario needs extra attention; do not leave water bottles inside the car for a prolonged period in hot weather.
An exploded water bottle in a car might cause minor damages and also leave the interiors damp and foul-smelling.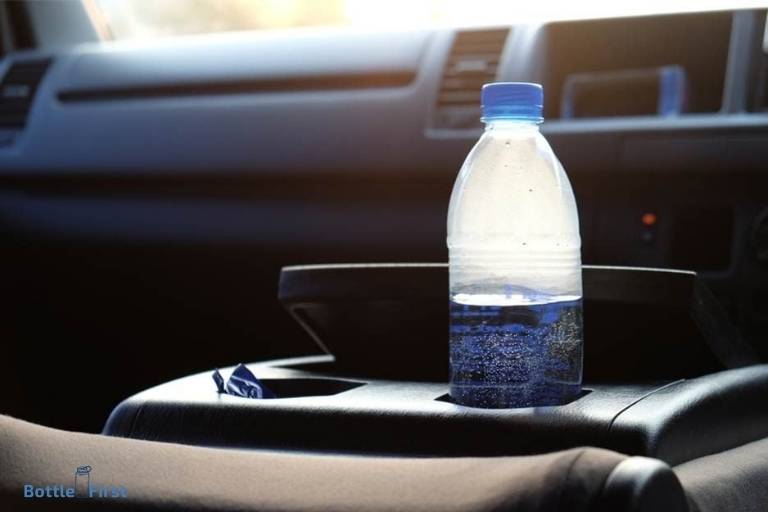 Five Facts About Exploding Water Bottles in Hot Cars
Unlike popular myth, it's rare for a water bottle to explode in a hot car. Exploding generally requires a perfect combination of the right conditions (source: Adcouncil.org).
Plastic water bottles are often made of PET (polyethylene terephthalate). PET can withstand temperatures up to 70°C (158°F). In a closed car, the temperature can rise this high," making it a slight potential for explosion (source: ScienceDaily).
It's not just the heat alone that can cause a bottle to explode. There's always the risk that changes in both internal and external pressures could lead to an explosion, especially if the bottle is perfectly sealed and filled right to the brim (source: Physical Review Letters).
The explosion might occur due to the transformation of the liquid state to the gaseous state if the temperature exceeds the boiling point and enough pressure is created. However, these are extreme circumstances not regularly replicated in daily scenarios (source: American Chemistry Council).
If a water bottle explodes inside the car, it might cause minor damages such as damping of car seats, unpleasant odour, etc. Cleaning the mess could be quite a task (source: CarDetailingExpert.com).
The Science Behind It
Have you ever wondered whether a water bottle can explode in a hot car? Understanding the science behind it can help us answer this question.
Let's delve into the relationship between temperature, pressure, and sunlight to gain a better understanding of why this phenomenon occurs.
How Does Temperature Affect A Water Bottle?
When a water bottle is exposed to high temperatures, several factors come into play that can potentially cause it to explode.
Here's how temperature affects a water bottle:
Expansion: Heat causes the molecules in the water to move faster, leading to an increase in volume. As the water expands, it puts pressure on the container.
Weakened structure: Repeated exposure to elevated temperatures can weaken the structure of the bottle, making it more susceptible to deformation or rupture.
Why Does Pressure Build Up In A Hot Car?
Pressure buildup is a significant factor in determining whether a water bottle will explode in a hot car.
Here's why pressure can build up in a hot car:
Ideal gas law: The ideal gas law states that pressure and temperature are directly proportional. Therefore, when the temperature inside a car rises, the pressure inside the water bottle also increases.
Sealed environment: Water bottles are typically sealed to prevent spillage. In a closed and confined space, the pressure can accumulate without any means of escape.
The Role Of Sunlight In Increasing The Temperature Inside A Car
Sunlight plays a vital role in raising the temperature inside a car, which can accelerate the process of a water bottle exploding.
Here's how sunlight contributes to the rise in temperature:
Greenhouse effect: Sunlight enters the car through the windows, and the interior surfaces absorb and radiate heat. This creates a greenhouse effect, trapping heat inside the vehicle.
Dark materials: Dark-colored seats, dashboard, and upholstery can absorb more sunlight, leading to higher temperatures.
Lack of ventilation: Cars left standing in direct sunlight with the windows closed can experience a significant rise in temperature since there is no ventilation to dissipate the heat.
Understanding these scientific principles can help us grasp why a water bottle may explode in a hot car.
It is crucial to be mindful of the potential risks and take necessary precautions to ensure our safety, such as avoiding leaving water bottles in a hot car.
Stay informed and make responsible choices to prevent accidents and protect yourself and your belongings.
The Risks Of Leaving Water Bottles In A Hot Car
Potential Dangers Of Water Bottle Explosions
Water bottle explosions can pose serious risks and potential dangers, especially when left in a hot car.
It's essential to understand the hazards associated with these explosions to prevent any harm to yourself and your surroundings.
Here are some key points to keep in mind:
Increased pressure: When a water bottle is exposed to high temperatures, the air inside expands, causing an increase in pressure. If the pressure builds up to an extreme level, the bottle can burst open, resulting in an explosion.
Flying debris: The force of a water bottle explosion can cause fragments of plastic or glass to fly in different directions. These projectiles can cause injuries to anyone in the vicinity, including you and your passengers.
Shattering windows: In severe cases, the explosion of a water bottle can be forceful enough to shatter car windows. This not only poses a threat to the occupants but also presents significant safety concerns while driving.
It is crucial to be aware of the potential dangers and take necessary precautions to avoid water bottle explosions in hot cars.
How Explosions Can Cause Damage To The Car And Surroundings
Water bottle explosions in a hot car can lead to significant damage not only to the vehicle but also to the surrounding environment.
Here are a few points to consider:
Interior damage: The force of the explosion can cause severe damage to the car's interior, such as cracked dashboards, upholstery tears, and broken storage compartments. Repairing or replacing these damages can be costly and time-consuming.
Paint damage: The explosion of a water bottle can eject liquid and debris, scratching or damaging the car's exterior paint. This may result in unsightly marks or even lead to rusting if not addressed promptly.
Environmental impact: Exploded water bottles may contribute to littering and pollution, especially if they contain plastic. It is essential to be mindful of the potential harm to the environment when leaving water bottles in a hot car.
By understanding the possible damage caused by water bottle explosions, you can take appropriate actions to ensure the safety of your vehicle and the surrounding area.
Health Risks Associated With Exploding Water Bottles
Water bottle explosions can also pose health risks due to the release of chemicals, heat, or flying debris.
Here are a few points to consider:
Chemical exposure: Some water bottles, especially those made of plastic, may contain harmful chemicals. When these bottles explode, chemicals can get released, potentially exposing individuals to toxic substances that could harm the skin, eyes, or respiratory system.
Burns: The liquid inside a water bottle can become scalding hot when subjected to high temperatures. If the bottle explodes, this hot liquid can cause severe burns to anyone in its proximity.
Flying debris injuries: As mentioned before, fragments of plastic or glass can be propelled during a water bottle explosion. These projectiles can cause cuts, bruises, or even more severe injuries to the occupants of the car.
To protect yourself and others from these health risks, it is crucial to safely dispose of water bottles and avoid leaving them in hot cars.
Factors That Contribute To Water Bottle Explosions
Type Of Water Bottle Materials And Their Reaction To Heat:
Plastic water bottles:
Although most plastic water bottles are designed to withstand some level of heat, they can still pose a risk when exposed to high temperatures.
Certain types of plastics, such as polyethylene terephthalate (pet) and high-density polyethylene (hdpe), are more resistant to heat and less likely to explode.
However, bottles made from low-density polyethylene (ldpe) or polycarbonate (pc) may be more prone to melting, deforming, or even bursting when exposed to extreme heat.
Metal water bottles:
Stainless steel or aluminum water bottles are generally safe to use in hot cars.
These materials have a higher tolerance for heat and are less likely to explode or release harmful substances when exposed to high temperatures.
However, it's important to note that metal bottles can still become extremely hot to the touch in direct sunlight, so caution should be exercised before handling them.
The Impact Of The Water Bottle'S Seal And Integrity:
Proper sealing:
The integrity of the water bottle's seal plays a crucial role in preventing explosions. If the bottle's seal is compromised or damaged, it can lead to a buildup of pressure inside the bottle.
When exposed to heat, the pressure can increase, potentially causing the bottle to explode.
Aging and wear:
Over time, water bottle seals can degrade, especially if the bottles are exposed to constant fluctuations in temperature or physical stress.
This can weaken the seal and increase the risk of an explosion when exposed to heat.
Regularly inspecting water bottle seals and replacing them if necessary is essential to minimize the chances of an accident.
How The Size And Shape Of The Water Bottle Influence Explosion Risk:
Volume and pressure buildup: The size of the water bottle directly affects the volume of water inside it. A larger volume of water means a higher potential for pressure buildup when exposed to heat. Smaller bottles generally have less water inside, reducing the risk of an explosion due to pressure buildup.
Shape and structural integrity: The shape and design of the water bottle can also impact its resistance to heat and pressure. Bottles with thinner or weaker walls may be more prone to bulging, deforming, or rupturing when exposed to high temperatures. Bottles with a sturdy and durable design are generally safer to use in hot cars.
Several factors contribute to the risk of water bottle explosions in hot cars. The type of material used, the condition of the bottle's seal, and the size and shape of the bottle all play a significant role.
Understanding these factors can help individuals make informed decisions when choosing and using water bottles in hot environments.
Preventing Water Bottle Explosions In Hot Cars
Leaving a water bottle in a hot car may seem like a harmless act, but did you know that it can actually lead to an explosion? Yes, it's true!
The combination of high temperatures and pressure build-up inside the bottle can cause it to burst, leading to a messy and potentially dangerous situation.
To avoid such mishaps, it's important to take preventive measures when it comes to storing water bottles in vehicles.
Let's explore some best practices, alternative hydration options, and ways to create a cooler environment in a hot car.
Best Practices For Storing Water Bottles In Vehicles:
Never leave plastic water bottles in direct sunlight or near heat sources such as the dashboard or back seat. Heat accelerates the release of harmful chemicals from the plastic, increasing the risk of explosion.
Opt for insulated stainless steel or glass water bottles, as they are less likely to explode in high temperatures compared to their plastic counterparts. These materials help maintain the liquid's temperature without compromising its integrity.
Whenever possible, store water bottles in the car's trunk or a shaded area to limit exposure to extreme heat. This can help minimize the risk of explosion and keep your water cool and refreshing.
Consider utilizing a cooler bag or insulated container to store water bottles. These accessories provide an additional layer of insulation, helping to keep the bottles at a moderate temperature even in the hottest conditions.
Alternative Hydration Options To Consider:
Instead of relying solely on water bottles, try incorporating other hydrating options into your routine. Carry reusable water bottles and refill them from public water sources or water fountains throughout the day.
Bring along fruits and vegetables with high water content, such as watermelon, cucumbers, or oranges, as a refreshing and nutritious alternative to staying hydrated on-the-go.
Invest in a portable water filter or purification system that allows you to drink from natural sources such as rivers or lakes. This can be a great option for outdoor enthusiasts or individuals who frequently find themselves in areas without access to clean drinking water.
How To Create A Cooler Environment In A Hot Car:
Park your car in shaded areas whenever possible. Trees, buildings, or covered parking spaces can help shield your vehicle from direct sunlight, reducing the overall temperature inside.
Consider using sunshades or window visors to limit the amount of sunlight entering your car. This simple accessory can make a significant difference in maintaining a cooler interior.
Crack open the windows slightly to encourage air circulation. Be cautious of security risks and make sure that the opening is small enough to prevent unwanted access.
Utilize portable fans or ventilation devices specifically designed for vehicles. These accessories can help circulate the air and create a more comfortable environment inside the car, especially during hot summer days.
By following these best practices, exploring alternative hydration options, and creating a cooler environment in your hot car, you can ensure the safety of your water bottles and enjoy refreshing drinks wherever your journey takes you.
Stay hydrated and stay safe!
What To Do If You Encounter A Water Bottle Explosion
Steps To Take If A Water Bottle Explodes In Your Car:
If you ever encounter a water bottle explosion in your car, it's essential to know the steps to take in order to minimize damage and ensure your safety.
Here are the actions you should follow if this situation occurs:
Stay calm: It's important to remain calm and composed when dealing with a water bottle explosion. Panicking may lead to unnecessary injuries or further damage.
Move away from the blast zone: Slowly move away from the area where the water bottle exploded. Ensure you are out of harm's way, especially if any broken pieces or hot liquid are present.
Open windows and allow air circulation: To let the heat and any fumes dissipate, roll down the windows of your car. This will help with ventilation and prevent the accumulation of gas or smoke.
Park in a safe area: If it is safe to do so, find a suitable location to pull over your vehicle. This will prevent any distractions while you handle the aftermath of the explosion.
Assess the damage: After you have taken the necessary safety precautions, carefully inspect your car for any damage caused by the explosion. Look for signs of melted plastic, scorched surfaces, or any other visible effects.
Check for injuries: Next, check yourself and your passengers for any injuries that may have occurred due to the water bottle explosion. Make sure everyone is safe and assist with any necessary first aid if needed.
Contact emergency services if necessary: Depending on the severity of the situation, you may need to call emergency services for assistance. If anyone is injured or if there are significant damages to your vehicle, do not hesitate to contact the appropriate authorities.
Safety Precautions To Follow To Minimize Damage And Injury:
Taking the right safety precautions in a water bottle explosion situation can make a significant difference in minimizing both damage to your car and potential injuries.
Here are some crucial steps to follow:
Wear protective gear: If you have access to protective gloves or eyewear, put them on before handling any debris or cleaning up the area. This can help prevent any accidental injuries or exposure to harmful substances.
Keep children and pets away: Ensure that children and pets are safely out of the car during and after a water bottle explosion. This minimizes the risk of them getting hurt or interfering with your ability to handle the situation.
Avoid touching hot surfaces: After an explosion, surfaces within your car may be hot or dangerous to touch. Refrain from making physical contact until it is safe to do so.
Do not smoke or use open flames: Until the area is thoroughly cleaned and inspected, refrain from smoking or using any open flames near the affected area. This will reduce the risk of igniting any residual fumes.
Handle debris carefully: When removing debris from inside your car, exercise caution to avoid injury. Use appropriate tools or gloves to handle any sharp or broken objects.
Ventilate the car: After handling the initial situation, open all the windows and allow fresh air to circulate inside your car. This will aid in removing any lingering fumes or gases.
How To Clean Up And Dispose Of The Exploded Water Bottle Properly:
Cleaning up and disposing of the remains of an exploded water bottle is crucial to ensure the safety and cleanliness of your car.
Here's what you can do:
Wear protective gloves: Before starting the cleanup process, put on a pair of rubber or disposable gloves to avoid direct contact with any potentially harmful substances.
Remove larger debris: Begin by carefully removing any larger pieces of the exploded water bottle from your car. Dispose of them in a secure trash bag or container.
Use a damp cloth: Dampen a cloth or sponge with water or a mild cleaning solution and gently wipe off any residue left behind by the explosion. Take care not to spread the residue around.
Vacuum or sweep: Use a vacuum cleaner or a handheld brush to thoroughly clean the affected areas, ensuring you remove any loose pieces or particles.
Dispose of waste properly: Once the cleanup is complete, place any contaminated materials, such as the gloves or cleaning cloth, into a sealed bag before disposing of them. Follow your local waste disposal guidelines for discarding any hazardous waste.
Air out your car: After cleaning, leave your car's windows open for some time to allow fresh air to circulate and dissipate any remaining odors.
Remember, it's always a good idea to consult a professional if you are uncertain about any aspects of cleaning up or handling the aftermath of a water bottle explosion in your car.
FAQ About Can A Water Bottle Explode In A Hot Car
Can A Water Bottle Explode In A Hot Car?
Yes, a water bottle can explode in a hot car due to the pressure build-up from expanding water vapor.
What Happens When A Water Bottle Is Left In A Hot Car?
When a water bottle is left in a hot car, the heat can cause the pressure inside to increase, resulting in possible explosion.
What Temperature Can Cause A Water Bottle To Explode?
A water bottle can explode when exposed to high temperatures, typically above 120 degrees fahrenheit.
How Long Does It Take For A Water Bottle To Explode In A Hot Car?
The time it takes for a water bottle to explode in a hot car varies depending on factors such as temperature and initial pressure, but it can happen within a few hours.
How Can I Prevent A Water Bottle From Exploding In A Hot Car?
To prevent a water bottle from exploding in a hot car, avoid leaving it exposed to high temperatures by either taking it with you or storing it in a cooler bag.
Conclusion
To sum up, it is important to be cautious when leaving a water bottle in a hot car.
While the risk of explosion is relatively low, the conditions inside a car can cause the temperature inside a water bottle to rise, leading to potential leaks or even bursting.
The plastic used in water bottles is not designed to withstand extreme heat, which can compromise the integrity of the bottle.
To avoid any mishaps, it is advisable to remove all plastic bottles from the car before leaving it parked in direct sunlight.
It is also important to stay hydrated, so consider using insulated stainless-steel water bottles instead, as they are better equipped to handle high temperatures.
By taking these precautions, you can enjoy a refreshing drink without worry, even on a scorching hot day.
Stay safe and keep cool!