Can I Put Gas in a Water Bottle? No!
No, it is not safe or advisable to put gas in a water bottle.
This action can lead to dangerous consequences, including the risk of combustion, harmful fumes, and potential damage to your vehicle's engine.
Gasoline is a highly flammable liquid that should only be stored in appropriate containers made for this specific purpose.
Water bottles are not designed to contain such substances and could easily leak, break, or cause the gasoline to deteriorate.
Furthermore, inhaling the fumes from gasoline stored in a water bottle can be harmful to your health.
Lastly, using a water bottle to pour gasoline into a fuel tank can lead to spills, which may damage the vehicle's engine or cause a fire.
Storing gasoline in a water bottle can lead to combustion.
Gasoline fumes from water bottles can be harmful when inhaled.
Spillage can occur when pouring gasoline from a water bottle, leading to potential damage to the vehicle's engine.
It is always safer and more advisable to store gasoline in approved containers designed for this purpose.
Always prioritize safety when handling highly flammable substances like gasoline. Never resort to makeshift containers such as water bottles, as this can lead to dangerous situations.
Invest in approved gasoline containers that are designed to safely store and dispense gasoline.
These containers come with features like flame arrestors and pressure relief valves that make them safe for gasoline storage and usage.
Safety Considerations: Putting Gas in a Water Bottle
| Safety Considerations | Description |
| --- | --- |
| Material Reaction | Gasoline can degrade certain types of plastic, causing the bottle to leak or burst. |
| Pressure Buildup | The pressure can build up in a sealed bottle, causing it to explode. |
| Evaporation | Gasoline can evaporate through the plastic, creating dangerous fumes. |
| Ingestion Risk | If mistaken for water, it can lead to accidental ingestion which is hazardous to health. |
| Flammability | Gasoline is highly flammable and a potential fire hazard. |
| Legal Considerations | It's illegal in many areas to store gasoline in unapproved containers. |
| Environmental Impact | If leaked, it can contaminate the environment and is harmful to wildlife. |
| Disposal Issues | Disposing of a water bottle filled with gasoline can be problematic and dangerous. |
| Vapors | Gasoline vapors are harmful to inhale and can cause health problems. |
Safety Considerations: Putting Gas in a Water Bottle
Key Takeaway
Storing gasoline in a water bottle is dangerous and can lead to harmful situations.
Storing gas in unapproved containers is also illegal in certain places, and you can face heavy fines or even imprisonment.
Plastics like those used in water bottles may not withstand the corrosive nature of gasoline, potentially leading to leaks.
To store gasoline properly and safely, you should use an approved, sturdy container designed specifically for gasoline storage.
Mixing gas and drinking water containers can cause confusion that may lead to accidental consumption, which is extremely harmful and can be fatal.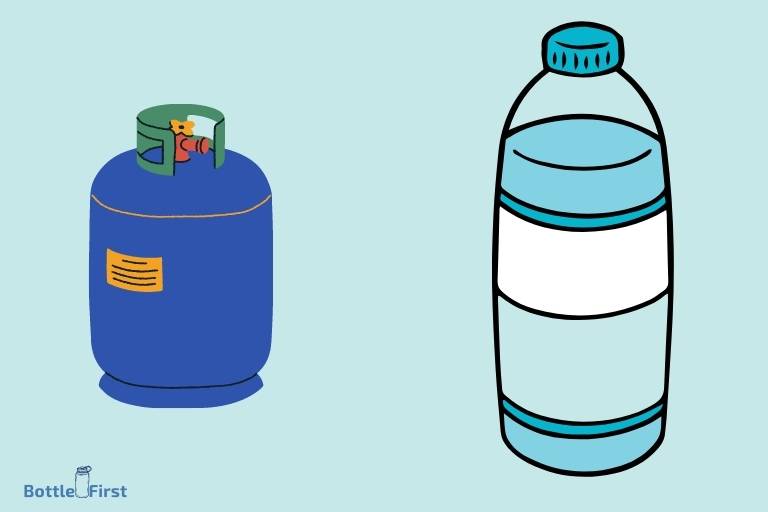 Five Interesting Facts About Gas in a Water Bottle
Storing gasoline in plastic water bottles can prove to be highly dangerous. Gasoline is a very volatile substance, it reacts negatively to heat as well as the materials typically used to manufacture water bottles. The pressure build up from the vapor can cause the bottle to explode. (source: State Fire Marshal Florida)
Some local authorities have made it illegal to store gasoline in unapproved vessels such as water bottles, and you may be penalized for doing so. (source: National Fire Protection Association)
Gasoline is a highly corrosive liquid. Its long term storage in containers, such as plastic water bottles, that are not designed to resist this corrosiveness, may lead to the bottle leak, increasing the risk of fire and explosion. (source: Environmental Protection Agency)
Approved gasoline containers are designed with special features to ensure safety. These may include flame arrestors, vapor-tight caps, and corrosion-resistant materials, which a plastic water bottle would lack. (source: National Fire Protection Association)
Lastly, using water bottles to store gasoline can lead to mix-ups that may prove fatal. Accidental ingestion of gasoline can cause serious health issues, such as damage to your lungs, throat, and stomach, and can be fatal in large amounts. (source: U.S. National Library of Medicine's MedlinePlus)
Dangers And Risks Of Putting Gas In A Water Bottle
Fire Hazard And Potential Explosions
Gasoline is highly flammable and can ignite even with the slightest spark or heat source.
When stored in a water bottle, gasoline can easily come into contact with an open flame or heat, leading to a fire or explosion.
The plastic material of the water bottle does not provide adequate protection against the highly volatile nature of gasoline.
Releases Toxic Fumes And Harmful Chemicals
Gasoline emits toxic fumes that can pose serious health risks if inhaled.
Storing gasoline in a water bottle can lead to the release of these harmful gases into the immediate surroundings.
Prolonged exposure to gasoline fumes can cause respiratory issues, dizziness, headaches, and even organ damage.
Risk Of Chemical Burns And Skin Irritation
Gasoline is a corrosive substance that can cause chemical burns on the skin upon contact.
By storing gasoline in a water bottle, there is a higher chance of accidental spills or leaks, which can lead to direct exposure to the skin.
Contact with gasoline can result in skin irritation, redness, and even severe burns.
Contamination Of Water Sources And Environmental Damage
Gasoline is not biodegradable and can contaminate water sources if improperly disposed of or spilled.
Storing gasoline in water bottles increases the risk of accidental spills, leading to the pollution of nearby water sources.
This contamination can have detrimental effects on aquatic life and the overall environment.
Why Some People Consider Putting Gas In A Water Bottle
Emergency Situations And Lack Of Alternative Containers
In emergency situations, when a suitable container for gasoline is not readily available, people may resort to using a water bottle as a temporary solution.
Lack of access to gas stations or convenience stores during unexpected roadside emergencies might compel individuals to use whatever containers they have on hand, such as water bottles.
In desperate circumstances, where obtaining a proper gasoline container is not feasible, people might try to repurpose a water bottle as a means to transport fuel.
Convenience And Portability
Water bottles are commonly found in many households or easily available when compared to specialized gasoline containers.
Carrying a water bottle filled with gasoline could be more manageable and convenient, especially for short distances or instances where a small amount of fuel is needed.
The compact nature of a water bottle allows for portability, making it a potential alternative for those who prioritize ease-of-use.
Ignorance About The Dangers And Risks
Some individuals may not be fully aware of the hazardous nature of gasoline or the potential risks associated with storing it in inappropriate containers.
Lack of knowledge regarding the danger of fuel vapors or the flammability of gasoline could lead people to underestimate the risks involved in using a water bottle as a fuel container.
Ignorance about proper storage and handling procedures may contribute to individuals using water bottles despite the potential dangers.
Safe Storage And Transportation Of Gasoline
Choosing The Right Container For Gasoline
Use only approved containers: Make sure the container you choose is approved by the appropriate regulatory authorities and compliant with local regulations. Look for containers that are specifically labeled for gasoline storage.
Opt for a non-breakable material: Gasoline can react with certain materials, so it's important to select a container made of non-breakable materials such as metal or high-density polyethylene (hdpe) plastic. These materials are generally resistant to gasoline's corrosive effects.
Check for proper seals and closures: Ensure that the container has a tight-fitting cap or lid to prevent leaks and evaporation of gasoline vapors.
Avoid reusing food or beverage containers: Never use containers that previously held food or beverages to store gasoline. These containers may not be designed to handle the flammable nature of gasoline and could cause leaks or accidents.
Proper Labeling And Identification
Clearly label the container: Use a permanent marker or label maker to clearly indicate that the container holds gasoline. This will help prevent accidental misuse.
Include important information: Label the container with the date of purchase and the type of gasoline inside (regular, premium, etc. ).
Keep containers away from ignition sources: Store gasoline containers in a separate, well-ventilated area away from potential ignition sources, such as heat, flames, or electrical equipment.
Storing Gasoline In A Well-Ventilated Area
Choose a dedicated storage location: Set aside a designated area, such as a garage or shed, solely for the storage of gasoline. This will help minimize the risk of accidental exposure and ensure proper ventilation.
Keep away from living spaces: Avoid storing gasoline in living areas, basements, or other confined spaces, as this can increase the potential hazards.
Ensure proper air circulation: Make sure the storage area has sufficient air circulation to prevent the accumulation of gasoline fumes. Install vents if necessary, or leave a window open for ventilation.
Avoid extreme temperatures: Gasoline should be stored in an area where temperatures remain within the recommended range. High temperatures can lead to increased pressure in the container and a higher risk of leaks or explosions.
Safe Transportation Guidelines
Use approved containers: Always transport gasoline in approved containers that are specifically designed for transportation. These containers should be securely sealed and properly labeled.
Keep containers upright and stable: During transportation, make sure the gasoline containers are kept upright to prevent leakage. Secure them tightly to prevent any movement or tipping over.
Avoid transportation in passenger compartments: Gasoline should never be transported inside the passenger compartment of a vehicle. Instead, place it in the trunk or a well-ventilated, separate storage area.
Take the shortest route: When transporting gasoline, choose the shortest and safest route to minimize travel time and exposure to potential risks.
Never smoke or use open flames: It is crucial to refrain from smoking or using open flames when transporting gasoline. Even small sparks can ignite gasoline vapors and lead to a dangerous situation.
Alternatives To Using A Water Bottle For Gasoline
Approved Fuel Cans Or Jerry Cans
Sturdy construction: Fuel cans are made from durable materials, such as high-density polyethylene (hdpe), which is resistant to corrosion and can handle the harsh nature of gasoline.
Spill-proof design: These containers usually come with a spout or nozzle that allows for controlled pouring, minimizing the chances of spills or overflows.
Safety features: Fuel cans often have built-in safety features like child-resistant caps and pressure relief valves to prevent accidental openings or excessive pressure buildup.
Capacity options: You can find fuel cans in various sizes to fit your needs, ranging from small 1-gallon cans to larger 5-gallon options.
Portable Gas Tanks
Secure storage: Portable gas tanks come with secure closures that prevent leakage during transportation or storage. Their sturdy construction ensures they can withstand rough handling.
Convenient carrying handles: Many portable gas tanks feature ergonomic handles for easy maneuverability, making them effortless to transport from one location to another.
Spout options: These tanks usually have a flexible, detachable spout for easy pouring into your equipment's fuel tank. Some models even come with a squeeze-bulb primer for quick fueling.
Capacity choices: Portable gas tanks are available in different capacities, typically ranging from 1 to 6 gallons, providing flexibility based on your specific needs.
Temporary Fuel Storage Solutions
Approved fuel bags: Fuel bags are an option when you need to transport gasoline in a flexible container. These bags are made from durable materials and designed to be puncture-resistant and leakproof.
Fuel bladders: Fuel bladders are collapsible, heavy-duty containers that can store larger quantities of gasoline. They are often used in marine, military, or off-road applications, providing a portable and flexible fuel storage solution.
Steel or aluminum cans: Depending on local regulations, steel or aluminum cans might be allowed for temporary fuel storage. These containers provide a strong, secure option for storing gasoline safely.
FAQ About Can I Put Gas In A Water Bottle
Can I put a gas in a water bottle?
No, you should never put gas in a water bottle. Gasoline is flammable and highly combustible and should only be stored in an appropriate gasoline container.
What happens if I put gas in a water bottle?
Putting gas in a water bottle can be extremely dangerous as it is a highly flammable and combustible liquid.
It could cause an explosion or fire if exposed to open flames or extreme heat.
Is it safe to store gas in a water bottle?
No, it is not safe to store gas in a water bottle. Gasoline is flammable and highly combustible and should only be stored in an appropriate gasoline container.
How should I store gasoline?
Gasoline should only be stored in an appropriate metal or plastic gasoline container with a lid that is securely fastened to the container.
The container should always remain upright and should not be stored near any form of ignition source.
Conclusion