Can You Bring a Water Bottle to Valley Fair? Yes!
Yes, guests are allowed to bring their own factory-sealed water bottles to Valley Fair. Visitors can also utilize the multiple hydration stations located throughout the park for refills, ensuring they stay hydrated all day long.
Valley Fair's policy permits guests to bring personal water bottles provided they are factory-sealed upon entry.
The park understands the importance of hydration, especially on warm days filled with excitement and activity. For those who prefer, there are also options available for purchasing beverages inside the park.
Personal water bottles must be factory-sealed at entry
Hydration stations available for refills
Beverages available for purchase within the park
Keep cool and hydrated at Valley Fair by packing a factory-sealed water bottle or refilling at one of the park's convenient hydration stations, ensuring a day of fun without the worry of dehydration.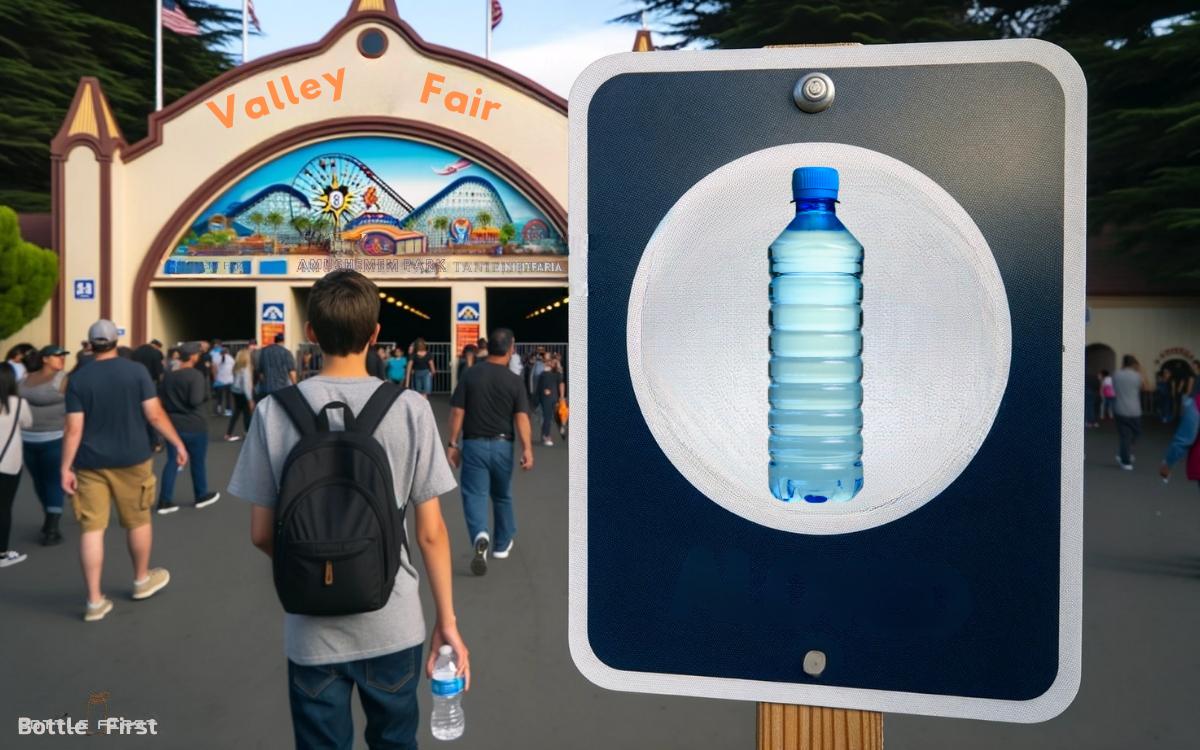 Key Takeaway
Guests are allowed to bring factory-sealed water bottles to Valley Fair, but glass containers are not permitted.
Valley Fair promotes sustainability and guest comfort by encouraging hydration and reducing waste from single-use plastic bottles.
Refill stations, water fountains, and mobile ordering provide convenient alternatives to carrying a water bottle.
Hydration stations with state-of-the-art filtration systems are strategically located throughout the park to ensure high-quality drinking water and minimize walking distance for guests.
Valley Fair's Water Bottle Policy
Yes, Valley Fair allows guests to bring water bottles into the park as long as they are sealed and not glass containers. This policy aligns with the park's commitment to sustainability and guest comfort.
By permitting sealed water bottles, Valley Fair encourages guests to stay hydrated and reduce waste from single-use plastic bottles.
This innovative approach not only supports environmental responsibility but also enhances the overall guest experience.
Additionally, providing guests with the option to bring their own water bottles promotes a sense of convenience and flexibility, allowing visitors to focus on enjoying the attractions without worrying about dehydration.
However, for those who prefer alternatives to bringing a water bottle, Valley Fair offers various refill stations and water fountains throughout the park, ensuring that guests have convenient access to hydration at all times.
Alternatives to Bringing a Water Bottle
Guests visiting Valley Fair have access to various alternatives to bringing a water bottle, including refill stations and water fountains throughout the park.
In addition to these facilities, Valley Fair also offers the option of purchasing a refillable souvenir cup that can be refilled at any of the designated stations throughout the park.
This not only provides a convenient way to stay hydrated but also reduces the need for single-use plastic bottles.
Furthermore, the park has introduced mobile ordering through its app, allowing guests to order beverages and have them delivered to a specified location, reducing the need to carry around a water bottle.
These innovative alternatives ensure that guests can easily stay hydrated while enjoying their visit to Valley Fair.
Hydration Stations at Valley Fair
While visiting Valley Fair, it is important to note the availability of hydration stations throughout the park.
These stations are designed to provide convenient access to water and promote sustainable practices.
Here are some key features of the hydration stations:
State-of-the-art filtration systems ensure the highest quality of drinking water.
The stations are strategically located to minimize walking distance for park guests.
Each station is equipped with user-friendly interfaces for quick and easy refills.
The stations are part of Valley Fair's commitment to reducing single-use plastic waste.
By utilizing these hydration stations, visitors can stay refreshed and energized throughout their day at the park.
Now, let's delve into some tips for staying hydrated at Valley Fair to ensure a comfortable and enjoyable experience.
Tips for Staying Hydrated at the Park
Visitors can optimize their hydration during their visit to Valley Fair by implementing practical strategies for staying hydrated throughout the day.
Firstly, bringing a reusable water bottle is essential. Valley Fair encourages guests to bring their own bottles and offers numerous water fountains and refill stations throughout the park.
Secondly, consider consuming hydrating foods such as watermelon, cucumbers, and oranges which have high water content.
Additionally, electrolyte-rich drinks can be beneficial, especially on hot days or after engaging in physical activities.
To avoid long lines at food and beverage stands, plan strategic breaks to rest and rehydrate. Finally, be mindful of alcohol and caffeine consumption, as they can contribute to dehydration.
Conclusion
In conclusion, visitors to Valley Fair should be aware of the park's water bottle policy and consider alternative options for staying hydrated.
The park provides hydration stations for convenience, and guests can also purchase beverages on-site.
Staying prepared for Valley Fair is like preparing for a marathon, where staying hydrated is essential for a successful and enjoyable experience.