Can You Put Regular Tie Dye in a Spray Bottle? Yes!
Yes, you can put regular tie dye in a spray bottle.
This method provides a different approach to the traditional tie dye process and is particularly useful for covering large areas with dye or creating a splatter effect.
Putting regular tie dye in a spray bottle allows for a more controlled and evenly distributed application of the dye.
This method works especially well for achieving a misty or watercolor effect on the fabric. It is also a less mess and more child-friendly approach to tie dyeing.
A spray bottle allows for an even distribution of dye.
It is a great technique to cover large areas with dye.
It provides a less messy alternative to traditional tie dye methods.
It allows for a range of creative effects, such as a misty or watercolor look.
Putting regular tie dye in a spray bottle makes the process easier, cleaner, and opens up new creative possibilities.
This method, also known as spray bottle tie dyeing, is a perfect choice for those looking to experiment and have fun with their tie dye projects.
10 Steps for Regular Tie Dye with a Spray Bottle
| Step No. | Description | Materials Needed |
| --- | --- | --- |
| 1 | Choose a Design | Tie Dye Kit, Plain Shirt |
| 2 | Wet the Shirt | Water, Spray Bottle |
| 3 | Fold the Shirt According to the Chosen Design | Rubber Bands |
| 4 | Prepare the Dye | Tie Dye, Water, Spray Bottle |
| 5 | Apply the Dye to the Shirt | Spray Bottle with Dye, Gloves |
| 6 | Let the Dye Set | Plastic Wrap or Bag, Time |
| 7 | Rinse the Shirt | Water, Sink or Bucket |
| 8 | Wash the Shirt | Washing Machine, Mild Detergent |
| 9 | Dry the Shirt | Dryer or Air Dry |
| 10 | Enjoy Your New Tie Dye Shirt | N/A |
10 Steps for Regular Tie Dye with a Spray Bottle
Key Takeaway
Regular tie-dye can technically be put into a spray bottle and used for various creative projects.
The spray bottle method can provide a more controlled and less messy experience than traditional tie dye processes.
The consistency of the dye needs to be checked before filling into the spray bottle to avoid clogging.
Different techniques like misting, splattering and focused spraying could be used based on the desired effect.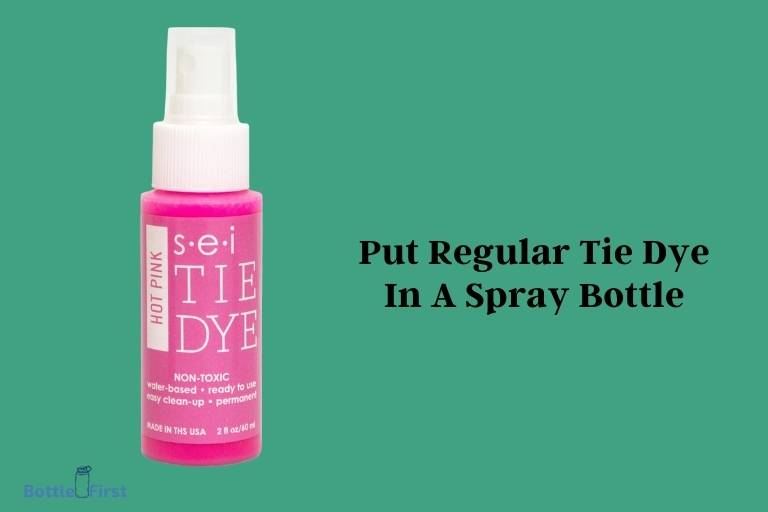 Five Facts About Using Regular Tie Dye with a Spray Bottle
Tie-dyeing is an ancient art that dates back to as early as the 6th century with roots in India, Japan and Africa. Today, it's a popular method for customizing clothing and other fabrics.
Using a spray bottle for tie-dyeing can give a unique effect different from the traditional methods. It is an innovative and fun way to create a variety of designs(Source: eHow).
Spray bottle tie-dye is perfect for kids as it provides them a creative activity that is less messy compared to the traditional method(Source: Kids Activities Blog).
Dye, water, a spray bottle, and protective materials like gloves and plastic covers are generally the things needed for tie-dyeing using a spray bottle.
It's essential to rinse and wash the tie-dyed fabric properly post dyeing. Leaving the dye to set for a while before washing can ensure vibrant and lasting colors(Source: The Art of Education University).
Advantages Of Using A Spray Bottle
Quick And Easy Application
Spray bottles offer a quick and easy way to apply tie dye to your fabric.
With just a few spritzes, you can create unique patterns and designs.
The spray bottle allows for precise control over where the dye is applied, so you can achieve the desired effect.
It is also a great option for smaller projects or intricate designs.
Versatility In Design
Using a spray bottle gives you the freedom to experiment with different design options.
You can create vibrant, multi-colored designs by simply spraying different dyes onto the fabric.
The spray bottle allows you to easily blend colors and create unique gradients or ombre effects.
You can also use stencils or templates to make more complex designs, as the spray bottle allows for detailed application.
Less Mess And Cleanup
One of the biggest advantages of using a spray bottle for tie dyeing is the decreased mess and cleanup.
Unlike traditional tie dye methods, there is no need for a large bucket or tub to soak the fabric.
With a spray bottle, there is minimal chance of accidentally spilling the dye, making it a cleaner option.
Cleanup is also a breeze as you don't need to rinse or wring out the fabric extensively.
Factors To Consider Before Using Regular Tie Dye In A Spray Bottle
Can You Put Regular Tie Dye In A Spray Bottle?
Fabric Compatibility
Natural fibers such as cotton, linen, and rayon tend to absorb dye better and yield more vibrant colors.
Synthetic materials like polyester and nylon may not hold dye as well, resulting in less intense colors.
Blends of natural and synthetic fibers can have mixed results, with some areas absorbing dye better than others.
Dye Concentration
Start with a lower dye concentration and gradually increase it if needed. This allows for more control over the color saturation.
Some tie dye kits come with pre-determined dye concentrations, but if you're mixing your own dye, follow the manufacturer's instructions carefully.
Keep in mind that different colors may require different concentrations to achieve the desired effect. Experimentation is key.
Application Techniques
Spray and scrunch: Spray the dye onto the fabric and then scrunch or gather it in different areas to create a tie-dye effect with interesting patterns.
Spritz and blend: Spritz the dye onto the fabric and use a sponge or brush to blend the colors together, creating a watercolor-like effect.
Stencil spray: Use stencils to create specific designs on the fabric. Spray the dye over the stencil and carefully remove it to reveal the design.
Steps On How To Use Regular Tie Dye In A Spray Bottle
Preparing The Dye Solution
Start by wearing gloves to protect your hands from staining.
Mix the tie-dye powder with water according to the instructions on the package. Use a stir stick to combine the powder and water thoroughly.
Ensure that there are no lumps or clumps in the dye solution, as this can affect the consistency of the spray and lead to uneven patterns.
Preparing The Fabric
Choose the fabric you want to tie-dye. Natural fibers like cotton or linen work best as they absorb the dye well.
Pre-wash the fabric to remove any dirt, chemicals, or sizing agents that can interfere with the dye absorption process. Make sure to follow the fabric care instructions when washing.
Dampen the fabric slightly before applying the dye. This helps the dye penetrate the fibers more effectively and enhances color saturation.
Applying The Dye With A Spray Bottle
Fill a spray bottle with the prepared dye solution. You can use as many colors as you like, but make sure each color has its dedicated spray bottle for better control and color separation.
Hold the spray bottle about 6-8 inches away from the fabric surface to achieve a more even spray pattern.
Squeeze the trigger on the spray bottle to release a mist or stream of dye onto the fabric. Experiment with different spraying techniques and patterns to create unique designs.
Rotate the fabric as you spray, ensuring that all areas are covered with the dye. Remember to flip the fabric over to apply dye on the other side as well.
Feel free to layer different colors or blend them together for more intricate and dynamic designs. You can also use stencils or tape to create patterns and boundaries.
Letting The Dye Set
Carefully gather the dyed fabric and place it in a plastic bag or cover it with plastic wrap. This helps to maintain moisture and prevent the dye from drying out too quickly.
Let the fabric sit for at least 6-8 hours to allow the dye to penetrate the fibers thoroughly. For more intense colors, you can leave it to set overnight.
After the recommended setting time, rinse the fabric under cold water to remove any excess dye. Continue rinsing until the water runs clear.
Finally, wash the fabric separately in cold water using mild detergent. This will help remove any remaining dye and ensure the colors stay vibrant.
Tips And Tricks For Achieving The Best Results
Can You Put Regular Tie Dye In A Spray Bottle
Experimenting With Different Spray Patterns
You can create a range of interesting spray patterns by adjusting the nozzle on your spray bottle. Try both misting and stream settings to see which one works best for your desired effect.
Creating different spray patterns is all about distance and pressure. Experiment with spraying from different distances to achieve different levels of saturation and blending.
Start with a light spray and gradually build up the intensity to avoid over-saturating the fabric. This will help prevent the colors from bleeding together too much.
For a more controlled and precise pattern, try using your hand or a piece of cardboard as a shield. This can help create clean lines and avoid unintentional splatters.
Making Use Of Stencils And Resist Techniques
Stencils can add a whole new dimension to your tie dye designs when using a spray bottle. Choose simple shapes or intricate designs to create stunning visual compositions.
Use adhesive stencils or make your own by cutting out shapes from contact paper or acetate sheets. Position the stencil on the fabric and spray directly over it to create a crisp, defined pattern.
To create a resist effect, use a resist agent such as wax or glue on the fabric before applying the spray dye. The resist agent will block the dye from penetrating certain areas, resulting in a unique and eye-catching design.
Remove the stencil or resist agent once the dye has dried and rinse the fabric to reveal the final result. The contrast between the dyed and resist-treated areas can create a striking visual impact.
Managing Dye Absorption On Different Fabrics
Different fabrics have varying levels of dye absorption, so it's important to take this into consideration when using a spray bottle for tie dye. Lighter fabrics like cotton or linen tend to absorb dyes more readily, while synthetic fabrics may be more resistant.
For fabrics that are prone to excessive dye absorption, consider diluting the dye with water before spraying. This will help achieve a more muted and subtle effect.
Alternatively, pre-wetting the fabric with water before applying the dye can help promote even absorption and prevent blotchiness.
Keep in mind that the amount of dye you use will also affect the intensity of the colors. Start with a small amount and gradually add more as needed.
FAQ About Can You Put Regular Tie Dye In A Spray Bottle
Can you put regular tie dye in a spray bottle?
No, you cannot put regular tie dye in a spray bottle. The dye needs to be made into a special liquid form in order to be sprayed onto fabric.
Does tie dye have to be sprayed onto fabric?
No, tie dye does not have to be sprayed onto fabric. It can be applied using brushes, sponges, or other materials.
Is it possible to create a pattern with tie dye?
Yes, it is possible to create a variety of patterns with tie dye. You can create stripes, swirls, and other unique designs.
Is there a special technique when applying tie-dye to fabric?
Yes, there are a few special techniques that should be followed when applying tie-dye to fabric.
These include soaking the fabric in water, pre-soaking it in a dye fixative, and keeping it damp during application.
Can I use easily obtainable ingredients to make my own tie dye?
Yes, you can use easily obtainable ingredients such as food dye, salt, vinegar, and soda ash to make your own tie dye.
For detailed instructions, you can search online for DIY tie dye recipes.
Conclusion