Can You Reuse Cleaning Spray Bottles? Yes!
Yes, it is possible and often recommended to reuse cleaning spray bottles.
Reusing cleaning spray bottles not only saves money but also reduces the amount of plastic waste that ends up in landfills.
However, it's important to properly clean and disinfect the bottles before refilling them to avoid mixing chemicals which could lead to harmful reactions.
Reusing spray bottles reduces plastic waste.
Proper cleaning of bottles is necessary before reuse.
Mixing different cleaning chemicals can lead to harmful reactions.
Reuse helps in saving money.
Reusing cleaning spray bottles is a simple yet effective step towards a more sustainable lifestyle.
However, it's crucial to ensure the bottles are properly cleaned to avoid any chemical reactions. In addition, reusing these bottles can also be a cost-effective alternative to purchasing new ones.
Reusing Cleaning Spray Bottles
| Cleaning Spray Type | Can it be Reused? | Additional Information |
| --- | --- | --- |
| Glass Cleaner | Yes | Ensure bottle is washed out and dried before reusing |
| Multipurpose Cleaner | Yes | Rinse thoroughly and dry before refilling |
| Bathroom Cleaner | Yes | It's essential to clean the bottle properly to avoid mixing chemicals |
| Kitchen Cleaner | Yes | Rinse and dry before refilling |
| Fabric Refresher | Yes | Clean before reusing to prevent odor mix |
| Wood Cleaner | Yes | Some specific cleaners might not be reusable |
| Disinfectant Sprays | Yes | Thorough cleaning is necessary to prevent cross-contamination |
Reusing Cleaning Spray Bottles
Key Takeaway
Cleaning spray bottles can generally be reused, provided they are thoroughly cleaned and never used to mix incompatible chemicals.
Be attentive to the materials used in the cleaning spray, specifically plastic types, as some cheaper plastics can degrade over time or with high concentrations of certain chemicals leading to leakage and waste.
It is more sustainable and environmentally friendly to reuse cleaning spray bottles to reduce the amount of single-use plastic waste generated.
Always remember to clearly label any homemade cleaning solutions to avoid confusion or potential health risks.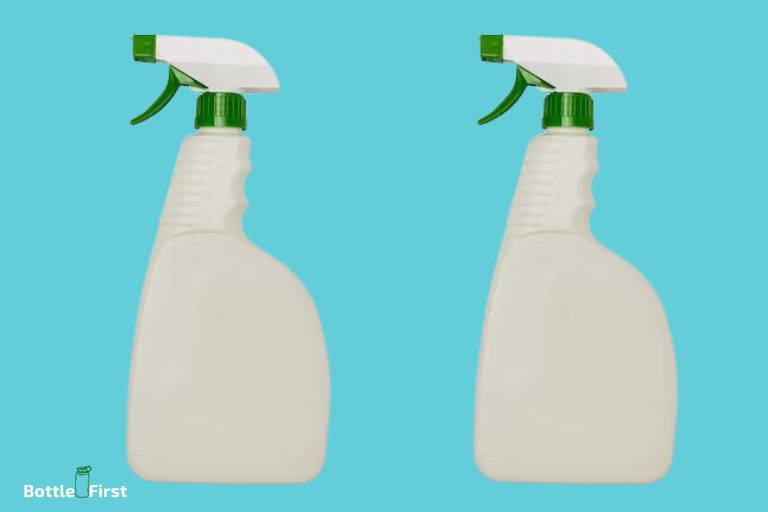 Five Facts About Reusing Cleaning Spray Bottles
Cleaning spray bottles are primarily made of plastic, more specifically polyethylene terephthalate (PET), sometimes combined with polypropylene (PP) for the trigger mechanism.
PET is generally resistant to most common household cleaners, making it suitable for multiple usage cycles.
Spray bottles need to be thoroughly cleaned and dried before being refilled to prevent chemical reactions which can occur from a mix of different cleaning products.
You might want to consider avoiding reusing cleaning spray bottles for food or drink as some chemicals found in cleaning sprays can leach into contained fluids over time.
Recycling cleaning spray bottles can be complex as they are often mixed plastics or involve metal springs making them unfit for common recycling streams without prior disassembly.
Benefits Of Reusing Cleaning Spray Bottles
Reducing Plastic Waste And Environmental Impact:
By reusing cleaning spray bottles, you help reduce the amount of plastic waste that ends up in landfills and oceans.
It takes a significant amount of energy and resources to manufacture new bottles, contributing to carbon emissions and environmental degradation.
Reusing existing bottles helps conserve resources and reduces the demand for new plastic production, thereby minimizing the environmental impact.
Saving Money On Buying New Bottles:
Purchasing new cleaning spray bottles every time you run out of a cleaning solution can quickly add up and strain your budget.
By reusing your spray bottles, you can save money in the long run. You can refill them with your preferred cleaning solutions or make your own by mixing simple ingredients.
This not only helps you reduce your household expenses but also allows you to customize your cleaning solutions according to your needs, eliminating the need for multiple specialized products.
Convenience And Versatility:
Reusing cleaning spray bottles offers convenience and flexibility. You can have multiple bottles designated for different cleaning solutions.
This allows you to switch between different cleaning solutions without needing to rinse and refill a single bottle repeatedly.
Additionally, having separate bottles for different solutions helps prevent cross-contamination and ensures more effective cleaning.
Easy To Maintain And Clean:
Cleaning spray bottles are designed to be durable and easy to maintain.
When reusing these bottles, cleaning and sanitizing them is a simple process. You can rinse them with warm water, add some dish soap, shake well, and rinse again.
Regular maintenance and cleaning ensure that your spray bottles are free from any residue or buildup, guaranteeing optimal performance each time you use them.
Reduced Exposure To Harmful Chemicals:
By reusing cleaning spray bottles, you have control over the cleaning solutions you use, minimizing your exposure to harmful chemicals found in some commercial cleaners.
You can opt for eco-friendly, natural, or homemade cleaning solutions, reducing the number of potentially toxic substances in your home environment.
Making your own cleaning solutions using ingredients like vinegar, baking soda, or essential oils provides you with a safer and healthier cleaning alternative.
Factors To Consider Before Reusing Cleaning Spray Bottles
Proper Cleaning And Disinfection Methods
Rinse the bottle: Start by rinsing the bottle with warm water to remove any residue from the previous cleaning solution.
Disassemble if possible: If the spray bottle can be easily disassembled, do so to clean all its components thoroughly.
Use a soapy solution: Clean the bottle with a mild dish soap and warm water. Scrub the inside and outside surfaces of the bottle, as well as the spray nozzle.
Rinse again: After scrubbing, rinse the bottle and its parts with warm water to remove any soap residue.
Disinfect the bottle: To ensure proper disinfection, fill the cleaned bottle with a mixture of water and a disinfectant solution. Let it sit for the recommended time and then rinse thoroughly.
Compatibility Of Cleaning Solutions With The Bottle Material
Check the bottle material: Look for information about the bottle material, which is often indicated on the bottom of the bottle. Common materials include hdpe (high-density polyethylene), pet (polyethylene terephthalate), and glass.
Research cleaning solution compatibility: Some cleaning solutions, especially those containing strong chemicals, may not be suitable for certain bottle materials. Check if the cleaning solution is compatible with the bottle material to avoid any potential reactions, such as discoloration or degradation.
Evaluating The Condition Of The Bottle
Check for cracks or leaks: Inspect the bottle for any cracks, leaks, or damaged parts. A compromised bottle may not spray effectively or could lead to spills and accidents.
Examine the spray nozzle: Ensure that the spray nozzle is working correctly and isn't clogged with residue from previous use. A clogged nozzle can affect the spray pattern and hinder proper cleaning.
Consider the age of the bottle: Over time, plastic bottles may become brittle and break more easily. Evaluate the age of the bottle and its overall condition before deciding to reuse it.
Steps To Safely Reuse Cleaning Spray Bottles
Thoroughly Cleaning And Rinsing The Bottle
Empty the bottle completely by spraying out any remaining solution.
Rinse the bottle with warm water to remove any leftover residue.
Use a bottle brush or sponge to scrub the inside of the bottle, reaching all the corners and crevices.
Rinse the bottle again with warm water to remove any loosened debris.
Allow the bottle to air dry completely before moving on to the next step.
Using Appropriate Disinfectants
Read the labels of cleaning solutions to ensure they are suitable for the type of surface you will be cleaning.
Select disinfectants that are effective against the types of bacteria, viruses, or fungi you intend to target.
If you prefer to make your own cleaning solutions, follow reputable recipes and guidelines to ensure their effectiveness and safety.
Avoid mixing different cleaning solutions together, as this can create harmful chemical reactions.
Storing The Bottle Properly
Store the bottle in a cool and dry place to minimize degradation or mold growth.
Keep the bottle away from direct sunlight or extreme temperatures, as these can affect the quality of the cleaning solution.
Store the bottle in an upright position to prevent leakage and accidental spills.
Label the bottle with the type of cleaning solution inside to avoid confusion and potential misuse.
Regularly check the bottle for any signs of damage, such as cracks or leaks, and replace it if necessary.
Alternatives To Reusing Cleaning Spray Bottles
Recycling Options:
Check with your local recycling center: Many recycling centers accept plastic bottles, including cleaning spray bottles. Look up the guidelines for recycling in your area to find out where you can drop off your empty bottles.
Separate into recyclable components: Some spray bottles consist of multiple materials, such as plastic, metal, and rubber. If this is the case, you may need to disassemble the bottle before recycling. Check if your local recycling center has specific instructions for handling multi-material products.
Look for special drop-off locations: In some areas, there are special drop-off locations or collection events for hazardous or potentially dangerous materials, including cleaning solutions. These events allow you to dispose of your spray bottles and other cleaning-related items safely.
Environmentally Friendly Alternatives:
Refillable glass spray bottles: Glass spray bottles are a durable and eco-friendly option that can be reused many times. They are easy to clean and don't leach harmful chemicals, making them a great alternative for those seeking to decrease their exposure to plastic.
Diy cleaning solutions: Rather than buying pre-packaged cleaning solutions that often come in spray bottles, consider making your own. You can use ingredients like vinegar, baking soda, and essential oils to create effective and environmentally friendly cleaning solutions. Store them in reusable containers like glass jars or refillable spray bottles.
Concentrated cleaning products: Another option is to purchase concentrated cleaning products that can be mixed with water in reusable containers. These concentrates typically come in small, eco-friendly packaging, reducing the need for single-use spray bottles.
Use reusable cloths or sponges: Instead of relying solely on spray bottles, consider using reusable cloths or sponges for cleaning. This reduces the need for cleaning sprays altogether and minimizes waste.
In Summary:
FAQ About Can You Reuse Cleaning Spray Bottles
Can You Reuse Cleaning Spray Bottles?
Yes, cleaning spray bottles can be reused as long as they are thoroughly cleaned and properly maintained.
How Do You Properly Clean A Cleaning Spray Bottle?
To clean a cleaning spray bottle, disassemble it, rinse it with warm soapy water, scrub the inside with a brush, rinse again, and let it air dry.
What Should You Do Before Reusing A Cleaning Spray Bottle?
Before reusing a cleaning spray bottle, you should make sure it is completely empty, remove any labels or residue, and sterilize it to prevent bacteria growth.
Can You Mix Different Cleaning Solutions In One Spray Bottle?
It is not recommended to mix different cleaning solutions in one spray bottle to avoid chemical reactions and potential hazards. It's best to use separate bottles for each solution.
How Often Should You Replace A Cleaning Spray Bottle?
Cleaning spray bottles should be replaced every 1-2 years or when they start to show signs of wear and tear, such as cracks or an inability to spray properly.
Conclusion