Cute Things to Put on a Water Bottle
There are a lot of different things that you can put on a water bottle to make it look cute. You can find stickers, iron-on patches, and even some washi tape designs that would look great on a water bottle. If you want to get really creative, you could even try painting your own design onto the water bottle.

no matter what you choose to do, there are a few things that you should keep in mind. First, make sure that the design is waterproof so that it doesn't come off in the rain or when you're sweating. Second, think about how the design will look when the water bottle is full or empty.

You don't want something that looks great when the bottle is full but then gets all distorted when it's empty.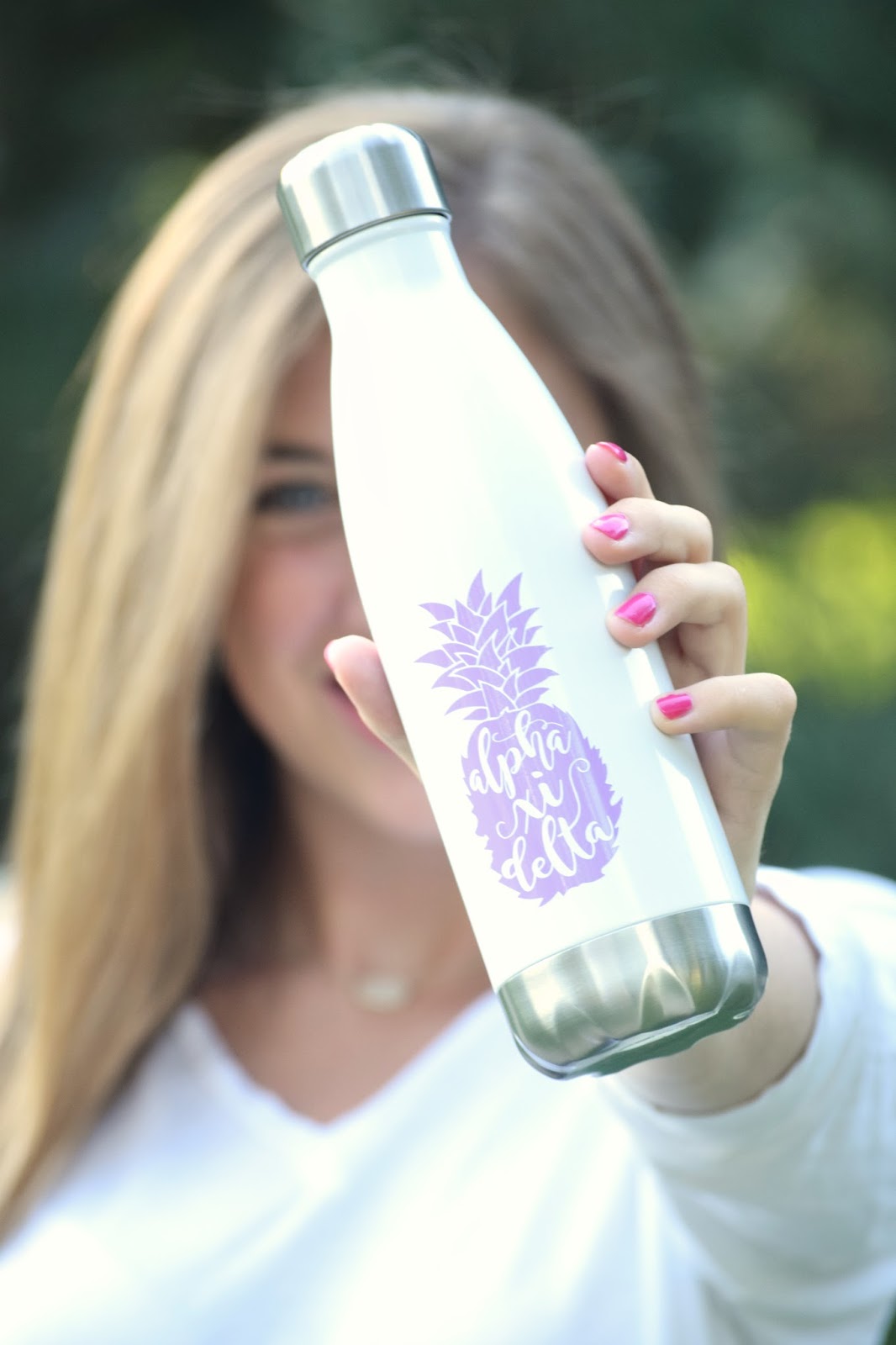 We all know how important it is to stay hydrated, especially during these hot summer months. But sometimes it's hard to remember to drink enough water throughout the day. One way to make sure you're getting your daily dose of H2O is to carry a water bottle with you everywhere you go.

But plain old water can get a little boring after awhile. That's why we've put together a list of some cute things you can add to your water bottle to make it more fun and exciting! -Fruit slices: citrus fruits like lemons, limes, and oranges not only add flavor to your water, but they also look super pretty floating around in there.

-Herbs: adding fresh herbs like mint or basil can give your water an extra boost of flavor without any added sugar. -Tea bags: if you're not a fan of plain old water, try adding a tea bag or two to infuse your beverage with some delicious flavors. -Sparkling water: this is a great option if you're looking for something a little more refreshing than regular ol' H2O.

Just be sure to check the labels carefully, as some sparkling waters can be loaded with sugar and other unhealthy ingredients.
How Do You Make a Cute Water Bottle?
There are a few things you can do to make a cute water bottle. One is to find a water bottle that already has a cute design or pattern on it. Another is to add stickers or decals to personalize the bottle.

You could also try painting the bottle with acrylic paint or using permanent markers to draw designs on it. If you want to get really creative, you could even try crocheting or knitting a cover for the bottle. Whatever you do, make sure you wash the bottle thoroughly before using it!
How Should I Decorate My Water Bottle?
Assuming you would like tips on how to decorate a water bottle: There are many ways that you can decorate your water bottle. You can use markers, paint, stickers, and even washi tape!

Get creative and have fun with it. Here are a few ideas to get you started: 1. Use permanent markers or paint to draw designs or write inspirational quotes on your water bottle.

This is a great way to personalize your water bottle and make it unique to you. 2. Apply stickers around the bottom or sides of your water bottle. You can find stickers at most craft stores or online.

Choose ones that reflect your interests or personality. 3. Wrap washi tape around the middle of your water bottle. This is a simple way to add a pop of color or pattern to your water bottle.

Washi tape comes in many different designs and colors, so you're sure to find one that you love!
What is a Good Water Bottle to Put Stickers On?
If you're looking for a good water bottle to put stickers on, you can't go wrong with the Hydro Flask Standard Mouth Water Bottle. This water bottle is made of high-quality stainless steel, so it's durable and won't rust or corrode over time. Plus, the double-wall vacuum insulation means that your drinks will stay cold (or hot) for hours on end.

And the wide mouth opening makes it easy to add ice cubes or fruit slices to your beverage.
What Should I Put on My Water Bottle?
When it comes to staying hydrated, there are a lot of options out there as to what you can put in your water bottle. But what is the best option? Water, of course!

While adding fruit or herbs can give your water some extra flavor, there are also a few other things you can do to make sure you're getting the most out of your H2O. Here are a few ideas of what to put in your water bottle: -Lemon: Adding lemon to your water is a great way to get an extra boost of Vitamin C. It can also help promote healthy skin and digestion.

-Cucumber: Cucumber slices not only look refreshing, but they can also help with weight loss and detoxification. They're also hydrating and full of antioxidants. -Ginger: If you're looking for a way to improve circulation and ease nausea, ginger is perfect for you!

Just add a few slices to your water bottle and let it infuse overnight.
How to Decorate a Water Bottle With Stickers
Do you have a plain water bottle that you want to jazz up? Or maybe you want to make a personalized gift for someone special. Decorating water bottles with stickers is a fun and easy way to do it!

Here's what you'll need: -Water bottle -Stickers (I like to use vinyl or paper stickers)

-Scissors -Pen or marker (optional) Instructions:

1. Clean your water bottle with soapy water and let it dry completely. This will help the stickers stick better. 2. Choose the design of your stickers and cut them out.

If you are using paper stickers, you may want to use a pen or marker to trace around the edges before cutting them out. 3. Place the stickers on your water bottle in any design you like! 4. Let the glue on the back of the sticker dry completely before using your newly decorated water bottle.

Enjoy!
Cool Water Bottles for School
If you're looking for a cool water bottle for school, we've got you covered. Check out our top five picks below. 1. S'well Bottle: This reusable water bottle comes in a variety of trendy colors and patterns, making it perfect for fashion-savvy students.

Plus, it keeps drinks cold for up to 24 hours and hot for up to 12, making it ideal for long days on campus. 2. Hydro Flask Bottle: Another great option for those who want to keep their drinks cold (or hot), the Hydro Flask features double-wall vacuum insulation and a tough stainless steel construction. It comes in a wide range of colors, too, so you can find one that suits your style perfectly.

3. CamelBak Eddy Water Bottle: This BPA-free water bottle is made from durable Eastman Tritan copolyester and features CamelBak's signature Flip Cap design for easy drinking on the go. Plus, the built-in carry handle makes it easy to grab and go when you're in a hurry between classes. 4. Nalgene Tritan Wide Mouth Water Bottle: Perfect for those who prefer a wider opening on their water bottles, this Nalgene option is made from shatterproof Tritan material and comes with a handy loop cap that attaches easily to backpack loops or carabiners.

Choose from several different sizes and colors to suit your needs (and style). 5. Vapur Anti-Bottle: If you're looking for an eco-friendly option, check out the Vapur Anti-Bottle .
Conclusion
Looking for something cute to put on your water bottle? Check out these ideas! You can find everything from stickers to decals to charms.

There's sure to be something that fits your style.