Diy Molle Water Bottle Pouch
One of the most essential pieces of gear for any hiker or camper is a water bottle. But carrying a water bottle can be a pain, especially if you don't have a good way to keep it close at hand. That's where a DIY Molle water bottle pouch comes in handy.

A Molle water bottle pouch is a great way to carry your water bottle on your belt or backpack. It's also handy for keeping other small items like energy bars or your cell phone within reach. Best of all, you can make your own Molle water bottle pouch with just a few simple materials.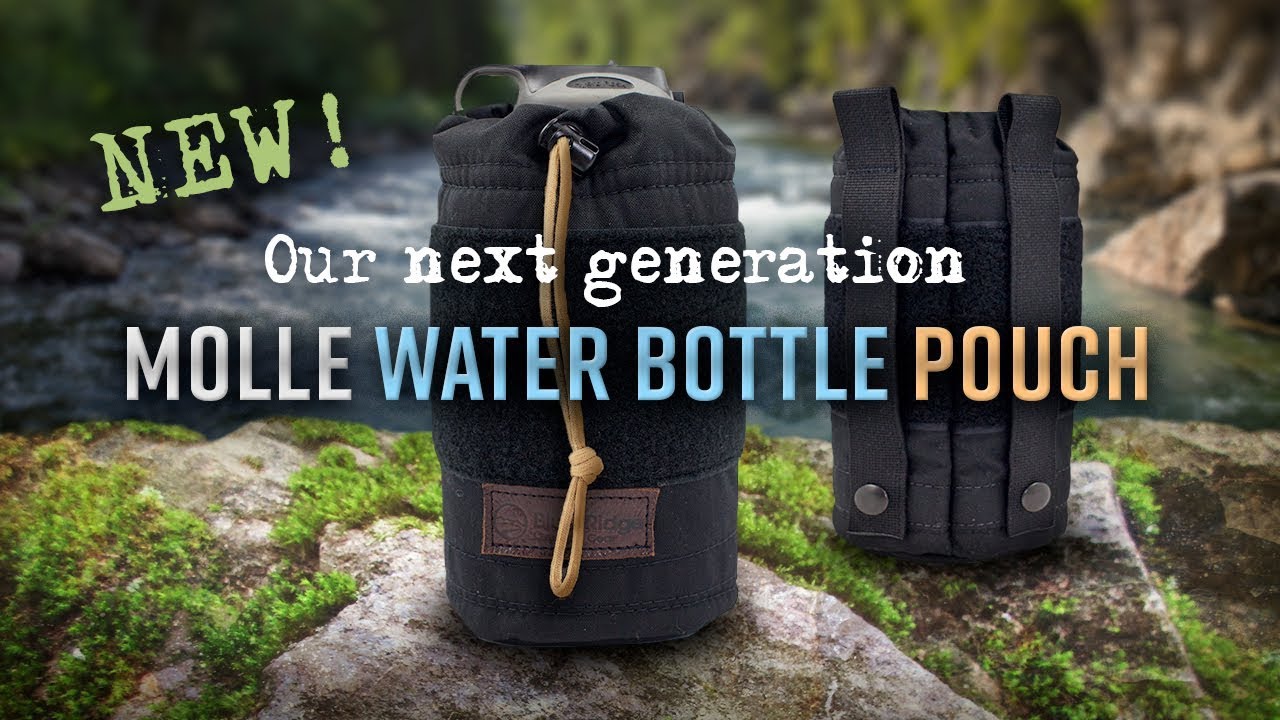 One of the great things about being a do-it-yourselfer is that you can make gear to suit your specific needs. And if you're into tactical gear, then you know that molle webbing is key for attaching all sorts of pouches and other goodies to your kit. So why not make your own molle water bottle pouch?

It's actually pretty easy to do. Just start with a basic water bottle pouch pattern and add some extra panels of fabric with molle webbing sewn on. This will give you plenty of space to attach other pouches or items, like a small first aid kit.

And if you want to get really creative, you can even add some velcro loops to the outside of the pouch so that you can attach it to other pieces of gear. That way, your water bottle pouch can go wherever you need it to!
How Do You Make a Water Bottle Pocket?
Assuming you would like instructions on how to make a water bottle pocket: You will need: -1/4 yard of cotton or canvas fabric (multiple colors can be used)

-Thread to match fabric color(s) -Scissors -Pins

-Water resistant interfacing (optional) -Chalk or other marking tool -Ruler or measuring tape

-Sewing machine Instructions: 1. Cut two pieces of fabric 9"x12" using sharp scissors.

If you are using multiple colors, cut each piece so that the desired pattern is achieved. 2. Optional step: If you want your water bottle pocket to be extra durable and have a bit more structure, cut a piece of interfacing 8"x11" and fuse it to the wrong side of one piece of the fabric using an iron set to the hottest temperature that your particular fabric can handle without burning it. Do not use steam.

Place a pressing cloth over the interfacing before fusing if you are concerned about damaging your ironing board cover with the heat activated adhesive. Allow interfacing to cool completely before continuing. 3. With right sides together, pin around all four edges of the two pieces of fabric, making sure that any raw edges are concealed within the sandwich of layers.
4. Using a chalk pencil or other marking tool, draw a line 3 1/2" down from the top raw edge on both pieces of pinned fabric; this will be where we stop sewing and leave an opening for turning later on. 5. Starting at the bottom raw edge, sew around all four sides of fabrics with a 3/8th inch seam allowance, stopping at the marked line near the top raw edge so that there is an opening for turning later on; backstitch when beginning and ending seam to reinforce stitching 6 Trim away excess thread and clip corners diagonally up to but not through stitching line in order to reduce bulk when turned right side out later on 7 Turn project right side out through open space left at top Raw Edge; poke out corners with blunt end tool such as a chopstick or knitting needle
How Do You Attach a Water Bottle Holder to a Backpack?
Assuming you would like tips on how to attach a water bottle holder to a backpack: One way to do this is by using the loops on the side of the backpack. Thread one end of a bungee cord through the loop, and then fasten it to the water bottle holder.

Repeat this step on the other side. This method is adjustable, so you can make the holder tighter or looser depending on your needs. Another way is by threading a belt through the loops on the side of your backpack and then attaching the water bottle holder to the belt.

This method is more secure, but it might be difficult to take off and put back on if you need access to your bag frequently.
How Do You Make a Paracord Water Bottle Holder?
If you're looking for a way to carry your water bottle with you while keeping your hands free, a paracord water bottle holder is a great option. Here's how to make one: 1. Cut a length of paracord that's long enough to go around your body and reach up to your shoulder.

Make sure to leave some extra cord so you can tie it off at the end. 2. Find the center of the cord and tie a large knot around the base of your water bottle. 3. Take the two ends of the cord and thread them through the loop created by the knot.

Pull tight so the knot is secure. 4. Tie another knot about 6 inches from the top of the bottle. This will create a "pocket" for your water bottle to sit in.
How Do You Cut a Water Bottle into a Fanny Pack?
If you're looking to add a little extra storage to your fanny pack, or just want a fun DIY project, cutting a water bottle into a fanny pack is a great option! Here's how to do it: 1. Start by cutting the bottom off of the water bottle.

You'll want to make sure that the cut is clean and straight, so feel free to use a sharp knife or scissors. 2. Once the bottom is cut off, turn the water bottle upside down and begin cutting along the seam. Again, try to make your cuts as clean and straight as possible.

3. Once you've cut along the entire seam, carefully remove the top half of the water bottle. You should now have two halves of the water bottle – one with a flat bottom and one with a curved bottom. 4. Take the half with the flat bottom and make two slits near the top – these will be where you thread your belt through.

Then, thread your belt through both slits and buckle it in place around your waist. 5. And that's it! You now have a functioning fanny pack made out of a recycled water bottle!
DIY molle Water bottle holder
Molle Water Bottle Holder
A water bottle holder is a must-have item for anyone who likes to be out and about, and the Molle water bottle holder is one of the best on the market. This holder is made from high-quality materials and features a unique design that allows it to be attached to any Molle-compatible gear. The Molle water bottle holder also has a built-in carrying handle, so you can easily take it with you wherever you go.
Diy Molle Pouch
A Molle pouch is a handy addition to any gear collection, and they're relatively easy to make yourself. Here's what you'll need to get started: – Some sturdy fabric in the desired size and shape.

Cordura or canvas works well. – A few feet of webbing, at least 1″ wide. – A couple of D-rings or other hardware for attaching the webbing.

– A heavy duty sewing machine needle. – Thread that matches your fabric. The first step is to cut your fabric to the desired size and shape.

You can use a template or just freehand it. Once you have the basic shape cut out, round off the corners so they won't be too sharp when finished. Next, sew the webbing around the edge of the fabric, leaving about an inch or two of overlap at the top.

Be sure to backstitch at each end for extra strength. Now is also a good time to attach any D-rings or other hardware you'll be using to attach the pouch to other gear.
This will give your Molle pouch some structure and help keep it from flopping around too much when empty.
Hydra Gear Water Bottle
We all know how important it is to stay hydrated, especially when we're working out. But sometimes it can be a pain to have to stop and grab a drink, especially if you're in the middle of a good workout. That's where the Hydra Gear water bottle comes in!

The Hydra Gear water bottle is a great way to make sure you're getting enough water while you're working out. It has a built-in straw so you can easily take drinks without having to stop and unscrew the lid. And the best part?

The straw automatically closes when you're done drinking, so there's no risk of leaks. The Hydra Gear water bottle is made from BPA-free plastic, so you can rest assured that your water is safe to drink. It also has a convenient carrying strap so you can take it with you on the go.

Whether you're going for a run or hitting the gym, this water bottle is a great way to stay hydrated and healthy!
Vanquest Water Bottle Holder
Water is essential to our survival, but lugging around a water bottle can be a pain. The Vanquest Water Bottle Holder is the perfect solution for keeping your water handy while on the go. This holder attaches to your belt or backpack and has a built-in straw so you can drink without having to remove the bottle from the holder.

The Vanquest Water Bottle Holder is made from durable materials and comes in a variety of colors to match your style. Whether you're hiking, biking, or just walking around town, the Vanquest Water Bottle Holder will make sure you stay hydrated without being weighed down.
Conclusion
This is a tutorial for creating your own Molle water bottle pouch. You will need some basic sewing supplies and a water bottle. The author provides step-by-step instructions with photos on how to create this handy pouch.

This is a great project for those who are new to sewing as it only requires straight stitches.