Diy Motivational Water Bottle: 5 Easy & Quick Steps!
A DIY motivational water bottle can be a fun and easy project to help remind you to keep hydrating throughout the day. It's as simple as purchasing a clear water bottle and using a permanent marker or vinyl stickers to write motivational quotes, personal goals, or hydration markers on it.
This project involves personalizing a water bottle with your own chosen motivational quotes or phrases. You can also include hydration markers which can be hourly reminders to drink more water.
This DIY project is not only practical but also promotes a healthy habit of drinking more water. The motivational quotes can serve to inspire and motivate you throughout your day.
A DIY motivational water bottle acts as a constant reminder to hydrate.
It customizes your water bottle to reflect your style and needs.
This DIY project is cost-effective and easy to do.
It can be an excellent gift for friends and loved ones promoting their well-being.
DIY motivational water bottles are a creative way to remind yourself to stay hydrated. It is a simple project that can make a significant impact on your daily water intake.
It not only urges you to drink more water, but it also adds a personal touch to your water bottle, making your hydration journey more enjoyable and motivational.
5 Steps: DIY Motivational Water Bottle
| DIY Step | Materials Needed | Instructions |
| --- | --- | --- |
| Step 1 | Permanent markers, Ruler, Plain water bottle | Use the ruler to make equally spaced lines on the water bottle. These lines would be used to write the motivational quotes. |
| Step 2 | Motivational quotes | Find some motivational quotes to write on your water bottle. You could use the internet, books, or your own ideas. |
| Step 3 | Permanent Markers | Write the motivational quotes on the water bottle where you made the lines in step 1. Make sure the quotes are visible. |
| Step 4 | Decorative Stickers (optional) | Decorate the water bottle with stickers if desired. This would make the bottle look more attractive. |
| Step 5 | Sealant Spray | Spray your water bottle with sealant spray to make sure your motivational quotes are waterproof and won't rub off. Let it dry completely before using. |
5 Steps: DIY Motivational Water Bottle
Key Takeaway
DIY motivational water bottles can play a significant role in promoting hydration habits.
They can be easily customized with encouraging words, reminders or goals that keep you motivated throughout the day.
These bottles are environment-friendly and cost-effective as they minimize the use of disposable plastic bottles.
DIY motivational water bottles can also be a creative, thoughtful and personalized gift for your loved ones.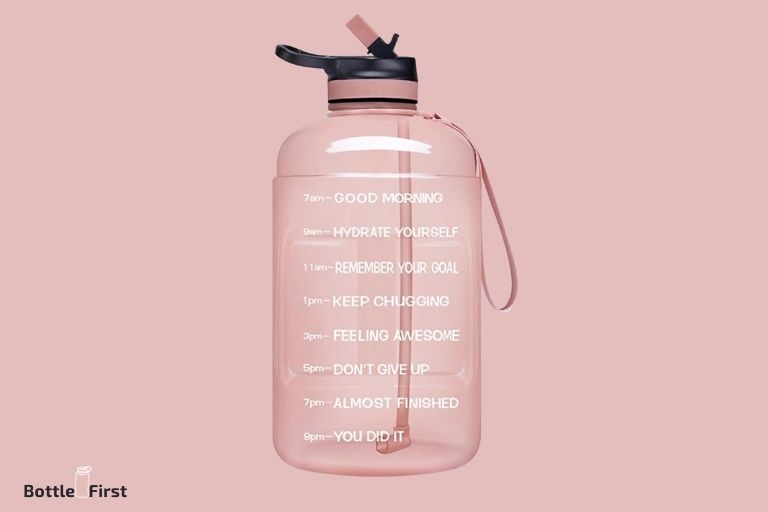 Five Facts About Diy Motivational Water Bottle
DIY motivational water bottles have recently gained popularity as they not only help in reducing the plastic waste by promoting reuse but, also have positive psychological effects on users by reminding them to hydrate.
Often, people fail to drink the recommended amount of water per day. However, having a water bottle with motivational quotes and hourly reminders can help in promoting a consistent hydration regime (Hydratem8, 2021).
Reusable water bottles, like DIY motivational water bottles, can help in reducing the overuse of single-use bottles, which contributes significantly to global plastic pollution. In fact, using one reusable bottle can potentially prevent the disposal of 200 single-use bottles per year (Earth Day Network, 2018).
These water bottles can be highly customized. With the use of waterproof markers, stickers, paints or even engraving tools, one can add favorite quotes, fitness goals, time trackers, or personal messages, making it a perfect gift for loved ones.
Apart from being a sustainability and health initiative, DIY motivational water bottle projects can also be a great creative outlet that can benefit mental health (Healthline, 2020).
Why Motivational Water Bottles Are Trending
Increasing Popularity Of Motivational Water Bottles
Motivational water bottles have gained significant popularity in recent years. People are increasingly recognizing the importance of staying hydrated throughout the day, and these bottles serve as a constant reminder to meet their daily water intake goals.
With their sleek designs, motivational quotes, and vibrant colors, these bottles have become a trendy must-have for individuals looking to stay motivated and healthy.
Here are some key reasons why motivational water bottles are trending:
Constant reminder: Motivational water bottles feature inspiring quotes and affirmations that serve as a reminder to stay on track with hydration goals. Seeing these messages every time you take a sip of water can have a positive impact on your motivation and overall well-being.
Hydration tracking: Many motivational water bottles come with handy measurement markers or timelines to monitor water consumption throughout the day. These visual cues can help individuals keep track of their progress and ensure they drink enough water to stay properly hydrated.
Sustainability: Motivational water bottles are typically made from durable materials such as stainless steel or bpa-free plastic. By using a reusable bottle, individuals can reduce their reliance on single-use plastic bottles, contributing to a more sustainable lifestyle.
Customization options: Motivational water bottles offer a variety of customization options, allowing users to choose designs, colors, and quotes that resonate with their personal goals and preferences. This level of personalization adds a unique touch to their hydration routine.
Benefits Of Using A Motivational Water Bottle
Using a motivational water bottle offers several benefits beyond its trendy appeal.
Let's explore some of the advantages:
Increased hydration: The presence of inspirational quotes and tracking markers encourages individuals to drink more water throughout the day. This leads to increased hydration, which is essential for maintaining overall health, improving energy levels, and promoting clear skin.
Improved motivation: Motivational water bottles serve as a constant source of motivation. The uplifting messages and reminders on these bottles can help individuals stay focused, inspired, and driven to achieve their goals, both in terms of hydration and other aspects of their lives.
Enhanced productivity: Staying hydrated has a direct impact on cognitive function and productivity. By using a motivational water bottle, individuals are more likely to maintain a consistent water intake, leading to improved concentration, mental clarity, and productivity throughout the day.
Healthier habits: The regular use of a motivational water bottle prompts individuals to adopt healthier habits. By prioritizing hydration, people are more likely to make conscious choices in their overall well-being, including making better dietary choices and engaging in regular physical activity.
Eco-friendly choice: Investing in a reusable motivational water bottle not only benefits personal health but also contributes to a greener planet. By reducing the use of disposable plastic bottles, individuals can actively participate in environmental sustainability.
Motivational water bottles offer a practical and fashionable way to stay hydrated while harnessing the power of motivation. With their rising popularity, these bottles have become much more than a trendy accessory.
They provide a tangible tool to help individuals develop healthier habits, achieve their goals, and lead a more fulfilling life.
So why wait? Grab your motivational water bottle and embark on a journey of hydration and self-motivation today.
Choosing The Perfect Water Bottle For Your Diy Project
Looking to create your own motivational water bottle? Choosing the right water bottle is key to making your diy project a success.
Here are some factors to consider when selecting the perfect water bottle, as well as materials to avoid and eco-friendly alternatives.
We'll also provide tips on finding an affordable yet durable water bottle.
Factors To Consider When Choosing A Water Bottle:
Size: Determine how much water you want your bottle to hold. Consider a larger size if you prefer less frequent refills, or a smaller size for portability.
Material: Look for bottles made from durable materials like stainless steel or glass. These materials are less likely to hold onto odors and are easier to clean.
Lid design: Consider the type of lid that suits your needs. Flip-top lids are convenient for one-handed use, while screw-on lids provide a better seal and are less likely to leak.
Insulation: If you prefer keeping your drink cold or hot, choose an insulated bottle that can maintain the temperature for longer periods.
Portability: If you're always on the go, opt for a water bottle with a handle or a design that easily fits in your bag or cup holder.
Materials To Avoid And Eco-Friendly Alternatives:
When selecting a water bottle for your diy project, it's important to consider the eco-friendliness of the materials used.
Here are some materials to avoid and their more sustainable alternatives:
Plastic: Avoid single-use plastic bottles as they contribute to pollution and harm the environment. Opt for reusable alternatives instead.
Aluminum: While aluminum can be recycled, the extraction process is energy-intensive. Choose stainless steel bottles instead.
Disposable water bottles: Steer clear of disposable bottles, as they add to plastic waste. Consider using glass bottles or stainless steel options to minimize your environmental impact.
Tips For Finding An Affordable Yet Durable Water Bottle:
Research: Before making a purchase, read reviews and compare prices to find the best water bottle within your budget.
Discounts and sales: Keep an eye out for discounts or sales at local stores or online retailers. You might find a quality water bottle at a discounted price.
Buy in bulk: Purchasing water bottles in bulk can often be more cost-effective. Consider buying a set of bottles with friends or family members to save money.
Brand comparisons: Compare different brands to find the best balance of price and quality. Sometimes lesser-known brands offer durable and affordable options.
Choosing the right water bottle for your diy motivational project requires careful consideration of factors such as size, material, lid design, insulation, and portability. It's important to opt for eco-friendly materials and avoid single-use plastics.
By researching, looking for discounts, and considering bulk purchases, you can find an affordable yet durable water bottle that meets your needs.
Get ready to create a personalized motivational water bottle that will keep you hydrated and inspired throughout the day!
Designing Your Diy Motivational Water Bottle
Designing your own motivational water bottle is a fun and creative way to stay inspired and hydrated throughout the day.
By personalizing your water bottle with motivational quotes or phrases, you'll have a constant reminder of your goals and aspirations.
So, let's dive in and discover how to design your very own diy motivational water bottle.
Gathering The Necessary Supplies And Tools:
A plain water bottle: Start with a simple, bpa-free water bottle. Choose one that reflects your personal style and is easy to grip.
Waterproof markers or stickers: These will be used to decorate the surface of your water bottle. Opt for markers specifically designed for smooth surfaces, or choose stickers that are durable and waterproof.
Clear sealant: To protect your design from wear and tear, it's important to apply a clear sealant over the markers or stickers. This will ensure that your motivational quotes stay intact for a longer period of time.
Step-By-Step Instructions For Decorating Your Water Bottle:
Clean your water bottle: Before decorating, make sure your water bottle is clean and dry. Remove any labels or residue, as this will provide a smooth surface for your design.
Choose your design: Decide whether you prefer using markers or stickers to decorate your water bottle. Both options offer unique advantages, so choose the one that suits your preference and artistic style.
Plan your design: Take a moment to envision what you want your motivational water bottle to look like. Consider incorporating bright colors, patterns, or symbols that resonate with your goals and aspirations.
Start decorating: If you're using markers, begin by carefully drawing your motivational quotes or phrases directly onto the surface of the water bottle. If you're using stickers, peel them off and place them strategically on the bottle.
Apply sealant: Once your design is complete, let it dry for a few minutes. Then, apply a layer of clear sealant over your design, following the instructions on the product. This will protect your design from smudging or fading over time.
Let it dry and enjoy: Allow your water bottle to dry completely before use. Once it's dry, add water and start hydrating while staying motivated throughout the day.
Ideas For Motivational Quotes Or Phrases To Add:
"believe in yourself and all that you are."
"dream big and work hard."
"the only way to do great work is to love what you do."
"be fearless in the pursuit of what sets your soul on fire."
"success is the sum of small efforts repeated day in and day out."
Remember, this is your personal motivational water bottle, so choose quotes or phrases that resonate with your goals and aspirations.
Let your creativity flow and create a truly unique design that will inspire and motivate you every time you take a sip.
Start designing your diy motivational water bottle today and stay hydrated while keeping your dreams in focus.
Staying Motivated And Hydrated With Your Diy Creation
Staying motivated and hydrated throughout the day is essential for maintaining focus and overall well-being. With your diy motivational water bottle, you have a unique tool to help you achieve both.
Here are some strategies for using your motivational water bottle effectively, setting hydration goals, tracking progress, and staying motivated and inspired throughout the day.
Strategies For Using Your Motivational Water Bottle Effectively:
Keep your water bottle within reach: Place your water bottle somewhere easily accessible, such as on your desk or within arm's reach. This will serve as a constant reminder to stay hydrated.
Set reminders: Use alarms or notifications on your phone to remind yourself to take sips of water throughout the day. This simple action can significantly improve your hydration levels.
Customize your bottle: Personalize your water bottle with motivational quotes, stickers, or images that inspire you. This personal touch will make it more attractive and enjoyable to use.
Setting Hydration Goals And Tracking Progress:
Determine your daily water intake goal: Calculate the recommended daily water intake based on your weight, activity level, and climate. This will serve as a benchmark for your hydration goals.
Divide your day into segments: Break your day into smaller time blocks, setting goals for each segment. For example, you could aim to drink a certain amount of water by mid-morning, afternoon, and evening. This approach helps to spread your water intake evenly throughout the day.
Use measurements: If your water bottle has markings, use them to track your progress. It can be motivating to see how much water you've consumed and how much more you need to reach your daily goal.
Tips For Staying Motivated And Inspired Throughout The Day:
Get creative with flavors: Infuse your water with fruits, herbs, or even a slice of lemon or cucumber to add a refreshing twist. Experimenting with different flavors and combinations can make drinking water more exciting.
Take breaks and stretch: Incorporate short breaks into your daily routine. Use this time to stretch, take a quick walk, or do a mini-workout. These breaks not only keep your body active but also serve as a reminder to drink water.
Create a reward system: Set small rewards for yourself every time you reach a hydration milestone. Whether it's treating yourself to a healthy snack or taking a short break to do something you enjoy, these rewards can keep you motivated.
Track your progress: Keep a daily log of your water intake and how it makes you feel. Seeing the positive impact hydration has on your energy levels, mood, and overall well-being can be a strong motivator.
Now that you have your diy motivational water bottle, use these strategies, set hydration goals, track your progress, and stay motivated and inspired throughout the day.
Remember, staying hydrated is not only crucial for your physical health but also has a positive impact on your mental and emotional well-being.
Keep sipping, stay motivated, and conquer the day!
Taking Your Diy Project To The Next Level
Who doesn't love a good diy project? It's rewarding, creative, and a surefire way to add a personal touch to your belongings.
If you're a fan of diy projects and you're looking to take your skills to the next level, why not explore advanced customization options for your motivational water bottle?
In this section, we'll delve into the exciting possibilities that await you, from creating personalized designs for friends and family to sharing your diy creations on social media for inspiration and motivation.
Exploring Advanced Customization Options
So, you've mastered the basics of creating a motivational water bottle, and now it's time to take it up a notch.
Here are some advanced customization options to consider:
Experiment with different materials: Instead of using traditional decals or permanent markers, why not try using vinyl or heat transfer materials? These materials offer more versatility and durability, allowing you to create intricate designs that will last.
Incorporate unique techniques: Take your customization skills to the next level by trying out different techniques such as stenciling, etching, or even hand-painting. Each technique offers a distinct look and allows you to unleash your creativity in new and exciting ways.
Add embellishments: Elevate your diy water bottle by adding embellishments such as rhinestones, charms, or beads. These small details can make your bottle truly stand out and showcase your personal style.
Creating Personalized Designs For Friends And Family
One of the best things about diy projects is the ability to create personalized gifts for your loved ones.
Here's how you can make your motivational water bottle extra special for friends and family:
Customize with their favorite quotes: Incorporate inspirational quotes or motivational phrases that are meaningful to the person you're gifting the bottle to. It's a thoughtful gesture that will remind them of your support and encouragement.
Include their favorite colors or themes: Pay attention to their preferences and choose colors or themes that resonate with them. Whether it's their favorite color, a sports team logo, or their beloved hobby, adding these personal touches will make the water bottle a truly cherished gift.
Add a personal message: Use your creativity to include a personal message on the bottle. It could be an inside joke, a heartfelt note, or a simple reminder of how amazing they are. It's these small details that make a diy gift truly memorable.
Sharing Your Diy Creations On Social Media For Inspiration And Motivation
Now that you've mastered advanced customization techniques and created personalized designs for your loved ones, why not share your creations with the world?
Here's why sharing your diy motivational water bottles on social media can be a game-changer:
Inspiring others: By showcasing your creations, you have the power to inspire others to embark on their own diy projects. Your unique designs and customization ideas can ignite the creativity in others and encourage them to explore their own skills.
Building a supportive community: Posting your diy water bottles on social media allows you to connect with like-minded individuals who share your passion for creativity and motivation. The diy community is a welcoming and supportive space where you can exchange ideas, tips, and inspiration with fellow enthusiasts.
Motivating yourself: Sharing your diy creations on social media serves as a constant reminder of the goals and aspirations you've set for yourself. It's a visual representation of your journey towards personal growth and self-improvement. Plus, the positive feedback and encouragement you receive from others can be incredibly motivating.
So, whether you're itching to dive into advanced customization techniques, looking to create personalized designs for your loved ones, or eager to share your diy creations on social media, taking your diy project to the next level is an exciting adventure waiting to happen.
Let your creativity soar and watch as your motivational water bottle becomes a true expression of your unique style and inspiration.
Can I Use the Same Steps from the Motivational Water Bottle DIY for the Water Bottle Fountain DIY?
Yes, you can definitely use the same steps from the motivational water bottle DIY for the water bottle fountain DIY. By following the water bottle fountain build guide, you can easily transform a regular water bottle into a unique and mesmerizing fountain. Embrace your creativity and enjoy the soothing sight and sound of flowing water with this DIY project.
FAQ About Diy Motivational Water Bottle
Can I Make A Motivational Water Bottle At Home?
Yes, you can create your own motivational water bottle at home using simple diy methods.
What Materials Do I Need To Make A Motivational Water Bottle?
To make a motivational water bottle, you will need a water bottle, inspirational quotes or stickers, and adhesive.
How Do Motivational Water Bottles Work?
Motivational water bottles work by providing you with positive affirmations and reminders to stay hydrated and motivated throughout the day.
Can A Motivational Water Bottle Help Me Stay On Track With My Goals?
Yes, a motivational water bottle can serve as a visual reminder to stay focused on your goals and encourage you to stay hydrated.
Where Can I Find Inspiration For Quotes To Put On My Water Bottle?
You can find inspiration for quotes to put on your water bottle from books, websites, social media, or create your own personalized messages.
Conclusion
Whether you're trying to achieve fitness goals or simply looking to stay hydrated throughout the day, a diy motivational water bottle can be a game-changer.
By personalizing your water bottle with inspiring quotes, images, or even tracking markers, you can keep yourself motivated and accountable.
As a seo-friendly content writer, it's important to highlight the benefits of this diy project, such as the cost-effectiveness and the ability to customize to your preferences.
Not only will this diy project help you stay hydrated, but it can also serve as a constant reminder to stay focused on your goals, whatever they may be.
So, why not add a personal touch to your drinking routine and make hydration fun and inspiring? With a motivational water bottle, you'll be well on your way to achieving your goals and staying disciplined throughout your journey. Stay hydrated and motivated, one sip at a time.