Diy Popsocket With Water Bottle
Making your own phone grip is a great way to show off your style and personality. And what better way to do that than with a DIY popsocket made from a water bottle? This project is easy, fun, and customizable, so you can make it exactly how you want it.

Plus, it's a great way to recycle those old water bottles!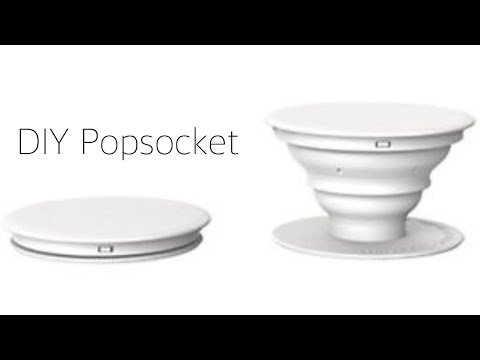 Do you ever find yourself needing a phone grip, but don't have a popsocket handy? Well, never fear! You can easily make your own DIY popsocket with just a water bottle and some tape.

To start, cut the bottom off of a water bottle. Then, take some strong tape (I like duct tape or packing tape) and wrap it around the circumference of the bottle bottom. Make sure to leave enough excess tape so that you can grip it between your fingers.

Now comes the fun part- decorating! You can use whatever you want to personalize your new popsocket. Wrap it in washi tape, cover it in glitter, or even draw on it with permanent markers.

The sky's the limit! Once you're happy with your design, all that's left to do is attach it to the back of your phone case. And that's it- you now have a homemade popsocket that'll help you keep a firm grip on your phone!
How Do You Make a Popsocket With a Water Bottle?
There are a few different ways that you can make a PopSocket with a water bottle. One way is to cut the bottom off of the water bottle and then use that as the base for your PopSocket. Another way is to use the entire water bottle, but cut a hole in the top so that you can insert your phone into it.

You can also use a balloon or other round object to create the base for your PopSocket.
How Do You Make a Homemade Popsocket?
If you're looking for a homemade PopSocket alternative, there are plenty of DIY options out there. You can make your own phone grip using materials like cardboard, duct tape, and even paper clips.
1. Cut a circle out of cardboard that's slightly smaller than the diameter of your phone's camera lens. This will be the base of your PopSocket. 2. Wrap duct tape around the circumference of the cardboard circle.
Make sure the tape is wrapped tightly so it doesn't come undone easily. 3. Stick three paperclips into the center of the cardboard circle. These will act as legs that will allow your PopSocket to stand up on its own.
4. Peel off the adhesive backing on a small piece of Velcro and stick it to the back of your PopSocket. This will help keep it attached to your phone case. 5. Your DIY PopSocket is now complete!
Just press it onto the back of your phone case and you're good to go!
How Do You Make a Removable Popsocket?
A PopSocket is a small, circular device that sticks to the back of your phone. It can be used as a grip, allowing you to hold your phone more securely, or as a stand, propping your phone up so you can watch videos hands-free. You can also use it to wrap your headphones around, keeping them tidy and tangle-free.

If you want to remove your PopSocket, it's easy to do. Just peel it off from the adhesive backing and wash the area with soap and water to remove any residue. If you want to reuse your PopSocket, make sure to clean the adhesive surface before reapplying it to your phone.
What is the Best Material for a Popsocket?
There are a few different materials that can be used for PopSockets, but the most common and popular material is silicone. Silicone has a few benefits that make it ideal for use with PopSockets. First, it's very flexible, so it can easily grip onto your phone without adding too much bulk.

Second, it's also very durable, so it will withstand regular use without tearing or breaking. And third, silicone is easy to clean, so you won't have to worry about your PopSocket getting grimy over time.
These materials add a bit of style to yourPopSocket while still providing all the functionality of the silicone versions. So whether you're looking for something functional or stylish (or both!), there's sure to be a PopSocket material that's perfect for you.
Diy Popsocket for Phone
A DIY popsocket for your phone is a great way to add some extra grip and style to your device. There are a few different ways that you can go about making your own popsocket, so we've put together a quick guide on how to make the perfect one for you. What You'll Need:

-Scissors -Tape -Ruler or measuring tape

-Pencil or pen -Popsicle sticks (or something similar) -Hot glue gun & glue sticks

-Cardboard (optional) Instructions: 1. Start by measuring out and cutting two pieces of tape that are each about 3 inches long.

These will be used to secure the popsicle sticks to the back of your phone case. 2. Next, use the ruler or measuring tape to measure out the desired length of your popsocket grip. Once you have the measurement, mark it off with a pencil or pen onto one of the popsicle sticks.

This will be your cutting line. 3. Cut along the marked line with scissors, then take the other popsicle stick and do the same thing so that you have two identical pieces. These will be glued together later on to create the actual grips for your DIY popsocket.

4. If you want, you can now decorate the front side of each piece using markers, paint, glitter, etc.. Get creative! Just make sure that whatever design you choose is symmetrical so that it looks good when glued together later on. 5a). If using cardboard – Cut out a small rectangle from cardboard (it should be smaller than both of your decorated popsicle sticks). This will act as an additional layer between them for extra stability once glued together . Decorate this piece if desired before proceeding to step 5b . OR 5b) If not using cardboard – Simply skip this step .
Conclusion
This is a detailed guide on how to make your own PopSocket using a water bottle. You will need: -A water bottle

-Scissors -A sharpie or pen -A ruler or measuring tape

-A popsocket or suction cup First, you'll need to cut the top off of the water bottle. Cut about an inch below the lip of the bottle.

Next, use the sharpie to mark a line around the circumference of the bottle about an inch from the bottom. This will be where you cut the second opening for your PopSocket. Carefully cut along this line with your scissors.

Now, take your popsocket or suction cup and attach it to the center of one of the openings on the water bottle. Make sure that it is attached securely before proceeding. Once it is attached, stretch out the other opening on the water bottle so that it covers most of popsocket.

The goal is to have a tight fit so that when you push down on one side of popsocket, it creates suction and sticks towaterbottle . And that's it! Now you have your very own DIY PopSocket!