A water bottle is an essential item for many people, whether they are going on a hike or just to the gym. However, buying a new water bottle can be expensive, and it can be even more costly if you lose or damage your old one. A DIY water bottle cover is a great way to protect your investment and keep your water bottle in good condition.

There are a few things you should keep in mind when making your own water bottle cover. First, choose a material that is durable and will not tear easily. Second, make sure the cover is wide enough to fit over the mouth of the bottle so that it does not fall off easily.

Finally, add a strap or handle to the cover so that it is easy to carry.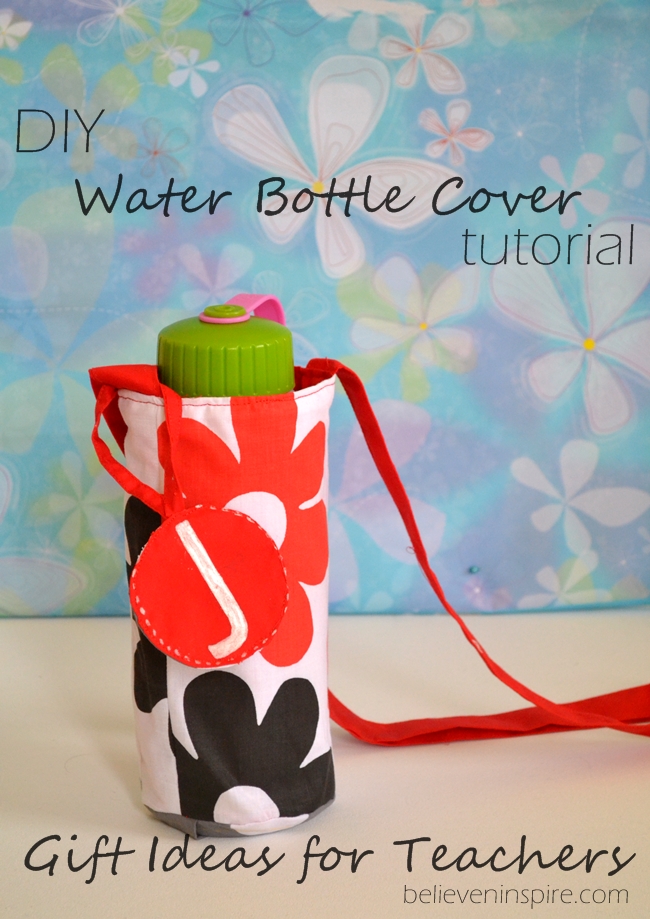 If you're tired of lugging around a boring old water bottle, why not spruce it up with a DIY water bottle cover? This project is easy, quick, and cheap – perfect for anyone who wants to add a personal touch to their hydration routine. Plus, it's a great way to use up fabric scraps or old clothes that you don't wear anymore.

To get started, you'll need some sort of fabric (felt works well), scissors, and hot glue or sewing supplies. Cut your fabric into a rectangle that will wrap around your water bottle snugly. Hot glue or sew the sides together, then decorate as desired.

You could add felt flowers, sequins, beads, or anything else you can think of. Let your creativity run wild! Once your cover is complete, slip it over your water bottle and hit the road.

Now you've got a stylish and unique way to stay hydrated – not to mention a conversation starter. So ditch the plain ol' water bottle and go make your own fabulous DIY version instead!
How Do You Make a Water Bottle Cover?
To make a water bottle cover, you will need: -1/4 yard of cotton or other lightweight fabric -Scissors

-Thread -Pins -Sewing machine (optional)

Instructions: 1. Cut two pieces of fabric that are 9 inches wide by 12 inches long. 2. Place the fabrics right sides together and pin around all four sides.

3. Sew around all four sides using a 1/2 inch seam allowance, leaving a 3 inch opening at the bottom for turning. 4. Turn the cover right side out and press flat. Top stitch around all four sides to close the opening.

5. Slip the cover over your water bottle and enjoy!
What is the Best Fabric for a Hot-Water Bottle Cover?
There are a few factors to consider when choosing the best fabric for a hot-water bottle cover. Hot water bottles can get very hot, so you'll want a fabric that can insulate well and won't be damaged by the heat. wool or cotton are both good choices.

You'll also want to make sure the fabric is thick enough to protect your skin from the hot water inside the bottle. Finally, consider whether you want a pattern or solid color for your cover. Wool is an excellent choice for a hot-water bottle cover because it's a natural fiber that can insulate against heat very well.

It's also fairly durable, so it won't be damaged by the heat of the water inside the bottle. However, wool can be scratchy, so if you're using it directly against your skin, you may want to line it with another fabric such as cotton.
It's not as insulating as wool, but it's more comfortable against the skin and less likely to cause irritation. Cotton is also fairly durable and can withstand the heat of hot water without being damaged. However, like wool, cotton isn't waterproof, so if your bottle leaks, thecover will absorb moisture and could mildew over time.
If you're looking for something waterproof, synthetic fabrics such as nylon or polyester would be better choices than either wool or cotton. These materials won't insulate as well as natural fibers, but they will protect your skin from contact with hot water in case of a leaky bottle. They're also usually cheaper than natural fibers like wool and cotton.
How Do I Make an Insulated Water Bottle Cover?
When it comes to insulated water bottle covers, there are a few things you need to know in order to make the perfect one. First, you need to choose the right fabric. A lot of people opt for neoprene because it's thick and does a great job at insulating.

However, other materials like wool or fleece can also work well. Just make sure that whatever fabric you choose is thick enough to provide good insulation. Once you've chosen your fabric, cut it into a rectangle that's big enough to wrap around your water bottle.

Then, sew the edges together so that you have a tube. Now, turn this tube inside out so that the seam is on the inside. The next step is to add some batting or another type of insulation material into your cover.

This will help keep your water cold (or hot) for longer periods of time. To do this, simply stuff some batting into the cover and then sew it shut. Now all that's left to do is put your water bottle into the cover and enjoy!

These covers are great for taking with you on hikes or long walks where you might not have access to clean water sources. And they're also handy for keeping your drink cold (or hot) during summertime activities like picnics or days at the beach.
How Do You Make a Hot-Water Bottle Cover from a Jumper?
If you're looking for a way to upcycle an old jumper and turn it into something both practical and stylish, then look no further than this tutorial on how to make a hot-water bottle cover from a jumper. You'll need an old jumper that's around the same size as your hot-water bottle, some scissors, a needle and thread, and some ribbon or fabric tape. Start by cutting off the sleeves of the jumper at the shoulder seam.

Then cut a slit down the front of the jumper, starting at the neckline and stopping just before the waistband.
Sew along this marked line, using a needle and thread (or a sewing machine if you have one). Finally, cut two lengths of ribbon or fabric tape and use these to create loops on either side of the hot-water bottle cover – these will be used to secure it in place once it's on your hot-water bottle. That's all there is to it!
Your upcycled hot-water bottle cover is now ready to use. Keep cosy all winter long with your very own DIY creation.
EASY DIY Tumbler/Water Bottle Bag | Easy Beginner
Fabric Water Bottle Holder Pattern
If you love to sew and are always on the go, then you need a fabric water bottle holder! This easy-to-sew project is perfect for busy crafters. With just a few supplies and some simple sewing skills, you can make a stylish and functional water bottle holder that will keep you hydrated all day long.

What You'll Need: 1/4 yard of main fabric (cotton or canvas work well) 1/4 yard of lining fabric (optional)

1/2 yard of webbing or ribbon (for the strap) Water bottle template (download here) Scissors or rotary cutter and mat

Pins or clips Step 1: Cut Out Your Fabric Pieces using your water bottle template as a guide.

If you're using lining fabric, cut out two main pieces and two lining pieces. Step 2: Sew the Side Seams Together Place your main fabric pieces right sides together, then sew along the side seams with a 1/4″ seam allowance. Repeat with the lining pieces if you're using them. Step 3: Create the Channel for the Strap Fold one long edge of each main piece over by 1″, then press. Fold this edge over again by 1″, encasing the raw edge, and press again. Topstitch along both folded edges to create a channel for the strap. Repeat on the other side piece. Step 4: Attach The Lining (Optional) If you're using lining fabric, place yourmain pieces wrong sides together with your lining pieces right sides together, aligning all side seams and bottom edges. Pin or clip in place, then sew around all four edges with a 1/2″ seam allowance, leaving an opening at the bottom of one oftheMainPiecesfor turning lateron .

Step5 : Turn Right Side Out & Press Turn your project right side out throughtheopeninginthe bottomofoneoftheMainPieces ,thenpressallfouredgesflat .Topstitcharoundtheentireperimeterwitha1 / 2 "seamallowancetocloseupthatopening ,thengiveyourwholeprojectafinalpress .Stepto6 : Add Your Water Bottle & Strap Feedyourstrapthroughetchchannelyou createdinStep3 ,thencenterthestraponthebackofyourholderandpinorclipintoplace .
Water Bottle Holder With Phone Pocket
Do you like to go on hikes or long walks? If so, then you know how important it is to have a water bottle with you. But what if your hands are full and you don't have a place to put your water bottle?

That's where a water bottle holder with a phone pocket comes in handy!
This way, you can easily access both your water and your phone while keeping your hands free. There are many different styles of water bottle holders with phone pockets available on the market, so you're sure to find one that suits your needs. Some even come with additional features like compartments for keys or snacks.
So whether you're looking for something basic or something more feature-packed, there's definitely a water bottle holder out there for you!
Bag Pattern With Water Bottle Pocket
This is a great bag pattern with a water bottle pocket! The pocket is big enough to fit most water bottles and it has a Velcro closure to keep it in place. This bag also has a lot of other pockets for all of your other gear.
Diy Water Bottle Holder for Bike
If you enjoy biking, but find it difficult to bring water with you on long rides, consider making your own DIY water bottle holder for bike! This holder will allow you to easily and securely attach a water bottle to your bike frame, so you can stay hydrated while enjoying the outdoors. To make this holder, you will need:

-A piece of scrap leather or fabric (enough to wrap around your water bottle) -A length of cord or string -Scissors

-A hot glue gun and glue sticks First, cut your leather or fabric into a strip that is long enough to wrap around your water bottle. Then, use the hot glue gun to attach the ends of the strip together, forming a loop.

Next, take your cord or string and tie it around the middle of the loop, cinching it tight. Trim any excess cord or string. And that's it – you've now made your very own DIY water bottle holder for bike!
Conclusion
This water bottle cover is a great way to keep your water cold while you're on the go. It's easy to make and only requires a few materials. You can use any fabric you like, but I recommend using something that won't absorb too much moisture.

I used cotton for mine, but you could also use something like neoprene. Cut two pieces of fabric that are slightly larger than your water bottle. Sew them together along the sides, leaving the top and bottom open.

Turn the cover right side out and slip it over your water bottle. If the fit is snug, you can sew a piece of elastic around the top to keep it in place. Now just fill up your water bottle and enjoy!