How to Carry Water Bottle on Bike? Explained!
To carry a water bottle on a bike, options include using a bicycle bottle cage, handlebar mounts, or hydration backpacks. These methods are convenient, and secure, and allow cyclists to stay hydrated throughout their journey.
A bicycle bottle cage is a standard method to carry a water bottle. It's typically attached to the bike's frame and offers easy access while riding.
Handlebar mounts, on the other hand, are attached to the handlebars and are a great option for smaller bikes or for those who prefer their bottle within sight.
Hydration backpacks comprise a bladder and a drinking tube, providing a hands-free hydration solution for longer rides.
Each method of carrying a water bottle on a bike serves a specific need. Choose based on your bike type, ride duration, and personal convenience to ensure adequate hydration during your cycling adventures.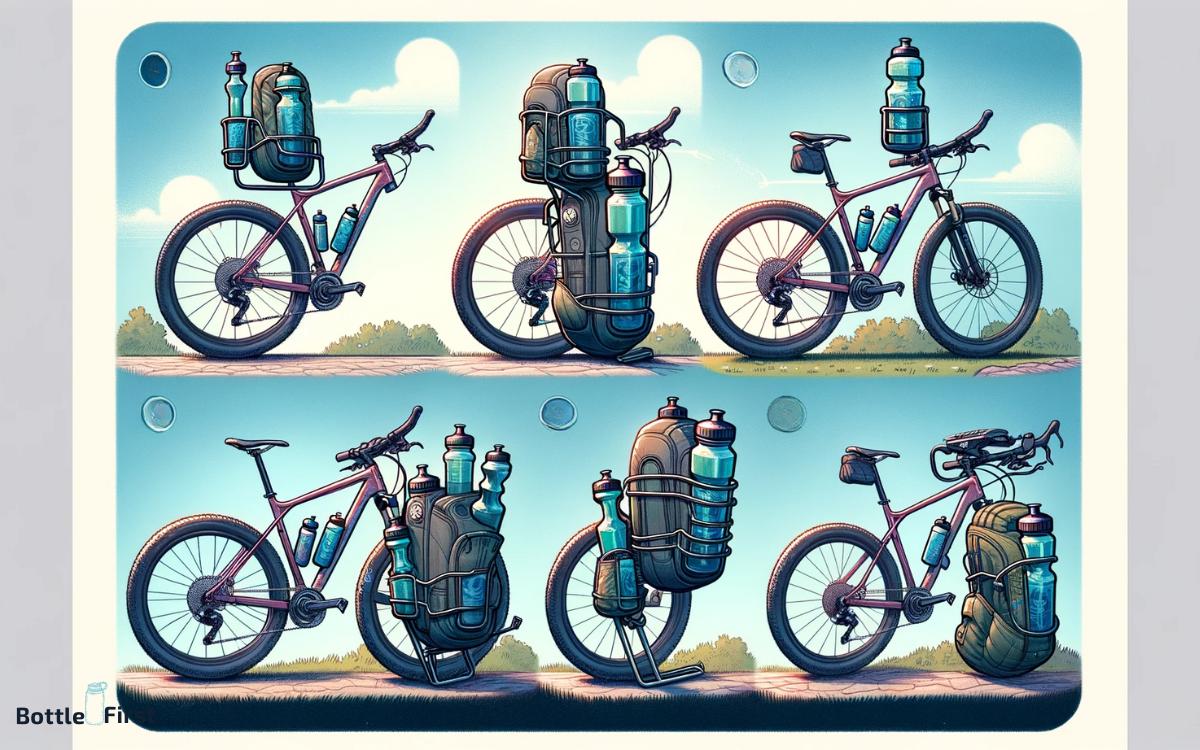 Key Takeaway
The Bicycle Bottle Cage, Handlebar Mounts, Frame Cage, and Bottle Cage Adapter are all effective options for carrying water bottles on a bike.
Hydration Backpacks and Waist Belt Holders provide hands-free hydration solutions for longer rides.
Saddlebags and Backpacks offer storage options for water bottles and other essentials, with easy access while riding.
Carrying a water bottle on a bike allows cyclists to stay hydrated during their journey, with convenient and secure methods available.
Handlebar Mount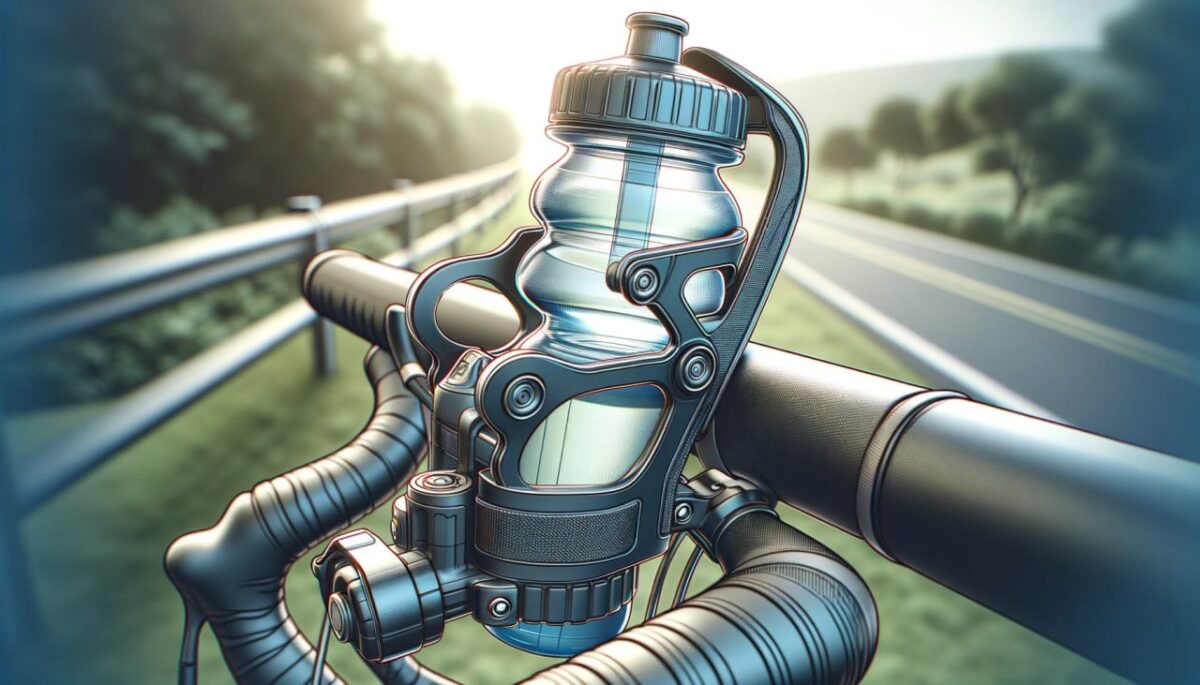 To securely carry a water bottle on your bike, consider using a handlebar mount, which provides easy access and convenience during rides.
A handlebar mount is a simple yet effective solution for cyclists who want to stay hydrated without compromising their safety or comfort.
These mounts are designed to securely hold water bottles in place, preventing them from falling off or getting in the way while riding.
With a handlebar mount, you can easily reach for your water bottle whenever you need a drink, without having to stop or fumble around in your bag. This innovative accessory is a must-have for any cyclist who values convenience and functionality.
Frame Cage
One effective method for carrying a water bottle on your bike is by utilizing a frame cage. This simple and practical accessory attaches to the frame of your bike, allowing you to securely carry your water bottle while riding.
The frame cage offers several advantages over other methods of carrying a water bottle, including:
Stability: The frame cage keeps your water bottle firmly in place, preventing it from bouncing around or falling off during your ride.
Accessibility: With a frame cage, your water bottle is easily accessible, allowing you to stay hydrated without having to stop and reach for your bottle.
Space-saving: By attaching the cage to your bike's frame, you free up valuable space on your handlebars or backpack, making it easier to carry other essential items.
Investing in a frame cage is a smart choice for any cyclist looking for a convenient and secure way to carry their water bottle while on the go.
Saddlebag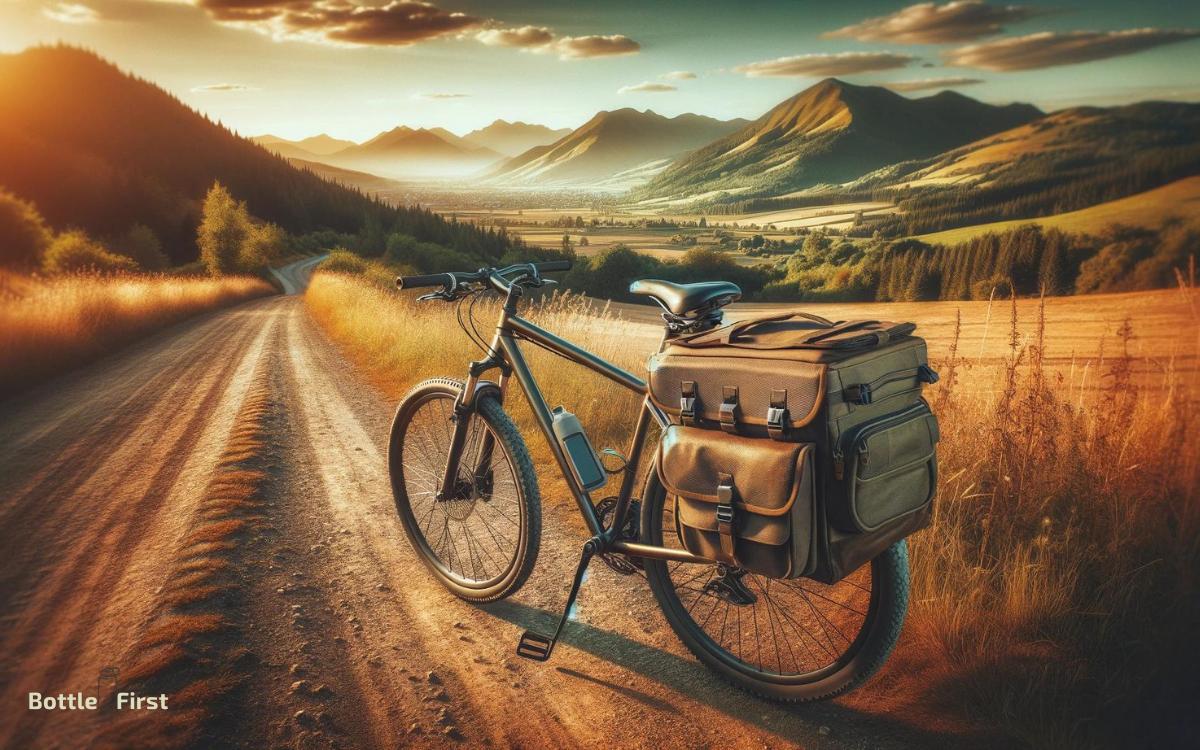 When considering alternative options for carrying a water bottle on your bike, a saddlebag provides a practical and efficient solution.
Saddlebags are designed to attach to the saddle of your bike, allowing you to store essential items, including your water bottle, securely and conveniently.
These bags come in various sizes, with multiple compartments that can hold not only your water bottle but also other necessities such as tools, spare tubes, and snacks.
Saddlebags are made from durable materials that are resistant to water and wear, ensuring that your belongings stay safe and dry throughout your ride. With easy access to your water bottle, you can stay hydrated without compromising your ride.
Now, let's explore another option for carrying a water bottle on your bike: the backpack.
Backpack
A backpack provides a versatile and convenient option for carrying a water bottle on your bike. With the right backpack, you can keep your water bottle secure and easily accessible during your bike rides.
Here are three reasons why a backpack is a great choice:
Comfort: A well-designed backpack distributes the weight evenly across your back, providing a comfortable and ergonomic option for carrying your water bottle.
Storage: In addition to holding your water bottle, a backpack offers ample storage space for other essentials such as snacks, tools, and extra clothing.
Versatility: Unlike other bike-mounted options, a backpack can be easily detached from your bike and used for other activities such as hiking or commuting.
Bottle Cage Adapter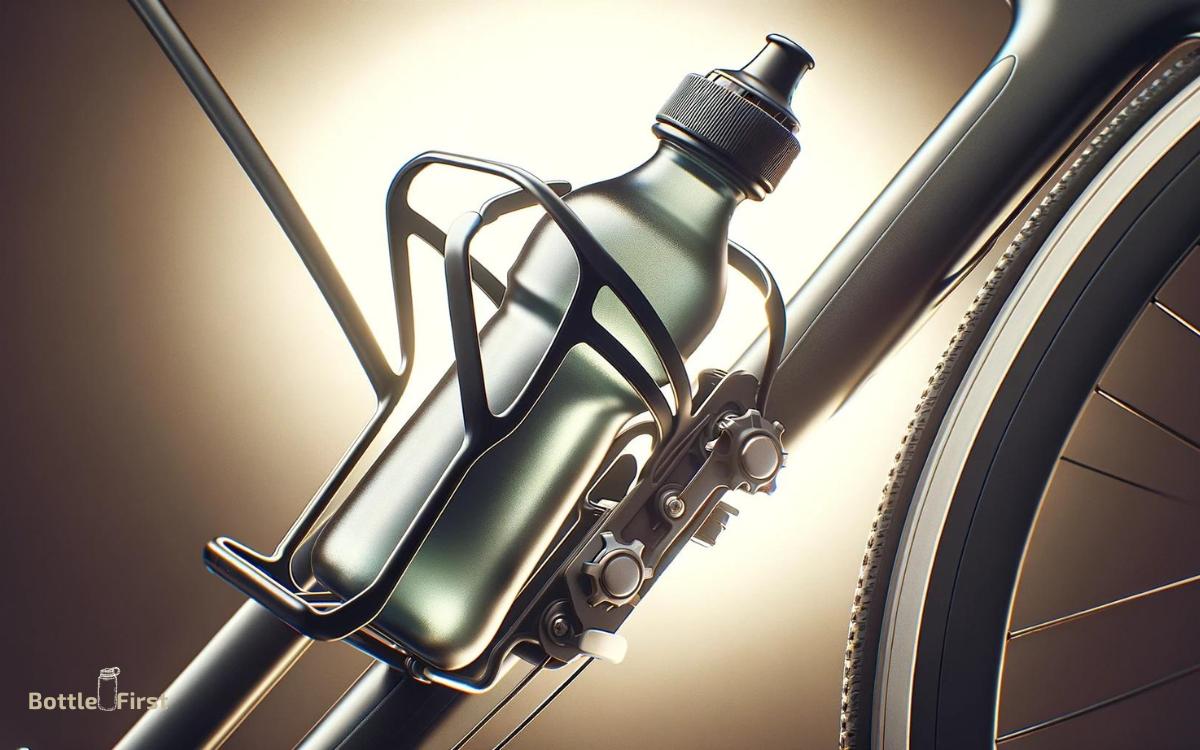 To securely attach a water bottle to your bike, consider using a bottle cage adapter. This innovative accessory allows you to conveniently carry a water bottle during your cycling adventures.
The bottle cage adapter is designed to fit onto your bike frame, providing a secure and stable attachment point for your water bottle cage.
One of the key benefits of using a bottle cage adapter is its versatility. It can be easily installed on most bike frames, regardless of size or shape. This means that you can carry your water bottle with confidence, no matter what type of bike you ride.
Furthermore, bottle cage adapters are often made from lightweight and durable materials, such as aluminum or carbon fiber.
This ensures that they add minimal weight to your bike while still providing a strong and reliable attachment for your water bottle.
Waist Belt Holder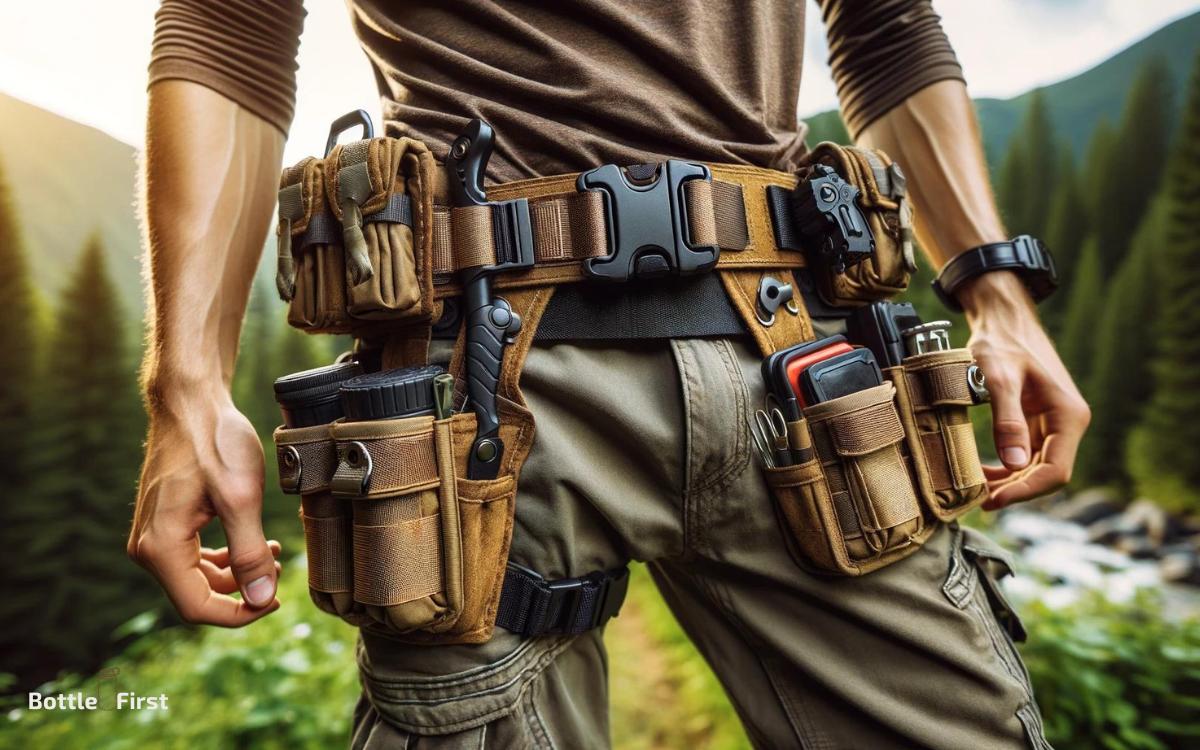 For cyclists looking for a hands-free solution, a popular option is the waist belt holder. This innovative accessory allows riders to conveniently carry their water bottles without the need for a traditional bottle cage.
The waist belt holder offers several advantages:
Convenience: With the water bottle securely fastened to the waist belt, cyclists can easily access their hydration without having to reach down to a bottle cage.
Versatility: The waist belt holder can accommodate different sizes and shapes of water bottles, ensuring compatibility with a variety of cycling needs.
Stability: The holder is designed to keep the water bottle stable and secure, even during bumpy rides or fast descents.
Conclusion
To keep hydrated on your bike rides, there are several practical options to carry your water bottle.
You can use a handlebar mount for easy access, a frame cage for stability, or a saddlebag for larger capacity.
If you prefer carrying your bottle on your person, a backpack or waist belt holder are great choices. A bottle cage adapter can be used to attach a water bottle to different parts of your bike.
Stay refreshed and enjoy your rides with these convenient options.