How to Clean Camelbak Water Bottle Bite Valve? 4 Easy Steps!
Cleaning your Camelbak water bottle's bite valve regularly is essential to prevent mold, bacteria, and buildup.
The valve and seal are prone to grime if not cleaned after each use. This article provides a straightforward guide to cleaning your Camelbak bite valve in a few quick steps with common household items.
Following these simple instructions for washing and sanitizing the valve will maintain fresh tasting water and prolong the life of your hydration gear.
Cleaning a Camelbak Bite Valve: Step-by-Step
What You Need
Camelbak water bottle
Dish soap
Water
Small brush (optional)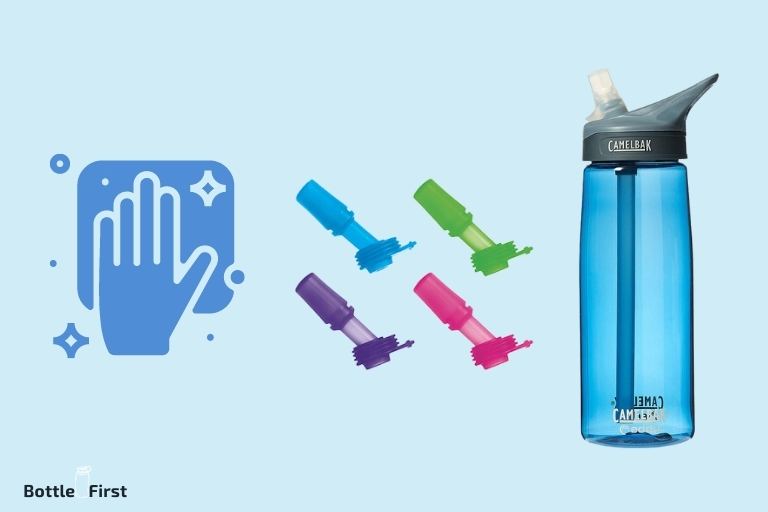 1. Disassemble the Valve
Twist and remove the bite valve from the water bottle.
Pull the sides of the valve apart to expose the inner rubber seal.
2. Clean the Valve
Rinse the valve and seal under running water.
Scrub with a small brush and dish soap. Ensure no debris is stuck.
Rinse thoroughly to remove all soap.
3. Sanitize the Valve
Soak the valve and seal in hot water for 5-10 minutes to sanitize.
Rinse with clean water afterwards.
4. Reassemble and Dry
Push the sides of the valve back together with the seal inside.
Twist the valve back onto the Camelbak bottle.
Allow to fully air dry before using again.
Tips
Clean regularly to prevent mold and bacteria buildup.
Replace the seal if cracked, torn, or overly worn.
Avoid harsh cleaners that can damage the valve.
Give an occasional deeper clean by soaking in vinegar and rinsing.
Understanding The Camelbak Water Bottle Bite Valve
What Is The Camelbak Water Bottle Bite Valve?
If you love outdoor activities and sports, then you must have heard about camelbak and their range of water bottles.
The camelbak water bottle is known for its durable design, ease of use, and convenience. However, what makes it unique from other regular water bottles is its bite valve.
The camelbak water bottle bite valve is a small component that controls the flow of water from the bottle to your mouth. It is made from high-quality materials and has a built-in shutoff valve to prevent leaks and spills.
Here are some important details you should know about the camelbak water bottle bite valve:
The bite valve is made from medical-grade silicone, which is safe for use with food and drinks.
The bite valve is designed for easy, no-spill sipping.
The bite valve is removable, which makes it easy to clean and replace if needed.
Why It Is Important To Maintain And Clean The Bite Valve Regularly
As with any water bottle, regular cleaning is essential to maintain hygiene and ensure the best possible performance.
This is especially crucial for the camelbak water bottle bite valve, which is exposed to your mouth and saliva every time you drink from it.
Regular cleaning reduces the risk of bacterial growth and mold buildup that can cause foul odors and health issues.
Cleaning the bite valve ensures that it continues to function correctly and prevents leakage.
Cleaning the bite valve regularly helps to remove unwanted debris that can accumulate over time.
Common Problems Associated With A Dirty Camelbak Water Bottle Bite Valve
A dirty camelbak water bottle bite valve can lead to several issues that might affect your overall experience with the water bottle.
Bad taste and odor: Accumulated bacteria or mold can lead to an unpleasant taste and odor in your water bottle.
Leakage: Dirt and debris can cause the shutoff valve to malfunction, leading to leakage and spills.
Health risks: Dirty bite valves can be a breeding ground for harmful bacteria, leading to potential health risks, especially if used by different people or left uncleaned for an extended period.
The camelbak water bottle bite valve is a significant component of the water bottle that plays a crucial role in ensuring efficient and mess-free hydration. Regularly clean the bite valve to maintain proper function and avoid health risks.
With proper care, the camelbak water bottle bite valve can last for a long time and allow you to enjoy clean and refreshing water on all your outdoor adventures.
Tips And Tricks For Effective Cleaning
Camelbak water bottle bite valves are an excellent tool to keep you hydrated throughout the day, and it is crucial to keep them clean to prevent the growth of harmful bacteria and ensure optimal performance.
We will provide you with some tips and tricks on how to effectively clean your camelbak water bottle bite valve.
Frequency Of Cleaning Necessary For Optimal Performance
Clean your CamelBak water bottle bite valve after every use for optimal performance. If you forget, clean it before the next use.
Avoiding Harsh Chemical Cleaners
Using harsh chemicals to clean your camelbak water bottle bite valve can cause damage to the bite valve, making it ineffective.
Harsh chemicals such as bleach, chlorine, and abrasive powders can cause the bite valve's plastic to weaken and crack, which will make you replace it sooner than expected.
Instead, you should resort to natural cleaning methods such as baking soda, vinegar, and lemon juice, which are gentle and effective in cleaning the bite valve.
Using Specialized Cleaning Solutions For Deep Cleaning
Sometimes, natural cleaning methods may not be enough, especially when your camelbak water bottle bite valve has been exposed to dirt, grime, and mold. Use specialized cleaning solutions designed for deep cleaning your bite valve in such cases.
These solutions are non-toxic and eco-friendly, and they are specifically formulated to remove dirt and bacteria buildup while protecting the bite valve's plastic material.
How To Prolong The Life Of Your Camelbak Water Bottle Bite Valve
Extend your CamelBak water bottle bite valve's lifespan with proper care and cleaning. Here are some maintenance tips:
Clean it after every use
Store it in a cool and dry place where it does not come in contact with direct sunlight
Replace the bite valve periodically as per the manufacturer's instructions
Avoid using it for any other purpose other than drinking water
Do not put it in a dishwasher or washing machine
Maintaining a clean CamelBak water bottle bite valve is essential for performance and longevity. Use natural cleaning methods, avoid harsh chemicals, periodically deep clean with specialized solutions, clean after every use, store properly, and replace it as needed. Follow these tips for clean, fresh water on the go.
Troubleshooting Common Problems
Identifying Problems With The Camelbak Water Bottle Bite Valve
Identify common problems with your CamelBak water bottle bite valve before addressing them.
These may include the following:
Mold or mildew buildup
Reduced water flow
Clogging
Discoloration
Unpleasant smell
Torn or damaged valve
How To Solve Issues With Mold Or Mildew?
Mold and mildew buildup can occur if your CamelBak water bottle is left in a damp place or not cleaned thoroughly.
Here are some simple steps to follow to get rid of mold or mildew:
Mix a solution of warm water and white vinegar
Remove the bite valve and soak it in the solution for 15-20 minutes
Rinse the valve with cold water and let it air dry before reattaching
Addressing Problems With Clogging Or Reduced Water Flow
Clogging and reduced water flow often occur in frequently used CamelBak water bottles.
Here are some tips to solve this problem:
Clean the camelbak water bottle as soon as possible after use
Use a cleaning brush to clean the bite valve and straw
Disassemble the parts and clean them one by one
Replace the bite valve if it is damaged
Follow these troubleshooting steps to maintain a clean and functional CamelBak water bottle bite valve. Remember, regular cleaning is essential to prevent these common issues.
By doing so, you can enjoy fresh, clean water on the go, no matter where you are.
Conclusion
After reading this article, you now know how to clean your camelbak water bottle bite valve in an easy and effective way.
Follow these steps to keep your water bottle clean, preventing harmful bacteria growth. Use suitable cleaning products, handle the valve gently, and ensure it's fully dry before reattachment.
Keeping your water bottle sanitary is not only important for your health but also a crucial step in extending the life of your camelbak water bottle.
By incorporating these cleaning tips into your routine, you can ensure that your camelbak water bottle remains a trusted companion on all your outdoor adventures.