How to Clean Mold Out of Contigo Water Bottle? 5 Steps!
Mold and mildew can build up inside reusable water bottles like Contigo if they aren't properly cleaned.
This guide provides step-by-step instructions for removing mold and residue from a Contigo bottle using common household ingredients like vinegar, baking soda, dish soap, and a bottle brush.
Following these simple but effective cleaning steps will help remove mold, eliminate odors, and keep your Contigo bottle fresh and clean for daily use.
Guide: Cleaning Mold from Contigo Water Bottle
What You Need
Contigo water bottle
White vinegar
Baking soda
Dish soap
Bottle brush
Hot water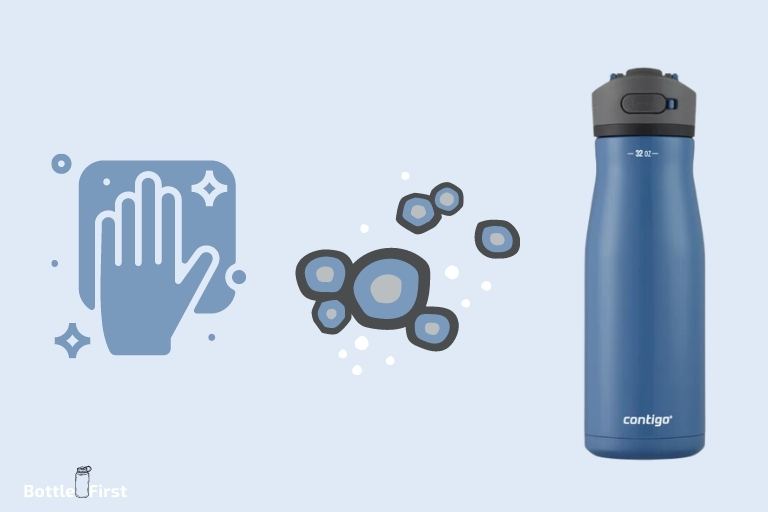 1. Inspect the Bottle
Unscrew the lid and remove any internal pieces like straws or stoppers. Check for any visible mold or residue inside the bottle and lid.
2. Make a Cleaning Solution
Mix together in the bottle:
1 cup hot water
1 tablespoon baking soda
2 tablespoons white vinegar
1-2 drops of dish soap
Screw on the lid and shake the bottle to combine the solution.
3. Scrub the Inside
Use the bottle brush to scrub the inside of the bottle and lid with the cleaning solution. Make sure to scrub all surfaces.
Let the bottle sit for 5-10 minutes with the cleaning solution inside.
4. Rinse Thoroughly
Empty out the cleaning solution from the bottle. Rinse several times with hot water to remove any remaining vinegar smell or residue.
Rinse the lid and any internal pieces as well.
5. Air Dry
Let all bottle pieces air dry completely before reassembling.
Cleaning mold from a Contigo water bottle is essential for maintaining hygiene and preventing potential health issues caused by mould exposure.
The combination of dish soap and vinegar/baking soda effectively removes mould spores while also neutralizing any lingering odors.
The process is simple enough that it can be done regularly as part of routine maintenance for your reusable bottles.
However, if mould persists after multiple cleanings or if you've been drinking from a contaminated bottle and feel ill, seek medical attention immediately.
Tips
If there is stubborn mold or buildup, let the bottle soak overnight in the cleaning solution before scrubbing.
Use fresh cleaning solution each time to maximize effectiveness.
Give the bottle an occasional cleaning like this to prevent future mold growth.
Understanding The Importance Of Regular Cleaning
Keeping your contigo water bottle clean is essential to ensure that it remains a safe and reliable vessel for hydration.
By following some important guidelines, you will not have to worry about any health-related issues due to the growth of mold.
The Risks Of Mold Growth
Mold growth is a common problem in any damp, dark, and warm environment, and your contigo water bottle is no exception.
If you fail to clean it regularly, mold can quickly accumulate in the bottle, putting you at risk of exposure to harmful bacteria and toxins that can lead to severe health problems, such as allergic reactions, wheezing, coughing, and respiratory infections.
To avoid such risks, you must sanitize your water bottle routinely to eliminate all traces of mold and other harmful substances.
Why It Is Essential To Clean Your Water Bottle Regularly?
Cleaning your contigo water bottle after every use is highly recommended to prevent mold growth, as well as to maintain a fresh and odorless water supply.
Here are some reasons why it is necessary to clean your water bottle regularly:
By eliminating any lingering bacteria or contaminants, you mitigate the risk of developing gastrointestinal illness, such as diarrhea or food poisoning.
Regular cleaning also prevents the build-up of minerals and other deposits that can affect the taste and quality of your water.
A clean water bottle also promotes better oral health, as it prevents the growth of bacteria that can cause foul breath and tooth decay.
How Often Should You Clean Your Contigo Water Bottle?
| Activity/Use | Cleaning Frequency |
| --- | --- |
| Daily Use | Daily or after each use |
| Infrequent Use | At least once a week |
| Storing Beverages Long-term | Before first use, and periodically if not in use |
| Visible Mold or Odor | Immediately |
| Dishwasher Safe Bottle | Follow manufacturer's instructions |
How Often Should You Clean Your Contigo Water Bottle?
Keep in mind that the cleaning frequency may vary based on personal preferences and the type of beverages you use in your Contigo water bottle.
Always follow the manufacturer's care instructions for your specific bottle model for the best results.
Drying And Storing Your Contigo Water Bottle
Contigo water bottles are a handy accessory, but improper cleaning can lead to mold growth.
We'll go over how to dry and store your contigo water bottle to prevent mold from growing in the future.
Air-Drying Vs. Towel Drying
Properly drying your Contigo water bottle is crucial. Here are some tips on air-drying vs. towel drying:
Air-drying:
Air-drying is the easiest way to dry your contigo water bottle.
To air-dry, simply place your water bottle upside-down on a clean dish towel or drying mat and let it air out for a few hours.
Make sure you give the bottle enough time to dry completely before storing it.
Towel-drying:
Towel-drying is a good alternative to air-drying, especially if you need your bottle to be dry right away.
Use a clean dish towel or paper towel to gently dry the inside and outside of the bottle.
Be sure to pay extra attention to the cap and straw areas, as these can be difficult to dry completely.
Preventing Mold Growth In The Future
Wash your water bottle regularly:
To prevent mold growth, it's important to wash your contigo water bottle after every use.
Use warm, soapy water and a clean sponge or brush to scrub the inside and outside of the bottle.
Rinse the bottle well with clean water and let it dry thoroughly.
Store your water bottle in a cool, dry place:
Moisture is the enemy of mold prevention, so it's important to store your contigo water bottle in a cool, dry place.
Avoid storing your water bottle in direct sunlight, as this can cause bacteria and mold growth.
Keep your water bottle in a well-ventilated area to allow air to circulate.
Choosing The Right Storage Location
Choosing the right storage location for your contigo water bottle can make all the difference in preventing mold growth.
Here are some tips:
Use a cabinet or pantry:
Storing your water bottle in a cabinet or pantry can help keep it out of direct sunlight and away from moisture.
Make sure the area is well-ventilated to allow air to circulate.
Don't store your water bottle in the fridge:
While it might seem like a good idea to store your water bottle in the fridge, this can actually cause condensation to form inside the bottle.
Condensation creates the perfect environment for mold growth, so it's best to avoid storing your water bottle in the fridge.
Conclusion
After knowing how to clean mold out of your contigo water bottle, you can enjoy using it once again.
Mold growth can be a real nuisance, but by following the steps outlined in this article, you can ensure your water bottle stays mold-free.
To prevent mold, clean and dry your water bottle regularly. Periodically sanitize it for hygiene. Now, confidently enjoy your Contigo bottle.