How to Clean Narrow Mouth Water Bottles? 10 Easy Steps!
A Nathan water bottle is a trusty companion for staying hydrated during your daily activities, whether you're hitting the gym, going for a run, or simply navigating the challenges of everyday life.
To maintain the quality and safety of your Nathan water bottle, regular cleaning is essential. In this step-by-step guide, we'll walk you through the process of cleaning your Nathan water bottle efficiently.
By following these straightforward instructions, you can ensure that your water bottle remains in pristine condition and ready to keep you refreshed on your adventures.
Step-by-Step Cleaning Guide for Small Mouth Water Bottles
Narrow-mouth water bottles are a popular choice for outdoor enthusiasts and those on the go, but they can be a bit challenging to clean due to their slender openings.
However, with the right approach, you can keep your narrow-mouth water bottle fresh and safe for daily use. Here's a step-by-step guide on how to clean narrow-mouth water bottles effectively.
What You'll Need
Before you begin, gather the following items:
Narrow-mouth water bottle
Mild dish soap
Warm water
Bottlebrush or cleaning tool
Baking soda (optional)
Bottle cleaning tablets (optional)
Step 1: Empty the Bottle
Start by emptying any remaining liquid from your narrow-mouth water bottle and dispose of it properly.
Step 2: Remove the Cap and Seal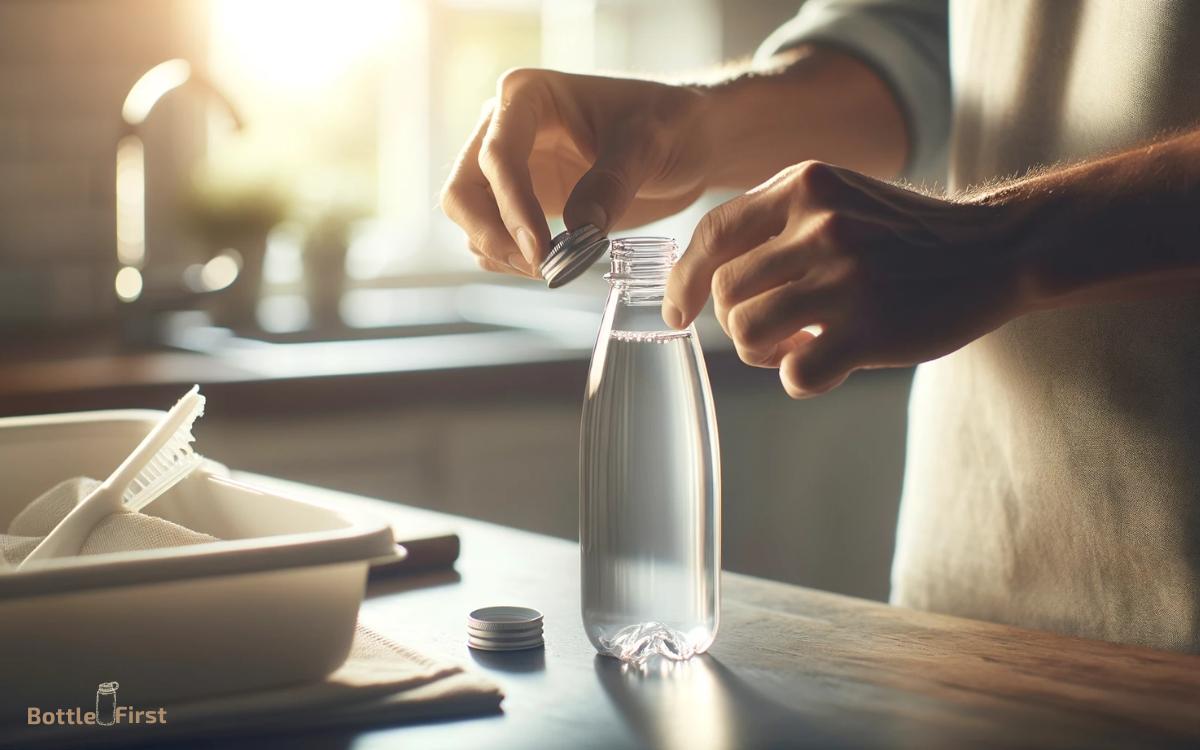 Remove the cap and any seals or gaskets from the bottle. These components need separate cleaning to prevent trapped dirt and odors.
Step 3: Rinse with Warm Water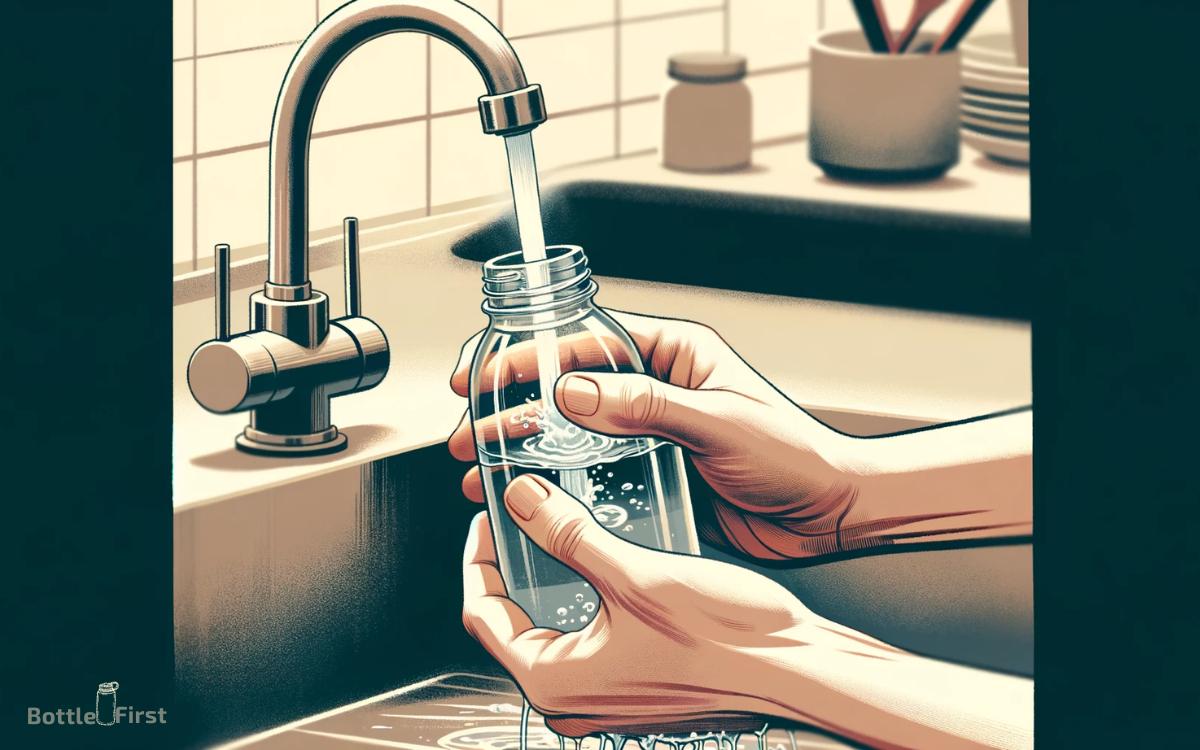 Thoroughly rinse the bottle, cap, and seals with warm water to remove loose debris and residues.
Step 4: Prepare a Cleaning Solution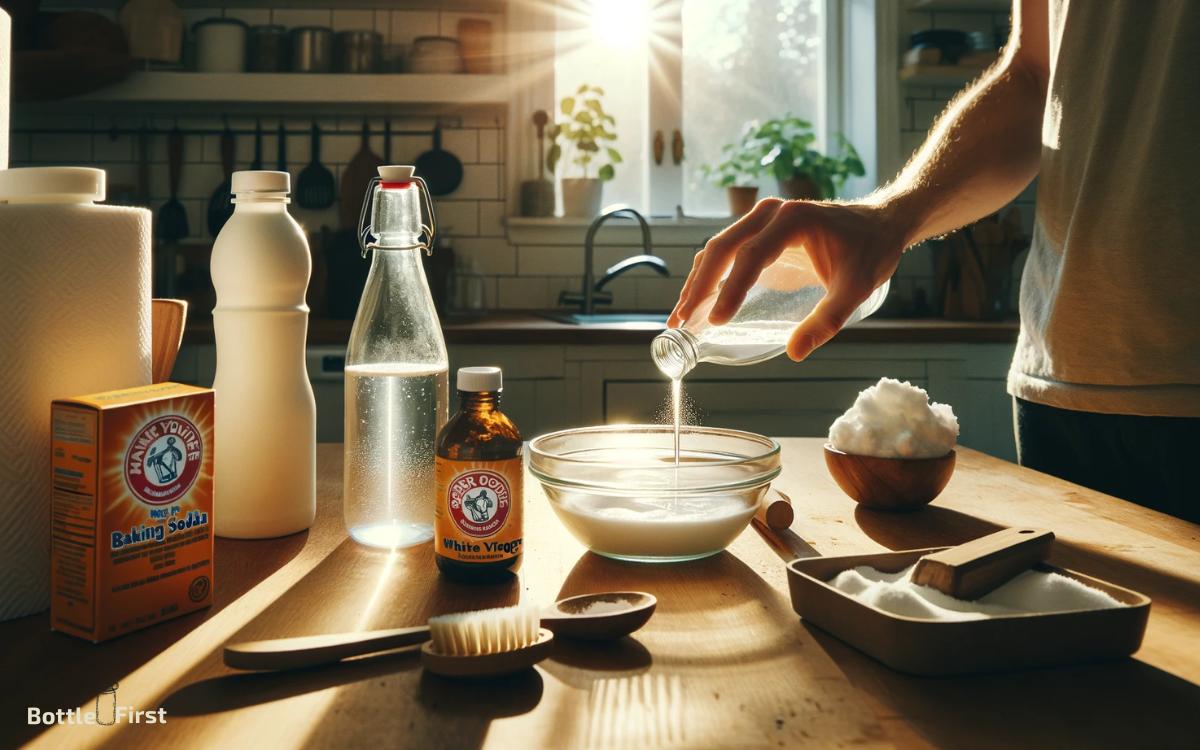 Fill the bottle with a mixture of warm water and a few drops of mild dish soap. You can also opt for specialized bottle-cleaning tablets for added convenience.
Step 5: Use a Bottle Brush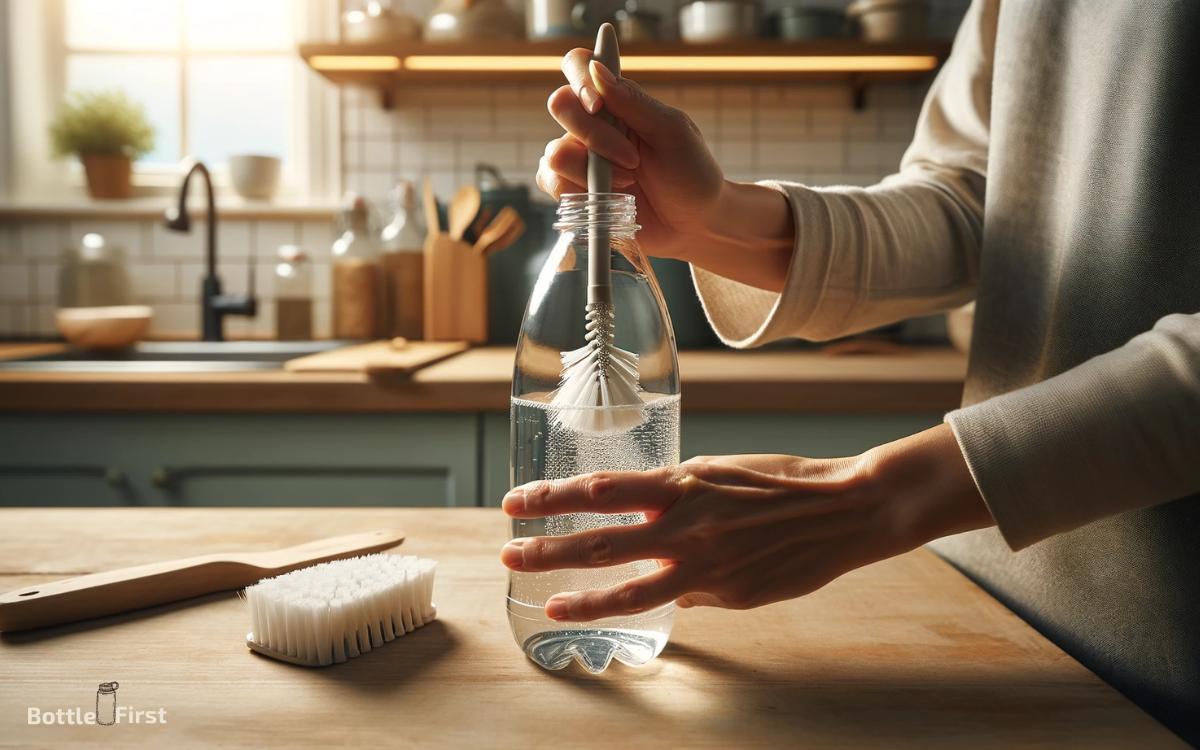 Insert a bottle brush or cleaning tool designed for narrow openings into the bottle. Scrub the interior thoroughly, paying close attention to hard-to-reach areas.
Step 6: Clean the Cap and Seals
Clean the cap and seals separately using a small brush or cloth. Ensure all nooks and crannies are free of debris.
Step 7: Rinse Everything
Rinse the bottle, cap, and seals with warm water to remove any soap or cleaning solution completely.
Step 8: Optional Baking Soda Scrub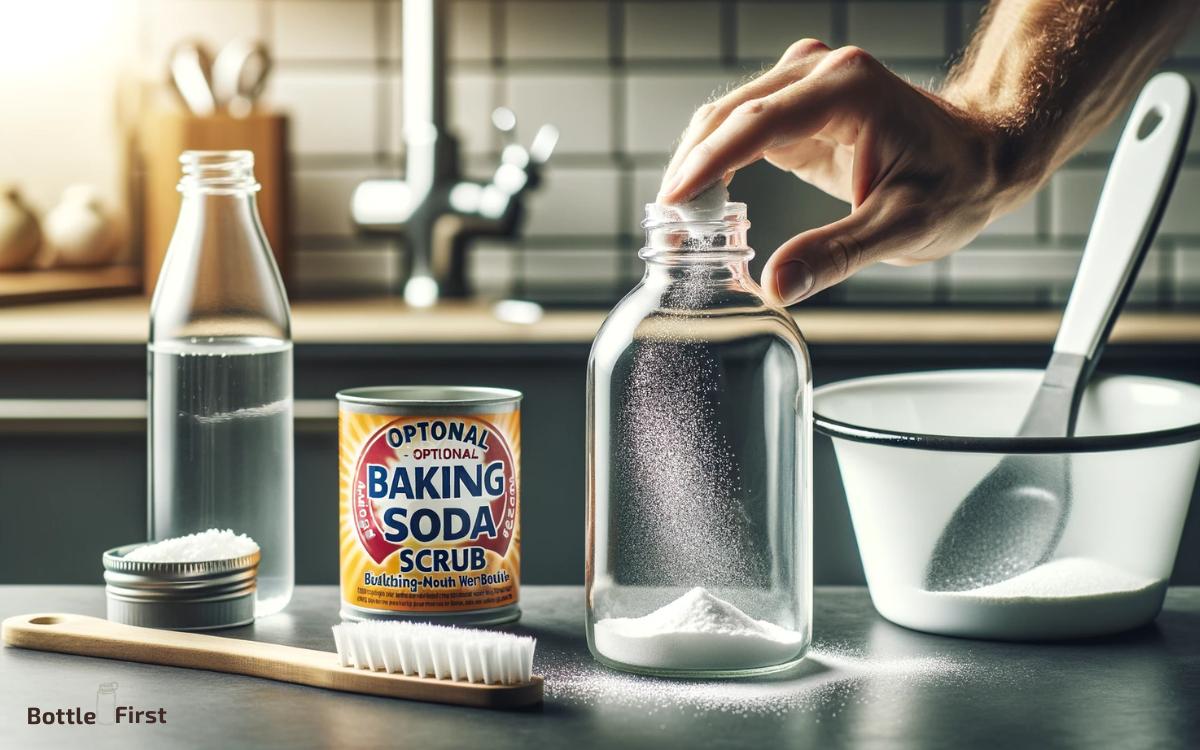 For persistent odors or stains, mix a paste of baking soda and water, apply it to the interior of the bottle, and let it sit for a few hours before rinsing thoroughly.
Step 9: Dry and Assemble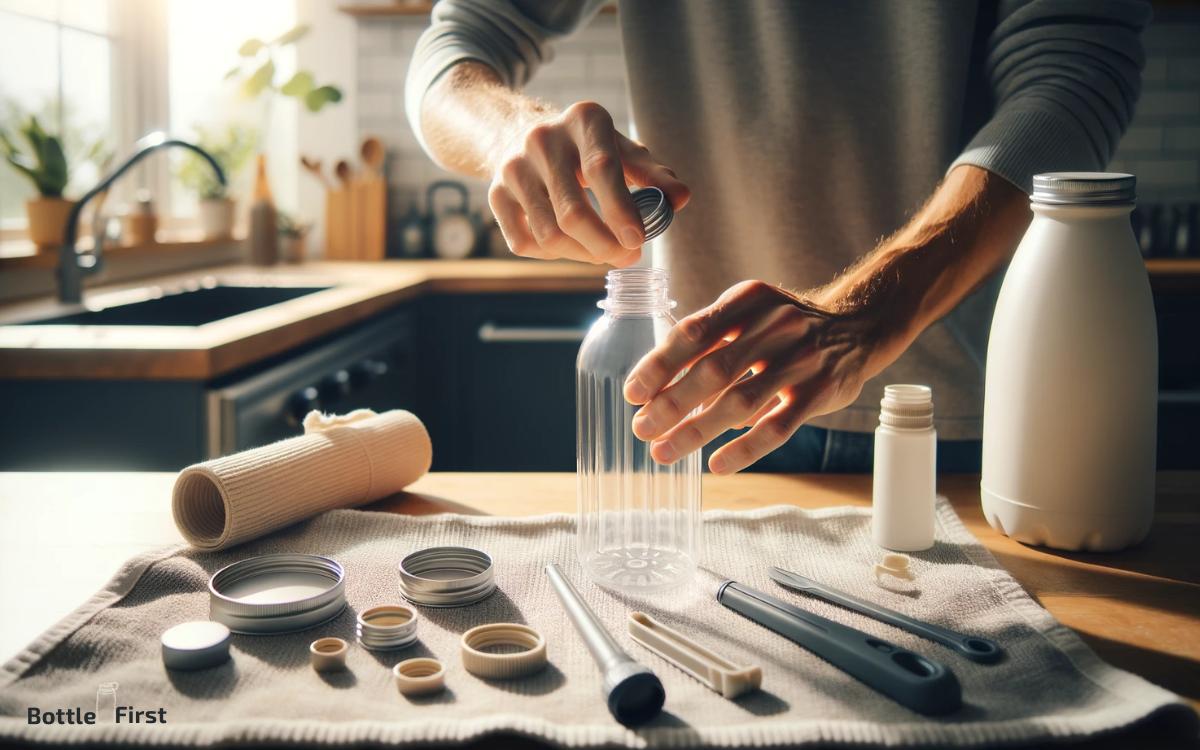 Allow all components to air dry completely to prevent mold and mildew growth. Once everything is dry, reassemble the bottle, including the cap and seals.
Step 10: Regular Maintenance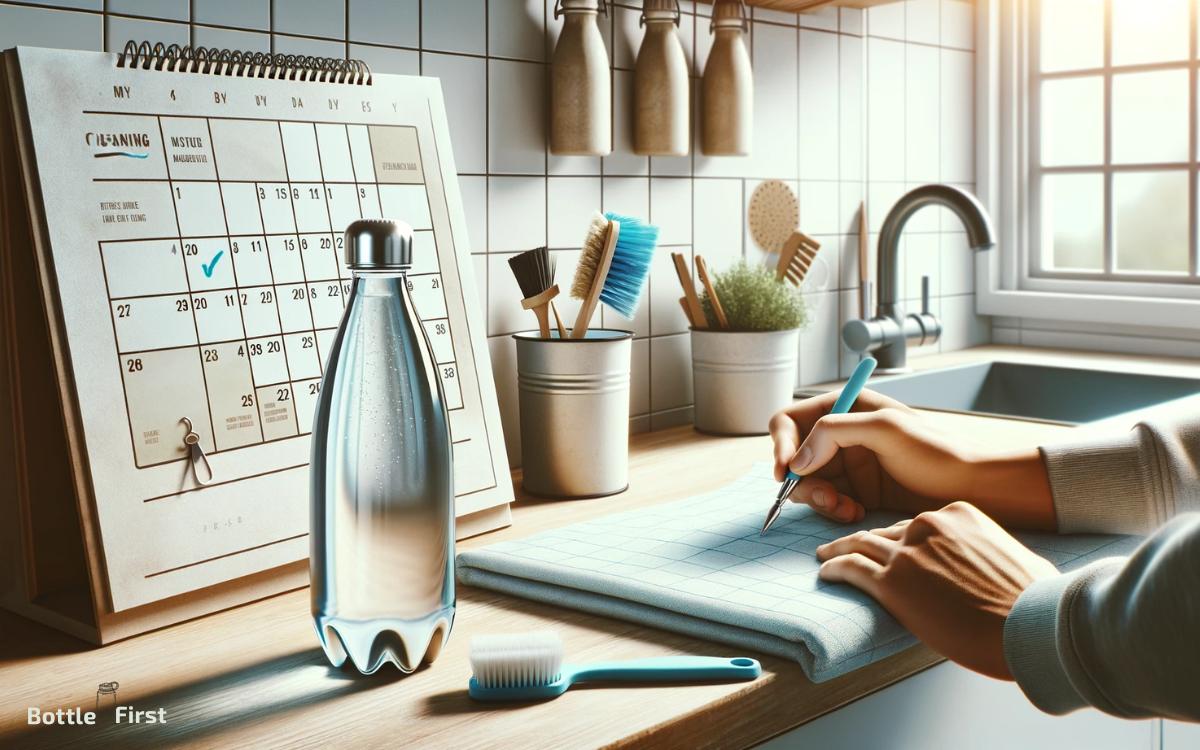 To ensure your narrow-mouth water bottle remains clean and odor-free, wash it after every use, especially if you've used it for beverages other than water. Store it without the cap to allow proper ventilation when not in use.
By following these straightforward steps, you can maintain the cleanliness and hygiene of your narrow-mouth water bottle, ensuring it's always ready to provide you with refreshing hydration on your adventures.
Use a Bottle Brush for Thorough Cleaning
After pre-rinsing your narrow-mouth water bottle, it's time to thoroughly clean it using a bottle brush.
Here are three steps to help you achieve a spotless bottle:
Dip the bottle brush in warm soapy water: Create a solution by mixing mild dish soap with warm water. Dip the bottle brush into the soapy water, ensuring the bristles are fully saturated.
Scrub the bottle thoroughly: Insert the bottle brush into the narrow mouth of the water bottle and scrub the inside walls in a circular motion. Pay extra attention to areas that may have residue or stains.
Rinse the bottle and brush: Once you've finished scrubbing, thoroughly rinse both the bottle and the brush with clean water. Make sure to remove all soap residues to ensure the bottle is clean and ready for use.
Using a bottle brush is an effective way to reach all the nooks and crannies of your narrow-mouth water bottle, ensuring a thorough cleaning and maintaining its cleanliness for your freedom to enjoy fresh and healthy water.
Try Using Vinegar or Baking Soda for Deep Cleaning
For an even deeper clean, you can try using vinegar or baking soda. These household ingredients are effective in removing stubborn stains and odors from narrow-mouth water bottles.
To use vinegar, simply fill the bottle halfway with equal parts vinegar and water, then let it sit for a few hours or overnight. Afterward, scrub the bottle with a bottle brush or a sponge to remove any remaining residue.
Baking soda can also be used by creating a paste with water and applying it to the inside of the bottle. Allow it to sit for a few hours before scrubbing and rinsing thoroughly.
Both vinegar and baking soda are natural cleaning agents that are safe to use and can help ensure your water bottle is thoroughly cleaned.
Once you have finished deep cleaning, it's important to rinse and dry the bottle properly to prevent any lingering smells or residue.
Rinse and Dry the Bottle Properly
To ensure proper cleanliness and prevent any lingering residue or odors, thorough rinsing and drying of the bottle is essential.
Follow these steps to ensure your narrow-mouth water bottle is properly rinsed and dried:
Rinse with warm water: After washing the bottle with soap and water, rinse it thoroughly with warm water. This will help remove any remaining soap residue.
Shake vigorously: After rinsing, shake the bottle vigorously to remove excess water. Make sure to cover the opening with your hand to prevent water from splashing out.
Air dry upside down: Place the bottle upside down in a well-ventilated area to allow it to air dry completely. This will prevent any moisture from becoming trapped inside the bottle.
Conclusion
Congratulations! You've now mastered the art of cleaning narrow mouth water bottles. With the right supplies and techniques, you can easily achieve a spotless and fresh bottle every time.
Say goodbye to lingering odors and bacteria, and hello to a clean and hydrated experience.
So go ahead, take a sip and enjoy the satisfaction of a truly clean water bottle. Cheers to cleanliness!