How to Decorate a Water Bottle With Stickers? 10 Easy Steps!
To decorate a water bottle with stickers, you'll want to choose a variety of durable, waterproof stickers that reflect your personal style, and then strategically place them on the bottle for maximum visual appeal.
Decorating a water bottle with stickers is a fun and creative way to personalize your bottle, making it more enjoyable to use and easier to identify as your own.
With careful planning and a few key steps, you can easily transform your plain water bottle into a unique and eye-catching accessory.
Select high-quality, waterproof stickers.
Clean the water bottle surface before applying stickers.
Strategically place stickers for maximum visual impact.
Seal the stickers with a protective layer for added durability.
Choose high-quality, waterproof stickers that can withstand repeated usage and washing. Vinyl or laminated stickers are ideal choices for this purpose.
Make sure the stickers reflect your personality or interests, as they will be the focal point of your decorated water bottle.
To ensure proper adhesion and longevity, always clean the surface of your bottle before applying the stickers – a clean, dry surface will provide the best results.
When placing the stickers, consider the overall design you want to achieve, and feel free to layer or overlap them for added interest.
Finally, you can apply a clear protective layer over the stickers, such as a waterproof sealant or epoxy resin, to make them even more durable and long-lasting.
10 Steps for Decorating a Water Bottle with Stickers
| Step | Description | Materials Needed |
| --- | --- | --- |
| 1 | Choose a theme or color scheme for your water bottle. | Stickers, water bottle |
| 2 | Clean and dry the water bottle surface. | Water, cloth |
| 3 | Gather a variety of stickers that fit your chosen theme or color scheme. | Stickers, scissors |
| 4 | Arrange stickers on a flat surface to plan your design. | Stickers, flat surface |
| 5 | Apply the stickers to the water bottle, starting with the larger or more central stickers first. | Stickers, water bottle |
| 6 | Fill in gaps and spaces with smaller stickers, and layer them as desired. | Stickers, water bottle |
| 7 | Smooth out edges and bubbles to ensure stickers adhere well. | Fingers, credit card |
| 8 | Seal your design with a clear adhesive spray (optional). | Clear adhesive spray |
| 9 | Allow adhesive spray to dry before using (if applied). | Time, well-ventilated area |
| 10 | Enjoy your newly decorated water bottle! | Decorated water bottle |
10 Steps for Decorating a Water Bottle with Stickers
Key Takeaway
Personalizing water bottles with stickers is an easy and fun way to express yourself.
A wide variety of sticker types can be used for this purpose, including waterproof and vinyl stickers.
Properly cleaning and drying the water bottle surface is essential for long-lasting adhesion.
Strategic placement of stickers can make a water bottle visually appealing and unique.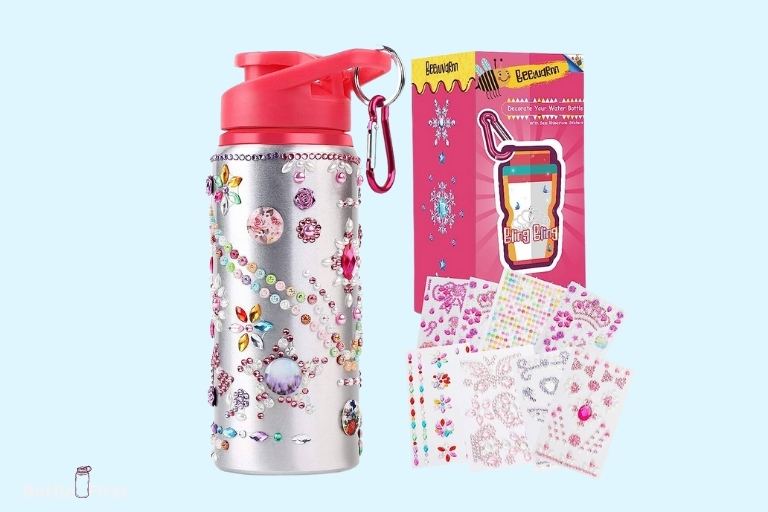 Five Facts About Decorating Water Bottles with Stickers
Decorating a water bottle with stickers allows for creative expression and can make it easily identifiable in crowded environments (source: Reusethisbag)
Waterproof and vinyl stickers are ideal for water bottles, as they can withstand washing and daily wear (source: StickerYou)
Before applying stickers, it's crucial to clean the surface of the water bottle with soap and water, then allowing it to dry completely in order to maximize sticker adhesion (source: How to decorate a water bottle with stickers)
Layering or overlapping stickers can create a visually interesting effect and showcase your favorite designs (source: Redbubble)
Periodically updating or replacing stickers can help maintain the fresh look of your water bottle and allow for experimenting with new designs and styles (source: ThoughtCo)
Choosing The Right Water Bottle And Stickers
Decorating water bottles with stickers can be a fun and creative activity to personalize your bottle.
However, choosing the right water bottle and stickers is crucial to ensure your creation looks amazing.
Here's what you need to know.
Factors To Consider When Choosing A Water Bottle For Decoration
Material: The first factor to consider is the bottle's material, such as plastic or stainless steel. Ensure the material is suitable for stickers and can withstand the adhesive's stickiness without falling off quickly.
Shape and size: Considering the bottle's shape and size is critical because stickers come in different sizes and shapes. A bottle with a smooth surface and adequate surface area will be the best option for decorating.
Functionality: Make sure to choose a water bottle that is still functional after decorating. Ensure that the sticker placement does not interfere with the bottle's opening, closing, or drinking.
Types Of Stickers That Work Best For Water Bottles
Vinyl stickers: These stickers are perfect for water bottles because they are waterproof, durable, and available in various colors and designs.
Waterproof stickers: As the name suggests, they are waterproof and can withstand exposure to moisture without losing their adhesive power. A perfect option for long-lasting creations.
Holographic stickers: These are eye-catching stickers that reflect light and change colors depending on the angle and lighting.
Color Schemes To Consider When Choosing Stickers
Bright colors: If you want your bottle to stand out in a crowd, choose stickers with bright colors. Neon, bright blue, orange, and green are all good choices.
Classic and subdued colors: Choosing classic and subdued colors like black, gray, beige, and navy blue will make your bottle look timeless and elegant.
How To Match Stickers With The Bottle'S Design
Consider the bottle's color and texture before choosing stickers. Choose stickers that complement the bottle's color or texture.
Create contrast by pairing opposite colors or textures. For example, if the bottle is smooth, choose stickers with a textured surface.
Choose a theme and stick with it. For example, choose stickers related to nature, animals or abstract designs that you prefer.
Decorating a water bottle with stickers is an excellent way to make it stand out, but it's crucial to choose the right bottle and stickers.
Keep in mind the factors listed above to ensure your water bottle decorating is a success!
Preparing The Surface
Decorating a water bottle with stickers is an enjoyable and artistic way to personalize your hydration.
However, before you can get creative, the surface needs adequate preparation to ensure the stickers stick well and look fabulous.
Here's what you need to know about preparing the surface.
Why It's Essential To Have A Clean, Dry Surface
The cleaner the surface, the better the stickers will bond. Dirt, dust, moisture or grease on the bottle will not only result in bubbles under the sticker, but also reduce the adhesive's ability to stick to the surface.
A clean, dry surface is therefore essential for optimal sticker adhesion.
To make sure your surface is sparkling clean and dry, follow these steps:
How To Remove Any Dirt, Grease, Or Previous Labeling
Dip a clean cloth in a little soapy water (dish soap should work) and rub the bottle thoroughly, especially around the area where you plan to stick the sticker
For tougher stains or marks like price tags, use a clean rag and a little rubbing alcohol. Simply dampen a cloth with rubbing alcohol, gently rub the stained area and then wipe with a clean, dry cloth.
If the previous label is sticky residue, you can use a sticker removal spray to remove any adhesive residue, then follow up with a clean, dry cloth to wipe off the bottle.
Tips On How To Dry Off Any Residual Moisture
Once you've cleaned the water bottle, make sure to dry it effectively.
Here are a few tips on how to ensure your bottle is completely dry:
Towel dry – use a clean towel to thoroughly dry the bottle.
Air-dry – place the bottle upside down on a dish rack or a clean cloth in a well-ventilated room so that it can air dry naturally.
Hairdryer – use a hairdryer on the cool setting to dry the bottle if you are in a hurry. Holding the bottle upside down will prevent water from getting into the bottle.
How To Get Rid Of Any Adhesive Residue Left After Sticker Removal
Sometimes, removing stickers can leave behind stubborn adhesive residue on the bottle.
Here's what you can do to remove it:
Combine some baking soda and cooking oil in a bowl to create a paste.
Rub the paste on the adhesive residue, and let it sit for about 10 minutes.
Use a clean, dry cloth to wipe the adhesive residue off the water bottle.
Repeat this process a few times until the surface is free of residue.
By following these preparation steps, you can ensure that your water bottle is ready for decorating, allowing you to design a water bottle that is entirely unique to you.
Adding The Stickers
Decorating a water bottle with stickers can be a fun and creative way to express your personality.
Adding stickers to your water bottle is an affordable and simple way to make your drinkware stand out and look unique.
In this section, we will discuss the techniques, tools, and tips that will help you create a beautiful water bottle design that will be the envy of all your friends.
Techniques And Tools For Optimal Sticker Placement
The first step in decorating your water bottle with stickers is to decide on the design you want. Once you have an idea, it's time to gather the tools and materials you will need.
Here are some techniques and tools that will help you achieve optimal sticker placement:
Clean the surface of the water bottle with a mild soap and water to ensure that the stickers will stick better.
Make sure to dry the bottle completely to avoid any moisture that may prevent the stickers from properly adhering.
Use a ruler and a marker to create guidelines if you want to place the stickers in a straight line or at specific intervals.
Use a pair of scissors to cut the stickers properly if necessary.
Use tweezers or a toothpick to help you position the stickers more accurately.
Use a squeegee or a credit card to smooth out any air bubbles or wrinkles in the stickers.
How To Avoid Bubbles, Wrinkles, And Other Imperfections
After adding stickers to your water bottle, you may encounter common problems like bubbles or wrinkles that can spoil your design. But don't worry, there are simple solutions to these issues.
Here are some tips to help you avoid bubbles, wrinkles, and other imperfections:
Start by applying the sticker in small sections, smoothing out the surface as you go along to prevent any air bubbles from forming.
Use a squeegee or credit card to push out any bubbles or wrinkles in the sticker surface gently.
If you notice a wrinkle, gently lift the sticker and reposition it carefully.
Use a sharp knife or scissors to puncture any bubbles that may remain.
When applying the sticker, use a gentle touch to avoid tearing or stretching the material.
Ways To Layer Stickers For A Unique Look
When it comes to laying your stickers, there's no one-size-fits-all approach.
To create a unique look and style, consider the following tips:
Mix and match different sizes and shapes of stickers for variety and texture.
Create a theme by using stickers that fit a specific mood or style.
Layer the stickers to create a three-dimensional effect that adds depth to your design.
Experiment with different arrangements to find the one that looks best to you.
How To Reposition Stickers If Necessary
If you are not satisfied with the placement of a sticker on your water bottle and want to reposition it, don't worry.
Here are a few steps you can follow to move stickers:
Gently lift the edge of the sticker with a toothpick or tweezers.
Slowly peel back the sticker, careful not to tear it.
Reposition the sticker where you want it.
Use the squeegee or credit card to smooth out any bubbles or wrinkles.
Decorating your water bottle with stickers is a fun and easy way to express yourself and make your drinkware stand out.
Remember to use the right tools, techniques, and tips to help you achieve optimal sticker placement and avoid imperfections.
Play around with different arrangements, and layer stickers for a unique look that represents your personality and style.
Customizing The Water Bottle With Additional Elements
Decorating a water bottle has become a trend that almost everyone follows. People love using stickers to give their water bottle a personal touch.
However, what if you could add other decorative elements to make it more unique and appealing?
Here are some ideas for customizing your water bottle with additional elements.
Ideas For Incorporating Other Decorative Elements, Such As Glitter, Rhinestones, And Paint
If you would like to take your water bottle decorating game up a notch, try incorporating other decorative elements into the design.
Here are some ideas:
Add some glitter to standout from the crowd. You can use pretty much any kind of glitter you like- white, black, colored, or even a combination. First, apply glue on your water bottle surface, and then add the glitter on top of it.
Rhinestones are also an excellent addition to the design. You can create patterns or shapes using rhinestones on your bottle's surface. You can also mix and match different colors to make your water bottle more vibrant.
If you are feeling extra creative, paint your water bottle using acrylic paints. Pick a favorite color or design, and let your imagination run wild. You can use painter's tape to create straight lines and sections.
How To Match Other Accessories, Such As Bottle Caps And Straws, To The Overall Design
One of the easiest ways to match other accessories, such as bottle caps and straws, is by using the same color scheme. For instance, if your water bottle has a pink and white color scheme, consider pairing it with pink bottle caps and straws.
You can also use patterns and designs to match other accessories. For example, if your water bottle has a floral design, you can use a flower-shaped bottle cap or a straw with floral details.
If you're feeling adventurous, try mixing and matching colors and patterns. You might be surprised at how good they look together!
Ways To Make The Design More Durable And Long-Lasting
While stickers are a quick and easy way to decorate your water bottle, they can peel off over time. To keep your design looking fresh, consider applying a clear coat of nail polish on top of the stickers. This will help to prevent any peeling.
Another way to make your design more durable is by using vinyl stickers. Vinyl stickers last longer and are more resistant to water and wear and tear.
If you want to take things up another level, use a vinyl cutting machine to create your own decals. These decals are made from vinyl and can be easily applied to your water bottle.
These are just some of the ways you can add extra elements to your water bottle and create a personalized design.
So, get creative and let your imagination go wild!
Can I Use the Same Methods to Attach Stickers to a Bike Water Bottle?
Yes, you can use the same methods to attach stickers to a bike water bottle. Whether it's adhesive stickers, rubber bands, or even zip ties, these techniques work just as effectively for attaching water bottles to bikes. So go ahead and enhance your biking style with a personalized touch by using these methods to attach water bottle to bike.
Can I Use Stickers in Addition to Painting for Water Bottle Decoration?
Water bottle painting ideas can be enhanced by using stickers as well. They add an extra element of creativity and can be easily applied and removed. Stickers can provide intricate designs or serve as accents to the painted artwork, allowing for more personalized and unique water bottle decorations.
FAQ About How To Decorate A Water Bottle With Stickers
How Do I Prepare My Water Bottle For Decorating With Stickers?
Clean the surface of the water bottle with soap and water. Make sure it's completely dry before applying any stickers.
What Kind Of Stickers Should I Use To Decorate My Water Bottle?
Look for stickers that are made of waterproof materials, like vinyl or laminated paper. Test the stickers on a small section of the water bottle before applying.
Can I Use Any Type Of Sticker Adhesive For Decorating My Water Bottle?
Stick with adhesive that is water-resistant to prevent the stickers from peeling off. Avoid using glue-based adhesives as they may not hold up well.
How Do I Apply The Stickers To My Water Bottle?
Peel the backing of the sticker and place it carefully and evenly onto the water bottle surface. Smooth out the sticker and any air bubbles with your finger.
How Can I Ensure My Decorated Water Bottle Doesn't Peel Or Fade?
Avoid rubbing or scratching the water bottle, and keep it away from extreme temperatures. Hand-washing is recommended over dishwashing to keep the stickers intact.
Conclusion
With these simple steps, anyone can easily decorate their water bottle with stickers. This not only adds a personalized touch to their bottles but also encourages them to stay hydrated throughout the day.
It's a fun and creative way to express your personality and add some color to your daily routine.
From choosing the right stickers to placing them on the bottle, the process is quite easy and enjoyable for all ages.
Moreover, decorating a water bottle with stickers is also an eco-friendly choice as it encourages you to reuse the same bottle rather than disposing of it after a single use.
So, why not try this out and give your water bottle a new and refreshing look?
Remember, the possibilities are endless, and by following these tips, you can create a unique and eye-catching water bottle that will put a smile on your face every time you take a sip.