How to Fill a Water Balloon With a Water Bottle? 4 Steps!
Preparing for an epic water balloon fight can be tedious when filling balloon after balloon from the tap. An easy shortcut is to use a regular plastic water or soda bottle as a funnel to fill multiple balloons fast.
With just some basic prep like removing labels, cutting the bottom off the bottle, and stretching the balloon mouth over the open end, you have an instant water funnel.
Simply submerge the upright bottle in water, and it will channel liquid directly into the attached balloon, with no spills or mess. Repeat the process balloon after balloon until you have a stockpile of water ammo ready for battle.
With this handy bottle trick, you can skip the faucet and fill a fleet of water balloons quickly and efficiently. Get ready for a water fight to victory!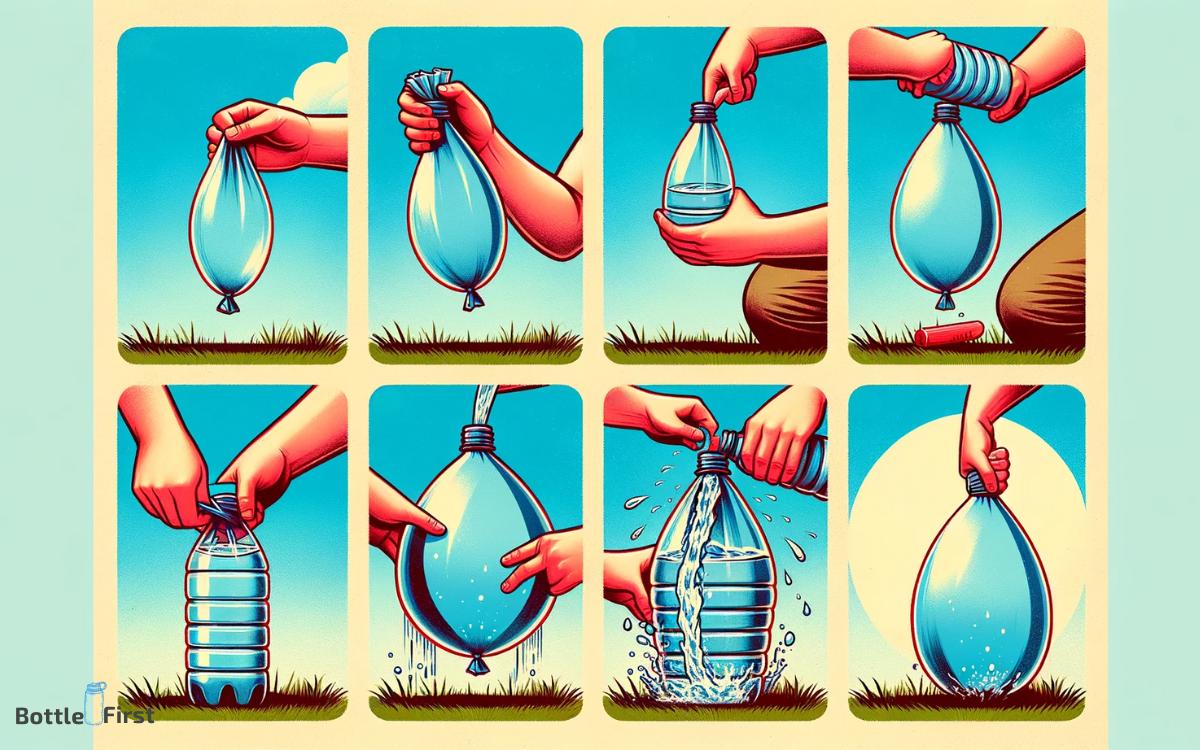 Filling Water Balloons with a Water Bottle: Step-by-Step Guide
Want to fill water balloons without fuss? You can use a regular plastic water or soda bottle to easily funnel water into balloons.
Supplies Needed
Empty plastic bottle
Balloons
Scissors
Step 01: Prepare the Bottle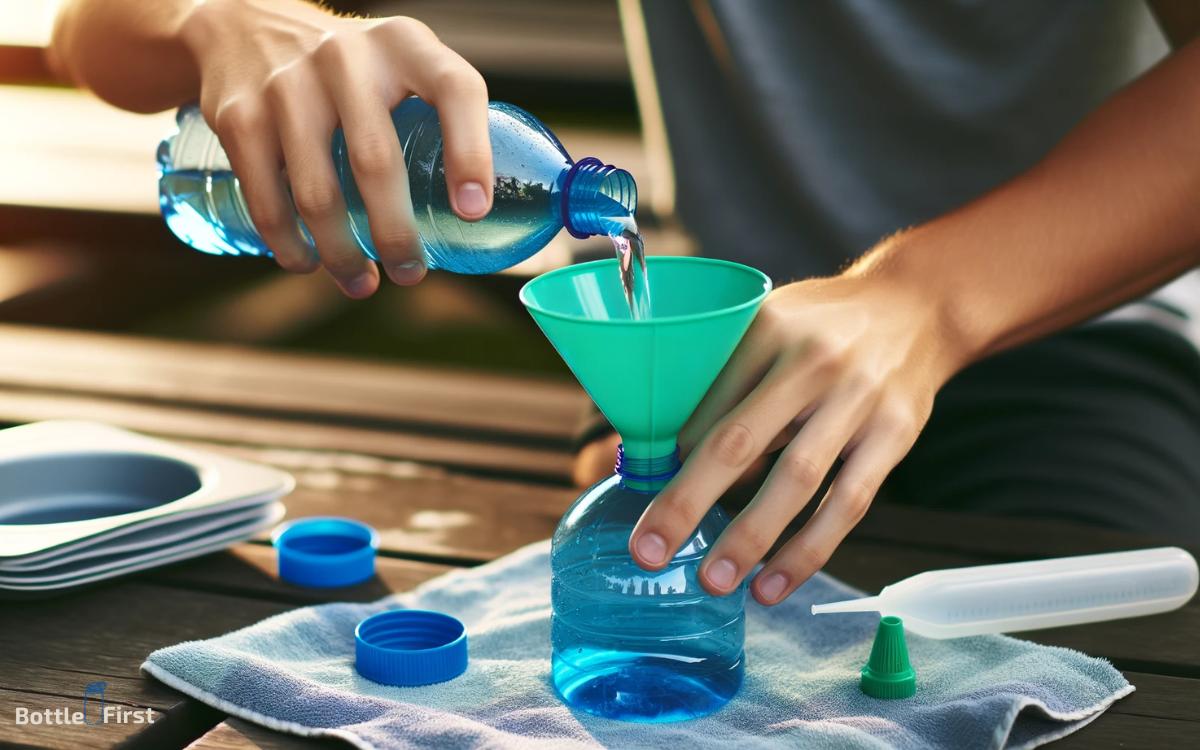 Remove any labels from the bottle and wash thoroughly.
Cut the bottom portion of the bottle off, leaving an open tube shape.
Step 02: Stretch the Balloon
Stretch the balloon mouth open to fit over the bottle's mouth.
Secure the balloon stretched over the end of the bottle.
Step 03: Funnel the Water
Tip the bottle upside down and fill with water.
The water will funnel into the attached balloon, filling it up.
When full, remove the balloon and tie it off.
Step 04: Repeat as Needed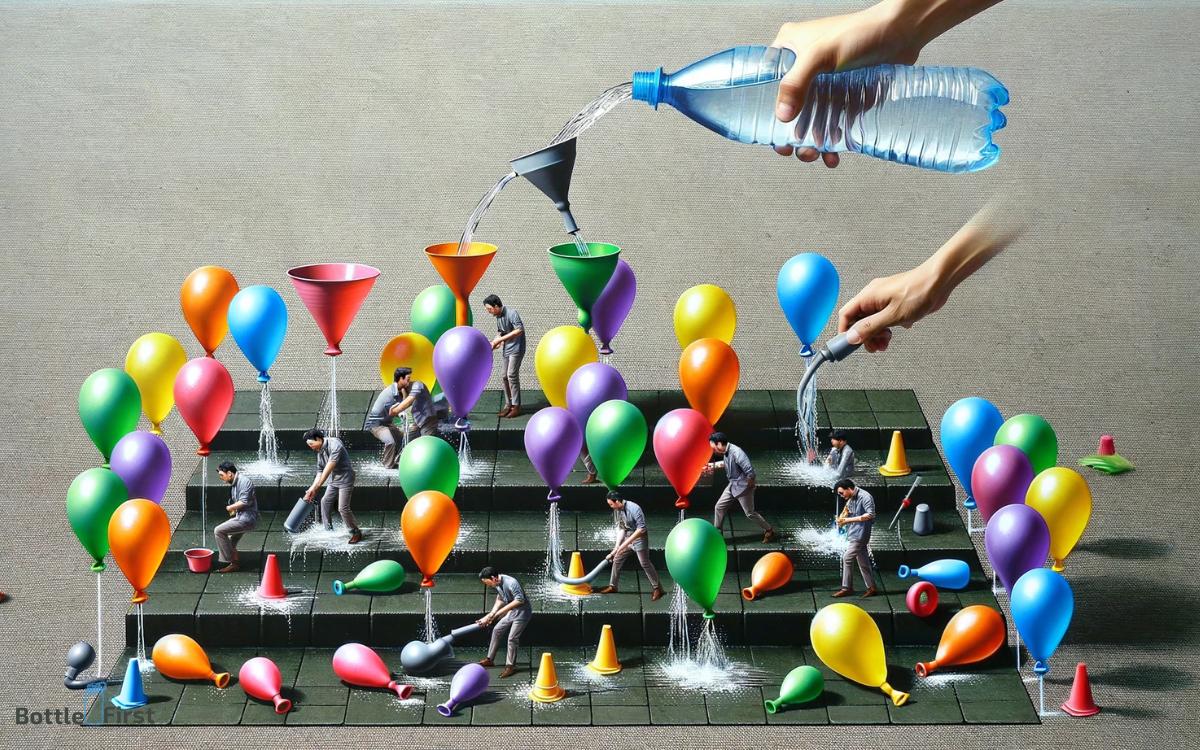 Reattach and fill additional balloons in the same way.
Now you can quickly fill multiple water balloons using this bottle technique! Enjoy your water fight!
Benefits Of Using A Water Bottle To Fill Water Balloons
Filling water balloons with a water bottle is a game-changer, and in this section, we'll examine the benefits of using this method to fill up your water balloons.
Faster And More Efficient Than Traditional Methods
Using a water bottle to fill up your water balloons is much faster than traditional methods.
Here's why:
No more tying individual balloons – water bottle filling can take care of that.
Fill up multiple balloons at once by holding a few balloons over the top of the water bottle's opening.
You needn't hold each balloon with your hand while filling it, allowing you to save time.
Requires Minimal Clean-Up
Using a water bottle to fill up your water balloons reduces the time you have to spend cleaning.
No more messy and awkward filling up of individual water balloons.
As compared to traditional hose filling, water bottle filling ensures there's no water wastage.
There's no need to worry about water in unwanted places, as the water bottle's opening allows for precise filling.
Great For Large Groups Of People
Using a water bottle for filling up water balloons is an excellent choice if you're dealing with large groups of people, such as for birthday parties and outdoor activities.
You can fill up multiple balloons simultaneously without having to tie them.
The water bottle can fill balloons of varying sizes, allowing everyone to have their pick of balloon sizes.
Each person can quickly fill up their balloons to start playing fun games without having to wait for long.
Filling water balloons with a water bottle is faster and more efficient than traditional methods, requires minimal clean-up, and is perfect for large groups of people, making it an excellent choice for your next water balloon activity.
Preparing Your Water Bottle For Filling Balloons
Filling water balloons is a fun activity almost everyone has enjoyed during their childhood or even as adults in summer parties.
However, sometimes the task can get harder than expected, especially when traditional filling methods are not available. One alternative method is filling water balloons with a water bottle.
It may sound difficult, but with the right technique and tools, it can be a simple task.
Choosing The Right Water Bottle For The Job
Choosing the right water bottle to fill water balloons is crucial to making the filling process quick and easy. To avoid rupturing the water balloons by applying too much pressure to them, opt for a squeeze bottle with a thinner nozzle.
Make sure you select a bottle with a lid that opens and closes easily, and can hold enough water for your needs.
Adding Lubrication To The Opening Of The Bottle
Adding lubrication to the opening of the bottle can make the process of filling the balloon less messy and more efficient. A bit of liquid soap or oil-based lubricant can be applied to the opening of the water bottle.
This will help the balloon stretch over the nozzle effortlessly and prevent it from breaking while being filled.
Filling The Water Bottle With Water Without Airlock
Filling the water bottle with water without airlock is essential to ensure the balloon fills up properly.
Follow these steps to achieve proper filling:
Fill the water bottle completely with water.
Place the balloon's opening securely around the nozzle of the water bottle.
Tilt the bottle to one side and squeeze the water bottle steadily to fill the balloon.
Stop squeezing the bottle just before the balloon reaches its desired size, allowing enough space for it to be tied.
Gently remove the balloon from the nozzle.
Now that you have learned how to prepare your water bottle for filling balloons, you can impress your friends and family with your new water balloon filling technique.
With a little practice, you will quickly master the method and be able to fill balloons with ease.
Filling The Balloons
Stretching The Balloons Before Filling Them
Before filling the water balloons, stretch them out to ensure they do not break or burst when filled. Stretching the balloons makes the rubber more pliable, allowing for easier filling and a firmer seal when tied.
Placing The Balloon On Top Of The Water Bottle
For easier filling, place the mouth of the balloon over the opening of the water bottle. Make sure the balloon is secure on the top of the bottle, ensuring no leakage during the filling process.
Filling Up The Balloon With Water Using The Water Bottle
Slowly squeeze the water bottle to allow water to flow into the balloon. Fill the balloon until it is your desired size, but be careful not to overfill it. Overfilling may cause the balloon to burst or make it difficult to tie.
Properly Sealing The Balloons
When the balloon is filled to the desired size, remove it from the water bottle and tie a knot at the mouth of the balloon. Make sure the knot is tight and secure, ensuring the water does not leak out.
Double-check the knot and tie it again if necessary, guaranteeing a proper seal.
Remember to always exercise caution when handling water balloons, and never throw them at people's faces or in dangerous areas. Have fun and enjoy your water balloon activities.
Tips And Tricks For Maximizing Efficiency And Enjoyment
Organize a group filling event for fun and efficiency.
Designate roles: filling, tying, and storing balloons.
Spark friendly competition with speed challenges.
Use colored balloons for games or team activities.
Match balloon colors to sports teams for themed events.
Cover bottle mouth with a balloon to minimize spills.
Stretch balloon over bottle tightly to prevent breakage.
Store filled balloons in water-filled buckets for easy cleanup.
Conclusion
Filling water balloons with a water bottle is a fun and easy alternative to using a hose or faucet. It's perfect for when you don't have access to those options or just want a change in the way you fill your balloons.
The method requires only a few simple steps and can be done quickly. Remember to use the right size water bottle and balloon to avoid any difficulties.
As a final note, make sure to tie the balloons securely, and clean up any leftover balloons and fragments after use.
Have fun with your water balloon fight! This technique will surely make it a blast and leave you and your friends laughing and soaking wet.
FAQ About How To Fill A Water Balloon With A Water Bottle
How Can I Fill A Water Balloon Without A Nozzle?
You can use a water bottle and carefully insert the balloon over the opening of the bottle to fill it up.
Is It Possible To Fill Big Water Balloons With A Small Water Bottle?
Yes, you can fill bigger sized balloons with a small water bottle by holding the opening tight around the balloon.
How Do I Prevent A Water Balloon From Bursting While Filling It?
Make sure the balloon is not overfilled with water and maintain a steady flow of water while filling the balloon.
What Is The Easiest Way To Fill A Water Balloon?
Using a water bottle to fill a water balloon is one of the easiest ways as you do not need a dedicated nozzle.
Can I Fill Multiple Water Balloons At Once Using This Method?
Unfortunately, you cannot fill multiple balloons at once using a water bottle, but the process is still relatively quick.