How to Flick a Water Bottle Cap? 6 Easy Steps!
Flicking a water bottle cap can be a fun way to pass time or compete with friends. With just a bottle and its cap, you can master the simple art of the bottle cap flick.
This skill takes a light touch and some practice to get the technique right. Follow this beginner's guide to learn step-by-step how to flick a bottle cap. With these easy instructions, you'll be flicking like a pro in no time.
Flicking a Bottle Cap: Steps
What You Need
A plastic water or soda bottle with a screw-on cap
An open space to flick the cap
Step 01: Remove the Cap From the Bottle
Twist the cap to unscrew it from the bottle. Make sure it is completely separate from the bottle.
Step 02: Position the Cap in Your Hand
Hold the cap between your thumb and index finger.
Place your thumb on the inner lip of the cap and your index finger on the outer edge.
Step 03: Angle Your Wrist Back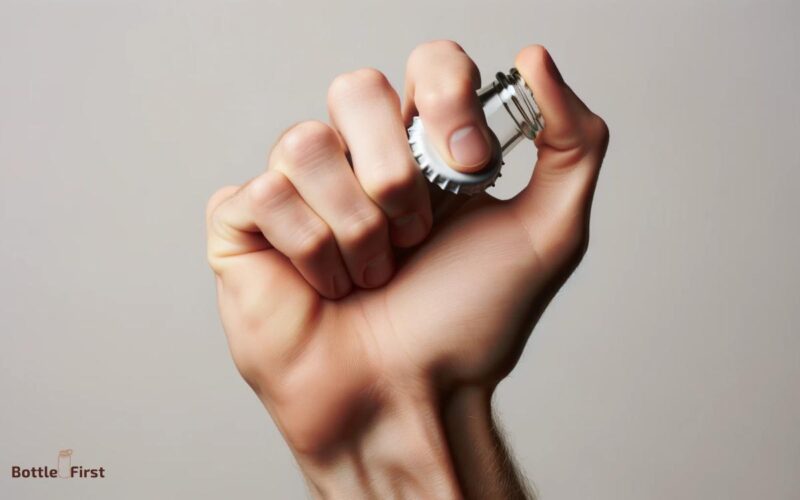 With the cap secure between your fingers, angle your wrist back slightly. This puts tension on your wrist.
Step 04: Flick Your Wrist Forward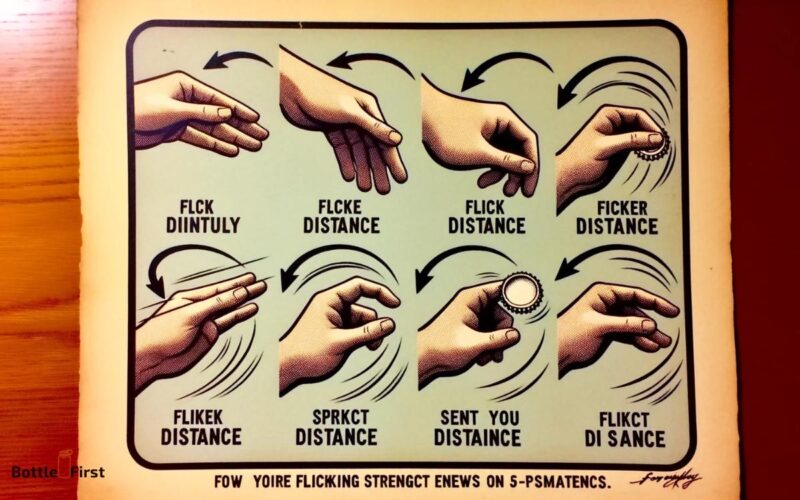 Quickly flick your wrist forward while releasing the cap from your grip.
The tension in your wrist should launch the cap forward.
Step 05: Adjust Flicking Motion for Distance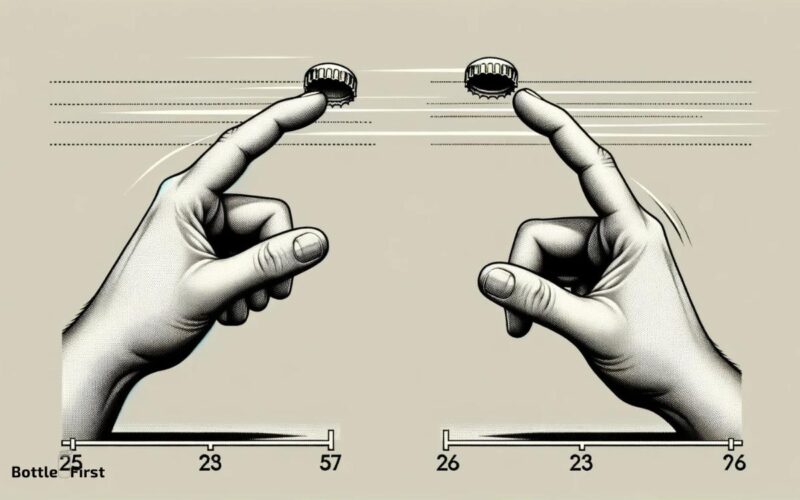 Flick gently for shorter distances.
Flick harder for longer distances.
Practice flicking to get the right force for your target distance.
Step 06: Have Fun and Stay Safe!
Enjoy flicking the cap with friends or by yourself.
Avoid flicking toward people or fragile objects.
Understanding The Physics Behind Flicking
Explaining The Mechanics Of Flicking A Water Bottle Cap
Flicking a water bottle cap may seem like a simple task, but it involves understanding the mechanics behind it.
Here are some important points to keep in mind:
Flicking involves transferring kinetic energy from your hand to the bottle cap, which then propels the cap into the air.
The cap follows a parabolic trajectory, which means that it moves in an arc shape.
To achieve the perfect flick, you need to apply just the right amount of force with your fingers, in the right direction.
Understanding The Science Of Kinetic Energy
In physics, kinetic energy refers to the energy that an object possesses due to its motion.
In the context of flicking a water bottle cap, there are a few key points to consider:
The amount of kinetic energy that the cap possesses is directly proportional to the force with which it is flicked.
The cap's kinetic energy is also affected by its mass and velocity.
When the cap reaches the peak of its trajectory and starts to fall back down, its kinetic energy is converted back into potential energy until it hits the ground or another surface.
Remember these facts the next time you flick a water bottle cap, and you'll have a better understanding of the physics behind this simple but enjoyable activity. Happy flicking!
Practicing With The Pros: Tips And Tricks From The Bottle Cap Flicking Community
If you're an aspiring bottle cap flicking pro, then it's important to understand that there is an enormous flicking community out there, filled with experts and newbies alike.
By getting involved in this community, you can learn from the best, practice your skills and get valuable insights that can help you perfect your game.
Here are some tips and tricks from the bottle cap flicking community:
Joining The Global Flicking Community
The bottle cap flicking community is global, so there are plenty of opportunities to get involved, no matter where you live.
One of the best ways to join the community is to find a local flicking club. These clubs are often open to anyone, no matter your skill level, and allow you to connect with other flicking enthusiasts.
Another way to get involved is to join online flicking forums and social media groups. These are often filled with helpful information, tips and tricks, and can be a great way to connect with other flicking enthusiasts from around the world.
Learning From The Masters: Interviews With Skilled Flickers
One of the best ways to improve your bottle cap flicking skills is to learn from the masters. By interviewing skilled flickers, you can get insights into their techniques, strategies and mindset.
One of the best ways to find master flickers is to connect with the community. This can be done by attending flicking competitions, getting involved in local flicking clubs and joining online forums and groups.
When conducting interviews with skilled flickers, it's important to ask questions that are focused on their techniques and strategies. This can include questions about their flicking stance, their grip, their breathing and their mental approach to flicking.
Exploring Global Tournaments: A Guide To Flicking Competitions
Flicking competitions are a great way to challenge yourself, improve your skills and connect with other enthusiasts.
There are a variety of flicking competitions held around the world, ranging from local club competitions to international tournaments.
When considering entering a flicking competition, it's important to do your research and understand the rules and regulations of the competition. This can include information on how the competition is scored, what techniques are allowed and what equipment you will need.
Taking Your Flicks To The Next Level: Advanced Techniques
Once you've mastered the basic technique of flicking a water bottle cap, it's time to level up your game!
In this section, we'll go over some advanced techniques to help you become a water bottle cap flicking champion.
Here are some tips to take your flicks to the next level.
The Reverse Flick: Understanding And Practicing
The reverse flick may seem similar to the regular flick, but it involves using a different finger to achieve a different type of spin.
Here are the key points to get started with the reverse flick:
Hold the cap with your thumb and pointer finger, as you would for a regular flick.
Instead of flicking forward with your pointer finger, use your middle finger to flick the cap in a backwards motion.
Aim to create a backspin on the cap, which will make it more stable and easier to land on a surface.
Practice this motion until you can consistently land the cap in different positions and surfaces.
Spin Flicking: How To Master This Next-Level Skill
Spin flicking is a more advanced technique that requires a significant degree of skill and accuracy.
Here are some tips to get started with spin flicking:
Hold the cap with your thumb and pointer finger, as you would for a regular flick.
Use your wrist to spin the cap as you flick it forward.
Aim to create a spin that will stabilize the cap and make it land correctly on a surface.
Practice this motion until you can consistently land the cap in different positions and surfaces.
Combining Techniques: Strategies For Enhancing Your Flicks
Once you've mastered both the reverse flick and spin flicking, it's time to combine these techniques to take your flicks to the next level.
Here are some strategies to help you enhance your flicks:
Start by practicing both separately until you are comfortable with each technique.
Once you feel confident with both, try to combine them by flicking the cap with a spin and a backspin.
Experiment with different angles and forces to create a unique flicking style.
Practice consistently to develop muscle memory and precision in your flicking technique.
Keep practicing and experimenting with different techniques until you find the flicking style that works best for you.
With these advanced techniques, you'll be impressing your friends and family in no time!
Conclusion
Mastering the art of flicking a water bottle cap may take some time, but with practice and determination, you will be able to impress your friends and family in no time.
Remember to start with the basics, develop good technique, and focus on consistency. Experimenting with different bottles, grips, and surfaces will help you find what works best for you and your flicking style.
Like other skills, practice makes perfect, so take some time each day to hone your flicking abilities. With the tips and tricks outlined in this guide, you can become a water bottle cap flicking pro in no time.
Keep practicing and watch as your skills improve, and soon you'll be able to flip and spin your cap with style and precision.
So grab a bottle, take aim, and give it a flick – you'll be amazed at what you can achieve!