How to Get Free Bottled Water? 10 Steps!
Access to clean and safe drinking water is essential for our well-being, but the cost of bottled water can add up. In certain situations or during times of need, obtaining free bottled water can be a valuable resource.
This step-by-step guide will walk you through various methods to secure free bottled water, ensuring you stay hydrated without breaking the bank.
Whether you're facing an emergency or looking for ways to save money, this guide will provide you with practical and easy-to-follow tips to help you get the hydration you need.
Creative Ways to Obtain Complimentary Bottled Water
If you're looking to obtain free bottled water, there are a few simple steps you can follow. Whether it's for an emergency situation or just a way to save money, here's a step-by-step guide to help you secure that much-needed hydration.
Step 1: Explore Local Charities and Food Banks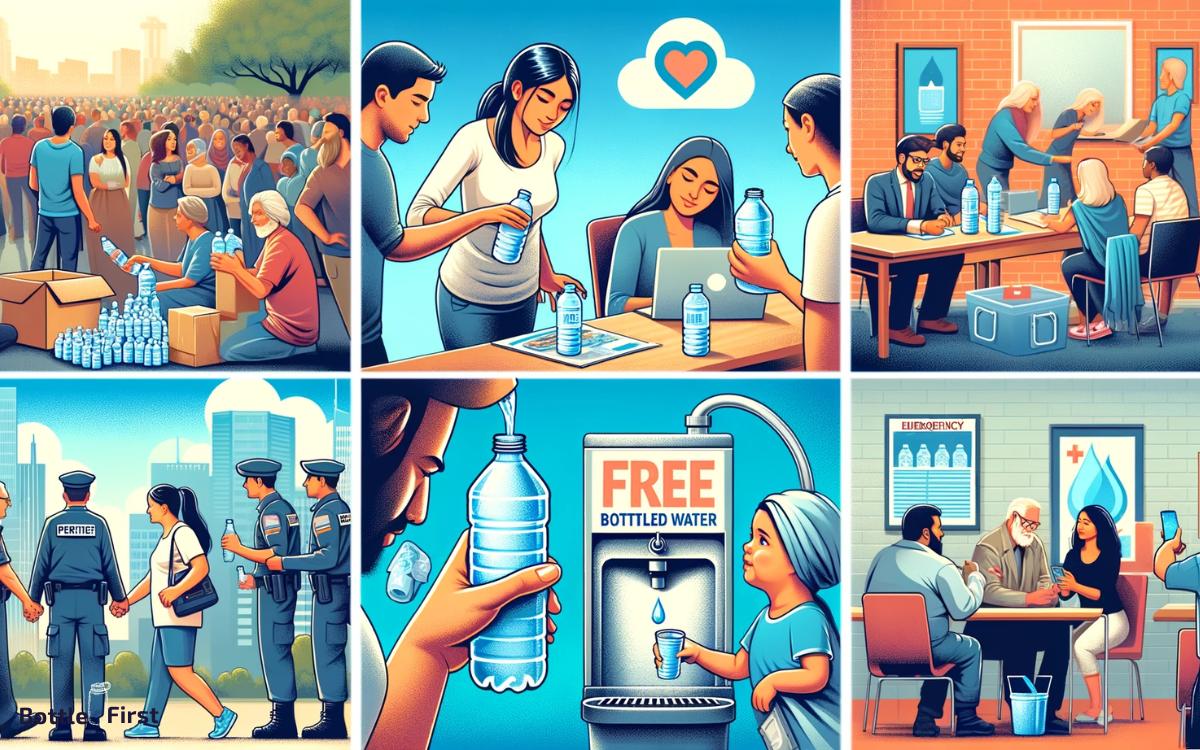 Many local charities and food banks often provide free bottled water to those in need. Search online or contact your local government to find these resources in your area.
Step 2: Attend Community Events
Keep an eye on community events, such as fairs, festivals, or health fairs, as they sometimes offer free bottled water to attendees. These events are a great way to stock up on supplies.
Step 3: Join Online Freebie Groups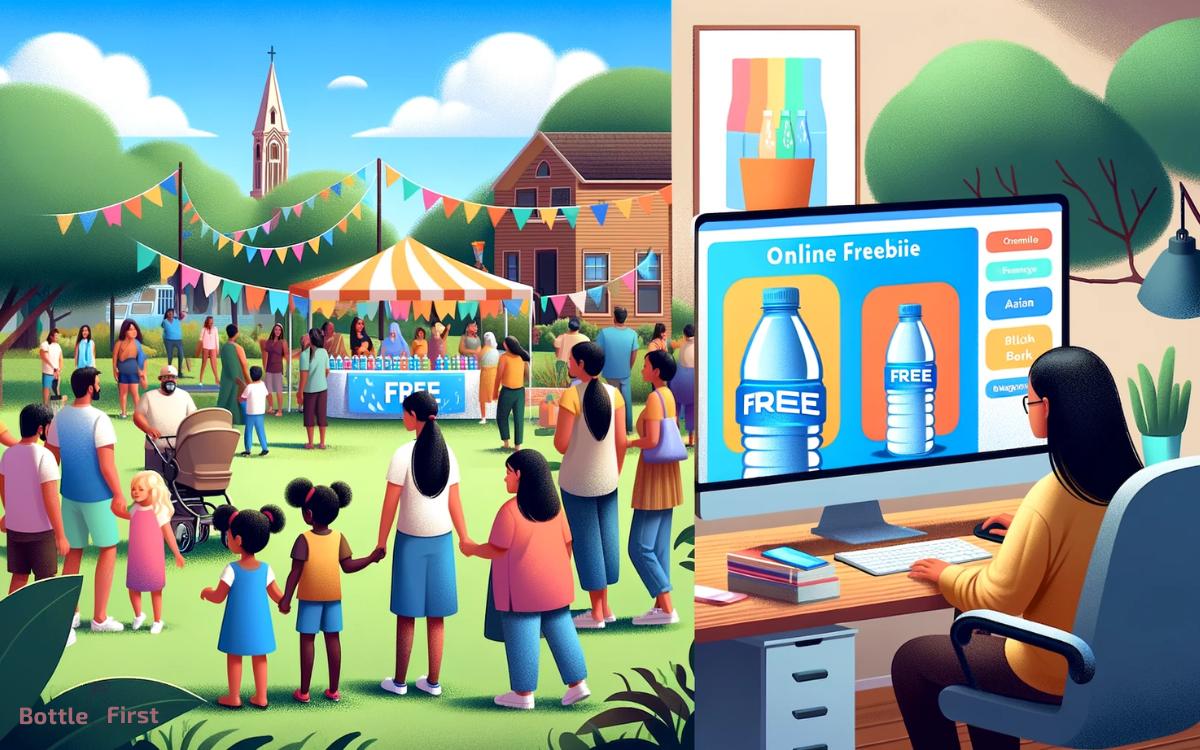 Join online communities, such as social media groups or forums, where people share information about freebies and giveaways. Sometimes, you can find announcements about free bottled water there.
Step 4: Sign Up for Promotional Offers
Check the websites of bottled water companies and subscribe to their newsletters. They often send promotional offers and sometimes even free samples of their products.
Step 5: Utilize Water Filtration Programs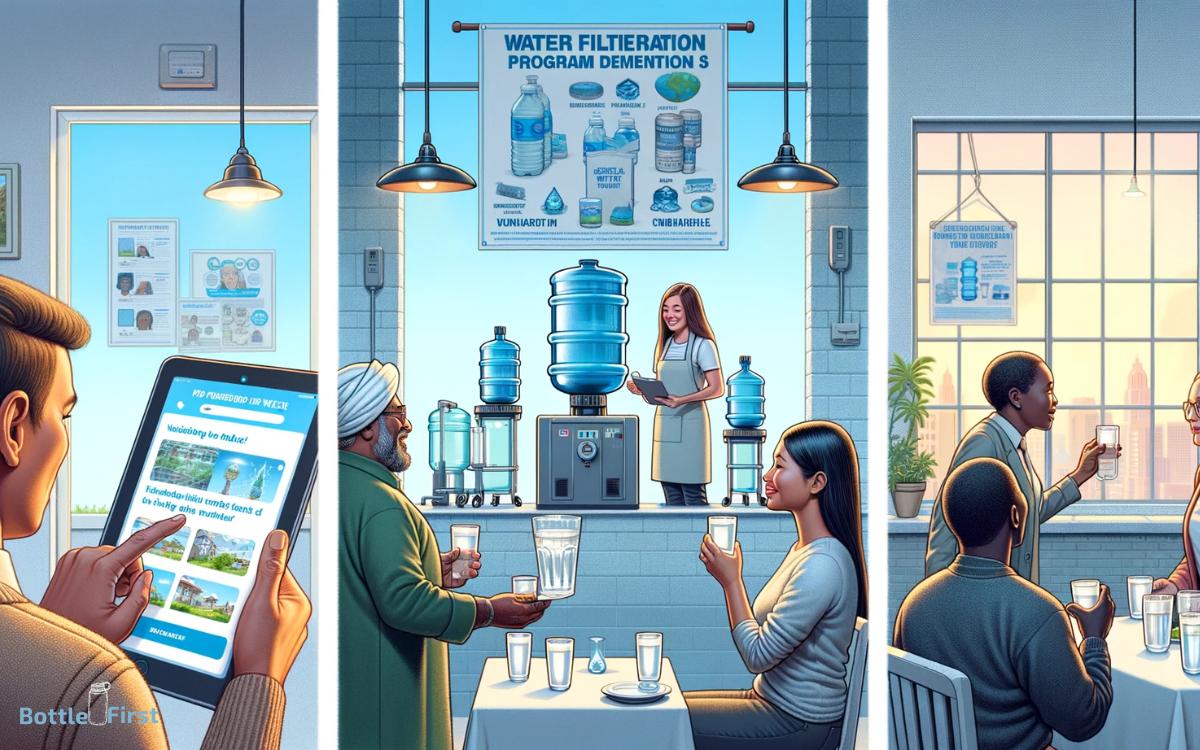 Some regions offer water filtration programs, allowing you to access clean, purified water for free. Investigate if your area provides such services.
Step 6: Ask for Free Water at Restaurants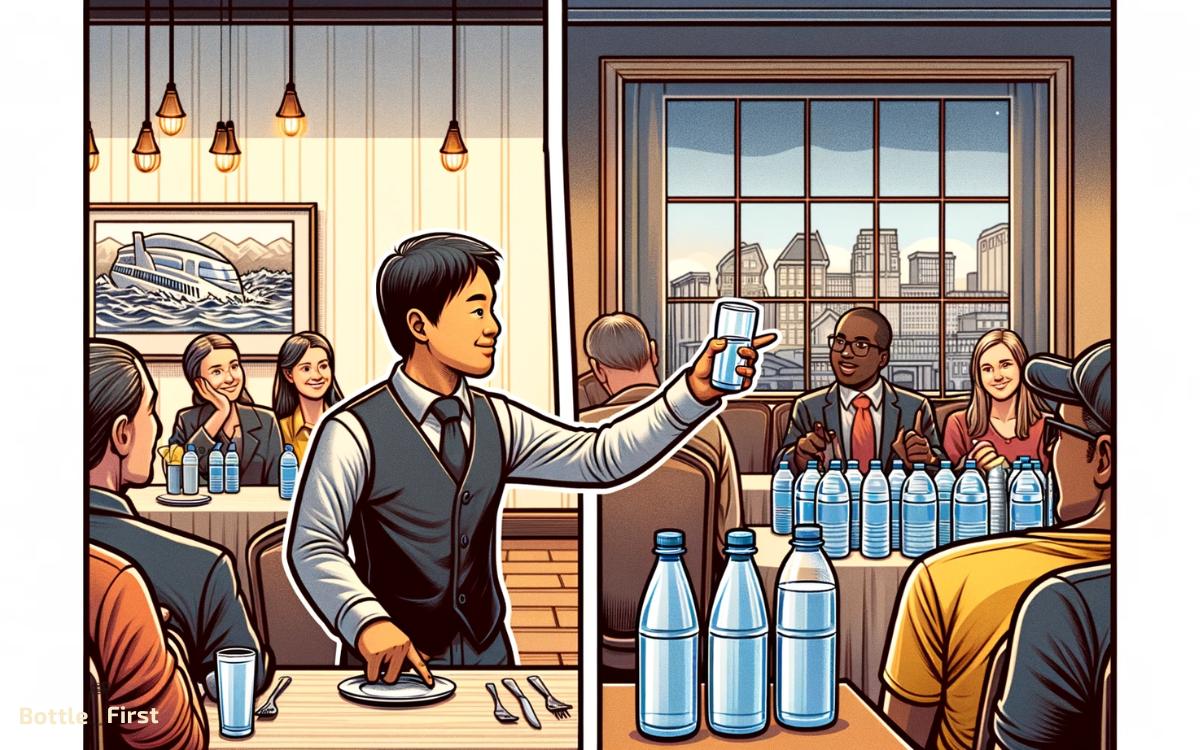 When dining at a restaurant, politely inquire if they offer complimentary bottled water. Some establishments provide it as a customer service gesture.
Step 7: Attend Public Meetings or Conferences
Public meetings, seminars, or conferences may provide free bottled water to attendees. Keep an eye on local event listings and attend when available.
Step 8: Get Water From Your Workplace
If your workplace has a water cooler, you can refill your own bottles with filtered water, saving you from having to purchase bottled water.
Step 9: Utilize Water Fountains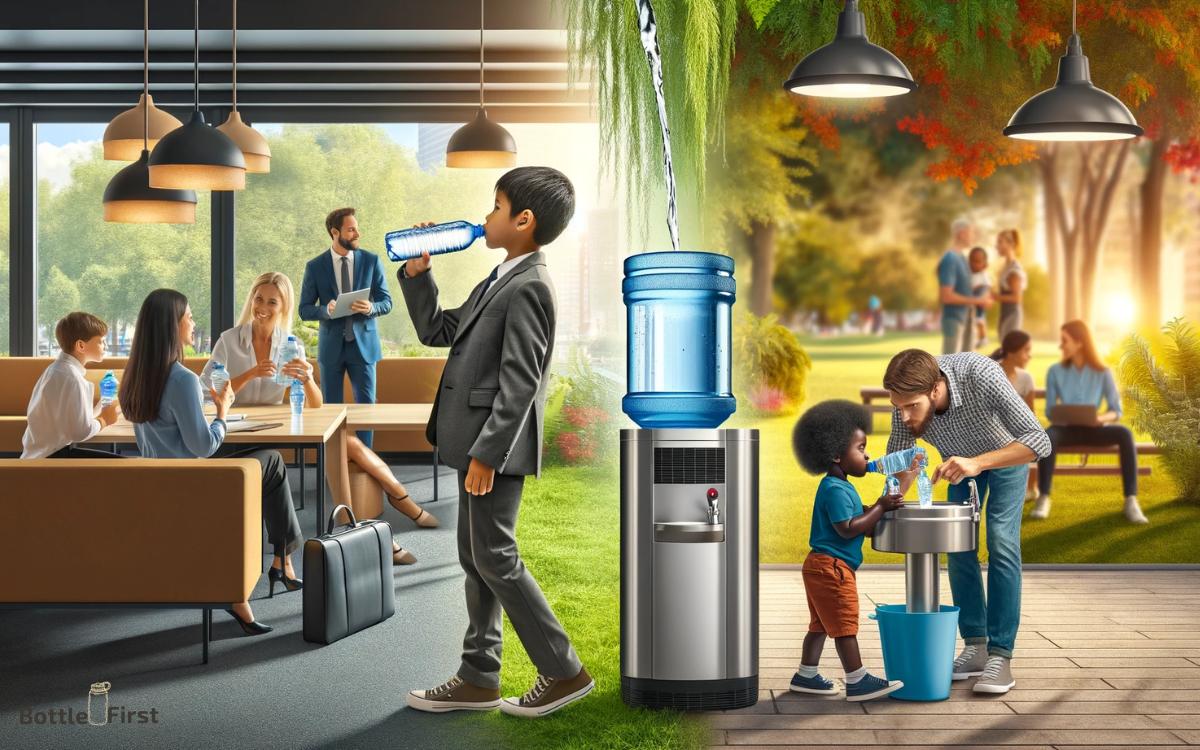 Public places like parks, libraries, and schools often have water fountains where you can fill your own bottles. Take advantage of these free water sources.
Step 10: Emergency Services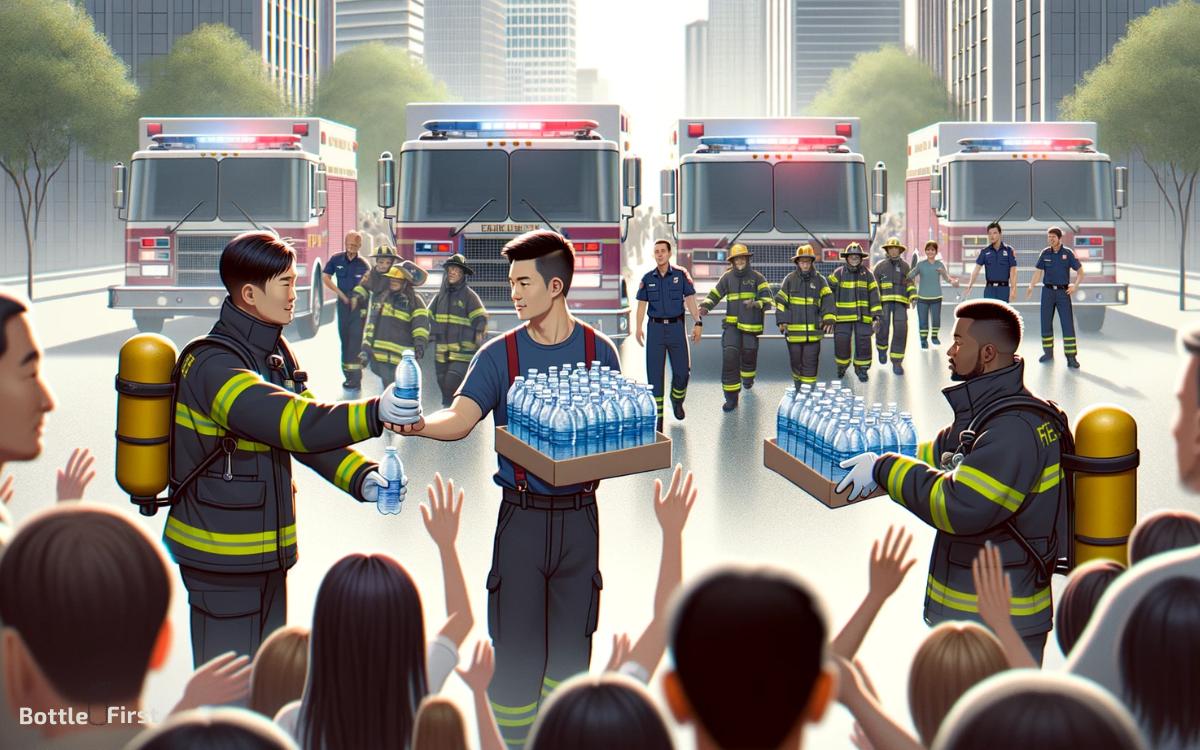 In emergency situations, contact your local emergency services or government agencies for assistance. They may provide bottled water during crises or natural disasters.
Remember that while obtaining free bottled water is possible, it's important to use these resources responsibly and consider the needs of others in your community.
Be respectful of guidelines and limitations set by the organizations and businesses providing free water.
Participate In Lobbying For Free Bottled Water
What Are The Benefits Of Lobbying?
Participating in lobbying for free bottled water comes with several benefits:
It helps in raising awareness about the importance of having access to clean, safe drinking water.
It provides people with an opportunity to voice their concerns and demand their right to clean water.
It can influence policy changes and lead to new regulations that ensure access to water sources and quality drinking water.
It helps in providing communities with access to cleaner water sources and better sanitation facilities.
What Are Your Next Steps In Participating In This Movement?
If you're interested in participating in the movement to secure free bottled water, here's what you can do:
Find a local movement or advocacy group that's focused on promoting access to clean water, and join them. You can do this by looking online or reaching out to local organizations.
Connect with your local representatives and policymakers to make your concerns about clean water known. Write emails, and letters or start social media campaigns, and attend town hall meetings to highlight the importance of clean water and areas where bottled water should be provided.
Talk to your friends, family, and colleagues about the cause, create a social media presence, and organize public events to educate people about the importance of having access to clean drinking water.
How Can You Maximize The Results Of Your Efforts?
To maximize the results of your advocacy efforts, here are a few tips:
Develop an action plan and set achievable milestones to measure your progress. Keep yourself motivated and track the results of your campaign.
Use social media to get the word out and create awareness about your cause. Use relevant hashtags and tag local news organizations and reporters to get more reach and engagement.
Join forces with other organizations, groups, or individuals who share your cause. Unite your efforts and multiply your impact.
Educate yourself and others about the issues related to clean drinking water. Research and gather data on water quality and access issues in your area, and use this knowledge to raise awareness and create action plans for change.
Remember, every action you take can make a difference, and by working together, we can ensure that everyone has access to clean and safe drinking water.
Finding Free Water At Home
Water is a basic human necessity, and everyone should have access to it. The good news is that there are many ways to get free bottled water, even at home.
How To Choose Sustainable And Reusable Water Containers
One of the best ways to have free water at home is by using sustainable and reusable water containers.
Material: The material of the container can affect taste and durability. Stainless steel and glass are the best options for taste and longevity.
Size and weight: Consider the size and weight of the container, especially if you plan to carry it around.
Lid type: Different lid types may be more suitable for different situations. Screw-on lids are more secure but can be difficult to open, while flip-top lids are more convenient but less secure.
Cleaning and maintenance: Make sure the container is easy to clean and maintain to ensure safe and healthy drinking water.
Exploring The Ins And Outs Of Water Filtration Systems
Another way to have free water at home is by using water filtration systems.
Type of filter: There are different types of filters, including activated carbon, reverse osmosis, and ceramic. Each type has its level of filtration, so choose the one that suits your needs.
Capacity and installation: Consider the capacity of the filter and how it is installed. Some filters are installed under the sink, while others are countertop or pitcher filters.
Longevity and maintenance: Choose a filter that lasts longer and is easy to maintain to ensure that you have clean drinking water at all times.
Understanding Municipal Water Programs And Services
Municipal water programs and services are one of the most popular ways to get free drinking water.
Water quality reports: Municipal water systems are required to issue water quality reports. Check the report to ensure that the water meets safety standards.
Bottled water programs: Some municipalities offer bottled water programs to their residents during emergencies.
Drinking fountain locations: Many cities have public drinking fountains in parks, public buildings, and other locations. Check your city's website for a map of drinking fountain locations.
By exploring these options, you can find free drinking water at home and save money while helping the environment.
Remember, sustainable water consumption practices are essential to the preservation of our planet's resources.
Conclusion
After going through this guide, you will realize that there are many ways to get free bottled water.
Some may require little effort, while others might require extensive research. Regardless of the method, there is no excuse for not having access to clean drinking water.
The importance of staying hydrated cannot be overemphasized. It keeps the body healthy and reduces the risk of illnesses.
Drinking water is essential for maintaining good mental health. You don't have to break the bank to stay hydrated; all you need is the right knowledge and a bit of effort.
Remember, every little step counts. So, whether it's collecting rainwater or using water fountains, you can take action today to ensure that you have access to free bottled water.
Stay healthy, stay hydrated!