How to Get Water Bottles Donated? 9 Easy Steps!
Obtaining donated water bottles can be a vital endeavor, whether you're organizing an event, supporting a charitable cause, or aiding in disaster relief efforts.
In this step-by-step guide, we will walk you through the process of securing water bottle donations to fulfill your mission.
By following these steps and strategies, you'll be well-prepared to reach out to potential donors, convey your cause's significance, and gather the essential support you need.
Whether you're a seasoned fundraiser or new to the world of philanthropy, this guide will provide you with the guidance to make your water bottle donation campaign a success.
Securing Donations of Water Bottles for Your Cause or Event
If you're organizing an event, running a charity drive, or in any situation where you need to secure donated water bottles, you'll find these steps helpful in your endeavor.
Step 1: Identify Your Cause and Purpose
Clearly define your cause and the purpose of the donation. Whether it's for disaster relief, a charitable event, or supporting a community, having a specific goal will make it easier to communicate and attract potential donors.
Step 2: Create a Donation Request Letter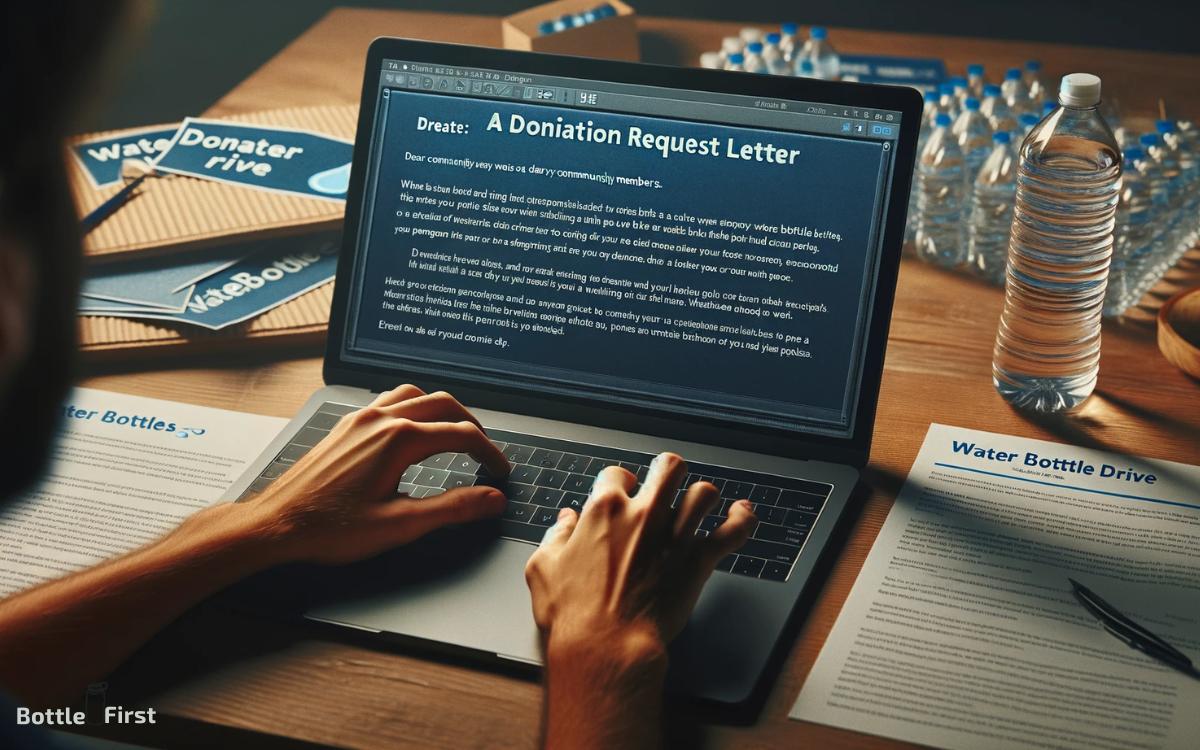 Craft a compelling donation request letter that explains your cause, the impact of the donation, and how water bottles are essential for your mission. Make sure to include contact information and a call to action, encouraging potential donors to get involved.
Step 3: Research Potential Donors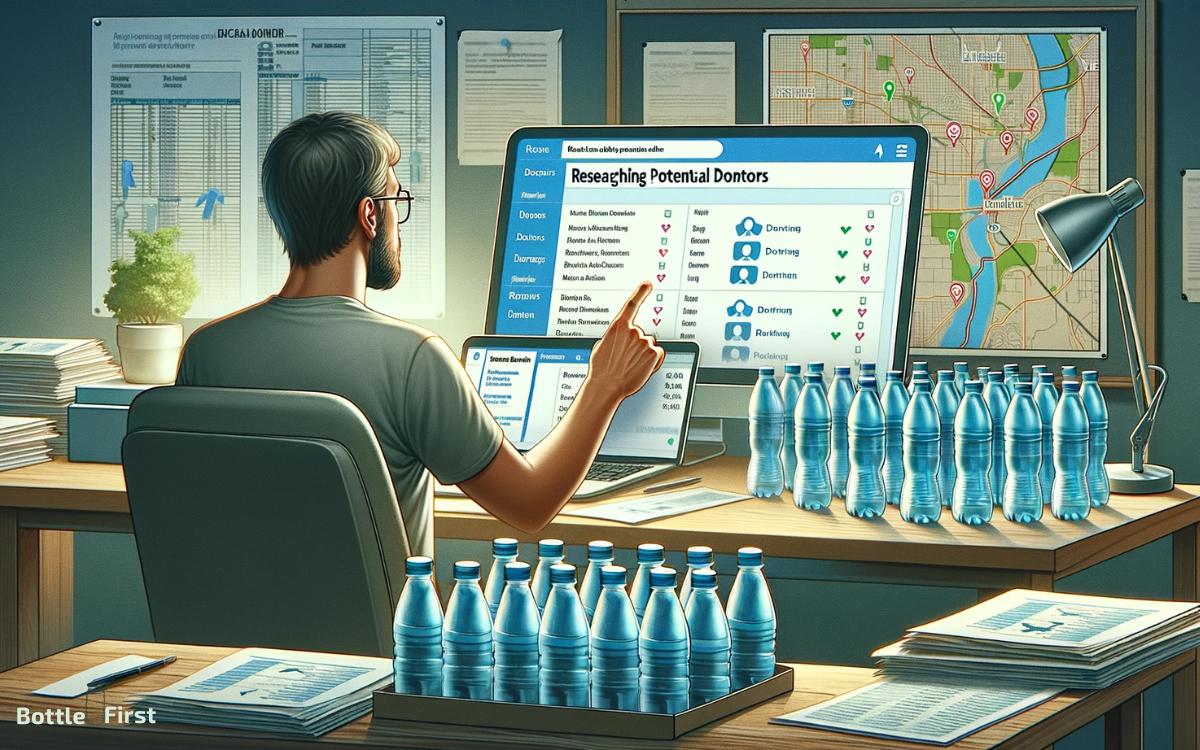 Identify potential donors, which could include local businesses, corporations, beverage companies, and community organizations. Research their past philanthropic activities and determine their alignment with your cause.
Step 4: Contact Potential Donors
Reach out to potential donors via phone, email, or in person. Explain your cause, the importance of their contribution, and how it benefits both the community and their brand's image. Be professional and passionate in your communication.
Step 5: Prepare a Presentation
If meeting potential donors in person or presenting to a group, prepare a compelling presentation that highlights your cause, the need for water bottles, and the positive impact their donation will have.
Step 6: Use Social Media and Online Platforms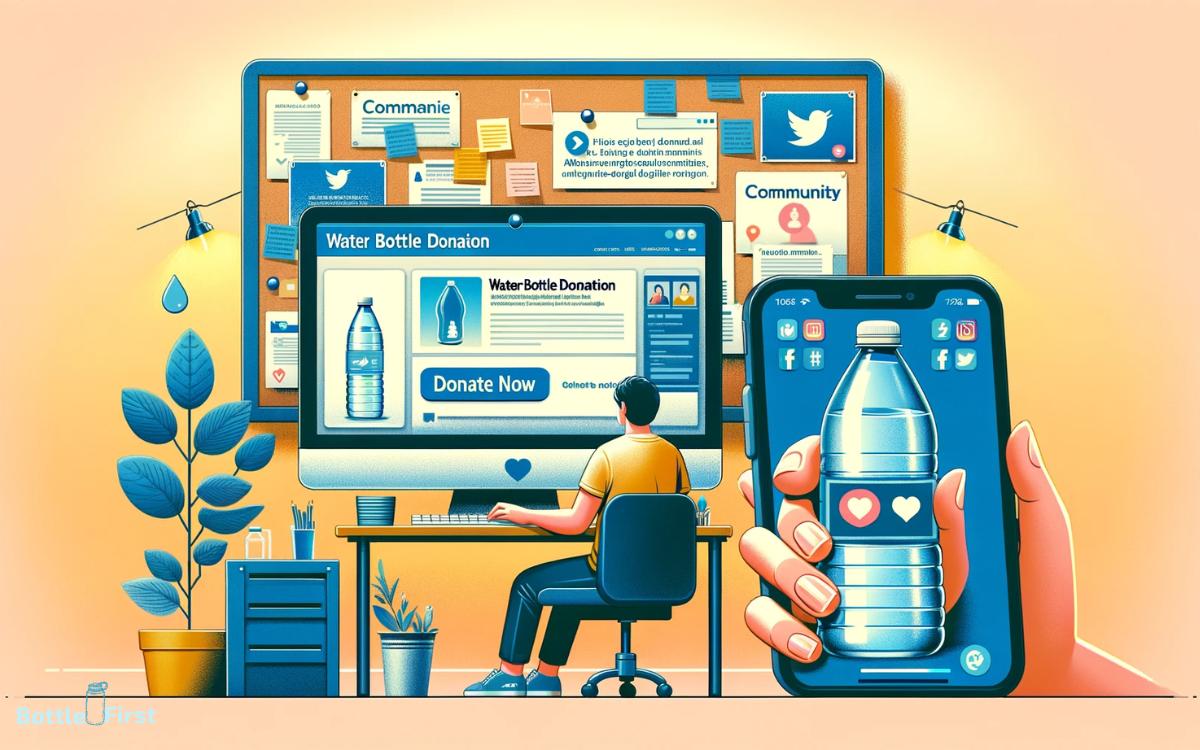 Leverage social media and online fundraising platforms to spread the word about your need for water bottle donations. Share your story, images, and updates about your cause to engage a wider audience.
Step 7: Organize Fundraising Events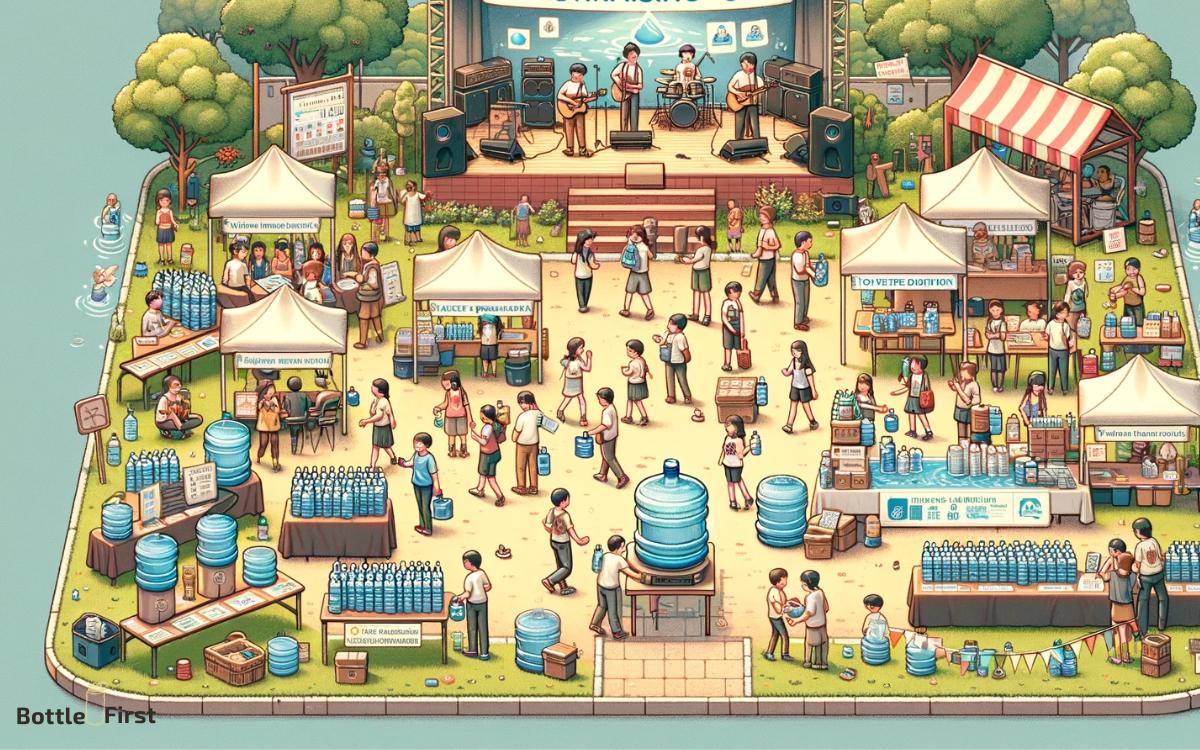 Host fundraising events, such as charity runs, auctions, or community gatherings, to raise awareness and funds for your cause. These events can also serve as a platform to collect water bottle donations.
Step 8: Be Transparent and Grateful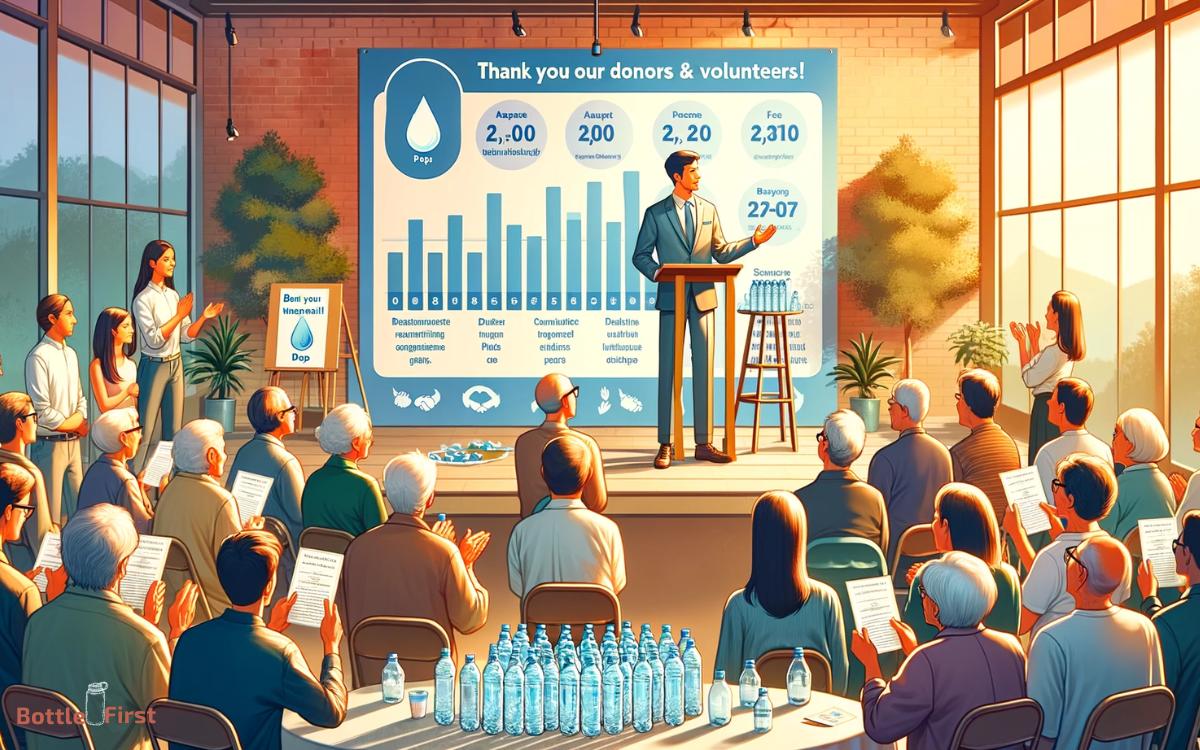 Once you receive water bottle donations, be transparent with your donors about how their contribution is being used. Express gratitude through thank-you notes and social media shout-outs to acknowledge their support.
Step 9: Follow Up
Maintain a strong relationship with your donors. Provide regular updates on the impact of their contribution and continue to communicate your cause's progress.
Step 10: Share Success Stories
When your donation drive succeeds, share success stories and the positive outcomes of your efforts. This will not only express your appreciation but also encourage future support.
By following these steps, you can effectively secure donated water bottles for your cause, making a significant difference in your community or the world at large.
Remember that effective communication, persistence, and a well-defined cause are key to successfully obtaining water bottle donations.
Evaluate Your Goals And Purpose For Donations
Define Your Goals And Purpose For Receiving Donations
When organizing a donation, defining your goals and purpose is the first step to success.
Determine the reason behind receiving donations.
Outline what you will do with the donated water bottles.
Set specific goals for the donation, such as the number of bottles needed or the length of the donation period.
Determine The Quantity Of Water Bottles Needed Based On Your Goals
Your goals and purpose will help determine the quantity of water bottles needed for your donation.
Calculate the number of water bottles needed per person.
Prioritize your goals to understand how much water is required for each objective.
Consider the number of people your donation will benefit.
Understand The Target Audience And Demographic Who Will Benefit From Water Bottles
Understanding your target audience is important when planning a donation campaign.
Identify the age group, interests, demographics and needs of the audience.
Understand their lifestyle, preferences, and behaviours.
Look for opportunities to connect with the audience during the donation process.
Conduct Research On The Donation Process From Other Organizations With Similar Goals
To ensure the success of your donation, you should study the donation process of other organizations.
Here's how to conduct a research:
Identify organizations with related goals and objectives.
Analyze their methods of promoting donations.
Evaluate their success and failure, and learn from their experiences.
By following these guidelines for accomplishing your donation goals, you will be able to successfully accomplish your goals and reach the people in need.
Build Relationships With Donors And Supporters
Discuss The Significance Of Building Relationships With Potential Donors
Building relationships with potential donors and supporters is one of the most crucial aspects of successfully getting donations. Relationships built on trust and credibility can result in long-term financial support for your cause.
The following reasons explain the significance of building relationships with potential donors:
Establishing credibility: Building a trustworthy relationship with donors and supporters is important as it sets the groundwork for long-term donations. By demonstrating the authenticity of your cause and sharing transparent information with supporters, they are more likely to continually contribute to your organization.
Building connections: By building relationships with potential donors and supporters, you are creating a community around your cause. This community can help attract new donors when sharing information about your organization and the work you do.
Creating customized experiences: Engaging in a two-way dialogue helps to understand the needs of potential donors and cater messages to suit their interests and perspectives. By doing so, you personalize their experience and encourage more significant donations.
Strategies To Effectively Communicate With Donors And Supporters
Developing a comprehensive communication plan can help effectively engage and communicate with donors and supporters.
The following strategies can help achieve a customized and personalized communication plan:
Understand your audience: Before communicating with potential donors and supporters, conduct research to understand their background and interests. This information can help create tailored messages that resonate with your audience.
Engaging storytelling: Effective storytelling can help convey your organization's mission and inspire people to donate. Share personal stories that illustrate the impact of your organization's work and emphasize the importance of your cause.
Timely and meaningful communication: Keep donors and supporters engaged by providing regular updates about the progress and impact of your organization's work. Share success stories, news, and upcoming events through email or social media.
Acknowledge donors and supporters: Thank donors for their contributions by acknowledging their efforts through personalized thank you messages. Show them the impact of their donation through media such as photographs and thank-you messages from beneficiaries of your organization.
Tips On How To Convey Your Goals And Build Rapport
Conveying your organization's goals and building rapport with donors and supporters is key to successful donations.
Be authentic: Build trust and credibility with donors by being transparent about your organization's mission and goals from the beginning.
Highlight the impact of donations: Emphasize the tangible impact of donations and demonstrate how they support your organization's mission. Use tangible examples to show donors how their contributions directly support specific projects or beneficiaries.
Connect with donors: Listen to donors' perspectives, goals, and experiences, and build a conversation around their needs while discussing your organization's goals. Encourage feedback and establish an open dialogue with your supporters.
Build relationships: To create long-term partnerships, build relationships with donors beyond the donation. Engage with them regularly and keep them informed about your organization's progress.
Utilizing Social Media And Email Blasts To Create A Larger Impact
Utilizing social media and email blasts can help create a larger impact by reaching a wider audience.
The following tips can help achieve this:
Build a social media presence: Regularly post on social media about your organization's work, news, and upcoming events. Engage with followers and encourage them to share your posts to help reach a larger audience.
Share stories and visuals: Share stories that demonstrate the impact of your organization's work and use visuals such as photographs and videos to engage and inspire followers.
Use email blasts: Regularly send emails to donors and supporters to keep them updated about your organization's work, upcoming events, success stories, and future plans.
Encourage action: Encourage followers to share your social media posts and emails and to spread the word about your organization's cause. Provide information on how they can make a donation or volunteer.
By effectively building relationships with potential donors and supporters, communicating effectively, and utilizing social media and email blasts, organizations can successfully get water bottles donated.
These methods can help raise awareness about your organization's work and impact and encourage more significant financial contributions.
Partner With Organizations And Sponsors
Partnership Strategies With Companies And Local Organizations
When it comes to getting water bottles donated, partnering with organizations and sponsors is an excellent way to achieve success.
Identify potential partners: Research and identify companies or organizations whose values align with your cause and mission. Local businesses, brands, and non-profits in your area could be excellent potential partners.
Reach out to potential partners: Reach out to potential partners through email or phone and explain your cause and how a partnership can help support it.
Collaborate on events: Collaborate on events to highlight both organization's initiatives while gaining support and traction. The events could be fundraising events, donation drives, or product promotions.
Social media promotion: Promote the partnership on social media platforms to increase visibility and attract more sponsors continuing to aid the cause.
Networking Techniques To Connect With Potential Sponsors
Connecting and networking with potential sponsors and partners is essential for getting water bottles donated.
The following are networking techniques you can use to establish great relationships with potential sponsors:
Attend events: Attend and participate in relevant events such as charity events, business functions, and social gatherings. This can help you connect with potential sponsors in a relaxed environment.
Utilize linkedin: Linkedin is an excellent way to find potential sponsors. By staying active on social media platforms, you can build relationships and expand your network.
Leverage current connections: Leverage your current connections and relationships for introductions and referrals.
Negotiating Sponsorships For Donation Matching And In-Kind Services
Sponsorships are a crucial part of getting water bottles donated, and negotiating is key to getting the best deals for your cause.
Start with a clear proposal: Create a clear proposal outlining your objectives and what your sponsors can expect in exchange.
Donation matching: Negotiate with potential sponsors for donation matching or financial support of products to help your cause.
In-kind services: Ask for sponsorships for in-kind services such as transportation, materials, and logistics, which will be necessary for your event.
Highlighting The Mutual Benefits Of Partnerships For Both Parties Involved
In any partnership, both parties need to gain mutual benefits.
Positive branding: Partnering with organizations for a cause can positively impact both organizations' brands, increasing positive impressions with the public.
Increased reach and support: Partnering with other organizations can increase the reach of your cause to the public.
Supporting a cause: Sponsors can support a cause that aligns with their values while creating a positive public image.
By highlighting the mutual benefits of partnerships, you can develop long-lasting relationships with sponsors and continue to achieve success in getting water bottles donated.
Fundraising Techniques For Donations
Are you trying to figure out how to get water bottles donated? Fundraising is an excellent way to gather donations for your cause.
Here are some effective fundraising techniques that you can implement to get the donations you need.
Creative And Innovative Fundraising Ideas
To get water bottles donated, you need to think outside of the box.
Host a charity auction. Auction off items donated by local businesses.
Organize a water bottle drive. Ask community members to donate water bottles to your cause.
Run a 5k for water. Encourage participants to donate money to participate in the race.
Host a charity raffle. Ask individuals to donate items to be raffled off.
Events And Promotions To Raise Awareness And Donations
Hosting events and promotions can help raise awareness and donations.
Host a charity car wash. have participants donate to your cause for a car wash.
Organize a charity concert. Get local artists to perform and gather donations through ticket sales.
Organize a charity bake sale. Bake and sell treats for your cause.
Host a charity fashion show. Get local designers to showcase their work and hold a silent auction for items.
Creating Campaigns And Donation Drives
Organizing a donation drive or fundraising campaign can be an effective way to gather donations.
Crowdfund your cause on sites like gofundme.com.
Use social media to create buzz and ask for donations.
Host a pledge drive. Have individuals pledge money towards your cause.
Run a charity sweepstakes. Have participants donate to enter the sweepstakes.
Utilizing Online Fundraising Platforms And Crowdfunding To Reach A Larger Audience
The internet is a powerful tool for reaching a large audience.
Gofundme.com: Crowdfund your cause through donations.
Kickstarter.com: Create a project and raise funds.
Indiegogo.com: Raise funds for your cause through contributions.
Crowdrise.com: Create a fundraising campaign and get donations.
Using these creative and innovative techniques can help you get water bottles donated and raise funds for your cause. With the right approach and dedication, your fundraising efforts can make a significant difference.
Conclusion
Ensuring people have access to clean drinking water is crucial for wellbeing, but unfortunately, not everyone has access to the same resources.
However, with a bit of research, effort and using the tips mentioned in this article, it's possible to get access to free water bottles.
By understanding how to approach businesses, building networks in your local or online community, and crafting a solid pitch, you can start getting donations and make a positive difference in your community.
Remember, getting water bottles donated is about more than just providing water – it's about building relationships with your community and ultimately, helping people lead happier, healthier lives.
With the right approach and attitude, you can achieve this goal and make a lasting impact while creating a better world for future generations.
So, why wait? Start taking action and make a difference, today!