How to Label Water Bottles? 7 Easy Steps!
To label water bottles effectively, you need to choose a suitable design, prepare the bottles, print the labels, and attach them securely.
Labeling water bottles is a popular way to personalize and promote events or businesses. It can be a fun and creative activity while making a statement or spreading awareness.
By following a few simple steps, you can easily create and apply your custom water bottle labels.
Choose a design that reflects the theme or purpose of the event or promotion.
Make sure the bottle surface is clean and dry before applying the label.
Opt for a water-resistant label material, such as vinyl or laminated paper.
Secure the label firmly to avoid peeling or damage during use.
Choosing a suitable design is crucial when labeling water bottles, as it sets the tone and conveys the desired message.
Use online design tools or graphic design software to create a custom design, or select a pre-made template that matches your theme.
Ensure that the label's size corresponds to the water bottle's dimensions, and consider using water-resistant materials to keep the labels in pristine condition.
Finally, be sure to adhere the label firmly to the bottle, ensuring that there are no air bubbles or creases, and your personalized water bottles will be ready for use.
7 Steps for Labeling Water Bottles
| Step No. | Task Description | Materials Required | Tips |
| --- | --- | --- | --- |
| 1 | Clean the surface of the water bottle | Cloth, water, mild soap | Wipe gently to remove dirt/oil |
| 2 | Choose a suitable label | Label paper, marker/pen | Waterproof/resistant is better |
| 3 | Write information/content | Marker, pen, template | Name, contact info, etc. |
| 4 | Cut label if necessary | Scissors, ruler | Measure and cut for a neat finish |
| 5 | Apply label to the water bottle | Label paper | Ensure surface is dry |
| 6 | Secure label with clear tape (optional) | Clear tape | Helps protect against wear/tear |
| 7 | Verify label info and placement | N/A | Double-check for accuracy |
7 Steps for Labeling Water Bottles
Key Takeaway
Importance of proper labeling for health and safety reasons.
Customization and branding opportunities for businesses and events.
Environmental impact of using reusable water bottles.
Useful tips and techniques for efficient and creative labeling.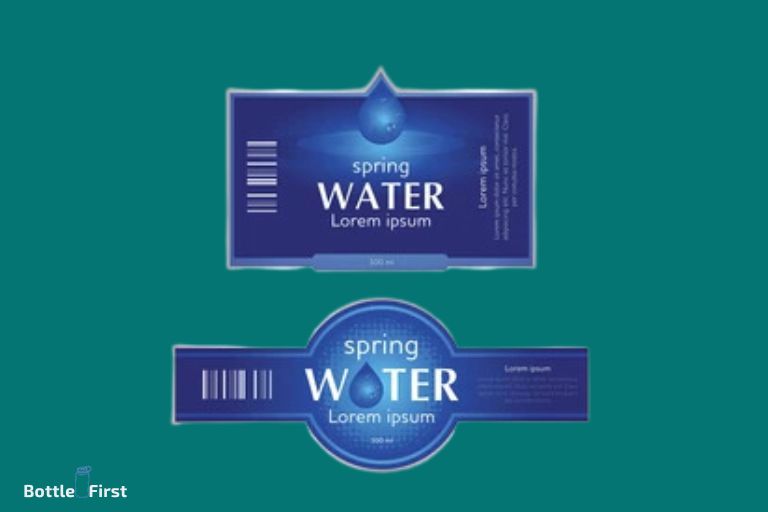 Five Facts About to Label Water Bottles
Proper labeling can help prevent the growth of harmful bacteria by ensuring users avoid drinking from someone else's bottle, which is particularly important during the COVID-19 pandemic. source: WHO
Custom water bottle labels are a great way for businesses and events to promote their brand and leave a lasting impression on consumers and attendees. They can use logos, colors, and unique designs to convey their messaging. source: ICC
Switching to reusable water bottles and labeling them not only helps to reduce plastic waste in the environment, but also saves money by eliminating the need for purchasing bottled water frequently. source: EarthDay
There are various labeling techniques, including adhesive labels, waterproof vinyl stickers, and even writing directly on the bottle with a permanent marker or paint pen. These options give users the flexibility to choose methods that best suit their needs, tastes, and budget. source: StickerMule
Creative water bottle labeling can also serve as a form of personal expression letting users showcase their personality, interests, and even affiliations. This can be achieved through the use of custom graphics, inspirational quotes, or personal artwork. source: BottleYourBrand
Understanding Your Customer And Knowing Your Brand
Before you start labeling your water bottles, it's vital to understand the people who will buy them and the unique attributes of your brand.
To ensure that your designs and labels resonate with your target audience, consider the following points.
Identify Your Target Audience And Tailor Your Designs And Labels Accordingly
Define the demographics, interests, values, and lifestyles of your target audience. Use this information to create designs that cater to their preferences.
Conduct research to identify the latest trends and preferences of your target audience. Choose colors, typography, and design elements that reflect their tastes.
Create designs that resonate with your target audience's values and beliefs. For instance, if your target audience is environmentally conscious, ensure that your designs promote sustainability and eco-friendliness.
Use language that appeals to your target audience. Avoid using technical jargon, and use simple, clear, and concise language that your audience can understand.
Establishing Your Unique Brand Identity
Identify your brand's mission, vision, and values. Use these attributes to create designs that align with your brand's core principles.
Create designs that differentiate your brand from competitors. Choose unique colors, fonts, and design elements that set your brand apart.
Ensure that your designs are consistent across all platforms, including your website, social media, packaging, and labels.
Use a logo that reflects your brand identity and resonates with your target audience.
Tips On Ensuring Your Brand's Consistency Across All Design Elements
Use consistent colors, typography, and design elements across all platforms and products.
Avoid using too many colors or fonts. Stick to a maximum of two or three colors and fonts to ensure that your designs look cohesive.
Ensure that your labels include your brand's logo, mission statement, and contact details.
Keep things simple and avoid using too many design elements. Use whitespace to create a clean, minimalistic look.
By understanding your customer and creating a unique brand identity, you can create water bottle labels that resonate with your target audience and promote your brand's attributes.
Ensuring consistency across all design elements is vital to establish your brand authority and create a lasting impression on your audience.
Creating Your Water Bottle Design And Label
Overview Of The Different Design And Label Options Available
Designing the perfect label for your water bottles is all about making a statement for your brand.
Since your label is the first thing that the customer sees, it's crucial to consider different design and label options available, such as:
Clear labels: Clear labels are a popular choice as they allow the water to be visible, and the label can be printed in white or opaque colors to make it stand out.
Wraparound labels: Wraparound labels cover the entire bottle and provide ample space for branding and marketing your product.
Shrink sleeves: Shrink sleeves wrap around the entire bottle, and the design remains visible even when the bottle is filled with water.
Die-cut labels: Die-cut labels come in various shapes and sizes, and they can be molded according to the structure of the bottle for a unique design.
Step By Step Guide To Creating Your Own Label Using Adobe Illustrator Or Other Design Software
If you decide to create your label using design software such as adobe illustrator, here are some crucial steps to keep in mind:
Choose the correct template: Ensure you have the bottle template to correctly size the label for your water bottles.
Identify your brand: Know your brand, its message, and what the product represents to create a compelling design.
Choose colors: Select colors that align with your brand while considering the psychology behind colors.
Typography: Choose font styles that pair well with your brand and can be read easily.
Take time to create the design: Do not rush the design process; it is crucial to take your time and get the design just right.
File type: Consider the file type you will use, the printer's specifications, and the approved brand colors.
Techniques For Ensuring Your Design Captures Your Brand'S Identity And Appeals To Your Customers
Designing a label is designing the personality of your brand.
Here are some essential techniques to ensure that your design captures your brand's identity and appeals to your customers:
Understand your target audience: Research your target audience, their preferences, and what appeals to them to make an informed design choice.
Keep it simple: Do not overwhelm the customer with too much information; simplicity is key.
Use high-quality visuals: Use high-quality images and graphics that align with your brand and are visually appealing to the customers.
Consistency is key: Ensure consistency with your brand colors, fonts, and logos throughout all marketing materials to strengthen your brand recognition.
Make it memorable: Create a label design that is unique and memorable to make a lasting impression on your customers.
Creating the perfect label design for your water bottles is exciting but requires thought and research.
Ensure your label aligns with your brand's essence and appeals to your target audience to make your water bottles stand out.
Choosing The Right Printing Method
When it comes to labeling water bottles, choosing the right printing method can make all the difference in the final product.
There are several popular printing methods to choose from, each with their own unique advantages and disadvantages.
Comparison Of Different Printing Methods:
Here are the most commonly used printing methods for water bottle labeling:
Digital printing: This is a popular, cost-effective, and fast printing method that is ideal for small-scale printing jobs. Digital printing can produce detailed and high-quality images.
Screen printing: This method is great for larger batches of bottles. It can print on any surface and produces vivid, long-lasting graphics. Screen printing has a longer setup time and usually requires purchasing custom screens.
Sublimation: This is a great method for printing on a range of materials including metal and plastic. Sublimation produces vibrant, high-quality images with excellent durability.
Discussion On The Advantages And Disadvantages Of Each Method:
Here are the pros and cons of each label printing method:
Digital printing:
Pros:
Affordable and fast for small runs
High-quality and detailed images
Cons:
Limited color range and resolution
Not suitable for large quantities
Screen printing:
Pros:
Vibrant and long-lasting graphics
Great for large batches of bottles
Cons:
Longer setup time and custom screens can be costly
Not suitable for small runs
Sublimation:
Pros:
Vibrant and durable graphics
Suitable for a wide range of materials
Cons:
Requires specialized equipment
Not suitable for small runs
Advice On Choosing The Right Printing Method For Your Design, Budget, And Time Constraints:
Choosing the right label printing method requires consideration of several factors, including your design, budget, and time constraints.
Here are some tips to help you make the right decision:
Consider your quantity requirements: If you're printing large batches, consider screen printing. For smaller runs, digital printing is a cost-effective option.
Think about the material: Sublimation works well on many materials, while screen printing works well on curved surfaces.
Budget: Digital printing is the most affordable, while screen printing typically requires a larger upfront cost but can save money in the long run.
Design: Consider color requirements and image detail. Digital printing is great for detailed color graphics, while screen printing is perfect for bold graphics, and sublimation is ideal for photo-quality images.
By understanding the pros and cons of each printing method and assessing your unique needs, you can select the best printing method for your water bottle labeling project.
Applying Your Label And Ensuring Quality Control
Step By Step Guide To Applying Your Label To Your Water Bottles
When applying your label, it's essential to do it with precision and accuracy.
Here's a step-by-step guide to ensure your labels are applied correctly:
Clean the surface: Before you start, make sure the surface of your water bottle is clean and dry.
Position your label: Carefully position your label on the surface of the water bottle. Ensure that it's level and straight.
Apply your label: Slowly apply your label, working from one end to the other, making sure there are no wrinkles or air bubbles.
Smooth out any imperfections: Use your hand or a flat object, such as a credit card, to smooth out any irregularities.
Allow time to dry: Let your water bottle dry for at least 24 hours before using it or exposing it to water.
Tips To Ensure Quality Control, Including Checks For Durability, Readability, And Finish
After labeling your water bottles, it's essential to check for quality control to ensure that your labels are durable, readable, and have a premium finish.
Here are some tips to ensure label quality:
Check for durability: Ensure that your labels are durable and can withstand water, heat, and other environmental factors. Expose your labelled water bottle to different conditions to test its durability.
Check for readability: Confirm that your labels are readable and the text is legible. Ensure the contrast between the text and background color is sufficient to ensure clear text.
Check for finish: Ensure that the finish on your label is high-quality and professional. The surface should be smooth and free from any bubbles, creases or wrinkles.
Check the alignment: Confirm that your labels are appropriately aligned and symmetric for a professional look.
Conduct a spot check: Pick a few labelled bottles at random to monitor the label's quality frequently.
Advice On Dealing With Common Issues, Such As Peeling, Bubbling, Or Misalignment
Peeling, bubbling or misaligned labels can be frustrating to deal with, but there are some tips to get them sorted out.
Here's what to do:
Peeling labels: If your label starts to peel, gently remove the label, clean the water bottle, and reapply a new label.
Bubbling labels: If your label has bubbles, use a needle to puncture the bubble and use a flat object like a credit card or squeegee, apply pressure to smooth down the label.
Misaligned labels: If your labels are misaligned, remove and reapply them until you get them correctly positioned.
Use high-quality labels and adhesives: Invest in high-quality labels and adhesives to prevent common issues. Go for weather-resistant labels that can withstand environmental factors such as heat, water, and chemicals.
Store your labels appropriately: Store your labels in a dry, cool place to prevent degradation or damage.
With these tips and a bit of practice, you can produce premium quality labelled water bottles for your event or company.
FAQ About How To Label Water Bottles
How Do I Clean My Water Bottle Label?
The best way to clean your water bottle label is to use a mild detergent and warm water. Avoid using harsh chemicals or scrub brushes to prevent damage to the label.
What Is The Best Label Material For Water Bottles?
There are several materials that are suitable for labeling water bottles, such as vinyl, polyester, and polypropylene. Choose a material that is waterproof and durable.
How Do I Apply A Water Bottle Label?
Make sure your water bottle is clean and dry before applying the label. Peel off the backing and align the label with the bottle. Smooth out any bubbles or wrinkles with your fingers.
Can I Reuse My Water Bottle Label?
It is not recommended to reuse a water bottle label, as it may lose its adhesive properties or become damaged during removal.
How Do I Design A Custom Water Bottle Label?
To design a custom water bottle label, first determine the size and shape of the label you need.
Then, choose a design software or hire a graphic designer to create your design.
Make sure to include important information such as your brand name and product details.
Conclusion
Labeling your water bottles may seem like a small task, but it can make a big difference in your day-to-day routine.
With the tips outlined in this article, you can ensure that your water stays fresh, easy to identify, and safe to drink.
By investing in high-quality labels, choosing the right design, and paying attention to important details like expiration dates, you can keep your water bottles organized and ready to use whenever you need them.
Remember to consider your personal preferences and unique needs as you label your water bottles, and don't be afraid to experiment with different labeling methods until you find the ones that work best for you.
With a little bit of effort and attention to detail, you can take the guesswork out of staying hydrated on the go.