How to Make Bottled Water? 8 Easy Steps!
To make bottled water, you need to source high-quality water, filter and purify it, and package it in clean, safe containers.
Bottled water production involves a series of processes to ensure the water is clean, safe, and meets regulatory standards.
The water source can be either spring water, purified water, or artesian water.
The water goes through filtration and purification processes like reverse osmosis, distillation, or ultraviolet treatment to remove contaminants and impurities.
After the purification process, the water is packaged in bottles made with food-grade materials to ensure safety and quality.
Different water sources: spring water, purified water, and artesian water.
Filtration processes: sediment and carbon filters.
Packaging materials: food-grade plastics, glass, and aluminum cans.
Purification methods: reverse osmosis, distillation, and ultraviolet treatment.
When making bottled water, it's crucial to maintain strict hygiene during the production process.
This includes regular sanitization of the equipment, proper handling, and storage of the containers, as well as consistent quality control testing to ensure safety and purity.
Finally, bottled water producers should follow the regulations and standards set by organizations such as the FDA and the International Bottled Water Association (IBWA) to maintain the highest level of quality and safety for consumers.
8 Steps of Making Bottled Water
| Step | Description | Equipment/Tools | Time |
| --- | --- | --- | --- |
| 1 | Source water | Water source | Varies |
| 2 | Filter and purify water | Filtration system | 1-2 hours |
| 3 | Test water for impurities | Water testing kit | 30 min |
| 4 | Disinfect water with UV light or ozone | UV or ozone system | 15-30 min |
| 5 | Fill bottles | Bottle-filling machine | 1-2 hours |
| 6 | Seal bottles | Bottle-capping machine | 1-2 hours |
| 7 | Label bottles | Label applicator | 1-2 hours |
| 8 | Package and distribute bottled water | Packaging materials | Varies |
8 Steps of Making Bottled Water
Key Takeaway
The production of bottled water involves source water treatment, filtration processes, and strict quality control to ensure the product is safe for consumption.
Environmental impact and sustainability are increasing concerns in the bottled water industry, leading to the development of more eco-friendly materials and practices.
The cost and convenience of bottled water make it a popular choice among consumers, but it raises questions about reliance on single-use plastics and healthier hydration options.
Regulatory standards for bottled water differ between countries, but they generally focus on the quality of the source water and finished product, as well as packaging and labeling requirements.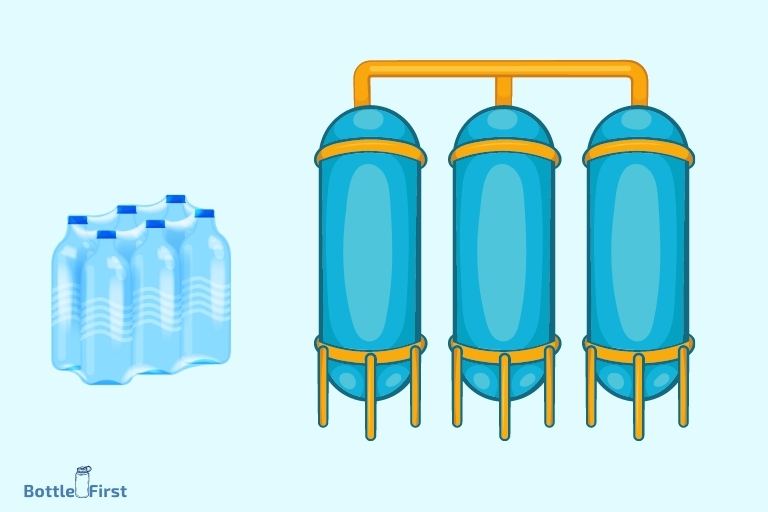 Four Facts About Making Bottled Water
Bottled water is sourced from either natural springs, wells, or the public water supply (municipal sources), and it varies based on location and local regulations (source: Food and Drug Administration).
The treatment process for bottled water may include steps like ozonation, ultraviolet (UV) light treatment, and reverse osmosis to remove contaminants and improve the overall taste and quality (source: International Bottled Water Association).
Recycling rates for bottled water containers in the US are estimated at around 40%, but many companies are working towards using more recycled materials in their packaging to reduce waste (source: Container Recycling Institute).
A single bottle of water can cost anywhere between 0.25 to over 0.25 to over 0.25 to over 2.00 per bottle, depending on the brand and location, while tap water is generally much less expensive or even free in many places (source: Business Insider).
Understanding The Basics Of Bottled Water
Bottled water is a popular and convenient way to quench thirst and stay hydrated on-the-go. Understanding the basics of bottled water can help you choose the right type for your needs.
This section will cover the following topics:
What Is Bottled Water And Why Is It Popular?
Bottled water refers to drinking water that has been packaged in plastic or glass containers.
People choose bottled water for several reasons, such as:
Convenience: Bottled water is readily available, easy to carry, and can be purchased almost anywhere.
Taste preferences: Some people prefer the taste of bottled water over tap water.
Safety concerns: Bottled water is often perceived as a safer option than tap water due to environmental contaminants, natural disasters, or infrastructure issues.
Types Of Bottled Water: Spring Water, Purified Water, Mineral Water
There are several types of bottled water, each with unique qualities.
Here are the most common types:
Spring water: This type of water comes from a natural spring or underground source, and is treated to remove any harmful contaminants. It may contain minerals and trace elements that contribute to its taste and health benefits.
Purified water: Purified water undergoes additional treatment processes to remove impurities, such as reverse osmosis, distillation, or deionization. It may lack the minerals found in other types of water.
Mineral water: Mineral water comes from a protected underground source and contains at least 250 parts per million total dissolved solids (tds). It provides essential minerals and nutrients such as calcium, magnesium, and potassium.
Differences Between Tap Water And Bottled Water
Tap water and bottled water have several differences, including:
Safety regulations: Bottled water is regulated by the fda, which has stricter standards than the epa that regulates tap water.
Testing frequency: Bottled water is tested less frequently than tap water, making it more likely to contain contaminants if it is not properly stored.
Costs: Bottled water can be expensive over time, while tap water is more affordable.
Quality Standards For Bottled Water
The fda sets strict quality standards for bottled water to ensure it is safe to drink.
Bottled water must meet the following criteria:
Come from a protected underground source or natural spring
Be bottled in sanitary conditions
Contain no added substances except for fluoride or flavoring
Meet strict limits for microbiological, physical, chemical, and radiological contaminants
Understanding the basics of bottled water can help you make informed choices about what type of water to drink.
Make sure to choose a high-quality brand of bottled water that meets fda standards to ensure safety and quality.
Preparing For Bottled Water Production
Essential Equipment Needed For Bottling Water
Bottled water production requires specialized machinery and equipment to ensure the process runs smoothly and efficiently.
Here are some of the necessary equipment needed for bottling water:
Water treatment system: You need a reliable water treatment system that filters water to remove impurities, such as bacteria, chemicals, and minerals. The system is vital in creating high-quality water that meets the necessary standards.
Bottle filling machine: The filling machine dispenses water into bottles at pre-determined levels. The speed and accuracy of the filling machine determine how many bottles you can produce per hour.
Bottle capping machine: Once the bottles are filled, they need to be sealed to prevent contamination. A capping machine helps to cover the bottle opening with a cap, ensuring it's airtight.
Labeling machine: To distinguish your brand from other water bottlers, you need to label your bottles. A labeling machine helps to apply an adhesive label onto the bottle surface.
Conveyor: A conveyor moves the bottles from one machine to another. An efficient conveyor system enhances the production process and reduces the risk of contamination.
Proper Sanitation And Safety Procedures
Bottled water is meant to be consumed directly, and therefore, hygiene is critical throughout the production process.
Here are some sanitation and safety procedures that you must adhere to:
Cleanliness: You must maintain a clean production environment, including the machinery and equipment used. Regular cleaning schedules must be developed and followed.
Sterilization: All equipment that comes into direct contact with water must be sterilized using chemicals or hot water.
Air quality: The air quality in the production area must meet the necessary standards to prevent contamination of water by airborne particles.
Staff hygiene: All staff working in the production area must wear appropriate work attire, including gloves, mask, and hair nets. The staff should also maintain high levels of personal hygiene.
Regular water sampling: Regular water sampling and testing should be carried out to ensure that the water being bottled meets the necessary quality standards.
Sourcing High-Quality Water For Bottling
The main component of bottled water is water, and, therefore, it's essential to source high-quality water.
Here are some considerations when sourcing water:
Water source: Identify a reliable water source that meets the necessary quality standards. Groundwater, springs, and surface water are some of the water sources commonly used in bottled water production.
Quality standards: Water quality standards are set by regulatory bodies. Ensure that the water source meets the minimum set standards.
Water treatment: Water treatment helps to remove impurities and bacteria from the water that could be harmful directly consumed. The treatment process used should adhere to the regulatory guidelines.
Storage: Once the water is treated, it should be stored in clean and sanitized tanks before being bottled.
Traceability: Keep a record of the source, treatment process, and storage of the water to help in traceability in case of any contamination.
Creating An Efficient Production Plan
An efficient production plan helps to maximize the production capacity while reducing the wastage of resources used.
Here are some considerations when creating a production plan:
Target market: Understanding the target market will help you determine the expected demand and the required production capacity.
Production schedule: Develop a production schedule that maximizes the use of resources and reduces wastage of time and material.
Inventory control: Maintain accurate inventory records to avoid stock outages or overstocking.
Cost control: Ensure that the production cost is within the set budget without compromising the quality of the bottled water.
Quality control: Regular quality control checks should be carried out to ensure that the bottled water is safe for consumption.
With these guidelines and considerations in mind, you can start your bottled water production business with confidence.
Ensure that you follow the necessary regulatory guidelines and standards to produce safe bottled water for consumption.
Bottling And Packaging The Water
Bottling And Packaging The Water:
Bottled water is a convenient way to stay hydrated while on the go, and it's popularity continues to grow.
Here are the steps to follow when bottling and packaging water:
Cleaning And Sterilizing The Bottles And Caps:
Wash the bottles and caps thoroughly with hot, soapy water.
Rinse the bottles and caps with clean water and let them dry completely.
Sterilize the bottles and caps with a disinfectant.
Rinse the bottles and caps with clean water and let them dry.
Filling The Bottles With Water:
Use a clean funnel to fill the bottles with water.
Leave a small amount of space at the top of the bottle to prevent overflowing during transportation.
Use a clean, high-quality water source with a neutral ph.
Securing And Labeling The Bottles:
Tighten the cap securely on the bottle to prevent leaks.
Use a high-quality label to indicate the brand, type, and volume of the water.
Include the source and any relevant certifications on the label.
Packaging And Shipping The Bottled Water:
Place the bottles in a durable package to prevent damage during transportation.
Use cushioning material to fill the empty space in the package.
Use a shipping service that specializes in transporting fragile items.
Keep the packaged water in a cool, dry environment before shipping.
By following these steps for bottling and packaging water, you can ensure your water stays safe and fresh while you're on the go.
Marketing And Selling Bottled Water
If you are interested in making bottled water, then the marketing and selling process is crucial to ensuring success.
Bottled water is everywhere, so understanding how to stand out in the market is essential.
Here are some tips:
Developing A Unique Selling Proposition (Usp) For Your Bottled Water:
Identify a unique aspect of your bottled water, such as being sourced from a particular location or having a specific taste profile.
Leverage your product benefits to differentiate it from competitors, such as being eco-friendly or having a particular mineral composition.
Make sure your usp is clear, concise, and easily understood by consumers.
Understanding Consumer Trends And Preferences:
Research consumer preferences for bottled water, such as preferring a specific ph level or eco-friendly packaging.
Analyze current market trends, such as increased demand for functional or flavored water.
Adapt your product and branding to align with consumer needs and wants to increase your chances of success.
Creating A Strong Brand Identity:
Develop a memorable and recognizable brand name and logo.
Create a brand story that resonates with customers and adds value to your product.
Establish a consistent style and tone across all brand communications, including packaging, advertising, and social media.
Building A Distribution Network For Your Bottled Water:
Identify potential distribution channels, such as grocery stores, vending machines, or online retailers.
Research local and national regulations for bottled water distribution.
Develop relationships with distributors and wholesalers to expand your reach and increase sales.
Following these tips can help you create a successful bottled water brand and stand out in a crowded market.
Remember to keep your usp clear, understand consumer preferences, create a strong brand, and build a distribution network that ensures your product is available wherever your customers are.
FAQ About How To Make Bottled Water
How Long Can Bottled Water Be Stored For?
Bottled water typically has a shelf life of up to 2 years.
Is It Safe To Reuse Bottled Water Bottles?
It is not recommended to reuse single-use water bottles for health reasons.
What Is The Best Way To Store Bottled Water?
To maintain water freshness, store bottled water in a cool, dark place away from direct sunlight.
How Is Bottled Water Quality Ensured?
Bottled water undergoes strict testing and regulation by the fda to ensure safety and quality.
Is Drinking Bottled Water Better Than Tap Water?
Bottled water can be safer and more convenient, but tap water is typically just as safe to drink.
Conclusion
After going through the steps outlined in this guide, it's clear that making your own bottled water is both easy and cost-effective.
This is particularly true if you live in an area where the water quality is questionable or where access to an adequate supply of clean water is limited.
It's clear that the process of making bottled water is not just reserved for commercial companies, but can be done at home with very little effort.
Remember to choose the right water source, buy the appropriate bottles, and follow proper sanitation and safety guidelines.
By doing so, you'll be able to make your own bottled water with ease, and without compromising on taste or quality.
So, why not give it a try today?
Not only will it save you money, but it will also give you peace of mind knowing that you have access to clean and healthy drinking water whenever you need it.