How to Make Custom Water Bottles? 10 Easy Steps!
To make custom water bottles, you need to choose the right type of bottle, create a unique design, select an appropriate printing method, and find a reputable manufacturer for production.
Creating custom water bottles involves a combination of design, material selection, and printing techniques.
The end product serves as a practical item for personal use or a promotional product for businesses, events, and organizations.
By following specific steps, you can create a custom water bottle that meets your preferences and requirements.
Select the bottle type and material: Choose from various materials such as stainless steel, plastic, or glass, and decide on the shape, size, and features (e.g., insulated, collapsible, or reusable).
Design the artwork: Create a unique design that reflects your brand, event, or personal style using graphics, colors, and text.
Choose a printing method: Select the most appropriate printing technique among screen printing, pad printing, heat transfer, or digital printing based on the design and material.
Find a reputable manufacturer: Research and select a reliable manufacturing company that offers quality products, professional support, and reasonable prices.
When you design the artwork for your custom water bottle, consider factors such as the bottle's shape, size, and color.
Ensure that your design is high-resolution and compatible with the chosen printing method.
Additionally, keep your target audience in mind – focusing on their preferences and interests – for maximum impact and usability.
Collaboration with a professional graphic designer may help you achieve the desired result if you're not confident with your design skills.
10 Steps to Make a Custom Water Bottle
| Step | Materials | Instructions |
| --- | --- | --- |
| 1 | Blank water bottle | Choose the size and style of the blank water bottle that you want to customize. |
| 2 | Design or logo | Create or choose a design or logo you want to apply to the water bottle. |
| 3 | Printer | Print the design or logo on a special water bottle decal paper or adhesive vinyl, if required. |
| 4 | Cutting tools | Carefully cut the design or logo out of the decal paper or adhesive vinyl. |
| 5 | Transfer tape | Apply transfer tape on top of the design or logo if using adhesive vinyl. |
| 6 | Water bottle surface | Clean the surface of the water bottle where the design or logo will be applied. |
| 7 | Application | Apply the decal or adhesive vinyl to the water bottle, ensuring it is properly aligned. |
| 8 | Smoothing tool | Use a smoothing tool to eliminate any bubbles or wrinkles and ensure the design adheres well. |
| 9 | Remove transfer tape | Carefully remove the transfer tape, if used, leaving the design or logo on the water bottle. |
| 10 | Sealant (optional) | Apply a sealant to protect the design, if desired, and allow it to dry completely. |
10 Steps to Make a Custom Water Bottle
Key Takeaway
Custom water bottles provide a personalized touch and make for great promotional items or gifts.
There is a variety of materials and designs available for customizing water bottles.
Different printing techniques can be used to ensure a long-lasting and high-quality finish.
Ordering custom water bottles in bulk can save you money and promote your brand effectively.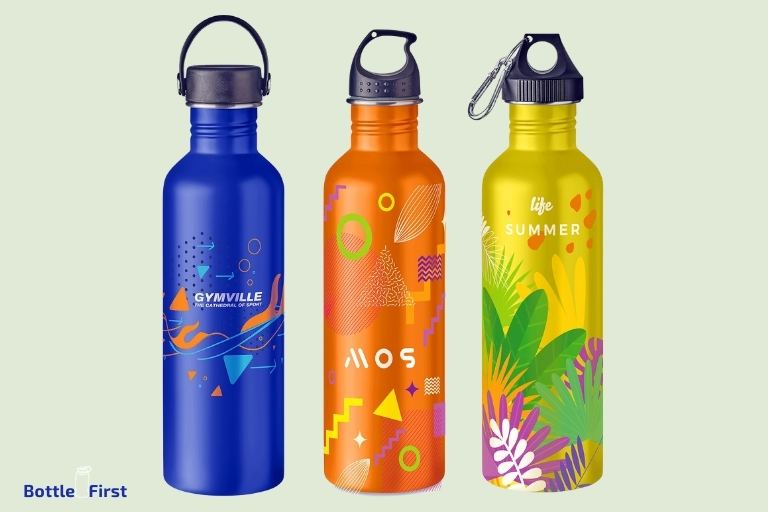 Five Facts About to Know to Make a Custom Water Bottle
Custom water bottles can be made of different materials such as stainless steel, aluminum, plastic, and glass, each with its own pros and cons. For example, stainless steel bottles are durable and maintain temperature well, while glass bottles are eco-friendly and do not retain odors or flavors (source: promodirect).
Airbrushing, laser engraving, heat transfer printing, and screen printing are some of the popular customization techniques used for decorating water bottles. These methods differ in terms of cost, durability, and appearance (source: discountmugs).
Full-color printing is a popular option to create eye-catching custom water bottles. This process allows you to use detailed and colorful images without any limitation on design complexity (source: printwand).
A pre-design stage is crucial when creating custom water bottles. This stage involves selecting the bottle material, size, and type, as well as determining the appropriate printing method. It is essential to create a mock-up design to ensure the final product meets your expectations (source: printglobe).
Buying custom water bottles in bulk can save you a significant amount of money, as most suppliers offer volume discounts. Bulk purchasing is a cost-effective option for promoting your brand, especially during events
Understanding The Benefits Of Creating Custom Water Bottles
Why Create Custom Water Bottles?
In today's world, where people are becoming increasingly aware of their health and fitness, carrying a water bottle has become a daily essential.
However, wouldn't it be great if your water bottle could also be a reflection of your personality and style?
That's where custom water bottles come into play.
Here are some reasons why you should consider creating custom water bottles:
Personalization: Custom water bottles allow you to add a personal touch to your daily accessory. You can print your favorite quotes, photos, or logos on your water bottle, making it unique and special to you.
Brand promotion: Custom water bottles serve as a fantastic advertising tool for businesses. Having your brand's logo on a water bottle can create brand awareness and increase visibility.
Sustainability: Custom water bottles are an eco-friendly alternative to disposable plastic bottles. By opting for a reusable water bottle, you're reducing your carbon footprint and helping the environment.
Benefits Of Using Custom Water Bottles
Now that we've understood why creating custom water bottles is essential let's take a look at the benefits of using them:
Hydration reminder: Having a customized water bottle serves as a constant reminder to drink water. You can add time markers or motivational quotes to help you keep track of your water intake.
Cost-effective: Custom water bottles are a cost-effective solution compared to disposable plastic bottles that need to be repurchased frequently. Investing in a high-quality custom water bottle can save you money in the long run.
Durability: Custom water bottles are generally made of high-grade materials, making them durable and long-lasting. You won't have to worry about replacing them frequently.
Convenience: Custom water bottles are portable and easy to carry around. You can take them to the gym, office, or even on a hike. They provide a hassle-free solution to stay hydrated on the go.
Creating custom water bottles offer tremendous benefits, from personalization to sustainability.
By investing in a custom water bottle, you're not only helping the environment but also creating a daily essential that serves both functionality and style.
Gathering The Required Materials And Tools
Choosing The Best Water Bottle For Customization
Choosing the right water bottle for your customization project is crucial for achieving the desired results.
Factors such as the shape, size, and material of the bottle should be considered before making a purchase.
Here are a few things to keep in mind when selecting a water bottle:
Material: Choose a water bottle made of a material that can easily be decorated, such as plastic or aluminum. Avoid bottles with a textured surface, as they can be challenging to apply designs to.
Size: Consider the size of the bottle along with the design you want to add. Large designs may not fit well on a small water bottle, while small designs may be lost on a larger one.
Shape: The shape of the water bottle should also be taken into account, as it can affect how well the design adheres to the bottle. Straight or cylindrical bottles are easier to decorate than curved ones.
Lid type: The type of lid is also important to consider, as it can influence the overall design of the bottle. Screw-top lids provide more space for customization, while flip-top lids may require more creativity to work around.
Necessary Tools Required For Customization
To make your custom water bottle, you will need a few essential tools.
Here's a list of the necessary items you will need:
Water bottle: Select the water bottle according to the design you want to create.
Vinyl sheets or adhesive vinyl: This material creates a beautiful finish and comes in a wide range of colours. When applying, it should be cut to fit the size of the water bottle.
Transfer tape: This tape helps you transfer the design from the vinyl sheet to the water bottle.
Weeder: This tool is used to weed away the vinyl from the sheet and transfer it to the transfer tape.
Scissors: Use scissors to cut the vinyl to the desired shape.
Trimmer: This is used to trim away the excess vinyl.
Cricut machine: This machine helps cut complicated designs with ease, making it the perfect tool for intricate designs.
Computer: You will need a computer to create the design and to operate the cricut machine.
Now that you know the essential tools and factors to consider when choosing a water bottle, it's time to get creative and design a custom water bottle that showcases your unique style.
Customization Techniques For Making Unique Water Bottles
Custom water bottles are an excellent way to stand out in a crowd. But how do you make custom water bottles that leave a lasting impression?
The key is in the customization techniques you use. In this post, we'll explore the different ways you can personalize your water bottles and make them truly unique.
So, let's get started!
Understanding Different Customization Techniques
Before you start making your custom water bottles, it's important to know the different techniques available for customization.
Here are some of the most popular ways to personalize your water bottles:
Stickers: One of the easiest and most affordable ways to customize a water bottle is by using stickers. You can find stickers in a variety of designs and colors, or you can make your own by printing out your favorite patterns or images.
Paints: If you want a more permanent customization, you can use paints to create unique designs on your water bottle. Acrylic paints work well, and you can mix different colors to create your desired look.
Vinyl wraps: For a professional-looking finish, you can use vinyl wraps to create custom designs. This method is often used for branding purposes and can give your water bottle a sleek, modern look.
Etching: If you want to create a more subtle customization, you can use etching to create designs on your water bottle. You can use an etching cream or a stencil to create your desired design.
Step-By-Step Guide To Creating Custom Water Bottles
Now that you know the different customization techniques available, let's dive into the step-by-step process of creating your own custom water bottles:
Choose your water bottle: First, you need to choose the water bottles you want to customize. You can use any type of water bottle, including plastic, glass, or metal.
Choose your customization method: Once you have your water bottles, decide on your customization method. Do you want to use stickers, paints, vinyl wraps, or etching?
Clean the water bottles: Before you begin customization, make sure to clean your water bottles thoroughly. This will ensure that your customization adheres properly.
Create your design: If using stickers, paint, or vinyl wraps, create your design on paper first and then transfer it onto the water bottle. If using etching, use a stencil to create your design.
Apply your customization: Apply your customization method to your water bottle, following the instructions carefully for the specific method you chose.
Let it dry: After applying your customization, let it dry completely before using your water bottle.
With these easy-to-follow steps, you can create your own personalized water bottles that are sure to turn heads.
Remember to use high-quality materials and follow the instructions carefully to ensure that your customization looks its best.
With a little creativity and a lot of personality, you can make custom water bottles that are truly unique and catered to your style.
Tips And Tricks For Maintaining Custom Water Bottles
Custom water bottles are a fantastic way to reduce daily waste and plastic usage.
Whether you're a fitness enthusiast carrying water to the gym or an environmentally conscious individual who wants to help save the earth, custom water bottles are an excellent addition to your routine.
How To Clean Customized Water Bottles
A major advantage of using custom water bottles is that they are reusable. However, with constant use, it's crucial to clean them regularly to prevent bacteria growth.
Here are some tips on how to clean customized water bottles effectively.
Wash the bottle with warm water and dish soap after every use.
Rinse the bottle thoroughly to remove all soap residue.
For deep cleaning, add one teaspoon of baking soda and a quarter cup of apple cider vinegar to the bottle and fill with hot water. Let it sit for a few hours before rinsing with cold water.
Avoid using harsh chemicals or dishwashers as they can damage the outer coating or fade the custom design.
Tips For Storing And Maintaining Custom Water Bottles
Proper storage and maintenance of your custom water bottles not only extend their lifespan but also ensure they remain hygienic and safe to use.
Here are some tips.
Store the bottle in a dry, cool place to prevent the growth of bacteria.
Keep the bottle in an upright position to prevent spills and leaks.
Avoid exposing the bottle to direct sunlight or heat for extended periods.
Replace the cap and straw regularly to keep them clean and avoid mold buildup.
Common Mistakes To Avoid When Maintaining Custom Water Bottles
Here are some of the most common mistakes to avoid when maintaining custom water bottles.
Not washing the bottle after every use.
Using abrasive pads or brushes on the bottle that can scratch the surface and fade the design.
Not replacing the cap or straw regularly.
Leaving the bottle in a hot car or direct sunlight for prolonged periods.
Using harsh chemicals that can damage the custom design.
By following these tips and tricks, you can keep your custom water bottles looking and functioning like new for years to come.
FAQ About How To Make Custom Water Bottles
How Do I Make Custom Water Bottles?
Making custom water bottles can be done at home, with a few supplies and a little creativity.
First, purchase plain water bottles and decorate them with paint, stickers, or vinyl decals.
Alternatively, use an online service to create personalized labels for your bottles.
What Materials Do I Need To Make Custom Water Bottles?
To make custom water bottles, you'll need plain water bottles, paint, stickers, vinyl decals, or printable labels.
You might also need a craft knife, scissors, and a computer with internet access to design your labels.
Can I Put Custom Water Bottles In The Dishwasher?
Whether or not you can put custom water bottles in the dishwasher depends on the materials you've used to make your bottles.
If you've used paint or stickers, it's best to hand wash the bottles to avoid damaging the decoration.
If you've used vinyl decals or printable labels, the bottles may be dishwasher safe.
How Can I Come Up With Design Ideas For Custom Water Bottles?
There are a few ways to come up with design ideas for custom water bottles.
You can browse online for inspiration, sketch out your ideas on paper, or use design software to create your labels.
Consider incorporating your favorite colors, patterns, or images into your design.
Can I Sell Custom Water Bottles?
Yes, you can sell custom water bottles, but be sure to research any regulations in your area related to selling products.
Additionally, make sure that any labels or decorations on your bottles comply with labeling laws, and that your products are safe and non-toxic.
Conclusion
After reading this guide, you should have a clear idea about how to make custom water bottles that are perfect for your needs.
Whether you're looking to create customized bottles for your sports team or want to give a personalized gift to your friends, this guide provides you with all the essential steps you need.
Remember to choose the right type of bottle, decide on your design, select the right materials and tools, design your labels and stickers using online software, and create a waterproof seal to keep your design intact.
With a little bit of creativity and effort, you can make unique and stylish custom water bottles that will be the envy of everyone.
Don't hesitate to get started and enjoy the process of creating your perfect, one-of-a-kind water bottle!