How to Make Water Bottle Labels in Word? Step By Step Guide!
Making water bottle labels in Word is a simple process that involves creating a new document, setting up the label dimensions, designing the label, and finally printing it. This process allows for customization and is cost-effective for personal and small business use.
Microsoft Word offers a variety of templates and design tools that can be used to create personalized water bottle labels. The label dimensions can be customized to fit your specific water bottles.
After setting up the dimensions, you can then proceed to design your label using Word's extensive font, color, and image options.
Once the design is complete, the labels can be printed using a regular or label printer, and then applied to the water bottles.
Microsoft Word provides various tools and templates for label creation.
Label dimensions can be tailored to fit specific water bottle sizes.
Word's extensive font, color, and image options allow for personalized design.
Labels can be printed using regular printers or label printers.
Designing water bottle labels in Word is an efficient and easy-to-learn method for small business owners or individuals wanting to add personal touches to their events.
The process is cost-effective and offers a wide range of design possibilities, facilitating creativity and uniqueness in every label.
9 Steps: Make Water Bottle Labels in Word
| Step | Description |
| --- | --- |
| 1 | Open Microsoft Word |
| 2 | Go to "File" and select "New" |
| 3 | In the search box, type "labels" |
| 4 | Select your preferred template |
| 5 | Customize the label with your desired text, images, colors, etc. |
| 6 | Go to "File", select "Save As" and save your document |
| 7 | Print your labels using label sheets |
| 8 | Carefully cut out your labels |
| 9 | Adhere the labels to your water bottles |
9 Steps: Make Water Bottle Labels in Word
Key Takeaway
Creating water bottle labels in Word is a simple and cost-effective way to personalize events or promote your brand.
Microsoft Word provides various templates and tools to design professional-looking water bottle labels.
Learning how to make water bottle labels in Word requires basic knowledge of Word functionalities, such as inserting images, text boxes, shapes, and using templates.
The final step in creating water bottle labels in Word is printing and attaching them to water bottles.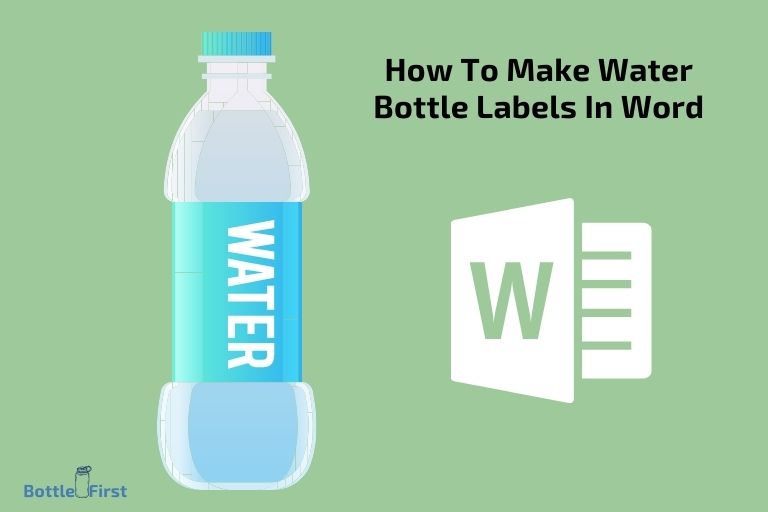 Five Quick Facts for Making Water Bottle Labels in Word
Microsoft Word enables you to design your water bottle labels. It has several ready-made templates for various label sizes that you can use and customize according to your needs (Source: Guiding Tech).
When using Word to create water bottle labels, you can add images, logos, and text to make them more personalized. You can also adjust the size and position of these elements to fit the label perfectly (Source: Avery).
To print your water bottle labels from Word, ensure the page setup is correct, including the paper size and orientation, to avoid any printing issues. It's recommended to do a test print first to check if everything is fine (Source: Avery).
Water bottle labels made in Word can be used for various purposes, including business promotion, personal events like weddings or birthdays, or even as a way for event organizers to keep their branding consistent across all aspects of their event (Source: PCWorld).
After printing, you can attach your labels to the water bottles with regular adhesive or more durable options like waterproof labels. This can be useful in situations where the bottles will be subjected to moisture or refrigeration (Source: Wikihow).
Understanding The Basics Of Water Bottle Label Design
Creating water bottle labels in microsoft word can be a cost-effective and convenient way to personalize your event or brand.
Whether you're planning a special occasion or promoting your business, it's essential to understand the basics of water bottle label design before diving in.
In this section, we'll explore the key considerations when designing water bottle labels, from choosing the right software to customizing label dimensions and selecting suitable fonts and color schemes.
Choosing The Right Software:
When it comes to designing water bottle labels in word, it's crucial to choose the right software to ensure seamless creation and editing. Microsoft word offers a user-friendly interface, making it accessible even for beginners.
Here are a few key points to consider:
Compatibility: Ensure that your version of microsoft word is compatible with your operating system, as this can affect the design process.
Templates: Utilize ready-made templates provided by microsoft word or explore online resources for additional options. Templates can save time and effort, providing a foundation for your label design.
Functionality: Familiarize yourself with the various tools and features available in word to make the most of your label design.
Customizing Label Dimensions And Shape:
One of the advantages of using microsoft word for water bottle label design is the ability to customize dimensions and shape according to your specific requirements.
Here's what you need to know:
Measurements: Determine the exact measurements of your water bottle label, including height, width, and circumference. This ensures a precise fit and avoids any issues during the printing process.
Page setup: Adjust the page setup in word to match the label dimensions. Access the page setup options by selecting the "page layout" tab and clicking on "size." Here, you can enter the desired dimensions or choose from predefined sizes.
Shape customization: Word provides several shape options to add a unique touch to your water bottle labels. Experiment with shapes, borders, and shading to create an eye-catching design.
Selecting A Suitable Font And Color Scheme:
The font and color scheme of your water bottle labels play a crucial role in capturing attention and conveying your desired message.
Follow these tips for an aesthetically pleasing design:
Font selection: Choose a font that aligns with the theme and purpose of your labels. Consider legibility, readability, and overall appearance. Opt for a font size that is easily visible and avoid cursive or overly decorative fonts that may hinder readability.
Color scheme: Select colors that complement each other and enhance the overall design. Ensure there is enough contrast between the font color and the label background for clear visibility. Experiment with different color combinations to find the perfect balance.
Branding considerations: If creating labels for your business or event, ensure that the font and color scheme reflect your brand identity. Consistency in font and color reinforces brand recognition and creates a cohesive look.
Now that you have a better understanding of the basics of water bottle label design, you're ready to create personalized labels that will make a lasting impression.
With the right software, customized dimensions, and attention to font and color selection, your water bottle labels are sure to stand out from the crowd.
Gathering Design Inspiration For Water Bottle Labels
Exploring Popular Label Styles And Trends
When it comes to designing water bottle labels in word, it's essential to gather design inspiration to ensure your labels are visually appealing and aligned with current trends.
Let's explore some popular label styles and trends that can help you create eye-catching and modern designs:
Minimalist design: Minimalism is a widely popular label style that focuses on clean lines, simple typography, and a clutter-free layout. This style can give your water bottle labels a sleek and sophisticated look.
Vintage-inspired labels: Vintage and retro designs have made a comeback in recent years. Incorporating elements like distressed textures, retro fonts, and sepia tones can give your labels a nostalgic and timeless feel.
Nature and botanical themes: Embracing nature-inspired elements in your labels can make them visually appealing and resonate with lovers of the outdoors. Consider using botanical illustrations, floral patterns, or earthy color palettes to create an organic and refreshing design.
Geometric patterns: Geometric shapes and patterns are a great way to add visual interest to your water bottle labels. Whether it's minimalistic triangles or intricate mandala designs, geometric patterns can create a modern and stylish look.
Bold typography: Typography plays a crucial role in label design. Opt for bold and attention-grabbing fonts to make your labels stand out. Experiment with different font pairings, sizes, and styles to create a unique and impactful design.
Creating A Mood Board For Inspiration
A mood board is an effective tool to gather design inspiration and visually organize your ideas before diving into the label creation process.
Here are some steps to create a mood board for your water bottle labels:
Start by collecting images, color palettes, fonts, and design elements that resonate with your desired label style.
Use online platforms like pinterest or canva to create a digital mood board where you can save and organize your inspirations.
Look for a variety of sources, including websites, design blogs, or even physical magazines, to ensure a diverse range of ideas.
Consider the overall mood or message you want your water bottle labels to convey and curate images and elements that align with that vision.
Play around with different color combinations, typography styles, and visual elements to create a cohesive and visually appealing mood board.
Incorporating Branding Elements Into The Design
To make your water bottle labels not only visually appealing but also consistent with your brand identity, it's vital to incorporate branding elements into the design.
Here are some key considerations:
Logo placement: Ensure your logo is prominently displayed on the label, allowing for maximum brand recognition.
Color palette: Use your brand's color palette or complementary colors that align with your brand to maintain consistency across all marketing materials.
Typography: Choose fonts that are in line with your brand's personality and guidelines. Consistent typography helps create brand recognition and a cohesive look.
Visual elements: Incorporate any visual elements that are synonymous with your brand, such as patterns, icons, or illustrations.
By considering these branding elements, your water bottle labels will not only look visually appealing but also reinforce your brand identity effectively.
Remember, the key to creating captivating water bottle labels lies in exploring popular label styles and trends, creating a mood board for inspiration, and incorporating your branding elements.
So, dive into the design process and let your creativity flow to create outstanding water bottle labels in word!
Step-By-Step Guide To Creating Water Bottle Labels In Word
Are you hosting a special event or party and want to add a personalized touch to your water bottles? With microsoft word, you can easily design and create custom water bottle labels that match your theme or branding.
In this step-by-step guide, we will walk you through the process of making water bottle labels in word.
Let's get started!
Setting Up The Document Layout
Open microsoft word and create a new blank document.
Click on the "layout" tab in the ribbon.
In the "page setup" section, click on "size" and choose the appropriate label size for your water bottles.
Adjust the margins and orientation if needed.
Click "ok" to apply the changes.
Adding Text And Graphics
Click on the "insert" tab in the ribbon.
To add text, click on "text box" and choose a style that suits your design.
Click inside the text box and start typing your desired text.
Format the text by selecting it and using the options in the "font" section of the "home" tab.
To add graphics or images, click on "picture" and browse for the desired file on your computer.
Adjust the size and position of the graphics as needed.
Applying Formatting And Effects
Select the water bottle label design elements, such as text or graphics.
Use the options in the "font" section of the "home" tab to apply formatting, such as changing the font style, size, color, or adding special effects.
Experiment with different font combinations and formatting options to create a visually appealing label.
To add a border or background color, select the entire label and go to the "page layout" tab.
Click on "page borders" to add a border or "page color" to change the background color of the label.
With these simple steps, you can quickly create eye-catching water bottle labels using microsoft word.
Let your creativity flow and design labels that perfectly match the theme or branding of your event. Cheers to personalized and stylish refreshments for your guests!
Tips And Tricks For An Aesthetically Pleasing Water Bottle Label
Creating a visually appealing water bottle label can make a big difference in how your product is perceived.
Utilizing certain design elements can help you achieve an aesthetically pleasing label that catches the eye of potential customers.
In this section, we will discuss some tips and tricks to ensure your water bottle label looks professional and attractive.
Utilizing White Space Effectively
Leave empty space around your design elements to create a sense of balance and clarity.
Avoid overcrowding the label with too much text or graphics, as it can make the label look cluttered and difficult to read.
Use white space strategically to draw attention to important elements of the label such as your brand logo or product name.
Ensuring Legibility And Readability
Choose a font that is clear and easy to read, even from a distance.
Ensure that the font size is large enough to be legible when the label is wrapped around a bottle.
Use contrasting colors between the text and background to ensure maximum readability.
Avoid using overly decorative or script fonts, as they can be difficult to read.
Incorporating Visual Hierarchy And Balance
Create a sense of hierarchy by varying the size, color, and weight of your text.
Make important information such as the product name or key features stand out by using a larger font or a bold style.
Consider using icons or imagery to visually represent key information or product attributes.
Balance your label design by distributing elements evenly across the label and ensuring that no single area feels too heavy or empty.
By utilizing these tips and tricks, you can create an aesthetically pleasing water bottle label that not only looks professional but also effectively communicates your brand and product information.
Remember to experiment with different design options and seek feedback to optimize your label for maximum impact.
Printing And Applying Water Bottle Labels
Creating your own water bottle labels in word is a cost-effective and fun way to add a personalized touch to your special events or business promotions.
Once you have designed your labels using the tools in word, it's time to print and apply them to your bottles.
Here are a few important steps to help you on your way:
Selecting Appropriate Label Paper
Choose the right label paper: Select label sheets specifically designed for water bottle labels. These sheets are often water-resistant and come in various shapes and sizes to suit your needs.
Consider the adhesive: Look for label paper with adhesive qualities that will securely stick to the bottle surface without peeling off or losing its stickiness.
Opt for high-quality paper: Using good quality label paper will enhance the appearance of your labels and ensure they withstand any moisture or handling.
Adjusting Printer Settings
Check the label dimensions: Before printing, ensure that the label dimensions in word match the dimensions of your label paper. This will prevent any issues with alignment or incorrect sizing.
Set the printer preferences: Access your printer settings and choose the appropriate paper type, such as glossy or matte, for the label paper you are using. Adjust the print quality for optimal results.
Perform a test print: Always do a test print on a regular paper before printing directly onto the label paper. This will allow you to double-check the alignment and make any necessary adjustments.
Properly Aligning And Adhering The Labels
Align the labels on the sheet: Ensure that the labels on your word document and the label paper are correctly aligned. Use the guidelines provided on the paper or ruler to position the labels.
Adhere the labels smoothly: Slowly and gently apply each label onto the bottle, starting from one end and pressing firmly towards the opposite end. Smooth out any air bubbles or wrinkles as you go.
Secure the labels: Once the labels are applied, run your fingers along the edges to ensure they are securely attached. This will prevent them from peeling off or getting damaged when the bottles are handled or chilled.
Allow sufficient drying time: Give the labels enough time to dry completely before handling or packaging the water bottles. This will ensure that the adhesive sets properly and prevents any smudging or smearing.
By following these steps, you'll be able to print and apply water bottle labels like a pro using microsoft word.
Whether it's for a wedding, birthday party, or marketing campaign, your custom labels will add that extra touch of personalization and professionalism.
So get creative and start designing your unique labels today!
FAQ About Make Water Bottle Labels In Word
How Do I Create Water Bottle Labels In Word?
To create water bottle labels in word, you can use text boxes and shapes to design and customize them.
Can I Use Templates To Make Water Bottle Labels In Word?
Yes, word offers pre-designed templates that you can use as a starting point for creating your water bottle labels.
How Can I Add Images To My Water Bottle Labels In Word?
You can insert images into your water bottle labels by going to the "insert" tab in word and selecting "pictures" or "online pictures".
What Is The Ideal Size For Water Bottle Labels In Word?
The ideal size for water bottle labels in word is typically around 8. 5 inches in width and 2. 125 inches in height.
How Do I Print My Water Bottle Labels Using Word?
To print your water bottle labels in word, you can go to the "file" menu, select "print", and choose the appropriate printer and settings.
Conclusion
Creating water bottle labels in word is a simple and cost-effective way to personalize your drinks for special events or occasions.
By following the step-by-step instructions provided in this blog post, you can easily design and print custom labels that perfectly showcase your style and branding.
With word's user-friendly features and customizable templates, you don't need any design experience to create professional-looking labels.
Additionally, by utilizing word's alignment tools, fonts, colors, and images, you can add your personal touch and enhance the visual appeal of your labels.
Whether you're planning a birthday party, a wedding, a corporate event, or simply want to add a personal touch to your water bottles, making water bottle labels in word gives you endless possibilities.
So go ahead, let your creativity flow, and start designing your own unique water bottle labels today.