How to Monogram a Water Bottle? 6 Easy Steps!
Monogramming a water bottle involves selecting a design or initials, choosing the right vinyl material, cutting the design, and applying the design to the bottle. It's a great way to personalize your water bottle and make it stand out.
Monogramming is a popular way to customize items, including water bottles. It's done by cutting out designs or initials from vinyl material and applying them to the water bottle.
You can use a cutting machine like a Cricut or Silhouette, or even cut the monogram by hand. Once the design is cut and weeded, it can be transferred onto the water bottle using transfer tape.
Choose a monogram pattern or initials.
Select the right vinyl material for durability and longevity.
Use a cutting machine or hand cut the monogram from the vinyl.
Apply the cut monogram onto the water bottle using transfer tape.
Monogramming a water bottle is not only a creative way to personalize your water bottle, but it's also a fun DIY project.
With the right vinyl material and a design of your choice, you can transform a plain water bottle into a unique accessory. Always ensure to clean the surface of the bottle before applying the monogram for better adhesion.
6 Steps to Monogram a Water Bottle
| Steps | Description |
| --- | --- |
| 1 | Selection of Materials |
| 2 | Choose Monogram Design |
| 3 | Transfer the Design onto the Water Bottle |
| 4 | Apply the Monogram |
| 5 | Let it Dry |
| 6 | Finishing Touches |
6 Steps to Monogram a Water Bottle
Key Takeaway
Monogramming a water bottle allows you to customize your item and add a personal touch.
You can choose to monogram the water bottle using various methods such as sticker decals, markers, or engraving, depending on your preference.
The process involves selecting a design, resizing it to fit the water bottle, and applying it meticulously to avoid bubbles and wrinkles.
The type of water bottle may dictate the method you choose to use. For instance, metal water bottles are more suited for engraving, while plastic bottles work well with stickers or vinyl decals.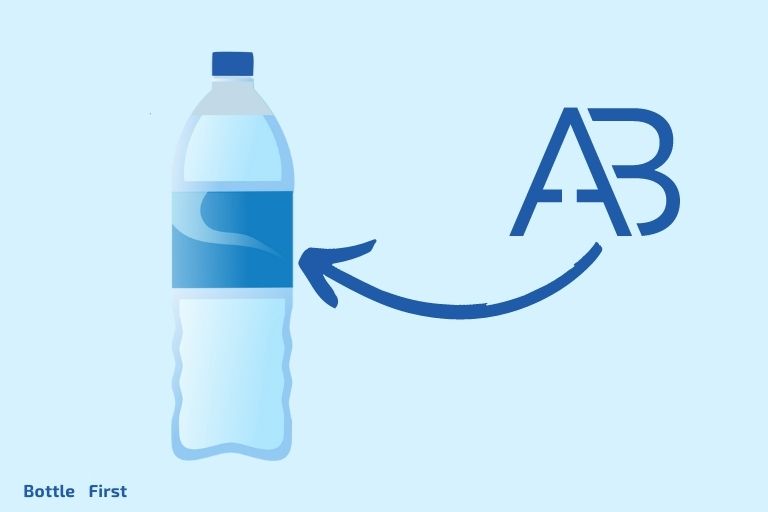 Five Facts About Monogram A Water Bottle
Monogramming is a method of personalizing items, often with initials or names. This form of personalization is common for items like towels, luggage, clothing, and water bottles.
The history of monograms goes back to Greek and Roman times, where rulers and artists used monograms to sign their work or denote ownership (source: ThoughtCo).
There are many ways to monogram a water bottle, including using vinyl decals, markers with waterproof ink, or laser engraving machines to etch designs into the surface of the bottle (source: CustomWater).
For a DIY approach, you can print a design on adhesive or iron-on vinyl paper, cut it out with a craft knife, and carefully apply it to the surface of the bottle. For a more professional result, there are many businesses that offer custom monogramming services (source: Design Bundles).
In modern times, monogramming a water bottle is an affordable and creative way to make an everyday object unique or to create a thoughtful, personalized gift.
Choosing The Right Water Bottle
When it comes to monogramming a water bottle, selecting the right one is essential. Factors such as the type, material, and features of the water bottle play a crucial role in determining its suitability for personalization.
In this section, we will explore the different aspects to consider when choosing a water bottle for monogramming.
Factors To Consider When Selecting A Water Bottle:
Size: Determine the ideal size of the water bottle based on your needs. Consider how much water you typically consume and whether you want a bottle that can hold enough liquid for extended periods of time.
Durability: Look for water bottles that are made from sturdy materials, such as stainless steel or durable plastic. These materials can withstand daily use and are less likely to get damaged easily.
Insulation: If you prefer your drink to stay cold or hot for an extended duration, opt for an insulated water bottle. This feature helps in maintaining the desired temperature of your beverage.
Lid type: Depending on your preference, choose a water bottle with a suitable lid type. Options include screw-on lids, flip-tops, or straws. Consider ease of use and convenience when making your decision.
Different Types And Materials Of Water Bottles:
Stainless steel: Known for its durability and long-lasting nature, stainless steel water bottles are a popular choice. They are resistant to corrosion, retain heat or cold well, and are eco-friendly.
Plastic: Plastic water bottles are lightweight and often come in a variety of colors and designs. However, ensure that you select bpa-free plastic bottles to prioritize your health and minimize environmental impact.
Glass: If you prefer a more eco-friendly option, glass water bottles are a great choice. They are free from harmful chemicals and provide a clean taste. Glass bottles are, however, more fragile and require extra care.
Aluminum: Lightweight and recyclable, aluminum water bottles are an eco-conscious choice. They are durable and provide good insulation, keeping your drinks at the desired temperature.
Ideal Features For Monogramming:
Smooth surface: Choose a water bottle with a smooth surface to ensure the monogram is visible and adheres well. Avoid bottles with textured finishes, as they can make it difficult to achieve a clean, polished look.
Matte or glossy finish: Consider the finish of the water bottle when planning your monogram. A matte finish offers a subtle and sophisticated look, while a glossy finish provides a sleek and modern touch.
Color options: Opt for a water bottle that comes in a variety of colors to enhance the appearance of your monogram. Select a color that contrasts well with the chosen font and design for better visibility.
By taking into account these factors and considering the different types of water bottles available, you can choose the perfect water bottle for monogramming.
Remember to prioritize your preferences and needs, ensuring that the bottle suits your style and functionality requirements.
Preparation For Monogramming
Before you embark on monogramming your water bottle, it's essential to gather the necessary materials and tools.
Additionally, creating a design or choosing a monogram style and preparing the water bottle surface are crucial steps in achieving a successful monogram.
Let's dive into each of these steps in detail:
Gather Necessary Materials And Tools
To get started with monogramming your water bottle, you'll need the following materials and tools:
Water bottle: Choose a bottle made of a suitable material, such as stainless steel or plastic.
Monogram vinyl decal or stencil: Opt for a design that suits your personal style.
Transfer tape or adhesive: This will help secure the vinyl decal or stencil onto the water bottle.
Scissors or craft knife: Use these tools for cutting the vinyl decal or stencil as needed.
Permanent adhesive vinyl: A key component for creating the monogram design.
Scrubbing alcohol or soap and water: Prepare the surface of the water bottle for the monogram by cleaning it thoroughly.
Cotton swabs or cloth: These will come in handy when applying the cleaning solution to the water bottle.
Painter's tape: Use it to mark off areas of the water bottle that you don't want to be affected by the monogram.
Creating A Design Or Choosing A Monogram Style
Once you have gathered all the necessary materials and tools, it's time to create a design or choose a monogram style that best suits your preferences.
Consider the following steps:
Research monogram styles: There are various monogram styles available, such as block letters, cursive script, or intertwined initials. Explore different styles and choose one that resonates with you.
Determine the size and placement: Consider the size and shape of your water bottle, as well as the area where you want to place the monogram. This will help you determine the appropriate size and placement for your design.
Select a font: If you're creating a design from scratch or customizing a monogram, choose a font that complements your style and aligns with the intended aesthetic.
Explore design elements: You may want to incorporate additional design elements, such as borders, flourishes, or icons, to enhance the overall look of your monogram.
Preparing The Water Bottle Surface
Before applying the monogram, it's essential to prepare the surface of the water bottle to ensure optimal adhesion and a long-lasting result.
Follow these steps to prepare the water bottle properly:
Clean the surface: Use scrubbing alcohol or a mixture of soap and water to thoroughly clean the water bottle. Ensure all dirt, oils, and residues are removed from the area where you plan to apply the monogram.
Dry the surface: After cleaning, dry the surface completely using a cloth or paper towel. This step ensures that there is no moisture left, which could affect the vinyl's adherence to the bottle.
Mask off areas: If there are any areas on the water bottle that you don't want to be affected by the monogram, use painter's tape to mask them off. This will create clean lines and prevent unwanted vinyl application.
With your materials and tools gathered, a design or monogram style chosen, and the water bottle surface prepared, you're now ready to embark on the exciting process of monogramming your water bottle. Enjoy the creative journey!
Monogramming Techniques
Hand Embroidery Method
Embroidering a monogram by hand adds a personal touch to your water bottle. Here's a step-by-step guide on how to do it:
Choose your monogram design: Decide on the letters and style you want to embroider. You can find templates online or create your own.
Gather your materials: You'll need a water-soluble pen, embroidery hoop, needle, embroidery floss, and a water bottle.
Transfer the design: Use the water-soluble pen to trace the monogram design onto the water bottle. Make sure it's centered and straight.
Prepare the embroidery hoop: Loosen the hoop and separate the inner and outer rings. Place the fabric of the water bottle between the rings and tighten the hoop.
Thread the needle: Choose a contrasting color of embroidery floss and thread it through the needle. Tie a knot at the end.
Start stitching: Begin stitching the monogram following the traced design. You can use various embroidery stitches like backstitch, chain stitch, or satin stitch.
Finishing touches: Once you've completed the monogram, secure the thread by making a knot on the back of the water bottle. Trim any excess thread.
Enjoy your personalized water bottle: Admire your handiwork and show off your unique monogrammed water bottle.
Recommended Embroidery Stitches For Water Bottles
Certain embroidery stitches work best when monogramming water bottles. Here are some recommended stitches to consider:
Backstitch: Creates a clean and solid outline for the monogram.
Chain stitch: Adds a delicate and decorative looping effect.
Satin stitch: Creates a smooth and glossy fill for larger areas of the monogram.
French knot: Adds texture and dimension to the design.
Split stitch: Offers a raised appearance and adds depth to the monogram.
Experiment with these stitches to find the one that suits your monogram design and personal style best. Combine different stitches to create a unique look for your water bottle monogram.
Vinyl Decal Application Method
Step-By-Step Guide To Applying Vinyl Decals
If you prefer a more straightforward method, vinyl decals are a great option for monogramming water bottles. Here's a step-by-step guide on how to apply vinyl decals:
Choose your vinyl decal: Select a pre-designed monogram or create a custom design using vinyl cutting software.
Clean the water bottle: Ensure the water bottle is clean and free of any dust or oils. Wipe it down with rubbing alcohol or soap and water.
Cut and weed the vinyl: Use a vinyl cutter to accurately cut out your monogram design. Remove any excess vinyl using a weeding tool.
Prepare transfer tape: Cut a piece of transfer tape slightly larger than your vinyl decal. Peel off the backing and stick it onto the front of the vinyl decal, smoothing out any air bubbles.
Apply the decal: Carefully place the transfer tape and vinyl decal onto the water bottle's surface. Press down firmly, starting from the center and working your way out to avoid air bubbles.
Remove the transfer tape: Gently peel off the transfer tape, leaving the vinyl decal securely adhered to the water bottle.
Smooth out any bubbles or wrinkles: Use a credit card or squeegee to smooth out any bubbles or wrinkles in the vinyl, ensuring a clean and seamless look.
Let it set: Allow the vinyl decal to set and adhere properly to the water bottle before using or washing it.
Choosing The Right Type Of Vinyl For Water Bottles
Not all vinyl is suitable for water bottles due to potential exposure to moisture and frequent handling.
Consider the following factors when selecting vinyl for monogramming water bottles:
Waterproof properties: Opt for vinyl specifically designed to withstand water exposure. Look for vinyl labeled as waterproof or outdoor vinyl.
Durability: Choose vinyl that is durable and resistant to fading, peeling, and cracking. High-quality vinyl brands often offer superior durability.
Adhesive strength: Ensure the vinyl has strong adhesive properties to prevent it from easily coming off the water bottle.
Compatibility with water bottles: Some vinyl brands are specifically formulated for use on water bottles and other similar materials. These may provide better adhesion and longevity.
By considering these factors, you can ensure your vinyl monogram will not only look great but also last on your water bottle, even with regular use and washing.
Finishing Touches And Maintenance
Sealing To Protect The Monogram
Applying a protective sealant to your monogram is essential to ensure its longevity and durability.
Here are some key points to consider when sealing your monogrammed water bottle:
Purchase a high-quality sealant specifically designed for use on water bottles. Look for options that are waterproof, non-toxic, and food-safe.
Before sealing, ensure that the monogram is clean and free from any dirt, dust, or debris. Use a mild soap and water solution to gently clean the area, and allow it to dry completely before proceeding.
Apply the sealant according to the manufacturer's instructions. Typically, this involves spraying or brushing a thin, even layer of the sealant onto the monogram.
Allow the sealant to dry thoroughly before using or handling the water bottle. This process usually takes a few hours, but it's best to consult the instructions for specific drying times.
Once the sealant is dry, check for any missed spots or areas that require an additional coat. Applying multiple coats can provide extra protection against wear and tear.
Be mindful of the frequency of use and the environment in which the water bottle will be used. If you plan to use it regularly or in circumstances that may expose it to rough handling or harsh conditions, consider reapplying the sealant periodically to maintain its effectiveness.
By taking these steps to seal your monogram, you can safeguard it from water damage, fading, and peeling, ensuring that it remains vibrant and intact for years to come.
Proper Care And Cleaning Of Monogrammed Water Bottles
To keep your monogrammed water bottle looking its best, it's crucial to provide proper care and regular maintenance.
Here are some important points to note:
Handwashing is preferable for monogrammed water bottles, as the dishwasher's high heat and harsh detergents can degrade the monogram over time.
Use a mild dish soap and warm water to clean the bottle thoroughly. Gently scrub the entire surface, including the monogram, with a soft sponge or cloth, paying attention to any areas with stubborn stains.
Rinse the bottle thoroughly to remove any soap residue, as this can cause the monogram to appear dull or sticky.
Avoid using abrasive scrubbers or harsh chemicals, as these can damage both the monogram and the water bottle's material.
Towel dry the water bottle immediately after washing to prevent water spots or the growth of mold and bacteria.
If necessary, you can use a mixture of white vinegar and water to remove stubborn stains or odors. Simply soak the affected area for a few minutes, then rinse and dry it thoroughly.
Store the water bottle in a cool, dry place when not in use, avoiding excessive heat or direct sunlight, which can cause the monogram's colors to fade.
Regularly inspect the monogram for any signs of wear or damage. If you notice any peeling or lifting edges, it's best to address it promptly by reapplying a sealant or seeking professional assistance.
By following these care and cleaning guidelines, you can ensure that your monogrammed water bottle remains vibrant and visually appealing for an extended period, extending the lifespan of your personalized accessory.
Design Ideas And Inspiration For Monogram Styles
Monogramming your water bottle offers a unique opportunity to express your personal style and creativity.
Here are some design ideas and inspiration to consider when choosing monogram styles:
Initials: The classic option for monograms, using your initials in an elegant and visually pleasing font can add a touch of sophistication to your water bottle. Consider different placements, such as top, center, or bottom, and experiment with various sizes for a customized look.
Names or words: Instead of initials, opt for monograms that feature your full name, a significant word, or a motivational phrase. This not only adds a personal touch but also allows for more creative possibilities with fonts and styles.
Script or calligraphy: Script fonts lend an elegant and feminine touch to monograms, evoking a sense of grace and sophistication. Pairing a script font with a flowing, curvaceous monogram style can create a romantic and visually appealing design.
Modern and minimalist: For those who prefer a clean and contemporary aesthetic, modern monogram styles featuring sleek, geometric shapes and clean lines offer a minimalist approach. Consider bold and angular fonts for a striking visual impact.
Embellishments: Enhance your monogram with decorative elements such as borders, frames, or flourishes. These can be intricate and ornate or simple and understated, depending on your preferred style.
Color choices: Experiment with different color combinations to make your monogram stand out. Contrast the monogram color with the water bottle itself for maximum visibility, or opt for complementary colors for a harmonious effect.
Remember, when choosing a monogram style, ensure it reflects your personality and resonates with your aesthetic preferences.
Whether you prefer traditional, contemporary, or whimsical designs, the options are limitless. Let your creativity shine through as you craft a monogram that transforms your water bottle into a personalized work of art.
FAQ About Monogram A Water Bottle
How Do You Monogram A Water Bottle?
To monogram a water bottle, choose the monogram style, select the initials placement, and use a monogramming tool or diy materials to imprint the design.
What Tools Do I Need To Monogram A Water Bottle?
You will need a water bottle, monogramming materials like vinyl or paint, transfer tape, a cutting machine, and a heat press or iron.
Can I Wash A Monogrammed Water Bottle?
Yes, most monogrammed water bottles are dishwasher safe, but it's always best to hand wash them to preserve the monogram's longevity.
What Are The Popular Monogram Styles For Water Bottles?
Popular monogram styles for water bottles include block letters, script letters, circle monograms, and interlocking monograms.
Can I Monogram A Stainless Steel Water Bottle?
Yes, you can monogram a stainless steel water bottle by using vinyl stickers, paint, or laser etching techniques specifically designed for metal surfaces.
Conclusion
Customizing your own water bottle with a monogram is a fantastic way to add a personal touch and make it truly your own. By following these simple steps, you can easily create a monogrammed water bottle that reflects your unique style and taste.
First, gather all the necessary materials, such as a water bottle, vinyl stickers, and a transfer tape. Next, carefully plan and arrange the monogram design on the water bottle. Then, apply the vinyl stickers and use the transfer tape to secure them in place.
Don't forget to take your time and be patient during this process. Finally, give your monogrammed water bottle some time to fully adhere before using it.
Whether you're looking to gift a personalized water bottle or simply want to add a touch of elegance to your own, monogramming is a creative and fun way to do so.
Start customizing and enjoy your one-of-a-kind creation!