How to Paint a Reusable Water Bottle? 9 Easy Steps!
To paint a reusable water bottle, you will first need to thoroughly clean and dry the bottle. Next, lightly sand the bottle with fine-grit sandpaper to help the paint adhere. Apply a layer of primer to the bottle and allow it to dry.
Then, using your chosen acrylic paints and brushes, paint your design onto the bottle. Once the paint has thoroughly dried, seal the design with a layer of clear sealant.
A reusable water bottle can be a canvas for your creativity. Painting your own design onto a reusable water bottle allows you to customize it to your taste.
However, it's crucial to follow the necessary steps to ensure that the paint adheres well to the bottle and lasts for a long time.
Cleaning and drying the bottle ensures that the paint will adhere to a clean surface.
Sanding the bottle helps create a rough surface for the paint to stick to.
Applying a layer of primer to the bottle helps the paint stick better and last longer.
Using acrylic paint allows for a range of colors and designs.
Sealing the design with a clear sealant ensures that the design is protected and lasts for a longer time.
Painting your reusable water bottle is not just a fun activity, but it also contributes to reducing plastic waste by making your bottle more appealing to use.
Remember to carefully select non-toxic paints and sealants, and let the bottle dry thoroughly after each step.
This will ensure that your painted bottle is safe to use and that your beautiful design lasts for a long time.
9 Steps to Painting a Reusable Water Bottle
| Steps | Materials Needed | Instructions |
| --- | --- | --- |
| 1 | Reusable water bottle, soap, and clean water | Clean the reusable water bottle thoroughly with soap and water |
| 2 | Sandpaper (medium-fine grit) | Lightly sand the surface of the water bottle to improve paint adhesion |
| 3 | Clean cloth and rubbing alcohol | Wipe the bottle down with rubbing alcohol to remove any remaining dust or grease |
| 4 | Primer | Apply a coat of primer to the water bottle and let it dry completely |
| 5 | Acrylic paint | Paint the bottle with your desired color or design. Allow paint to dry completely between coats, if multiple coats are needed |
| 6 | Paintbrushes of various sizes | Use different sized paintbrushes for detail works and larger areas |
| 7 | Sealer | Apply a sealer to the painted bottle to protect the paint |
| 8 | Clean water and cloth | Clean the paintbrushes and workspace |
| 9 | Patience | Allow the bottle to dry completely for at least 24 hours before using |
9 Steps to Painting a Reusable Water Bottle
Key Takeaway
Painting a reusable water bottle is a great way to personalize it and make it unique.
Use acrylic paint that adheres well to the surface of water bottles.
It is important to prepare the surface of the water bottle before painting to ensure that the paint sticks well.
After painting, it's necessary to seal the paint with a clear coat to protect the design, prevent chipping and make it dishwasher safe.
While painting a water bottle, you can exercise your creativity and make the item more environmentally friendly.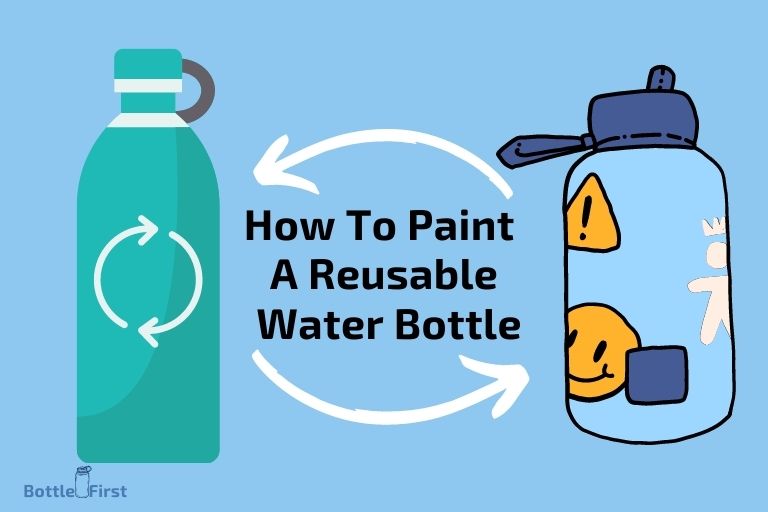 Five Facts About Paint A Reusable Water Bottle
Personalizing a reusable water bottle by painting it can make the user more likely to use it, thus reducing the reliance on single-use plastic bottles [Source: Earth Day Network].
Acrylic paint is a popular choice for painting on metal and plastic surfaces due to its durability and versatility [Source: Acrylic Pouring].
Before painting the water bottle, sanding the surface lightly can help the paint to adhere better [Source: Direct2Artist].
Sealing the paint with a clear coat not only protects the design but also ensures the bottle is safe to wash in a dishwasher without the paint chipping off [Source: Artists Network].
Creative activities such as painting can enhance mindfulness and reduce stress, making painting a water bottle both an environmentally friendly and therapeutic activity [Source: American Journal of Public Health].
Benefits Of Painting Your Reusable Water Bottle
Personalize Your Water Bottle
Painting your reusable water bottle is a fun and creative way to make it uniquely yours. Whether you're a fan of bold colors or intricate designs, customizing your bottle allows you to express your individuality.
Here are some key benefits of personalizing your water bottle:
Reflect your personality: By painting your water bottle, you can showcase your personality and interests. Whether you choose to paint your favorite sports team's logo or create your own abstract masterpiece, your water bottle will become a reflection of who you are.
Add a personal touch: Painting your bottle allows you to add a personal touch that sets it apart from the rest. You can incorporate your initials, a meaningful symbol, or even a motivational quote to inspire you throughout the day.
Boost your creativity: Painting requires you to tap into your creative side and think outside the box. It's a great way to boost your artistic skills and explore different techniques and styles. Plus, it can be a therapeutic and calming activity.
Give new life to an old bottle: If you have a plain or worn-out water bottle lying around, painting it can breathe new life into it. Instead of buying a new one, repurposing and painting your old water bottle is an eco-friendly choice that reduces waste.
Make Your Bottle Stand Out
One of the main advantages of painting your reusable water bottle is the ability to make it stand out in a crowd.
Here's why painting your bottle can help it catch everyone's attention:
Unique design: A custom-painted water bottle is a surefire way to make it stand out from the sea of generic bottles. From vibrant colors to intricate patterns, your design will make your bottle easily recognizable.
Conversation starter: A creatively painted water bottle often attracts curious glances and questions from others. It can spark conversations and provide an opportunity to discuss your artistic abilities, favorite colors, or the story behind your design.
Express your style: Your water bottle becomes a fashion accessory as well. By painting it according to your style, you can coordinate it with your outfits or create a signature look. It adds a touch of flair and uniqueness to your overall appearance.
Eye-catching visuals: Bright colors and eye-catching designs on your water bottle can draw attention from across the room. Whether you're at the gym, office, or out in public, your painted bottle will turn heads and make a statement.
Prevent Mix-Ups With Other Bottles
Finally, another practical advantage of painting your reusable water bottle is that it helps prevent mix-ups with other bottles, particularly in shared environments.
Here's why an individually painted bottle can avoid confusion:
Easy identification: With a distinct design on your water bottle, it becomes easier to identify it among a group of similar bottles. You won't have to worry about accidentally picking up someone else's bottle or losing track of yours.
Reduce the risk of germs: Sharing water bottles can increase the risk of spreading germs. By painting your bottle with a unique pattern or color, you will be less likely to accidentally use someone else's bottle, promoting good hygiene practices.
Avoid bottle theft: In places like the gym or workplace, where many people have similar bottles, theft can occur. A painted water bottle is less likely to be mistaken or intentionally taken by someone else, reducing the chances of losing your beloved bottle.
Promote eco-friendly habits: When you have a custom-painted water bottle that you're proud of, you're more likely to remember to bring it with you wherever you go. This encourages the use of reusable bottles, reducing the reliance on single-use plastic and helping the environment.
So, unleash your creativity, personalize your water bottle, and enjoy the benefits of owning a uniquely painted and easily identifiable reusable drinking companion.
Let your bottle reflect your style, make it stand out, and prevent any mix-ups while promoting a sustainable lifestyle.
Choosing The Right Paint And Supplies
Painting a reusable water bottle allows you to express your creativity while adding a personal touch to an everyday item. However, it's important to select the right paint and supplies to ensure a long-lasting and safe finish.
In this section, we will discuss how to choose non-toxic paint for food-safe bottles, determine the appropriate paint for different bottle materials, and explore the essential supplies needed for the painting process.
Selecting Non-Toxic Paint For Food-Safe Bottles:
Use water-based acrylic paints: These paints are non-toxic, easy to clean up, and suitable for painting on surfaces that come in contact with food and drinks.
Look for food-grade certification: Prioritize paints that are specifically labeled as food-safe or have certifications such as fda approval.
Avoid toxic ingredients: Check the paint's ingredient list and steer clear of paints that contain harmful chemicals like lead, cadmium, or formaldehyde.
Opt for high-quality brands: Trusted paint brands often prioritize safety and offer a range of non-toxic paint options.
Determining The Appropriate Paint For Different Bottle Materials:
Plastic bottles: Acrylic paints work well on plastic surfaces, offering good adhesion and durability. Look for paints explicitly designed for plastic materials.
Stainless steel bottles: Choose paints that are formulated to adhere to metal surfaces. Look for options that provide rust resistance to ensure the longevity of your paintwork.
Glass bottles: Most paints adhere well to glass surfaces. However, translucent or opaque glass paints are specifically designed for enhanced adhesion and longevity on glass.
Essential Supplies For The Painting Process:
Clean bottles: Ensure your reusable water bottle is thoroughly cleaned and dried before painting to promote better paint adhesion.
Painter's tape: Use painter's tape to create clean and precise edges for your design, allowing for easier painting and a professional finish.
Paintbrushes: Invest in a variety of high-quality paintbrushes of different sizes to accommodate various details and areas of your design.
Palette or paint tray: A palette or paint tray will come in handy for mixing and blending colors.
Sealant or varnish: Consider using a water-resistant sealant or varnish specifically designed for painted surfaces to protect your artwork from water and scratches.
By selecting non-toxic paint suitable for food-safe bottles, determining the appropriate paint for different bottle materials, and gathering the essential painting supplies, you are well on your way to creating a personalized and durable reusable water bottle.
Enjoy the process and let your creativity flow!
Preparing Your Water Bottle For Painting
Painting a reusable water bottle can add a personal touch and make it stand out from the crowd. However, before you dive into the painting process, it's important to properly prepare your water bottle.
In this section, we'll cover the essential steps you need to take to ensure a smooth and successful painting experience.
Cleaning And Drying The Bottle
Start by thoroughly cleaning your water bottle with warm soapy water. This will remove any dirt, oils, or residue that may affect the paint adhesion.
Rinse the bottle thoroughly to remove any soap residue, and then allow it to air dry completely. Make sure there is no moisture left on the surface before moving on to the next step.
Once dry, you can use a lint-free cloth to wipe down the bottle to ensure it is free from any remaining dust or debris.
Removing Any Existing Designs Or Labels
If your water bottle has any existing designs, labels, or stickers that you want to get rid of, you'll need to remove them before painting.
Use a scraper or your fingernail to carefully peel off any stickers or labels. Be gentle to avoid scratching the bottle.
For stubborn adhesive residue, you can use rubbing alcohol or adhesive remover. Apply a small amount to a cloth or sponge and gently rub the residue until it lifts off.
Sanding The Surface For Better Paint Adhesion
To ensure better paint adhesion, it's a good idea to lightly sand the surface of the water bottle. Use fine-grit sandpaper (around 220 grit) and gently sand the entire exterior of the bottle.
The goal is to create a slightly rough surface for the paint to adhere to. Be careful not to sand too aggressively or you may damage the bottle or remove any protective coatings.
After sanding, wipe away any dust or debris with a damp cloth and let the bottle dry completely before moving on to the painting stage.
Preparing your water bottle for painting is an essential step in achieving a high-quality finish.
By cleaning and drying the bottle, removing any existing designs or labels, and sanding the surface for better paint adhesion, you'll set yourself up for success in creating a unique and personalized reusable water bottle.
Step-By-Step Painting Process
So, you've got yourself a reusable water bottle and want to give it a personal touch with some paint. Painting a water bottle is a fun and creative way to make it uniquely yours.
In this step-by-step guide, we'll walk you through the process of painting a reusable water bottle, from priming the surface to adding the final details and accents.
Let's get started!
Priming The Surface For Better Paint Adherence
Before diving into the painting process, it's essential to prepare the surface of your water bottle to ensure the paint adheres properly.
Follow these steps for effective priming:
Clean the water bottle thoroughly using warm, soapy water, and let it dry completely.
Use painter's tape to cover any areas you don't want to paint, such as the cap or nozzle.
Sand the surface lightly using fine-grit sandpaper to create a rough texture that helps the primer adhere better.
Apply a coat of primer specifically designed for the type of material your water bottle is made of, like plastic or stainless steel.
Let the primer dry according to the manufacturer's instructions before moving on to the next steps.
Applying The Base Coat And Letting It Dry
The base coat will act as the foundation for your design, providing a solid color base for the paint layers.
Follow these steps to apply the base coat:
Choose a color for your base coat and gather the necessary supplies such as paintbrushes and acrylic paint.
Apply an even coat of the base color over the primed surface of the water bottle.
Let the base coat dry completely before adding additional layers of paint.
Adding Multiple Layers Of Paint For Opacity
To achieve opacity and ensure your design stands out, it's important to add multiple layers of paint.
Here's how:
Start by selecting the colors you want to use for your design and gather the appropriate brushes.
Begin painting your design, applying each layer of paint carefully and allowing it to dry before moving on to the next layer.
The number of layers will depend on the opacity you desire. Experiment with different layering techniques until you achieve the desired result.
Using Stencils Or Freehand Techniques For Designs
When it comes to adding designs to your water bottle, you have two options: using stencils or relying on your freehand skills.
Here's how to approach each method:
Stencils:
Choose a stencil design that appeals to you and aligns with the overall theme of your water bottle.
Secure the stencil in place using masking tape, making sure it's positioned correctly.
Dip a sponge or brush into your desired paint color and carefully dab it over the stencil, ensuring even coverage.
Gently remove the stencil while the paint is still wet and allow it to dry before adding any additional details.
Freehand techniques:
If you're confident in your painting skills, you can opt for freehand designs.
Use thin brushes and acrylic paint to add your desired designs directly onto the water bottle.
Take your time and plan your designs before applying the paint, keeping in mind the size and shape of the water bottle.
Adding Details And Accents
Once you've added the base colors and designs to your water bottle, it's time to add some extra details and accents to make it truly unique.
Consider the following:
Use smaller brushes to add intricate details and fine lines to your design.
Experiment with different colors and techniques to create dimension and depth.
Consider adding metallic accents or shimmering effects for an extra touch of sparkle.
Take breaks and step back to assess your progress, ensuring the details enhance the overall design.
Allowing The Paint To Cure Properly
Lastly, it's crucial to allow the paint to cure properly to ensure its longevity and durability.
Follow these guidelines:
Check the instructions provided by the paint manufacturer for the recommended curing time.
Let the paint cure in a well-ventilated area to avoid any unwanted smells or fumes.
Avoid using or washing the water bottle for the recommended curing period to allow the paint to fully set.
With the painting process complete, you now have a beautifully customized reusable water bottle that reflects your personal style. Enjoy your creation and show it off proudly wherever you go!
Tips For Maintaining Your Painted Water Bottle
So, you've successfully painted your reusable water bottle and now you want to make sure it stays looking vibrant and beautiful for as long as possible.
Here are some tips to help you maintain your painted water bottle:
Hand Washing Versus Dishwasher
Hand washing is the safest way to clean your painted water bottle, as it reduces the risk of chipping or fading the paint.
Use a mild dish soap and warm water to gently clean the bottle.
Avoid using overly abrasive sponges or brushes, as they can scratch the paint.
Rinse thoroughly with water to ensure all soap residues are removed.
Avoiding Abrasive Cleaning Tools
When cleaning your painted water bottle, avoid using any harsh or abrasive cleaning tools such as steel wool or rough scrub pads.
Opt for soft sponges, microfiber cloths, or gentle brushes to remove any dirt or stains without damaging the paint.
Remember to be gentle when scrubbing, ensuring not to apply too much pressure to the painted surface.
Touching Up Any Chipped Or Faded Areas
Over time, your painted water bottle may experience small chips or fading in certain areas.
To keep your design looking fresh, periodically inspect your bottle for any imperfections.
If you notice any chipped or faded areas, you can touch them up with the same type of paint you initially used.
Carefully apply the touch-up paint and allow it to dry completely before using the bottle again.
Remember, proper maintenance is key to preserving the longevity and vibrancy of your painted water bottle.
By hand washing, avoiding abrasive tools, and touching up any imperfections, you can ensure that your artwork stays intact for many uses to come.
Enjoy your uniquely personalized water bottle and stand out from the crowd!
What is the Difference Between Painting a Stainless Steel Water Bottle and a Reusable Water Bottle?
When painting a stainless steel water bottle, it involves applying a fresh coat of paint to enhance its aesthetics. On the other hand, a reusable water bottle is designed for multiple uses without the need for paint. The main difference lies in the process of adding color and personalization to a stainless steel bottle versus using a reusable bottle as is.
FAQ About Paint A Reusable Water Bottle
What materials will I need to paint a reusable water bottle?
You will need a reusable water bottle, paint suitable for plastic, a paintbrush, and a sealant.
How do I prepare the reusable water bottle before painting?
Clean the water bottle thoroughly with water and soap to remove any dirt or grime. Make sure the bottle is completely dry before you begin painting.
How long should I allow the paint to dry after painting the bottle?
Allow the paint to dry for at least 8 hours before sealing it with the sealant.
Conclusion
To sum up, painting a reusable water bottle is a fun and creative way to express yourself and add a personal touch to your everyday items.
Whether you want to customize a bottle for yourself or give it as a thoughtful gift, the process is simple and straightforward.
By following the steps outlined in this blog post, you can easily transform an ordinary water bottle into a unique piece of art that reflects your style and personality.
Remember to prepare the bottle properly, choose the right paint and brushes, and take your time to create your design.
Don't be afraid to experiment and let your creativity shine. With a little patience and practice, you'll soon have a beautiful, hand-painted water bottle that you can enjoy using for years to come.
So, grab your paints and brushes and start bringing your imagination to life on your reusable water bottle today!