How to Personalize Water Bottles? 7 Easy Methods!
Personalizing water bottles is a simple and effective way to make your drinkware unique, show off your creativity, or promote your brand.
To personalize a water bottle, you can use methods such as stickers, markers, vinyl decals, or engraving.
Personalizing water bottles can be done for various reasons, including distinguishing your bottle from others, showcasing your personality or style, promoting a business, or creating a custom gift.
There are several DIY methods available for personalizing water bottles, and you can also hire professional services for high-quality results.
Stickers: Use custom-made or pre-designed stickers to decorate your water bottle.
Permanent markers: Draw or write directly on the bottle with oil-based paint markers or permanent markers.
Vinyl decals: Create and apply custom vinyl decals for a sleek, professional look.
Engraving: Have your water bottle professionally engraved for a permanent, elegant customization.
Stickers are an affordable and easy way to personalize a water bottle. You can find a wide variety of pre-made stickers or create your own custom designs using online tools and printing services.
To apply, simply clean the surface of the bottle, peel off the backing, and carefully stick the design onto the water bottle.
This method is perfect for those looking for a quick and straightforward customization option.
7 Methods to Personalize Water Bottles
Method
Description
Supplies Needed
Steps
Stickers
Adorn your water bottle with various stickers.
Stickers, rubbing alcohol (optional)
1. Clean the surface with rubbing alcohol (optional).
2. Apply stickers.
Vinyl Decals
Apply custom or pre-made vinyl decals to the water bottle.
Vinyl decals, transfer tape, weeding tool
1. Weed out the excess vinyl.
2. Apply transfer tape.
3. Press firmly onto the water bottle.
4. Remove tape.
Paint Markers
Draw or write directly on the water bottle with paint pens.
Paint markers, rubbing alcohol (optional)
1. Clean the surface with rubbing alcohol (optional).
2. Draw or write your design.
3. Let dry.
DIY Labels
Create your own labels with a printer and adhesive paper.
Printer, adhesive paper, scissors
1. Design label on computer.
2. Print on adhesive paper.
3. Cut out label.
4. Apply to water bottle.
Washi Tape
Use decorative washi tape to create patterns or designs.
Washi tape, scissors
1. Cut pieces of washi tape.
2. Apply to water bottle in desired pattern.
3. Trim excess washi tape.
Engraving
Engrave a name or design directly into the water bottle.
Engraving tool, stencil (optional)
1. Choose design or text.
2. Use a stencil or draw freehand (optional).
3. Use engraving tool to engrave design.
Fabric Covers
Sew or purchase a fabric cover to slip over the water bottle.
Fabric cover, sewing supplies (optional)
1. Choose or make fabric cover.
2. Slip over water bottle.
7 Methods to Personalize Water Bottles
Key Takeaway
Personalizing water bottles can elevate their appearance and make them more identifiable.
Multiple methods and materials can be used to personalize water bottles, making it suitable for various preferences and budgets.
Personalized water bottles can serve as unique and functional gifts, promotional items, or personal accessories.
In addition to aesthetics, personalizing water bottles can also provide motivation for people to stay hydrated and environmentally-friendly by using reusable bottles.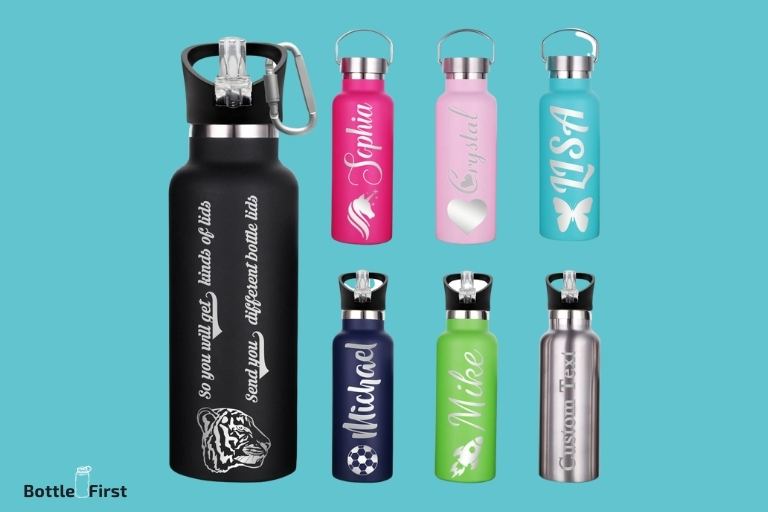 Five Facts About to Personalize Water Bottles
Personalized water bottles can be created using a variety of decoration techniques such as vinyl decals, laser engraving, screen printing, or sublimation printing.
Vinyl decals are a popular choice for personalization because they offer a wide range of colors and designs, and are fairly easy to apply on water bottles.
Laser engraving provides a more permanent and sophisticated look, allowing intricate designs to be etched directly onto the water bottle surface, making it a popular choice for corporate gifts and promotional items.
Personalized water bottles can help users track their water intake and stay motivated to reach their hydration goals, especially when they include visual reminders such as time markers or motivational quotes.
Using personalized, reusable water bottles can contribute to a reduction in plastic waste by discouraging people from using disposable plastic bottles for their daily hydration needs.
Understand The Benefits Of Personalized Water Bottles
Hydration is essential for our bodies to function properly. It is essential to drink enough water every day to keep our bodies hydrated and healthy.
However, incorporating water bottles into our daily routine is a great way to ensure that we are drinking enough water to keep our bodies healthy.
Not only does customizing your water bottle make it more attractive and personal to you, but it can also have added benefits.
The Importance Of Staying Hydrated
Water is essential to keep our bodies functioning
Water helps regulate body temperature, helps with digestion and absorption of nutrients, and keeps our skin looking good.
Drinking enough water every day can help reduce the risk of certain diseases such as kidney stones, constipation, and dehydration.
Water Bottle Customization As A Motivation Tool
Customized water bottles can help motivate people to drink more water.
Seeing a personalized bottle with an inspiring quote or name can create a sense of ownership around the bottle.
Custom water bottles can also serve as a creative outlet, allowing a person to express themselves through design and color choices.
The Boost Of Brand Recognition For Businesses
Personalized water bottles are an excellent marketing tool for businesses.
By adding a company logo or slogan to a water bottle, businesses can raise brand awareness and promote their brand.
Custom water bottles can act as a promotional item at events or even just in the office.
Branded water bottles can also create a sense of team spirit and camaraderie.
Overall, customizing water bottles have several benefits both for individuals and businesses alike.
So why not take advantage of this simple and affordable way to stay hydrated and showcase your unique style?
Types Of Water Bottles And Customization Options
Water bottles are a functional and practical item that can be made more special by adding personalized touches.
When it comes to customizing water bottles, there are several materials and features to choose from, as well as various customization methods to explore.
Below are some popular types of water bottles and customization options, along with factors to consider when choosing the best customization method.
Popular Water Bottle Materials And Features
Plastic bottles: These are lightweight and often come in vibrant colors, making them a popular choice for promotional giveaways. They are easy to customize with printing or stickers and can be an affordable option.
Metal bottles: These are more durable than plastic bottles, with a sleek and modern design. They are also eco-friendly, since they can be reused and recycled. Customization options include engraving, screen printing, and stickers.
Glass bottles: These are a sustainable option that can add a touch of elegance to any outfit. They are customizable with etching or screen printing, but may not be as durable as plastic or metal bottles.
Features: Water bottles can come with a variety of features, such as flip-top lids, straws, or carabiner clips. These features can add convenience and make the bottles more user-friendly.
Customization Techniques, Including Printing, Engraving, And Stickers
Once you have chosen your desired water bottle material, it's time to consider how you want to customize it.
Some of the most popular customization techniques include:
Printing: This involves applying graphics or logo to your water bottle using screen or digital printing. It's versatile, ideal for large designs, and suitable for plastic and metal bottles.
Engraving: This customization method involves etching the design onto your water bottle using a laser. It transforms your simple water bottle into a high-end item, perfect for metal or glass bottles.
Stickers: This is a cost-effective way to personalize your water bottle. It's easy to use and apply, and the design options are endless. However, it's best for temporary use and may not be suitable for all materials.
Factors To Consider When Choosing A Customization Method
Choosing the best customization method depends on several factors, including:
Budget: Printing and stickers are the most budget-friendly options, while engraving is usually the most expensive.
Material: Choose the customization method that is suitable for your specific water bottle material. For example, engraving is not suitable for plastic bottles, and stickers may not stick well to textured, non-smooth surfaces.
Quantity: If you need a large quantity of water bottles customized, a cost-effective method such as printing might be the best choice.
Timeframe: Consider the timeline for your project. Printing and stickers are usually faster than engraving, which may require more time.
Personalizing your water bottle can be a fun and creative way to make a statement or promote your brand.
By considering the customization options and techniques available, along with the material and features of your water bottle, you can create a unique and personalized item that stands out from the crowd.
Diy Personalization: Tips And Tricks
Materials And Tools Required For Diy Water Bottle Customization
Before delving into diy water bottle personalization, gather the necessary materials and tools as follows:
Clean, clear water bottles
Vinyl stickers, decals, or adhesive vinyl sheets
Stencils and lettering
Spray paint in your preferred colors
Paintbrushes
Tape
Scissors
Sandpaper
Heat gun/ blow dryer
Step-By-Step Guide For Different Diy Personalization Techniques
Here are some step-by-step diy techniques to customize your water bottles:
Vinyl decals method:
Clean and dry the water bottle surface.
Cut out your vinyl decal in your preferred shape using scissors or a cutting machine.
Peel the backing off the vinyl decal and apply it to the surface of the water bottle.
Rub the decal onto the surface of the bottle, eliminating any air bubbles.
Use a heat gun to smooth out the vinyl decal onto the bottle's surface.
Stenciling method:
Print out your chosen design, cut out the stencil, and then tape it onto the bottle.
Apply paint over the stencil using a paintbrush.
After drying, peel off the stencil.
Spray-painting method:
First, sand the surface where you want to spray-paint.
Tape the areas you don't want to be painted.
Apply spray paint to the surface of the bottle evenly.
Let the paint dry.
Finally, remove the masking tape slowly.
Tips For Maintaining The Quality Of Personalized Water Bottles
Should be hand-washed only, not dishwasher-safe.
Avoid using abrasive cleaners, as they may scratch the surface.
Avoid extreme temperatures or placing in direct sunlight for extended periods, since this might cause the design to fade or peel.
Clean vinyl decals using a soft cloth or non-abrasive sponge, mild soap, and lukewarm water.
To remove vinyl decals, use a hairdryer to heat the vinyl, which will enable it to come off easily without residue.
Personalizing your water bottle is a fun way to make it stand out.
With the right tools, proper care, and creativity, your water bottle will look cool, unique and express your personality!
Customization Ideas For Specific Purposes And Occasions
Personalization of water bottles has become increasingly popular for various reasons.
Whether it is for personal use, a gift for a loved one, or promoting your brand, customizing water bottles can be an excellent way to express your unique style and make a statement.
We're going to cover some exciting ideas for personalizing water bottles for specific purposes and occasions.
Personalization Ideas For Fitness Enthusiasts
For fitness enthusiasts, staying hydrated is critical. A customized water bottle that reflects your personality and fitness goals can be a great way to motivate yourself during workouts and stay encouraged.
Here are some customization ideas for fitness enthusiasts:
Design with motivational quotes or images
Light-weight, easy-grip design for workouts
Choose bright colors to match gym equipment
Personalize with name or initials
Include measurement markings to track water intake
Customization Ideas For Kids' Water Bottles
Customized water bottles can be an exciting and fun way for kids to stay hydrated. Kids' water bottles should be durable and easy to hold as they can be clumsy at times.
Here are some customization ideas for children's water bottles:
Choose bright colors and fun designs
Personalize with name or initials
Include measurement markings to encourage drinking water
Add a clip-on or strap for easy carrying to school or outside activities
Choose spill-proof and leak-proof designs to avoid messes and spills
Wedding And Bridal Shower Water Bottle Customization Ideas
Personalized water bottles can be a thoughtful and practical addition to your weddings and bridal shower favors.
Adding customized labels or messages will make your event extra special and memorable.
Here are some customization ideas for wedding and bridal shower water bottles:
Customized labels with the couple's initials and wedding date
Labels with thank-you messages to your guests
Creative designs that match your wedding theme or color palette
Labels with messages that encourage guests to take the bottle home as a souvenir
Add-on accessories like custom ribbons or tags to make the water bottles extra special.
Customizing water bottles is a great way to show off your personality and stand out. It can be especially useful in specific events or occasions.
These are just some of the ideas to inspire you and get started. Let your creativity run wild and make your unique statement with customized water bottles.
FAQ About How To Personalize Water Bottles
How Do I Choose The Right Water Bottle For Personalization?
Choose a durable water bottle made of bpa-free materials, with a smooth surface for an easy customization process.
What Are The Best Customization Methods For Water Bottles?
Vinyl decals, laser engraving, and screen printing are the most effective customization methods for water bottles.
Can I Personalize Water Bottles For My Business Or Event?
Yes, personalized water bottles are a great way to promote your brand, commemorate an event, or show appreciation to employees.
What Design Elements Work Best For Water Bottle Personalization?
Simple designs with high contrast colors and bold fonts work best for water bottle personalization.
How Do I Care For My Personalized Water Bottle?
To ensure the longevity of your customized water bottle, hand wash it with mild soap and avoid abrasive cleaners, hot liquids, and dishwashers.
Conclusion
As you can see, customizing your own water bottles has never been easier! By following these tips, you can create personalized water bottles that are both functional and stylish.
Whether you're trying to stay hydrated during a workout or just want to add some flair to your daily routine, customizing water bottles is a fun and creative way to do so.
Remember to consider the type of bottle, the design, and the materials before getting started.
By doing so, you can make sure that your customized water bottles will not only look great, but will be durable and practical for everyday use.
So what are you waiting for? Start creating your own unique water bottles today!