How to Sell Water Bottles? 10 Easy Steps!
To successfully sell water bottles, you should identify your target market, choose high-quality products, develop a strong brand, and implement effective marketing strategies.
Selling water bottles can be a lucrative business if approached correctly.
By determining your target audience, selecting the right products, building a recognizable brand, and utilizing various marketing techniques, you can create a profitable venture and gain a loyal customer base.
Identify your target market: This can include athletes, environmentalists, or commuters.
Choose high-quality products: Ensure the water bottles are durable, leak-proof, and aesthetically pleasing.
Build a strong brand: Create a unique and memorable brand image, logo, and tagline to distinguish your business from competitors.
Implement effective marketing strategies: Use social media, email marketing, and search engine optimization (SEO) to increase visibility and drive sales.
Gaining customer trust is essential for any business, especially when selling products like water bottles that require frequent use.
Therefore, it's crucial to offer high-quality and reliable products that meet your customers' needs and uphold your brand's reputation.
Providing excellent customer service and addressing concerns promptly can also help establish your business as a reliable and trustworthy option in the market.
10 Steps of Selling Water Bottles
| Step | Description | Tips |
| --- | --- | --- |
| 1 | Identify target market | Research demographics, consumer habits, and interests |
| 2 | Choose water bottle types | Consider material, size, design, and features |
| 3 | Set pricing strategy | Analyze costs, competition, and target market willingness to pay |
| 4 | Select distribution channels | Consider online sales, retail partnerships, and wholesale |
| 5 | Develop marketing plan | Create marketing campaigns, use social media, and attend events |
| 6 | Establish brand identity | Develop logo, tagline, and consistent messaging |
| 7 | Offer promotions | Provide discounts, bundles, or loyalty programs |
| 8 | Monitor customer feedback | Use reviews, surveys, and customer service interactions |
| 9 | Adjust strategies | Adapt product offerings, pricing, and marketing based on feedback |
| 10 | Expand product line | Introduce new designs, materials, or features to maintain interest |
10 Steps of Selling Water Bottles
Key Takeaway
Understand the target market and consumer preferences for water bottles.
Create an appealing product design that is both functional and aesthetically pleasing.
Develop a strong marketing strategy to increase brand awareness and reach potential customers.
Leverage multiple sales channels, such as online platforms, retail stores, and events, to maximize exposure and sales opportunities.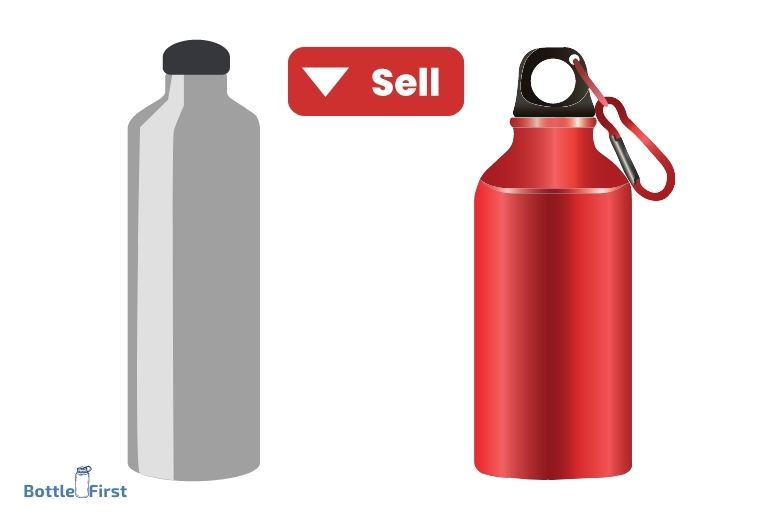 Five Facts About to Sell Water Bottles
Reusable water bottles are becoming increasingly popular due to growing environmental concerns and a shift towards eco-friendly consumer habits. (Source: Business Insider)
In 2020, the global reusable water bottle market was valued at approximately $8.2 billion and is expected to grow at a compound annual growth rate (CAGR) of 3.5% from 2021 to 2028. (Source: Grand View Research)
Material options for reusable water bottles include stainless steel, glass, and BPA-free plastic, catering to various preferences, needs and price points. (Source: My Plastic Free Life)
Customizable water bottles allow consumers to personalize their bottles with colors, patterns, and designs, adding a unique touch and increasing their appeal. (Source: Zazzle)
Collaborating with influencers and content creators on social media platforms can boost the visibility of the water bottles and drive sales. (Source: Forbes)
Heading 1: Understanding The Market For Selling Water Bottles
Understanding The Market For Selling Water Bottles
Water bottles have become a vital accessory for many individuals who prioritize their health, fitness, and environmental friendliness.
As a result, the water bottle market is continuously growing, and selling water bottles can be a lucrative business.
However, to succeed in this market, you need to understand the dynamics of the water bottle market.
This section highlights the key points you need to understand to sell your water bottle products effectively.
Importance Of Research In Understanding The Water Bottle Market
Before launching your water bottle products in the market, it's essential to conduct market research to identify current trends, target audience, and appropriate pricing strategies.
Here are a few key considerations you should make while researching the water bottle market:
Identify current market trends and preferences: Research the latest trends in water bottle design, material, and features. This will help you create unique selling points for your products.
Understand your target audience: Identify your potential buyers, their habits, and preferences, and target them accordingly. For instance, if your target audience is the fitness industry, you can design a water bottle with measurements and motivational quotes to appeal to them.
Investigate pricing strategies: Research different pricing ranges for water bottles in the market and come up with a suitable and profitable pricing strategy for your product.
Analyzing Competitors And Their Strategies For Selling Water Bottles
To compete effectively in the water bottle market, it's crucial to understand your competitors and their strategies for selling their products.
Here are a few ways you can analyze your competitors:
Evaluate their product offerings: Review your competitors' products, including their features, designs, and materials, to identify any potential areas of improvement.
Identify their unique selling proposition (usp): Find out what makes your competitors' products unique, their value proposition, and their pricing strategy.
Investigate their marketing and promotional strategies: Analyze your competitors' marketing techniques and social media presence to understand their reach and engagement levels.
Identify gaps in the market: Find areas that your competitors are not covering and capitalize on them. For example, if your competitors don't offer eco-friendly water bottles, you can design and promote them to appeal to environmentally conscious customers.
By conducting market research and analyzing your competitors, you can gain valuable insights into the water bottle market and leverage them to create successful water bottle products.
Keep in mind that understanding trends and meeting customers' expectations is the key to selling water bottles in today's market.
Defining The Target Audience For Effective Selling
Identifying The Target Audience Based On Demographics, Lifestyle, And Preferences
Knowing one's target market is crucial in any business. This is especially true when it comes to selling water bottles since this product can have many potential customers.
Below are a few key factors to consider when identifying a target audience.
Demographics:
Consider the age, gender, income, education, and marital status of potential customers who may require water bottles.
Age, for instance, may be a significant factor since the lifestyle and preferences of a teenage customer might be different from that of an older adult.
Knowing the income range of prospective customers can also help you develop pricing strategies, ensuring your prices match their financial capability.
Lifestyle:
Consumers' lifestyle is anfurther aspect of their characteristics to consider.
For instance, those who frequently engage in sports activities might need a different type of bottle than those who do not engage in such activities.
In such a case, one might target fitness enthusiasts and sportspeople.
Preferences:
Personal preferences are essential to consider when identifying a target audience.
Some clients may prefer sleek designs while others might desire water bottles that hold more water or are environmentally friendly.
Offering choices to potential customers can also help generate customer loyalty.
Understanding The Target Audience'S Needs And Expectations
Knowing your target market isn't enough if you can't meet their expectations successfully.
To create trust and establish long-term relationships with customers, it's critical to fulfill their needs and expectations.
Below are some ways to understand and meet your customers' needs and expectations.
Conduct surveys: Implementing customer surveys is an excellent way to obtain feedback directly from the customers. The data collected can help you identify areas of improvement and customer needs that you can fulfill.
Social media research: Analyzing your target audience's activities on social media platforms like twitter, facebook, and instagram can give you an idea of the type of content that appeals to them. By engaging with them on these platforms, you can actively listen to what they say, what challenges they face and note their preferences.
Regular communication: It is essential to stay connected with your customers. Regularly communicating with them via social media platforms, newsletters, email marketing campaigns, or in-person consultations will help you understand their priorities. Remember, openness and transparency is critical when communicating with customers.
Defining your target audience based on demographics, lifestyle, and preferences is crucial to effective selling.
Understanding your customer's needs and expectations will help you identify the type of bottle or service that they are looking for and create a lasting relationship with them that fosters business.
Creating An Effective Water Bottle Brand
Creating An Effective Water Bottle Brand
Water bottle sales continue to rise with the increasing demand for hydration products. Thus, creating a unique and effective water bottle brand is crucial to stand out in the market.
A brand identity that resonates with your target market will increase brand recognition and loyalty.
Developing A Unique Brand Identity That Stands Out In The Market
A unique brand helps distinguish your product from competitors. A strong brand identity establishes a connection with customers, which is essential in creating brand loyalty.
Below are some tips on developing your brand:
Determine your mission, values and brand personality. Keep these in mind when creating marketing messages and designing packaging.
Conduct thorough market research on your target audience. Use this information to create a brand that resonates with their values, interests, and preferences.
Create a memorable brand name and logo. This should communicate your brand essence in a catchy and memorable way.
Be consistent in all brand elements. The logo, packaging, marketing messages, and product features must be consistent with your brand identity.
Designing Attractive And Functional Water Bottle Packaging
The packaging design is the first thing that customers see, so it must be striking, functional, and convey the brand's values.
Investing in a professional packaging designer will help create a design that captures the essence of your brand.
Below are some tips for designing water bottle packaging:
Stick to the brand identity and use consistent colors and typography.
Ensure the product is protected during storage, transportation, and handling. Choose packaging materials that are durable and provide adequate protection to the bottle.
Keep the packaging design simple, not cluttered. It should highlight the brand's logo and product features effectively.
Make the product easy to use. The packaging should be easy to open, and the bottle should be easy to handle and drink from.
Incorporating eco-friendly packaging materials will appeal to the growing market that demands sustainability.
By following these tips, creating a unique water bottle brand can be achieved. A strong brand identity and attractive packaging will boost the product's visibility and increase sales.
Using Storytelling To Connect With Customers
Water bottles have become a necessity in our everyday lives. We carry them to work, to the gym, and when we're out running errands.
But with so many options available in the market, how do you make your brand stand out?
The answer is storytelling. By crafting a compelling brand story, you can create an emotional connection with your customers that goes beyond just buying a bottle of water.
Here's how to do it:
Telling Your Brand'S Story To Build A Strong Emotional Connection With Customers
Start with your why: What inspired you to create your water bottle brand in the first place? Was it a personal experience, a desire to make a difference in the environment, or something else? Share your story with your customers and make them feel like they're part of something bigger.
Show, don't tell: Don't just talk about what your brand stands for, show it through the visuals on your website and social media. Use photos and videos to tell a story that resonates with your customers.
Use customer stories: Share stories of how your customers use your water bottles and the impact it has had on their lives. This creates social proof and builds trust with potential customers.
Incorporating Sustainable And Socially Responsible Practices Into Your Brand Identity
Use eco-friendly materials: Use recycled or biodegradable materials for your water bottles and packaging, and make sure to highlight this on your website and marketing materials.
Focus on reducing your carbon footprint: Use suppliers who follow ethical practices, and ensure that your manufacturing processes are as sustainable as possible.
Give back to the community: Partner with non-profit organizations working towards environmental conservation or water conservation, and donate a portion of your profits to them. This helps showcase your brand's social responsibility and encourages customers to make a difference with their purchase.
By incorporating storytelling into your marketing strategy and focusing on sustainable and socially responsible practices, you can differentiate your water bottle brand from the competition and create a loyal customer base that shares your values.
Heading 3: Generating Demand For Your Water Bottles
Generating Demand For Your Water Bottles
If you have water bottles to sell, it is not enough to have a great product. You need to showcase it to potential customers. Generating demand for your water bottles is crucial if you want to earn a profit.
Here are some effective ways to do this:
Creating A Strong Online Presence Through Social Media And Website Optimization
Social media and website optimization are crucial to creating a robust online presence.
Here's how:
Use social media to showcase your product: Create instagram and facebook pages to showcase your water bottles. Post high-quality images, catchy captions, and use appropriate hashtags to make your posts discoverable. Engage with your followers by responding to comments and questions.
Optimize your website: Make sure your website is user-friendly and easy to navigate. Use landing pages to showcase your products, and optimize your website for search engines by using relevant keywords in product descriptions, headers, and meta tags.
Providing Value: Discounts And Giveaways
Providing value can go a long way in generating demand for your water bottles.
Here's how:
Offer discounts: Provide discounts and coupon codes to your customers to incentivize them to purchase your water bottles. Make sure to promote these discounts on your social media pages and website.
Host giveaways: Hosting giveaways on social media is an excellent way to attract new customers. Make sure to promote your giveaway by using relevant hashtags, and encourage your followers to share your post.
Collaborating With Influencers
Collaborating with influencers is an effective way to reach a wider audience.
Here's how:
Find relevant influencers: Find influencers in your niche who have a substantial following on social media. Reach out to them with a collaboration proposal.
Provide incentives: Provide incentives to the influencers you collaborate with, such as free products or monetary compensation. Make sure the terms of the collaboration are clear and that both parties benefit.
By implementing these strategies effectively, you can generate demand for your water bottles and increase your revenue.
Remember to be consistent and persistent in your efforts, and you'll soon start seeing results.
Leveraging Influencer Marketing To Boost Sales
Water bottles are an essential item that everyone needs, regardless of age, gender, or profession.
With competition among water bottle brands on the rise, it's essential to find innovative ways to market and sell your products. One such strategy is leveraging influencer marketing to boost sales.
This strategy involves partnering with individuals who have a strong following on social media platforms to promote your water bottles.
We'll explore the key benefits of this type of marketing and how you can make it work for your brand.
Partnering with influencers to reach a wider audience and increase authenticity
The first step towards leveraging influencer marketing is finding the right influencers to work with.
Relevancy should be your primary focus, as partnering with influencers who align with your target audience will yield better results.
Here are some other benefits to keep in mind:
Amplify your reach: Partner with influencers who have a sizable following in your target demographic, and let them introduce your brand and products to their followers.
Build brand awareness: Partnering with an influencer can increase awareness of your brand and help to establish its credibility with their followers.
Increase authenticity: A partnership with an influencer can also help to establish authenticity around your products. This is especially true if the influencer genuinely appreciates and uses your products.
Authentic Engagement With Influencers And Their Followers For Maximum Impact
To make the most of your influencer marketing strategy, it's essential to foster authentic engagement.
Encourage influencers to share their personal experience with your product, and ensure that their followers can benefit from exclusive discounts, coupons, or giveaways.
Here are some tips:
Design a campaign that encourages influencers to create authentic content that resonates with their followers.
Collaborate with influencers to come up with custom post formats, like an instagram post featuring them enjoying your products.
Provide influencers with the tools they need, like high-quality images and well-crafted product descriptions, to make their content look polished and professional.
With these tips, you can tap into influencer marketing's power to boost sales, increase reach, and establish authenticity around your brand.
Heading 4: Strategies For Distributing And Selling Water Bottles
Strategies For Distributing And Selling Water Bottles
Water bottles are an essential item that people use every day, making it a lucrative business idea. However, choosing the right strategies for distributing and selling water bottles is critical for success.
Here are some key points to consider when embarking on this venture.
Choosing The Right Distribution Channels Based On The Target Market And Brand Identity
Selecting the most appropriate distribution channels according to the target market and brand identity is like finding the right key to open a door.
Here are some of the essential factors to consider:
Identify the potential target audience – know the kind of people who are more likely to purchase your water bottles.
Determine sales channels – where will you sell the water bottles? Will you be selling them online or in physical stores? Will you have pop-up shops at events or on busy streets?
Partner with influencers – reach out to influencers in the health and fitness industry to help promote your products.
Create and participate in events – partner with local businesses and participate in events to showcase your products.
Maximizing Sales Through Attention To Detail
The following are strategies that can help increase your water bottle sales:
Make attractive packaging – design a packaging that grabs the attention of the buyer.
Price competitively – ensure that your pricing is reasonable and fair.
Offer value-added services – offer a unique value proposition to customers that set you apart from other providers. For example, eco-friendly water bottles, reusable bottles, and personalized bottles.
Utilize social media – have a social media presence on different platforms. Post about your products' features and include the call-to-action.
To sum up, choosing the right distribution channels based on the target market and brand identity and paying attention to detail can make a huge difference in the sale of water bottles.
Use these tips to craft a successful strategy for distributing and selling your water bottles.
Developing Effective Sales Strategies
Selling water bottles can be a lucrative venture with the right sales strategies. Here are some tips on how to develop effective sales strategies to sell water bottles in the market.
Hiring And Training Sales Representatives
Hire the right sales representatives with good communication and negotiation skills.
Train the sales representatives on the product's features, benefits, and target market.
Develop training programs to improve their selling skills and to update them on new products.
Creating A Sales Plan Based On Market Needs And Trends
Analyze the market needs and trends to determine the target audience and product demand.
Develop a sales plan that aligns with your target audience's preferences, and also helps to address their challenges.
Make sure that your pricing is competitive, and your packaging meets the market standards.
Having a sound sales strategy will help in providing direction to your sales team to be better equipped in their efforts to promote your water bottles.
Heading 5: Tracking And Measuring The Success Of Selling Water Bottles
Tracking And Measuring The Success Of Selling Water Bottles
Selling water bottles can be a lucrative and challenging business.
In order to stay ahead of competitors and maximize sales, it's important to regularly track and measure the success of your sales performance.
Here are some key points to consider:
Tracking Sales Performance And Related Metrics
Set sales goals: Define the level of sales you want to achieve over a particular period of time, and then divide it up into smaller, more realistic goals.
Monitor sales revenue: Keep track of your sales revenue on a regular basis and compare it to your set goals. Use this information to evaluate your performance, identify areas of strength, and areas that need improvement.
Analyze traffic sources: Analyze website traffic sources and how potential customers are finding your water bottles to identify which marketing channels are most effective. Then, focus on building those channels.
Measure conversion rate: Calculate the percentage of visitors to your website who make a purchase. This rate can help identify your website's effectiveness and what you need to do to improve it.
Track customer behavior: Collect information about customer behavior, such as purchasing habits, engagement on different platforms and customer feedback. This information will help you make more informed decisions in the future.
Setting Up Metrics To Measure Business Success
Gross profit margin: Ensure that the cost of producing a water bottle is lower than the revenue generated, which forms the gross profit margin. Consistently monitoring this statistic can help you keep an eye on the health of your business.
Customer acquisition cost: Identify how much it costs your business to acquire one new customer, this metric will help you effectively allocate your marketing budget
Customer lifetime value: Calculating customer lifetime value (clv) can assist you to understand the total amount of money a customer will spend on your products throughout their relationship with your business, be it short-term or long-term. This involves determining the average amount of money each customer spends and how long they remain a customer.
Inventory turnover: The inventory turnover is the amount of stock you sell and replace within a specific time period. Monitoring inventory turnover provides insights into the pace of sales and restocking for each cycle.
Keeping track of your sales performance and related metrics enables you to make informed business decisions and continuously improve your water bottle strategy to attract customers and increase sales.
FAQ About How To Sell Water Bottles
How Can Water Bottles Be Sold To Athletes?
Water bottles can be marketed with features that are important to athletes, such as durability, ease of use, and insulation.
What Type Of Water Bottle Is Most Popular?
Reusable water bottles made of bpa-free plastic or stainless steel are popular choices.
How Can I Make My Water Bottles Stand Out?
Making your water bottle unique with custom designs or branding can help distinguish it from other options on the market.
How Do I Choose The Right Size For My Water Bottle?
Choose a water bottle size based on the intended use, such as travel, sports, or daily use. Consider portability and weight as well.
What Is The Average Cost Of A Reusable Water Bottle?
The cost of a reusable water bottle varies depending on the material, size, and features. Prices can range from $10 to $50 or more.
Conclusion
After reading this article, it's clear that selling water bottles involves more than just having a great product.
It's a combination of understanding your target audience, creating a strong brand, and implementing effective marketing strategies.
By following the tips outlined in this article, such as building relationships with influencers, using social media to your advantage, and focusing on sustainability, you will be well on your way to a successful water bottle business.
Remember, selling water bottles is not just about providing a simple product – it's about offering a solution to a need.
By emphasizing the benefits of hydration and promoting environmental responsibility, you can create a loyal customer base and make a positive impact on the world.
So, put these tips into action, stay persistent, and watch your water bottle sales soar!