How to Start a Water Bottling Company? 10 Easy Steps!
To start a water bottling company, you need to conduct market research, create a business plan, obtain necessary licenses and permits, find a reliable water source, invest in bottling equipment, and establish a marketing strategy.
Starting a water bottling company involves a series of steps, beginning with market research to understand the industry landscape and the competition.
Creating a well-structured business plan is essential to outline your goals, objectives, and strategies for success.
Additionally, obtaining the required licenses and permits ensures that your business operates legally and meets industry regulations.
Finding a reliable water source and investing in quality bottling equipment is crucial for producing a high-quality product.
Finally, establishing a marketing strategy helps to create brand recognition and attract customers.
Conduct thorough market research to understand the industry and competition.
Create a comprehensive business plan outlining your company's goals and strategies.
Obtain necessary licenses and permits to ensure legal operation and compliance with industry regulations.
Find a reliable water source and invest in high-quality bottling equipment for production.
Starting a water bottling company requires thorough planning and attention to detail.
By following these steps and conducting comprehensive market research, you can gather valuable information about your target market, competition, and industry trends.
With a clear understanding of these factors, you can create a solid business plan that will guide you through the process of launching and growing your business successfully.
Ensuring your company obtains the proper licenses and permits will keep your operations legal and in line with industry standards.
Additionally, finding a reliable water source and investing in the necessary bottling equipment will provide you with the means to produce a quality product that meets
10 Steps: Starting a Water Bottling Company
| Step Number | Task | Description |
| --- | --- | --- |
| 1 | Market Research | Conduct market research to understand the demand for bottled water in your chosen location. |
| 2 | Write a Business Plan | Outline your business structure, marketing strategies, business goals, and financial projections. |
| 3 | Secure Funding | Determine how much capital is needed to start your business and secure funding from banks, investors, or personal savings. |
| 4 | Find a Suitable Location | Choose a location with access to a source of pure water and consider factors such as infrastructure, market accessibility, and zoning laws. |
| 5 | Obtain Necessary Permits and Licenses | Comply with local, state, and federal regulations to legally operate your water bottling company. |
| 6 | Purchase Equipment | Purchase necessary equipment such as water purifiers, bottling machines, sealers, and packaging materials. |
| 7 | Set Up Production | Install the equipment, ensure the source of water is clean and safe, and set up the production process. |
| 8 | Hire Employees | Hire skilled workers to handle the production, packaging, and distribution of your bottled water. |
| 9 | Market Your Product | Create brand awareness by advertising your product in the media, at local events, and through online platforms. |
| 10 | Distribute and Sell | Establish distribution channels and start selling your bottled water to retailers or directly to consumers. |
10 Steps: Starting a Water Bottling Company
Key Takeaway
Market research is crucial before starting a water bottling company to understand the demand, target audience, and competition.
Choosing the right location for setting up the plant plays a significant role in the success of the business.
Ensuring high-quality water sources and necessary permits and certifications for the business.
Investing in efficient bottling equipment and technology to ensure cost-effectiveness and quality.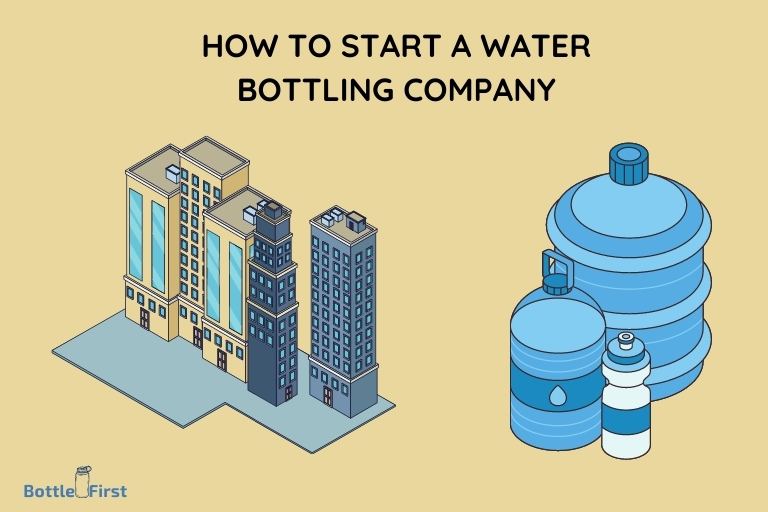 Five Facts About to Start a Water Bottling Company
The global bottled water market was valued at approximately $238 billion in 2020 and is expected to grow at a CAGR of around 11% from 2021 to 2028. (Source: Grand View Research)
The United States is the largest consumer of bottled water, with Americans consuming over 13.8 billion gallons of bottled water in 2019. (Source: International Bottled Water Association)
Setting up a water bottling plant requires licenses and certifications from various government agencies, including the Food and Drug Administration (FDA), Environmental Protection Agency (EPA), and local or state authorities. (Source: U.S. SBA)
One of the primary costs of starting a water bottling company is the investment in bottling equipment, which includes bottle filling machines, labeling machines, capping machines, and more. The cost starts from around $50,000 and can go up to a few million, depending on the scale of the operation. (Source: Liquid Packaging Solutions)
A key element of a successful water bottling business is the ability to differentiate the product from competitors, either through unique packaging, enhanced water qualities (e.g., mineral, alkaline, oxygenated), or through sustainable practices such as reduced plastic usage and eco-friendly packaging materials. (Source: Beverage Industry)
Discovering The Potential Market For Bottled Water
Bottled water has become a popular beverage choice for many people across the world. With a vast potential market, starting a bottled water business can be an excellent investment.
To understand the potential market, it is essential to explore the statistics and trends of the bottled water industry, the demographics and behavioral patterns of consumers, and the advantages and challenges of establishing a bottled water business.
Statistics And Trends Of The Bottled Water Industry
The global bottled water market size was valued at usd 217.4 billion in 2020 and is estimated to grow at a cagr of 7.4% from 2021 to 2028
The asia pacific region is the largest market with a share of more than 35% of the global market, followed by north america and europe
Still water accounts for the largest share of the market, followed by sparkling water and flavored water
The increasing awareness of the benefits of drinking water, the rise in the health and wellness trend, and the convenience factor of bottled water are the key drivers of the industry
Demographics And Behavioral Patterns Of Consumers
Millennials and generation z are the largest consumers of bottled water, followed by baby boomers and generation x
Women are more likely to consume bottled water than men
The education level of consumers directly correlates with the frequency of bottled water consumption
Consumers who value health and wellness are more likely to choose bottled water over other beverages
The Advantages And Challenges In Establishing A Bottled Water Business
Advantages:
Easy to enter the market with low capital requirements
High demand for bottled water products
Opportunities to offer innovative product variations, such as infused and alkaline water
Challenges:
Intense competition in the market
Environmental concerns surrounding plastic waste and regulations on plastic usage
Difficulty in securing a reliable source of purified water
Starting a bottled water business requires careful consideration of the potential market, including market size, consumer demographics, and behavioral patterns.
With the advantages and challenges outlined, entrepreneurs can make informed decisions before entering the market.
The Science Behind Water Filtration And Purification
Understanding The Role Of Water Treatment In Ensuring The Quality And Safety Of Bottled Water
Water is an essential input for the production of bottled water. However, not all water sources meet the required standards for drinking water.
Therefore, water purification and filtration is a crucial process in bottling water that ensures water safety and quality.
Here are some key points to better understand the role of water treatment in ensuring the quality and safety of bottled water:
Water sources for bottled water are not always pure and safe for human consumption. Therefore, it's crucial to purify and filter the water before bottling.
Water treatment processes remove harmful contaminants such as bacteria, viruses, chemicals, and other impurities that might cause health issues.
Water treatment ensures that bottled water meets the required regulatory standards to guarantee safety and quality.
Pros And Cons Of Different Filtering Techniques: Reverse Osmosis, Distillation, And Ultraviolet Radiation
Different water filtering techniques are available for water bottlers to choose from. These techniques have various advantages and disadvantages.
Here, we will explore some of the most commonly used filtering techniques and their pros and cons.
Reverse Osmosis
One of the most effective filtering techniques that can remove up to 99% of impurities from water.
It produces clean, pure, and safe water, which meets the required safety and regulatory standards.
The process can be costly and requires a lot of energy to operate, making it less environmentally friendly than other techniques.
Distillation
Distillation is an effective process that removes impurities, bacteria, and viruses from water.
The distillation process produces pure, clean, and safe water, making it an excellent choice for bottling.
The process can be time-consuming and costly, making it less feasible for large-scale water bottling.
Ultraviolet Radiation
Ultraviolet radiation is a chemical-free and environmentally friendly water filtration technique.
It effectively removes bacteria and viruses, ensuring safety and quality of the bottled water.
Uv filtration machines don't require a lot of maintenance and are relatively cheap compared to other filtration techniques.
Establishing A Quality Assurance System To Ensure Consistent Water Quality
Bottled water quality is of utmost importance for customers' health and safety.
Therefore, it's essential to establish a quality assurance system that will ensure consistent quality and safety of the bottled water.
Here are some key points to consider when establishing such a system:
Water bottlers must comply with regulatory standards in their respective countries or regions.
Establishing a quality assurance system starts with selecting a reliable water source that meets the regulatory standards.
Bottlers must ensure that the water treatment process is consistent and meets the required standards.
Bottlers must conduct regular water quality testing to ensure consistency and safety.
Bottled water must have proper labeling that includes information on the water source, the treatment process used, and the regulatory compliance.
Crafting A Compelling Business Plan
Starting a water bottling company requires careful planning, research, and execution.
It's important to create a solid business plan that outlines your vision, mission, and business goals. This plan will serve as your blueprint to success.
In this section, we will discuss the essential elements of crafting a compelling business plan.
Identifying Your Mission Statement And Business Goals
A mission statement is a concise statement that defines your company's purpose, goals, and values. It's the foundation of your business and sets the tone for how you operate.
Here are some key points to consider when crafting your mission statement:
Define what your business does and why it exists.
Explain how your business provides value to customers.
Communicate your values and principles.
Next, your business goals should align with your mission statement.
You should define both short-term and long-term goals that are specific, measurable, achievable, relevant, and time-bound. These goals will guide the actions you take to grow your business.
Conducting Market Research And Competitive Analysis
Market research is the process of gathering and analyzing information about your target market, including their needs, preferences, and behaviors.
This research will help you understand your customers and provide valuable insights that can inform your business strategy.
Competitive analysis is the process of evaluating your competitors' strengths and weaknesses.
This analysis can help you identify opportunities and threats in the market and shape your marketing and sales strategies.
Here are some key points to consider when conducting market research and competitive analysis:
Identify your target market and understand their needs and preferences
Analyze your competitors' products, pricing, and marketing strategies
Assess the market size, growth potential, and trends
Identify potential barriers to entry and regulatory requirements
Financial Projections And Profit Margins
One of the most critical elements of your business plan is your financial projections.
Your financial projections should include:
Startup costs, including equipment, supplies, and legal fees
Monthly operating expenses, including rent, utilities, salaries, and marketing expenses
Revenue projections based on your pricing strategy, target market, and sales approach
To calculate your profit margins, you need to determine your cost of goods sold (cogs) and your pricing strategy. Your cogs includes the cost of materials, labor, and manufacturing.
Your pricing strategy should consider your cogs, overhead costs, competition, and market demand.
Crafting a compelling business plan requires careful consideration of your mission statement, business goals, market research, and financial projections.
It's essential to take the time to create a comprehensive plan that will guide your business's growth and success.
Securing Capital And Financing Your Business
Financing Options For Start-Up And Expansion
Starting or expanding a water bottling company requires adequate funding.
Here are a few financing options to consider:
Personal savings: Invest your own money into the business to maintain complete control and avoid giving away equity.
Traditional bank loans: Secure a term loan or line of credit from a bank or a credit union.
Sba loans: Consider small business administration loans, which offer attractive terms and lower interest rates.
Private investors: Seek out investors who are willing to fund the business in exchange for equity ownership.
Crowdfunding: Raise capital from a large group of individuals via online platforms like kickstarter or gofundme.
Understanding Cash Flow, Expenses, And Budgeting
Understanding cash flow and expenses is vital to keeping the business afloat.
Here's what to consider:
Cash flow: Determine the amount of cash flowing in and out of the business, including revenue, accounts payable, and accounts receivable.
Expenses: Identify the various expenses associated with starting or expanding your water bottling company, such as equipment, marketing, rent, and salaries.
Profitability: Calculate the difference between revenue and expenses to determine profitability.
Budgeting: Create a realistic budget to ensure that the business remains financially stable and profitable in the long term.
Avoiding Common Financial Pitfalls And Risks
Starting or expanding a business comes with risks, and proper financial management is crucial.
Here are some common pitfalls and risks to avoid:
Underestimating expenses: Be sure to budget for all potential expenses, even unexpected ones.
Overborrowing: Avoid taking on more debt than your business can handle. Be sure to negotiate favorable loan terms and monitor cash flow regularly.
No emergency fund: Always set aside cash for unexpected expenses or emergencies.
Lack of financial expertise: Consider hiring a financial expert to help with bookkeeping, budgeting, and forecasting.
Poor credit management: Keep track of credit usage and payments to maintain good credit and build a strong credit profile.
Starting a water bottling company requires careful financial planning and management.
With the right financing options, cash flow management, and an understanding of common financial pitfalls, your business can succeed and grow.
Navigating Regulations And Legal Requirements
Starting a water bottling company is a lucrative business, but navigating regulations and legal requirements can be overwhelming.
By following the guidelines and regulations set by the fda and various environmental agencies, you can ensure your business is legally compliant from the outset.
We'll go through the essential aspects of understanding fda labeling requirements, acquiring permits, licenses, and certifications, and ensuring compliance with environmental and sustainability regulations.
Understanding Fda Labeling Requirements And Standards For Bottled Water
When it comes to bottling water, the fda has strict guidelines and standards that companies need to adhere to.
Here are the key points to keep in mind:
Ensure all water labels clearly indicate the source and type of water.
Check that the water meets the necessary fda standards of identity, quality, and good manufacturing practices before bottling.
Fda requires companies to list the "nutrition information" and "ingredients" on the label for bottled water.
The label must also include a company logo, net quantity of contents in metric units, and a lot code or production date.
Acquiring Permits, Licenses, And Certifications
It's crucial to obtain the necessary permits, licenses, and certifications before starting a water bottling company.
Here's what you need to know:
Contact state and local health departments to apply for a water bottling permit, product testing, and certification.
Check with the state department of environmental quality for a permit to discharge any wastewater or sewage produced in the bottling process.
Register your business and get a tax id number.
Obtain any necessary business licenses from your local government.
Ensuring Compliance With Environmental And Sustainability Regulations
Consumers are increasingly becoming environmentally conscious, and your water bottling company needs to meet environmental and sustainability regulations.
Here's how:
Implement water conservation and wastewater reduction methods in your bottling practices.
Focus on using environmentally friendly packaging materials, such as biodegradable plastics, to reduce the plastic's environmental impact.
Follow the "reduce, reuse, recycle" approach to reduce the waste generated from your bottling company.
By following these essential guidelines and regulations, you can legally and ethically start your journey to build a successful water bottling company.
Designing An Eye-Catching Label And Logo
Creating A Memorable And Distinctive Visual Identity For Your Brand
Your water bottle label and logo are the first things your consumers will notice, and they can be a crucial factor when it comes to people choosing your product over others.
Here are some tips for creating a visual identity that you can be proud of:
Hire a professional designer to ensure that your label and logo are both eye-catching and informative.
Make sure your visuals are reflective of your brand's values and message to help create a memorable association with your product.
Use contrasting, bold colours and fonts to help your label stand out on store shelves.
Incorporate a tagline or slogan that sums up your brand's usp.
Importance Of Packaging And Bottle Design
Your choice of bottle and packaging are equally as important as your label and logo.
These factors can influence not only the durability and security of your product, but also its appeal to prospective customers.
Here are some points to consider:
Choose a bottle that is made from sturdy material to ensure your product is well-protected during transit.
Consider shapes and sizes. A unique-shaped bottle will help to set your product apart.
The bottle should be appropriate for the target audience. For example, eco-conscious consumers may want a bottle that is made from plant-based materials. It's important that the packaging reflects your brand values.
Have a clear brand message on the packaging, and make sure to consider additional label requirements such as volume, source of water, and nutritional content.
Staying Ahead Of The Game With Innovative Packaging
To keep ahead of your competitors, your packaging and bottle design should always be evolving to meet the ever-changing tastes and needs of consumers.
Here are a few ways to maintain a fresh and innovative packaging concept:
Keep up to date with new packaging trends, such as biodegradable materials or minimalist designs.
Pay attention to your competitors' packaging designs, and brainstorm ways to diversify yours.
Launch limited edition bottles or packaging designs to build buzz around your brand and create exclusivity.
Creating an eye-catching label and designing fresh packaging concepts can set you apart from competitors and attract new customers.
Consider investing in professional design for the best result. Keep up-to-date with new trends and customer preferences to continuously refine and innovate your product packaging.
Crafting A Targeted Marketing Plan
Starting a water bottling company means you need to market your product effectively to the right audience to generate brand recognition, awareness, and increase sales.
With the right marketing tactics in place, you can get your bottled water into the hands of those who need and want it.
Identifying Your Target Audience And Consumer Demographics
Before you begin developing your marketing plan, it is vital to identify who your target audience is. Your desired target audience may vary from age, gender, location, interest, and profession.
Below are the key points to identify your target audience:
Analyze the demographics and determine who is most likely to buy your product.
Conduct surveys and focus groups to collect insights into what customers think about bottled water.
Research your competitors' strategies and identify gaps in their marketing tactics.
Develop a clear understanding of the customer journey, starting with how they learn about your product to how they purchase it.
Strategies For Building Brand Recognition And Awareness
Building brand recognition and awareness is the foundation of marketing.
It helps your target audience understand what your brand stands for, what they can expect from your product, and how it is different from your competitors.
Here are the key points to build brand recognition:
Develop a unique name and logo for your brand that can easily be recognized and remembered by customers.
Establish social media accounts and create relevant content consistently.
Leverage influencer marketing by partnering with bloggers, social media influencers, or celebrities to promote your product.
Use seo techniques including keyword research, on-page optimization, and off-page optimization.
Participate in events, sponsor causes, and host contests or giveaways to get more exposure.
Establishing Distribution Channels To Increase Market Reach
Even if you've got the best-quality bottled water, you still need to make sure it's distributed in the right places to attract more market share.
Here are the key points to establish distribution channels:
Partner with retailers, such as grocery stores, cafes, and restaurants to stock your product.
Set up an e-commerce platform and promote it for direct sales.
Transport and distribute your product with a reliable courier or shipping service.
Implement a strategic pricing strategy that effectively sets your product apart from your competitors.
Use data analysis to determine the effectiveness of your distribution strategy and whether it requires adjustments.
Creating a targeted marketing plan for a water bottling company is critical for success.
Starting by identifying your target audience and consumer demographics, building brand recognition and awareness, and establishing distribution channels to increase market reach are all vital components of any effective marketing plan.
Choosing The Right Equipment And Machinery
Identifying The Best Equipment For Filtration, Purification, And Bottling
One of the most important considerations when starting a water bottling company is choosing the right equipment.
Here are some key points to keep in mind when identifying the best equipment for filtration, purification, and bottling:
Research and compare different brands and models to find equipment that best fits your business needs and budget.
Consider the size and capacity of the equipment, as well as the quality and efficiency of filtration, purification, and bottling processes.
Choose equipment that is easy to maintain and repair, and that comes with warranties and customer support.
Look for equipment that is made of high-quality materials and is certified by regulatory bodies, such as the fda and nsf.
Maintaining Equipment And Ensuring Smooth Operations
Once you have chosen your equipment, it's important to maintain it properly to ensure smooth operations and avoid costly repairs or replacements.
Here are some tips for maintaining equipment:
Schedule regular maintenance and cleaning of equipment, and keep records of maintenance and repair activities.
Train staff on proper use and maintenance of equipment to avoid accidents, errors, and product contamination.
Monitor equipment performance and efficiency regularly to detect issues and address them promptly.
Have a plan in place to deal with unexpected equipment failures or emergencies.
Integrating Technology Into Quality Control And Production Processes
Technology can play a major role in quality control and production processes, helping you to ensure consistency and efficiency in your bottled water production.
Here are some ways to integrate technology into your processes:
Use automated systems for quality control, testing, and monitoring of key parameters such as ph, temperature, and dissolved solids.
Implement software and data analytics tools to track and analyze production data, including bottling speed, production volume, and defect rates.
Use sensors and automatic shut-off mechanisms to prevent overflows, spills, and other accidents related to equipment malfunction or human error.
Train staff on technology use and troubleshooting, and keep up-to-date with the latest trends and innovations in bottling technology.
Overall, selecting the right water bottling equipment, maintaining it effectively, and incorporating technology in quality control and production processes are key factors in starting and running a successful water bottling company.
Keep these considerations in mind and consult with experts in the field to ensure that your business is set up for success.
Managing Logistics And Delivery Systems
Overview Of Transportation And Logistics In Bottled Water Industry
Transportation and logistics are crucial components of any business, and the bottled water industry is no exception.
Proper management of delivery systems is necessary to ensure that customers receive their orders promptly.
Here are some key points to take into consideration:
Transporting bottled water is different compared to hauling other materials as water is heavy. The weight of this commodity is crucial in determining the transport mode selection and the volume that can be moved per truck or train.
One major mode of transportation is road travel, which is relatively affordable. The mode of transport should be selected based on the nature of the delivery, its destination, and the weight, dimensions, and volume of the water.
The delivery schedule and mode of transport selected must be planned and coordinated well to minimize the possibility of contamination risks such as microbial growth and leaching from contaminated surfaces.
Strategies For Cost-Effective Delivery To Establishments And Retailers
The cost of deliveries can have a significant impact on the overall profitability of the company.
The balance between cost and customer satisfaction should be considered, and smart cost-effective strategies should be applied.
Here are some strategies to adopt for cost-effective delivery:
Map out delivery routes and delivery frequency, making sure there is tight coordination between the delivery team and warehouse operations.
Use vehicles that are fuel-efficient and are environmentally friendly, such as electric or hybrid vehicles. Modernizing the fleet and route optimization can lead to significant reductions in fuel costs and increasing the number of deliveries per route.
Optimize warehouse management, ensuring that order picking and delivery can be done in bulk to reduce delivery runs and labor costs.
Use large sales channels and effective distribution partnership models that mutually benefit delivery providers, bottlers, and retailers.
Challenges And Opportunities In Distribution And Supply Chain Management
Effective distribution and supply chain management ensures that the bottle water reaches customers in the right quantity, quality, and time.
However, several challenges exist in the bottled water industry, including:
Erratic supply of raw materials, chemicals, and packaging materials
Fluctuating demand due to seasonality and general economic conditions
The high cost of transportation and warehousing
Maintaining product quality while in transit or storage
To mitigate these challenges, several opportunities are also present, such as:
Predictive analytics optimization of inventory and production schedules
Cold chain solutions that help maintain product quality during transit
Innovations in product packaging materials to reduce the cost of transportation
Enhancing supply chain transparency and traceability through the use of technology and analytics solutions.
Effective management of logistics and delivery is critical in the bottled water industry.
By adopting cost-effective strategies and addressing challenges that arise, bottling companies can remain competitive and continue to provide high-quality products and services to customers.
Creating A Positive Customer Experience
Establishing A Customer Service Protocol That Reflects Your Brand Values
Customer service plays a critical role in building a positive customer experience.
Establishing a customer service protocol that reflects your brand values will help you to deliver your message to potential customers effectively.
Here are some key points to consider:
Develop a customer service policy that is in line with your brand's values, culture, and goals. Ensure that your team is aware of these policies and is trained to handle different customer service scenarios.
Be accessible to your customers by offering multiple channels for communication, such as email, phone, and website chat support.
Respond promptly to customer concerns and inquiries. Time is valuable, and customers expect a swift response to their problems.
Encourage and prioritize customer feedback. Establishing a feedback system allows you to identify pain points, areas of improvement, and opportunities to strengthen customer relationships.
Strategies For Building A Loyal Customer Base
Building a loyal customer base is fundamental to sustainable business growth.
Here are some strategies that will help you build customer loyalty:
Develop and maintain consistent brand messaging across all your marketing channels. This will help customers recognize and remember your brand wherever they see it.
Offer exceptional customer service and incentives to keep customers coming back. This may include free samples, promotional discounts, and referral rewards.
Create a loyalty program that rewards customers with exclusive discounts, early access to new products, and other perks. This will make customers feel valued and appreciated.
Establish a connection with customers by personalizing your interactions with them. Respond to customers using their names and show genuine interest in their needs.
Innovating Your Business To Meet Evolving Consumer Needs
Innovation is essential for businesses looking to meet evolving consumer needs.
To stay relevant and competitive, consider implementing the following:
Embrace technologies that improve your business processes and customer experience. For instance, you could adopt digital payment systems, automated customer service chatbots, or mobile apps.
Conduct market research to identify areas of customer dissatisfaction or unmet needs. This will help you to make informed decisions on product development or design improvements.
Stay on top of industry trends and developments and be ready to pivot your strategy when necessary. Monitor your competitors closely and adapt to new market demands as they arise.
Be open to new ideas and experimentation by creating an environment that fosters innovation. Encourage employees to share their ideas, and create a culture that values experimentation and risk-taking.
By implementing these strategies, you can improve your customer experience, build stronger customer relationships, and position your business for sustainable growth.
Can I Use the Same Process to Bottle Water in Terraria as I Would for a Water Bottling Company?
In Terraria, you can bottle water using the same process as a water bottling company, but with a few easy steps for bottled water in terraria. First, equip an empty bottle and right-click on a water source to fill it. Voila! Now you have a bottled water, ready for crafting or consumption in your digital world of Terraria.
FAQ About How To Start A Water Bottling Company
What Are The Legal Requirements For Starting A Water Bottling Company?
To start a water bottling company, you need to obtain the necessary permits and licenses as required by the government.
You may also need to comply with environmental and safety regulations.
What Are The Start-Up Costs Associated With Starting A Water Bottling Company?
The start-up costs for a water bottling company can range from a few thousand to several millions of dollars depending on the scale of the operation.
It includes machinery, packaging materials, water source, permits, and licenses.
How To Find A Suitable Source Of Water For My Water Bottling Company?
To find a suitable source of water, you can check with your local government, or you can obtain a water report from a certified laboratory that includes information about the water source, such as ph, dissolved solids, and contaminants.
What Packaging Options Are Available For Water Bottling Companies?
The most common packaging options for water bottling companies are pet bottles, glass bottles, and pouches.
Each has its advantages and disadvantages, and the choice will depend on your target audience and budget.
How To Market My Water Bottling Company To Stand Out From The Competition?
To stand out from the competition, you can create a unique brand that resonates with your target audience, develop a marketing strategy that emphasizes your competitive edge, and engage with customers through social media and other channels.
Conclusion
Starting a water bottling company comes with its set of challenges, but with the right approach, it can be a lucrative and fulfilling venture.
As we have discussed in this article, it's important to identify your target market, secure funding, and build a strong team.
Remember to choose the right location that has access to water sources, and follow all government regulations and guidelines.
Building a brand image and focusing on sustainability can also set your company apart from the competition.
With thorough planning and execution, you can start a water bottling company that provides quality products to customers while maintaining your company's goals and values.
We hope this guide has provided you with valuable insights and wish you success in your new venture!