How to Use Blender Bottle Prostak? 10 Steps!
The Blender Bottle Prostak is a versatile device made for mixing supplements and drinks. It's simple to use – start by filling the bottle with the liquid of your choice.
Next, add your supplement or protein powder using the specific compartment. Screw on the lid tightly, making sure the small mixer is inside. Shake the bottle vigorously until your mixture is well blended.
The Blender Bottle Prostak is a comprehensive solution for gym-goers and fitness enthusiasts who regularly consume supplements or protein shakes.
The unique feature of the prostak is the "Interlocking jars" that can store several servings of your nutritional products.
The bottle is equipped with a BlenderBall wire whisk—found only in BlenderBottle brand shaker cups—to deliver smooth shakes in seconds.
The Blender Bottle Prostak is perfect for mixing supplements and drinks.
It comes with interlocking jars for storing multiple servings of nutritional products.
The bottle is fitted with a unique BlenderBall wire whisk for smooth and instant mixing.
The Blender Bottle Prostak is portable and ideal for gym-goers and fitness enthusiasts.
The Blender Bottle Prostak is more than just a shaker bottle; it's a comprehensive mixing and storage system.
It's designed in such a way to carry nutritional supplements, snacks, or even your keys and cards while you're on the move.
Apart from that, the Prostak's patented mixing technology ensures that no lumps remain, providing you a smooth and perfectly mixed drink every time.
10 Steps for Using Blender Bottle Prostak
| Step | Description |
| --- | --- |
| 1 | Purchase a Blender Bottle Prostak |
| 2 | Begin by unscrewing the lid of the Blender Bottle |
| 3 | Put the required amount of powder (protein, supplement, etc) in the larger compartment of the bottle |
| 4 | Add your preferred type of liquid (milk, water, juice, etc) into the same compartment |
| 5 | Insert the blender ball into the bottle on top of the powder and liquid |
| 6 | Screw the lid of the bottle back on ensuring it is tightly secured |
| 7 | Shake the blender bottle vigorously to effectively mix your drink |
| 8 | Use the smaller compartments to store extra servings of protein powder or supplements if needed |
| 9 | Unscrew the smaller compartments and add the contents to your bottle when ready for an extra serving |
| 10 | Always clean the bottle thoroughly after use to keep it clean and hygienic |
10 Steps for Using Blender Bottle Prostak
Key Takeaway
Blender Bottle Prostak is an innovative approach that provides a simplified system for meal management and supplement organization.
It features a unique and efficient interlocking jars with individual lids, enabling you to carry along your supplements, snacks, or meal replacements easily.
The blender bottle is designed with a BlenderBall wire whisk, which delivers smooth shakes every time.
The BlenderBottle ProStak ensures that you never skip your most crucial meals of the day, making it perfect for fitness enthusiasts or busy individuals who want to maintain their diet.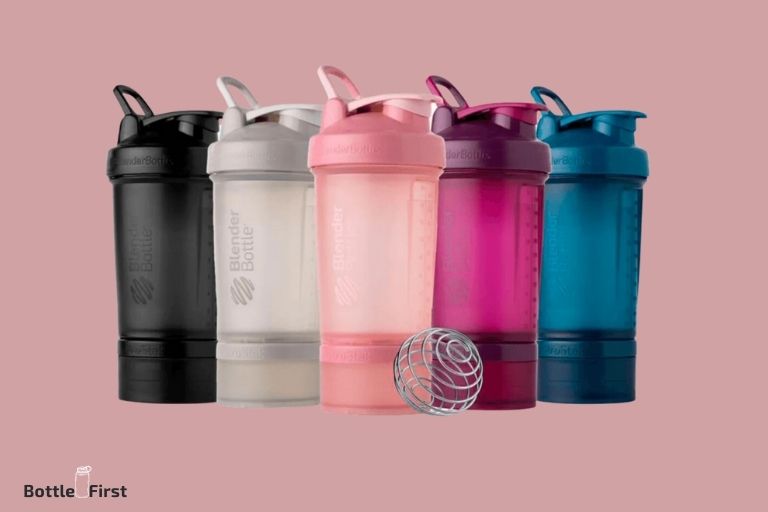 Five Facts About: Using Blender Bottle Prostak
The BlenderBottle ProStak is a patented portable protein and supplement system with 22 oz capacity and two fully independent jars for storage. It's perfect for people on the go as it can contain multiple servings of various supplements and snacks.
The ProStak comes with a leak-proof SureSeal flip cap, secure screw-on lid, and allows easy operation just by shaking.
The independent jars can be used both with and without the bottle, allowing for more flexibility.
The BlenderBall wire whisk found inside the ProStak ensures that your shakes come out smooth. It efficiently mixes even thick ingredients while on the go.
The BlenderBottle ProStak is made from high-quality, BPA and Phthalate free materials which makes it safe and durable.
Getting Started With Blender Bottle Prostak
Unboxing And Familiarizing With The Components
So, you've got yourself a blender bottle prostak. Exciting!
Now, let's delve into the unboxing process and get familiar with the components of this nifty bottle.
Unboxing:
Remove the blender bottle prostak from its packaging.
Take a moment to appreciate the sleek design and quality construction.
Check for any protective covering or tags that may need to be removed before use.
Components:
The bottle: The star of the show, this durable and bpa-free bottle can hold up to 22 ounces of liquid. It features a leak-proof design, making it perfect for on-the-go use.
Blenderball wire whisk: This metal whisk ensures that your protein powder or other mix-ins are smoothly blended throughout your drink. Say goodbye to clumps!
Prostak blenderbottle lid: The lid securely screws onto the bottle, preventing any accidental spills or leaks. It also features a convenient carry loop for easy transport.
Expandable storage jars: These twist-on jars attach to the bottom of the bottle, providing ample space for storing protein powder, supplements, or snacks.
Pill organizer: Located inside one of the storage jars, the pill organizer allows you to conveniently carry your vitamins or medication.
Assembling The Blender Bottle Prostak
Now that you're familiar with the components, let's assemble your blender bottle prostak so you can start enjoying your favorite shakes or smoothies in no time.
Here's a step-by-step guide:
Attach the blenderball whisk: Unscrew the prostak blenderbottle lid and drop the blenderball whisk into the bottle.
Add your ingredients: Pour your liquid, protein powder, and any other mix-ins into the bottle.
Securely close the lid: Screw the prostak blenderbottle lid back onto the bottle tightly. Ensure it is properly aligned and sealed to prevent any leaks.
Optional step – use the storage jars: Twist the expandable storage jars onto the bottom of the bottle. Fill them with protein powder, supplements, or other snacks you'd like to take with you.
Optional step – pill organizer: If needed, open the storage jar containing the pill organizer and place your vitamins or medication inside.
Shake and enjoy! : Give the bottle a good shake to blend your ingredients together, thanks to the blenderball whisk. Now you're ready to savor your delicious creation on the go.
With these simple steps, you'll be assembling and using your blender bottle prostak like a pro. Cheers to convenient and perfectly blended beverages!
Using The Blender Bottle Prostak For Mixing Drinks
Whether you're a fitness enthusiast or simply someone who enjoys making delicious and nutritious drinks, the blender bottle prostak is a must-have tool.
With its convenient design and durable construction, it allows you to easily mix and enjoy your favorite beverages on the go.
In this section, we'll explore the key steps to using the blender bottle prostak for mixing drinks effectively.
Preparing And Measuring The Ingredients:
Before you start mixing, gather all the ingredients required for your drink. This could include protein powders, fruits, vegetables, flavorings, or any other additives.
Using the detachable pill organizer (stak), separate and measure all the ingredients accurately. This will ensure that you achieve the desired taste and consistency.
Add the ingredients into the blender bottle prostak, starting with the liquids first. This will prevent any powders from clumping at the bottom.
Properly Sealing The Bottle To Avoid Leakage:
Before you start shaking, make sure to properly seal the blender bottle prostak to avoid any unwanted leakage.
Align the threads of the lid and the bottle, then turn the lid clockwise until it's firmly closed. This will create a secure seal, preventing any spills while shaking.
Check the lid and make sure the flip cap is closed snugly. This will further minimize the chance of leakage during mixing.
Mixing Techniques And Tips For Smooth And Consistent Drinks:
To achieve a smooth and consistent blend, make sure to hold the blender bottle prostak firmly by the base. This will provide better control during shaking.
Shake the bottle vigorously but in a controlled manner for about 30 seconds. Be sure to use both horizontal and vertical movements to ensure all ingredients are well mixed.
For powdery ingredients that tend to clump, consider adding a mixing ball or whisk to the blender bottle prostak. This will help break up any clumps, resulting in a smoother drink.
If you're adding carbonated beverages or effervescent tablets, it's important to release any built-up pressure by gently loosening the flip cap after shaking, before opening completely.
After mixing, let the drink sit for a few moments to allow any foaming or bubbling to settle. This will improve the overall texture and taste of your beverage.
With these simple yet effective techniques, using the blender bottle prostak for mixing drinks becomes a breeze.
Whether you're preparing a pre-workout shake, a post-workout recovery drink, or simply a refreshing smoothie, you can count on the blender bottle prostak to deliver consistent results every time.
Enjoy your creations on the go, without worrying about spills or clumps, thanks to this innovative and versatile mixing bottle.
Maximizing The Storage Capabilities Of Blender Bottle Prostak
Understanding The Different Compartments And Their Uses
The blender bottle prostak is a versatile and convenient storage solution for all your fitness needs. With its modular design, the prostak allows you to customize and maximize its storage capabilities.
By understanding the different compartments and their uses, you can make the most of this innovative bottle.
The prostak consists of three separate compartments that can be stacked together. Each compartment has its own specific purpose, allowing you to organize your supplements, powders, and snacks effectively.
The bottom compartment is the largest and is perfect for storing protein powders or meal replacement shakes. It has a generous capacity, ensuring you never run out of fuel for your workouts.
The middle compartment is ideal for storing smaller supplements like pills or capsules. It is equipped with removable pill organizers for easy access and convenience.
The top compartment is designed to hold your snacks and additional supplements. It features a tight seal to keep your snacks fresh and secure, making it perfect for storing nuts, seeds, or even energy gels.
Storing Supplements, Powders, And Snacks In The Prostak'S Containers
One of the key advantages of using the blender bottle prostak is its ability to store a wide range of supplements, powders, and snacks.
Here's how you can utilize the prostak's containers effectively:
Store your supplements: The removable pill organizers in the middle compartment allow you to easily portion and carry your daily supplements. Simply fill each compartment with the required dosage and keep them ready for consumption.
Carry your powders: The bottom compartment of the prostak is the perfect space to store your protein powders or any other powdered supplements. It can hold a substantial amount, ensuring you have enough to fuel your workouts or busy day ahead.
Pack your snacks: The top compartment of the prostak is a great place to keep your favorite snacks. Whether it's nuts, seeds, or energy gels, you can carry them with you wherever you go. The tight seal ensures your snacks stay fresh and avoid any accidental spills.
Organizing And Managing The Prostak For On-The-Go Convenience
To make the most of your blender bottle prostak, it's important to organize and manage it properly for on-the-go convenience.
Follow these tips to ensure a hassle-free experience:
Plan ahead: Before heading out, decide which supplements, powders, or snacks you'll need for the day. This will help you pack only the essentials and avoid unnecessary weight or bulk.
Fill compartments strategically: Assemble the prostak by stacking the compartments together, starting with the bottom one. Fill each compartment with the desired supplements or snacks, making sure to close all lids tightly.
Easy access: Arrange the compartments in the order you plan to consume their contents. This will ensure that you have easy access to what you need at any given time, without the need to disassemble the entire prostak.
Clean and maintain: After each use, make sure to wash the prostak thoroughly to avoid any residue buildup or odor. This will help keep your supplements and snacks fresh and prevent any cross-contamination.
Make the most of your blender bottle prostak by understanding its different compartments, storing supplements and snacks wisely, and organizing it for on-the-go convenience.
With its versatile design and ample storage space, the prostak is a practical solution for fitness enthusiasts and busy individuals alike.
Cleaning And Maintaining Blender Bottle Prostak
Featuring a modular design, the blender bottle prostak makes it effortless to keep your bottle and its components clean and fresh.
To ensure optimal performance and longevity, follow these best practices for cleaning, preventing odor, and storing your prostak:
Best Practices For Cleaning The Bottle And Its Components
Handwashing: For the most effective cleaning, it's recommended to wash the blender bottle prostak by hand.
Warm soapy water: Wash the bottle, lid, and storage containers in warm, soapy water. Use a mild dish soap to remove any residue or odors.
Scrub thoroughly: Pay close attention to the corners and crevices of the bottle, as these areas can trap particles. Use a sponge or bottle brush to scrub away any stubborn grime.
Avoid abrasive materials: To prevent scratching the bottle, refrain from using abrasive cleaning tools such as steel wool or harsh scouring pads.
Rinse thoroughly: After washing, ensure all soap residue is rinsed away. Leftover soap can affect the flavor of your next beverage.
Air dry completely: Allow all components to air dry completely before reassembling the prostak. This helps prevent moisture buildup and the development of odors.
Tips For Preventing Odor And Maintaining Freshness
Clean after each use: To avoid lingering odors, clean your blender bottle prostak after every use.
Use baking soda paste: Periodically, create a paste using baking soda and water. Apply it to the inside of the bottle and storage containers, scrub gently, and then rinse thoroughly. This helps eliminate any stubborn odors.
Keep the bottle open: Leave the bottle open to air after each wash to allow any remaining moisture to evaporate.
Avoid strong odors: Refrain from storing strong-smelling substances in your prostak. These odors can permeate the bottle and affect the taste of your drinks.
Store with the lid off: Whenever you're not using the prostak, store it with the lid off to promote proper airflow and prevent any potential odors from lingering.
Storage Recommendations To Extend The Lifespan Of The Prostak
Disassemble for storage: When not in use, disassemble the various components of the prostak to ensure thorough cleaning and to prevent any residual moisture from accumulating.
Keep it dry: Before storing, make sure all parts of the prostak are completely dry. Moisture can lead to mold or mildew growth.
Choose a clean storage area: Store your prostak in a clean and dry area, away from direct sunlight and excessive heat. Avoid storing it alongside dirty dishes or other potentially unclean items.
Take care of the seals: Regularly inspect the seals and ensure they are clean and in good condition. Replace any damaged or worn-out seals promptly to maintain the prostak's efficiency.
Regular deep clean: While the prostak is designed to be easy to clean, a periodic deep clean with a bottle cleaning solution can help in removing any lingering odors and maintaining cleanliness.
With these cleaning and maintenance tips, you can keep your blender bottle prostak in top-notch condition, ensuring it remains a reliable and convenient companion for your active lifestyle.
FAQ Of How To Use Blender Bottle Prostak ?
Is The Blender Bottle Prostak Dishwasher Safe?
Yes, the blender bottle prostak is dishwasher safe, making it easy to clean after use.
How Do I Assemble The Blender Bottle Prostak?
To assemble the blender bottle prostak, simply screw the storage containers onto the bottom of the bottle.
Can The Blender Bottle Prostak Be Used For Hot Drinks?
No, the blender bottle prostak is not recommended for use with hot drinks, as it is designed for cold beverages.
What Is The Capacity Of The Blender Bottle Prostak?
The blender bottle prostak has a capacity of 22 ounces, allowing for a generous serving of your favorite beverage.
How Does The Blender Bottle Prostak Help With Mixing?
The blender bottle prostak features a patented blenderball wire whisk that ensures smooth, clump-free mixing every time.
Conclusion
The blender bottle prostak is a versatile and convenient tool for anyone looking to simplify their nutrition routine.
With its innovative design and practical features, this bottle proves to be more than just your average shaker.
Its twist and lock system allows for easy storage of powders, supplements, and snacks, making it perfect for on-the-go lifestyles.
The patented mixing system ensures smooth and lump-free shakes, while the leak-proof seal guarantees mess-free transportation.
The prostak's versatility extends to its compatibility with other blender bottle products, allowing for endless customization options.
Whether you're a fitness enthusiast, a busy professional, or someone simply looking for a convenient way to maintain a healthy diet, the blender bottle prostak is the ultimate solution.
Say goodbye to clumpy shakes and messy spills, and say hello to effortless nutrition. Experience the ease and efficiency of the blender bottle prostak and take your nutrition routine to new heights.