How Would You Improve a Plastic Water Bottle? A Guide
Improving a plastic water bottle can be done by enhancing its design for better handling, making it leak-proof, using BPA-free materials for safety, and incorporating features such as insulation for temperature regulation.
Improving a plastic water bottle involves making strategic alterations to the design, functionality, and safety of the bottle.
These improvements not only increase the overall quality of the water bottle but also cater to specific user needs such as portability, safety, and convenience.
Design the bottle with ergonomic features for better grip and handling.
Ensure the bottle cap is designed to be leak-proof to prevent spillage.
Use BPA-free plastic materials to ensure the safety of the users.
Incorporate insulation features to keep the water cold or hot for a longer period.
Ergonomic design enhances user comfort and makes handling the bottle easier during activities like running or hiking. A leak-proof cap is essential to prevent water from spilling, especially during transit.
Utilizing BPA-free plastic reduces health risks associated with certain plastics. Lastly, insulation features can maintain the temperature of the water, providing a refreshing drink when needed.
Ways to Improve a Plastic Water Bottle
| Area of Improvement | Specific Suggestion | Expected Benefit |
| --- | --- | --- |
| Material | Use biodegradable plastic | Reduces environmental impact |
| Design | Ergonomic grip areas for easier holding | Increased user comfort |
| Cap Design | Leak-proof seal | Prevents accidental spills |
| Reusability | Make the bottle more durable for repeated use | Reduces waste and cost |
| Capacity | Different bottle sizes to cater to different needs | Covers a wider range of consumer requirements |
| Transparency | Implement a clear indicator line for water level | User can easily see remaining water content |
| Insulation | Double-walled design for insulating purposes | Keeps water temperature consistent for longer |
Ways to Improve a Plastic Water Bottle
Key Takeaway
Introducing biodegradable materials in the making of plastic water bottles can drastically reduce environmental pollution.
Incorporating reusable design mechanisms can enhance the lifespan of plastic water bottles, promoting sustainable use.
The use of BPA-free plastic can significantly improve the safety and healthiness of plastic water bottles.
Lightweight and compact designs can enhance the portability and convenience of plastic water bottles.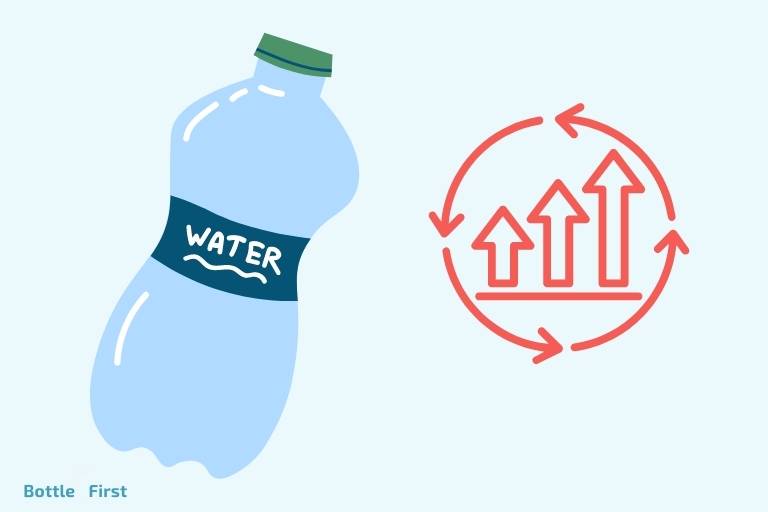 Five Facts to Improve Plastic Water Bottles
According to the article by "Earth Day", a conventional plastic bottle takes 450 years to decompose in the environment. The usage of biodegradable materials could drastically cut this time.
A study published in "Environmental Science & Technology" suggested that if an individual used the same reusable water bottle, between 1,400 and 8,200 times less water was used, compared to disposable bottles.
The National Institute of Environmental Health Sciences (NIEHS) highlighted the health risks of Bisphenol A (BPA) in plastic. Switching to BPA-free plastic reduces these health risks.
"Plastic water bottles" revealed that the average weight of a 500ml plastic water bottle in 2006 was 13.83 grams. By reducing the weight, it would reduce both material use and carbon emissions.
In a survey by "One Green Planet", consumers preferred lightweight and compact water bottles due to convenience and portability.
The Current State Of Plastic Water Bottles
An Overview Of The Existing Design And Functionality
Plastic water bottles have become a common sight in our daily lives. They are lightweight, portable, and convenient for on-the-go hydration.
However, the current state of plastic water bottles is not without its drawbacks.
Let's take a closer look at the existing design and functionality:
Design: Plastic water bottles are typically made of polyethylene terephthalate (pet), a durable and inexpensive material. They come in various shapes and sizes, from small single-use bottles to larger reusable ones. The design aims to provide a secure cap to prevent leaks and spills.
Functionality: Plastic water bottles serve their primary purpose of holding and dispensing water. They offer convenience with their lightweight and portable nature, making them easy to carry during outdoor activities, travel, or everyday commuting. Additionally, their transparent construction allows users to easily monitor the water level.
However, the current design and functionality of plastic water bottles also raise several concerns. Let's explore the environmental impact and waste management issues associated with these bottles.
Environmental Concerns And Impact On Waste Management
Plastic water bottles have garnered significant attention due to their negative impact on the environment.
The following key points highlight the concerns and challenges associated with their usage:
1. Excessive plastic waste: The production and consumption of plastic water bottles contribute to the ever-growing problem of plastic waste. An estimated 8 million metric tons of plastic bottles end up in the oceans each year, damaging marine ecosystems and endangering marine life.
2. Limited recycling rates: Despite efforts to promote recycling, plastic water bottle recycling rates remain disappointingly low. Many bottles end up in landfills or as litter, taking years to decompose. Improving recycling rates is crucial to reduce the environmental burden caused by these bottles.
3. Energy consumption: The production and disposal of plastic water bottles require significant energy resources, contributing to carbon emissions and climate change. Exploring more sustainable materials and manufacturing processes can help reduce the overall energy footprint.
4. Health concerns: Some plastic water bottles contain harmful chemicals, such as bisphenol a (bpa), which can leach into the water and pose health risks. Ensuring the use of bpa-free materials and implementing rigorous quality control measures is imperative to protect consumers' health.
5. Lack of reuse and refill options: While reusable water bottles are available, the majority of plastic water bottles are single-use and often discarded after a single use. Promoting refill stations and incentivizing the use of reusable bottles can significantly reduce plastic waste generation.
It is crucial to address these concerns and work towards creating improved plastic water bottle designs that are both functional and environmentally-friendly.
By considering alternatives, rethinking materials, and promoting sustainable practices, we can strive to make a positive impact on the environment and waste management systems.
Let's explore potential solutions and innovations in the quest to improve plastic water bottles.
Enhancing Durability And Longevity
Plastic water bottles are a popular choice for people on the go, but many of us have experienced the frustration of a bottle breaking or leaking, leading to wasted water and a mess to clean up.
In order to improve the overall user experience and reduce environmental impact, enhancing durability and longevity of plastic water bottles is crucial.
In this section, we will explore two key areas of improvement: introducing stronger materials for increased durability and design improvements to minimize breakage and leakage.
Introducing Stronger Materials For Increased Durability
Plastic water bottles are often made from polyethylene terephthalate (pet), a lightweight and affordable material.
However, pet has its limitations when it comes to durability, making it prone to breaking or cracking.
To enhance the durability and longevity of plastic water bottles, manufacturers can consider using stronger materials such as:
Tritan™: This durable polymer offers excellent impact resistance, making it highly resistant to cracks and breaks. Bottles made from tritan™ can withstand accidental drops and rough handling, ensuring a longer lifespan.
Stainless steel: Although not a plastic material, stainless steel is known for its incredible strength and durability. Stainless steel water bottles are virtually indestructible, making them ideal for outdoor adventures or for those who prefer a more robust option.
Silicone: While not a material used for the entire bottle, incorporating silicone into the design can help to improve its durability. Silicone sleeves or grips can provide an extra layer of protection, preventing breakage and providing a better grip.
Design Improvements To Minimize Breakage And Leakage
Apart from using stronger materials, design improvements are also essential to enhance the durability and longevity of plastic water bottles.
By addressing common issues such as breakage and leakage, manufacturers can greatly improve the overall user experience.
Consider the following design improvements:
Reinforced bottom: A reinforced bottom design can greatly reduce the risk of breakage. By making the bottom of the bottle thicker or incorporating materials like rubber or silicone, bottles are more likely to withstand accidental drops without shattering.
Leak-proof lid: One of the biggest frustrations with plastic water bottles is leakage. By designing a leak-proof lid with a secure closure mechanism, manufacturers can ensure that bottles remain tightly sealed, preventing any leaks or spillage.
Bottle shape: Opting for a more ergonomic bottle shape can also enhance durability. Bottles with wider bases and tapered necks can be easier to grip, reducing the likelihood of dropping and breakage.
Flexible materials: Incorporating more flexible materials into the bottle's construction can add impact resistance and reduce the risk of cracking. For example, flexible plastic or rubberized panels can absorb the shock from accidental drops, preventing damage.
Enhancing the durability and longevity of plastic water bottles is crucial to provide an improved user experience and reduce waste.
By incorporating stronger materials and implementing thoughtful design improvements, manufacturers can create bottles that are better equipped to withstand accidents and everyday use.
This not only benefits consumers but also contributes to a more sustainable and environmentally friendly approach to hydration on the go.
So, let's raise our bottles to a more durable future!
Eco-Friendly Packaging And Materials
Plastic water bottles have become a ubiquitous part of our daily lives, but their impact on the environment is undeniable.
Millions of plastic bottles end up in landfills every year, contributing to pollution and harming wildlife.
However, there are several ways to improve plastic water bottles by adopting eco-friendly packaging and materials.
By utilizing biodegradable or compostable materials and reducing plastic waste through innovative packaging solutions, we can make a significant difference for a greener and more sustainable future.
Utilizing Biodegradable Or Compostable Materials
Plastic water bottles are notorious for their long lifespan and inability to decompose.
However, by harnessing the power of biodegradable or compostable materials, we can overcome this environmental challenge.
Here are some key points to consider:
Biodegradable materials: These materials are designed to break down naturally over time, reducing the lasting impact on the environment. By using biodegradable materials for water bottle production, we can ensure that they will eventually return to the earth without leaving behind harmful microplastics.
Compostable materials: Compostable materials take the eco-friendly concept even further. These materials can be broken down through composting processes, eventually turning into nutrient-rich soil. By incorporating compostable materials into water bottle production, we can contribute to a circular economy where waste becomes a valuable resource.
Advancements in technology: The development of new technologies has paved the way for eco-friendly materials that possess the durability and functionality of traditional plastic. Innovative solutions, such as plant-based or algae-derived plastics, offer a promising alternative to conventional water bottle materials.
Educating consumers: It is crucial to educate consumers about the benefits of biodegradable and compostable materials. By raising awareness and providing clear labeling, consumers can make informed choices and actively support eco-friendly products.
Reducing Plastic Waste Through Innovative Packaging Solutions
Besides implementing sustainable materials, modifying packaging solutions can also make a significant impact.
Here are some ideas to consider:
Lightweight designs: Reducing the amount of plastic used in each water bottle without compromising its durability is a crucial step. Lightweight designs can decrease the environmental footprint by minimizing the resources needed for production and transportation.
Refillable options: Encouraging the use of refillable water bottles not only reduces plastic waste but also offers convenience to consumers. Providing accessible and hygienic refill stations can foster a culture of reusable containers, significantly reducing single-use plastic bottles.
Drastic reductions in packaging: Exploring packaging innovations that eliminate excess materials can help tackle plastic waste. For instance, utilizing biodegradable shrink wraps or package-free designs can minimize plastic usage while ensuring the bottles' safety during transportation and storage.
Collaborative efforts: Brands, manufacturers, and policymakers need to work together to find innovative packaging solutions. Encouraging collaboration and sharing best practices can expedite the adoption of eco-friendly packaging and materials in the industry as a whole.
By focusing on utilizing biodegradable or compostable materials and implementing innovative packaging solutions, we can make plastic water bottles more environmentally friendly.
These changes not only contribute to reducing plastic waste but also play a vital role in preserving our planet for future generations.
Let us embrace sustainable alternatives and embark on a journey towards a greener and more sustainable world.
Improving Health And Safety Features
Incorporating Bpa-Free Materials For Safer Consumption
Plastic water bottles have become a common staple in our daily lives, providing convenient and portable hydration.
However, concerns have been raised regarding the presence of harmful chemicals, particularly bisphenol a (bpa), in plastic bottles.
To address these concerns and enhance consumer health and safety, plastic water bottles can be improved in the following ways:
The use of bpa-free materials: By incorporating bpa-free materials into the manufacturing process of plastic water bottles, the risk of chemical leaching into the water is significantly reduced. Bpa is known to mimic estrogen and has been associated with various health issues such as hormonal imbalance, reproductive problems, and developmental issues in children. By choosing bpa-free materials, consumers can have peace of mind knowing that they are consuming water free from potentially harmful chemicals.
Safer alternative materials: In addition to bpa-free materials, exploring alternative materials for manufacturing water bottles can further enhance safety. Options such as glass, stainless steel, or food-grade silicone offer excellent durability, are non-reactive, and do not leach harmful substances into the water. These materials also help preserve the taste and quality of the water, offering a healthier and more enjoyable drinking experience.
Clear labeling and certification: To ensure transparency and build trust with consumers, manufacturers should provide clear labeling indicating that their plastic water bottles are bpa-free. Additionally, obtaining certification from reputable organizations such as the food and drug administration (fda) or the international organization for standardization (iso) can further validate the safety and quality of the bottles.
Consumer education: To promote safer consumption, educating consumers about the risks associated with bpa and the benefits of using bpa-free materials is crucial. Providing information on the potential health effects of bpa and the availability of bpa-free alternatives can empower consumers to make informed choices and prioritize their health and safety.
Enhanced Cap Designs To Prevent Leakage And Contamination
Water bottle caps play a vital role in ensuring that the water remains fresh, free from contamination, and convenient for on-the-go hydration.
To improve health and safety features, manufacturers can focus on the design and functionality of bottle caps.
Here are some key considerations:
Leak-proof designs: Enhanced cap designs should prioritize leak-proof functionality to prevent any unwanted spills or leaks. This ensures that the water remains contained within the bottle, preventing damage to personal belongings and minimizing wastage. A secure and reliable sealing system is essential for a hassle-free and mess-free hydration experience.
Hygiene-conscious features: Contamination can occur when the water bottle cap comes into contact with potentially dirty surfaces or when exposed to harmful microorganisms. Innovative cap designs can incorporate features such as flip-top lids, self-sealing valves, or hygienic spouts that minimize contact and reduce the risk of contamination. Additionally, easy-to-clean designs enable users to maintain the cleanliness and freshness of their water bottles.
Tamper-evident seals: Safety is a paramount concern when it comes to packaged products. Implementing tamper-evident seals on water bottle caps provides consumers with reassurance that the product has not been accessed or compromised before purchase. These seals offer protection against tampering, ensuring that the water inside the bottle is safe for consumption.
User-friendly functionality: An improved cap design should prioritize ease of use and convenience. Features such as one-hand operation, ergonomically designed grips, and simple opening and closing mechanisms make it effortless for users to access their water and reseal the bottle. This encourages regular hydration and enhances user experience.
Sustainable materials: To align with eco-conscious practices, the use of sustainable materials in the manufacturing of water bottle caps can contribute to a healthier environment. Options such as recyclable plastics or biodegradable materials help reduce waste and lower the overall environmental footprint of plastic water bottles.
By incorporating bpa-free materials and integrating enhanced cap designs, plastic water bottles can offer improved health and safety features.
These advancements not only provide consumers with peace of mind but also contribute to their overall well-being and hydration experience.
Innovative Designs For User Convenience
Plastic water bottles have become a ubiquitous part of our daily lives, providing us with a convenient way to stay hydrated on the go. However, as our needs evolve, so should the design of these bottles.
In this section, we will explore some innovative designs aimed at enhancing user convenience.
From collapsible or foldable bottles for easy portability to incorporating smart features for tracking water intake and hydration reminders, the future of plastic water bottles is looking brighter than ever.
Introducing Collapsible Or Foldable Bottles For Easy Portability
These bottles are designed to be compact and easily collapsible, making them ideal for travel or when space is at a premium.
They can be folded or rolled up, allowing users to store them in their bags or pockets without taking up much space.
The flexibility of these bottles also enables users to adjust the size based on their needs, whether they want a smaller bottle for a quick sip or a larger one for extended hydration periods.
Made from durable yet lightweight materials, these bottles are designed to withstand regular use while remaining easy to carry.
The collapsible or foldable design eliminates the need for disposable plastic bottles, contributing to a reduction in single-use plastics and promoting a more sustainable way of staying hydrated.
Incorporating Smart Features For Tracking Water Intake And Hydration Reminders
: tracking water intake is crucial for maintaining optimal hydration levels throughout the day.
By incorporating smart features into plastic water bottles, we can ensure that users stay hydrated without any hassle.
Here are some key points:
Sensors and digital displays on the bottles can track the amount of water consumed and provide real-time feedback to users.
These smart bottles can provide personalized hydration goals based on factors like age, weight, and activity level, helping users stay on track with their hydration targets.
Smart reminders can be set to alert users when it's time to take a sip, ensuring they don't forget to hydrate even during busy days.
Wireless connectivity allows the bottles to sync with smartphone apps, enabling users to access detailed hydration data and track their progress over time.
Some bottles even come with light indicators to display hydration levels, making it easy for users to see at a glance if they need to drink more water.
By embracing innovative designs and incorporating smart features, plastic water bottles can become even more user-friendly and help individuals stay hydrated effortlessly.
Whether it's the convenience of collapsible or foldable bottles or the practicality of smart features, these advancements pave the way for a more sustainable and efficient way of quenching our thirst on the go.
Can a 2.75-inch wide water bottle be considered as an ideal size for everyday use?
When considering water bottle width and measurements, a 2.75-inch wide water bottle may indeed serve as an ideal size for everyday use. It offers a compact design, making it easy to carry around while still providing enough capacity for hydration. Its dimensions strike a balance between portability and functionality, making it a practical choice for those on the go.
FAQ About How Would You Improve A Plastic Water Bottle
How Can A Plastic Water Bottle Be Improved?
Plastic water bottles can be improved by using eco-friendly materials, creating reusable designs, and promoting recycling initiatives.
What Eco-Friendly Materials Can Be Used For Plastic Water Bottles?
Eco-friendly materials like biodegradable plastics made from plants or recycled plastic can be used for manufacturing plastic water bottles.
Are There Reusable Designs Available For Plastic Water Bottles?
Yes, there are reusable designs available for plastic water bottles, such as collapsible bottles and bottles with built-in filters.
How Can Recycling Initiatives Improve Plastic Water Bottles?
Recycling initiatives can improve plastic water bottles by reducing waste, conserving resources, and reducing the environmental impact of production and disposal.
Are There Alternatives To Plastic Water Bottles?
Yes, alternatives to plastic water bottles include stainless steel bottles, glass bottles, and aluminum bottles that are more durable and eco-friendly.
Conclusion
To enhance the plastic water bottle, we must focus on sustainable and innovative approaches.
By prioritizing eco-friendly materials and manufacturing processes, we can reduce the impact these bottles have on the environment.
This can be achieved through the use of biodegradable plastics or alternative materials like glass or stainless steel.
Additionally, incorporating leak-proof designs and easy-to-clean features would improve user experience and increase the bottle's lifespan.
Implementing smart technology, such as sensors or filters, could also enhance functionality and promote healthier hydration habits.
Educating consumers on the importance of recycling and offering convenient recycling options would further encourage responsible consumption.
Finally, collaborations between manufacturers, governments, and environmental organizations will be crucial in driving these changes and ensuring a more sustainable future for plastic water bottles.
Let us work together to make these improvements and protect our planet for future generations.