Is a Plastic Water Bottle Biodegradable? No!
No, a typical plastic water bottle is not biodegradable. Traditional plastic materials, such as those used in water bottles, are derived from petroleum.
These types of plastics can take hundreds of years to decompose in the environment, causing long-term environmental harm.
Plastic water bottles are primarily made from a type of plastic called polyethylene terephthalate (PET).
This material is chosen for its lightweight and robust nature, making it ideal for packaging and transporting liquids such as water. PET plastic, however, is not biodegradable.
Instead, it is photodegradable and can break down into smaller pieces over time when exposed to sunlight – a process that can take centuries.
Plastic water bottles are made from PET, a non-biodegradable plastic material.
PET plastic breaks down by photodegradation, not biodegradation, a process that can take hundreds of years.
The use of plastic water bottles contributes to environmental harm, including pollution and harm to wildlife.
Alternatives to plastic water bottles include reusable bottles and those made from biodegradable materials.
The impact of plastic water bottles on the environment is a significant concern. They contribute to landfill waste, and their slow decomposition rate means they remain in the environment for centuries, causing harm to wildlife and ecosystems.
Therefore, it's crucial to consider alternatives to plastic water bottles, such as reusable bottles or those made from biodegradable materials.
10 Types of Plastic: Is the Plastic in Water Bottles Biodegradable
| Plastic Type | Is It Biodegradable? |
| --- | --- |
| PET (Polyethylene Terephthalate) | No |
| HDPE (High-Density Polyethylene) | No |
| PVC (Polyvinyl Chloride) | No |
| LDPE (Low-Density Polyethylene) | No |
| PP (Polypropylene) | No |
| PS (Polystyrene) | No |
| Other Plastics (usually Polycarbonate or ABS) | No |
| PLA (Polylactic Acid, a Bioplastic) | Yes |
| PHA (Polyhydroxyalkanoates, a Bioplastic) | Yes |
| PSM (Plastarch Material, a Bioplastic) | Yes |
10 Types of Plastic: Is the Plastic in Water Bottles Biodegradable
Key Takeaway
Traditional plastic water bottles are not biodegradable. They take hundreds to thousands of years to decompose in landfills because plastic materials are designed to be very durable and resistant to natural processes of degradation.
Bioplastics are a more eco-friendly choice for water bottles. These are types of plastics derived from renewable resources, such as corn starch, and are biodegradable.
The breakdown of plastic releases harmful chemicals. As plastics degrade, they can release harmful chemicals into the environment, which have been shown to contaminate soil and water, and harm animals and humans.
Recycling plastic water bottles can help reduce environmental impact. However, it's noted that only a small portion of plastic bottles are actually recycled worldwide, highlighting the importance of efforts to minimize plastic waste and encourage sustainable habits.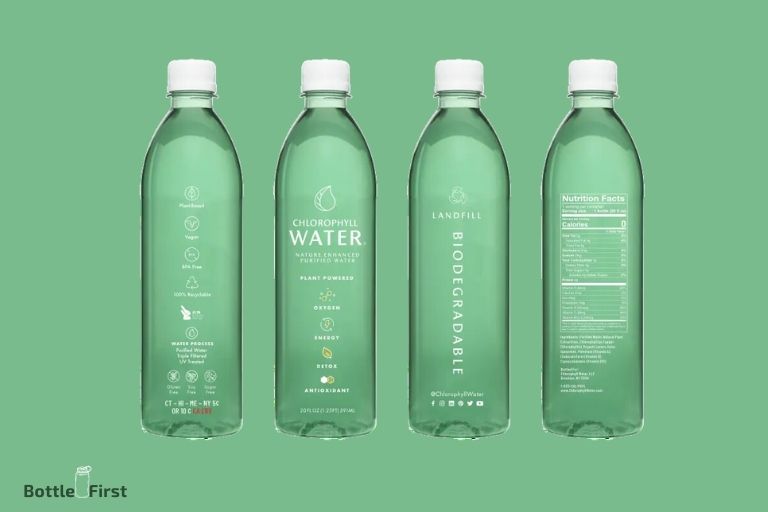 Five Facts About: A Plastic Water Bottle Is Biodegradable
Traditional plastic water bottles can take up to 1,000 years to biodegrade. This is due to the strong molecular bonds that make up plastic, which are resistant to the natural processes of erosion and degradation. (Source: National Geographic)
Microplastics, tiny fragments of plastic less than 5mm in length, are a major concern. They're released into the environment when plastic breaks down
Less than 30% of plastic water bottles are recycled in the US. This means that the majority of these bottles end up in landfills or the environment, contributing to pollution and harm to wildlife. (Source: EPA)
Biodegradable plastics, such as PLA (Poly Lactic Acid), are a more sustainable option for water bottles. Made from renewable resources, these plastics break down into water, carbon dioxide, and biomass when composted. (Source: Optimal Chemical)
The plastic water bottle industry contributes to the overuse of fossil fuels. In fact, it takes approximately 3 liters of water to produce a 1-liter plastic bottle, not mentioning the fossil fuel used for manufacturing and transporting. (Source: World Wildlife Fund)
The Problem With Plastic Bottles
Plastic Bottles And Their Contribution To Environmental Pollution
Plastic bottles have become an integral part of our daily lives, providing convenience and portability for our hydration needs.
However, the environmental impact of these seemingly harmless containers is a growing concern.
Let's delve into the problem with plastic bottles and their contribution to environmental pollution.
Plastic bottle production: Each year, millions of plastic bottles are produced worldwide, requiring vast amounts of resources such as petroleum and water. The energy-intensive manufacturing process releases greenhouse gases, contributing to climate change.
Single-use mentality: Plastic bottles are predominantly used as single-use items, often ending up in landfills or littering our oceans and landscapes. This throwaway mentality poses a significant threat to the environment.
Slow decomposition: Plastic bottles can take hundreds of years to fully decompose, further exacerbating the issue. As they break down, they release harmful microplastics into the environment, impacting ecosystems and wildlife.
Microplastic pollution: Microplastics, tiny particles of plastic less than 5 millimeters in size, have become a pervasive problem in our environment. Plastic bottles contribute to this pollution through their fragmentation.
Contamination risks: Chemicals present in plastic bottles can leach into the contents, particularly when exposed to heat or sunlight. These chemicals, such as bpa and phthalates, have the potential to disrupt hormones and pose health risks to humans and animals.
Limited recycling rates: While recycling can mitigate some of the environmental impact, plastic bottle recycling rates remain disappointingly low. Many bottles are not properly recycled, ending up in landfills or incinerators instead.
Transportation emissions: The production and transportation of plastic bottles rely heavily on fossil fuels, resulting in significant carbon emissions. This adds to the overall carbon footprint associated with plastic bottle consumption.
Plastic bottles may seem like a convenient choice, but their environmental consequences are substantial. It is crucial for us to reevaluate our dependence on these single-use items and explore more sustainable alternatives.
By reducing our consumption, recycling properly, and opting for reusable containers, we can contribute to a greener future and mitigate the detrimental effects of plastic bottle pollution.
Biodegradability And Plastic Water Bottles
When it comes to environmental concerns, the biodegradability of plastic water bottles is a hot topic. Plastic pollution has become a key issue, and many people are wondering whether plastic bottles can break down naturally.
Understanding The Concept Of Biodegradability
Biodegradability refers to the ability of a material to break down naturally and be absorbed by the environment without leaving any harmful residue behind.
Plastic water bottles are typically made from a type of plastic called polyethylene terephthalate (pet), which is known to be resistant to biodegradation.
Biodegradation occurs when microorganisms, such as bacteria or fungi, break down the molecular structure of a material, converting it into simpler substances.
Explaining The Factors That Affect Biodegradation
The biodegradation process is influenced by various factors, including temperature, humidity, oxygen availability, and the presence of microorganisms.
In a favorable environment with optimal conditions, biodegradation can occur more rapidly.
However, certain factors, such as low temperatures and limited microbial activity, can significantly slow down the biodegradation process.
Is A Plastic Water Bottle Biodegradable In A Natural Environment?
Plastic water bottles made from pet can take hundreds of years to degrade in a natural environment.
The slow degradation rate of plastic bottles raises concerns about their impact on ecosystems and the environment.
While plastic bottles may break down into smaller pieces over time due to exposure to sunlight and other factors, they do not biodegrade fully.
These fragmented plastic pieces, known as microplastics, can persist in the environment for extended periods and have detrimental effects on wildlife and ecosystems.
Plastic water bottles made from pet are not biodegradable in a natural environment. Their slow degradation rate and the accumulation of microplastics pose significant environmental challenges.
It is crucial to explore alternative solutions, such as using biodegradable materials or promoting the use of reusable bottles, to minimize the environmental impact of plastic waste.
The Biodegradability Of Different Plastic Types
Plastic water bottles have become a common sight in our daily lives, but their impact on the environment has raised concerns. One key question often asked is whether plastic water bottles are biodegradable.
So, let's explore the different plastic types and analyze their biodegradability.
Differentiating Between Various Types Of Plastic Bottles
Plastic bottles are manufactured using different types of plastic polymers. Understanding the specific plastic type is essential when considering their biodegradability.
Here are the key points to distinguish between various types of plastic bottles:
Pet (polyethylene terephthalate): Commonly used for water bottles, soda bottles, and food packaging.
Hdpe (high-density polyethylene): Often found in milk jugs, detergent bottles, and some water bottles.
Pvc (polyvinyl chloride): Used in plumbing pipes, medical tubing, and certain plastic bottles.
Analyzing The Biodegradability Of Pet Bottles
Pet bottles have garnered attention due to their widespread use and concerns about their environmental impact.
Here are the key points to understand the biodegradability of pet bottles:
Pet bottles are not easily biodegradable. The process to naturally break down pet bottles can take hundreds of years.
When exposed to sunlight, heat, and water, pet bottles may photodegrade and become fragmented into smaller pieces called microplastics.
While pet bottles may not biodegrade quickly, they can be recycled. Recycling pet bottles reduces their environmental impact and promotes resource conservation.
Exploring The Challenges Of Biodegrading Hdpe And Pvc Bottles
Compared to pet bottles, hdpe and pvc bottles have different challenges when it comes to biodegradability.
Here are the key points to consider about hdpe and pvc bottles:
Hdpe bottles have a higher likelihood of being recycled compared to other plastic types. Recycling hdpe bottles not only reduces waste but also helps conserve resources.
Pvc bottles, on the other hand, present greater challenges. The additives used during pvc production hinder biodegradability, making it a less environmentally friendly option.
While efforts are being made to develop more sustainable alternatives, the biodegradation of pvc bottles remains a complex issue that requires further research and innovation.
By understanding the characteristics of different plastic types, we can make more informed choices when it comes to choosing biodegradable alternatives or properly recycling plastic bottles.
The key takeaway is that pet bottles, despite being widely used, are not biodegradable and require recycling for environmental sustainability.
Hdpe bottles have better recycling rates, while pvc bottles pose greater challenges due to their manufacturing processes.
Together, let's strive for a future where plastic waste is minimized, and more eco-friendly options are available.
The Role Of Recycling In Plastic Bottle Biodegradability
Plastic water bottles have become a ubiquitous part of modern life, but there is growing concern about their impact on the environment.
Biodegradability is a key factor to consider when evaluating the sustainability of these bottles. While plastic water bottles are not naturally biodegradable, recycling plays a crucial role in mitigating their harm to the environment.
The Importance Of Recycling In Reducing Environmental Impact:
Recycling plastic bottles reduces the amount of waste sent to landfills and incinerators.
It conserves natural resources by minimizing the need for raw materials in the production of new bottles.
By decreasing the demand for new plastic, recycling also helps reduce greenhouse gas emissions associated with plastic production.
Recycling promotes circularity, allowing materials to be reused and reducing the consumption of finite resources.
Examining The Benefits And Limitations Of Plastic Bottle Recycling:
Recycling plastic bottles greatly reduces energy consumption compared to producing new bottles from virgin materials.
It saves water resources as recycling processes typically utilize less water compared to extracting and processing raw materials.
However, recycling plastic bottles comes with certain limitations. Contamination in the recycling stream can decrease the quality of recycled plastics and limit their suitability for certain applications.
Limited consumer awareness and lack of convenient recycling options may also hinder widespread recycling efforts.
How Recycling Can Help Mitigate The Biodegradability Issue:
By diverting plastic bottles from landfill or incineration, recycling extends their lifespan and prevents further pollution.
Recycling allows plastic bottles to be transformed into new products, reducing the need for virgin materials and minimizing the use of fossil fuels.
Proper recycling practices reduce the likelihood of plastic bottles entering natural ecosystems, where they can take hundreds of years to decompose.
Recycling also decreases the demand for new plastic production, which in turn curtails the depletion of finite resources.
Recycling plays a crucial role in addressing the biodegradability issue presented by plastic water bottles. By reducing waste, conserving resources, and promoting circularity, recycling offers a sustainable solution to lessen the environmental impact of these bottles.
It is imperative that we prioritize recycling efforts and work towards creating a culture of responsible waste management to protect our planet for future generations.
Alternatives To Plastic Water Bottles
When it comes to finding sustainable alternatives to single-use plastic bottles, there are several options available that can help reduce our environmental impact.
Here are some key points to consider:
Reusable bottles: Investing in a reusable water bottle is not only cost-effective but also highly beneficial for the environment. Here's why:
Reduction in waste: By using a reusable bottle, we can significantly minimize the amount of plastic waste generated from disposable water bottles.
Eco-friendly materials: Many reusable bottles are made from materials such as stainless steel, glass, or bpa-free plastic, which are more sustainable choices compared to traditional plastic bottles.
Longevity: Reusable bottles are designed to be durable and long-lasting, reducing the need for constant replacements.
Benefits of reusable bottles:
Cost savings: Buying bottled water can quickly add up, while using a reusable bottle allows us to refill it with tap water or filtered water, saving money in the long run.
Convenience: With reusable bottles, we can quench our thirst anytime and anywhere, without the need to constantly purchase or dispose of plastic bottles.
Healthier choice: Unlike some plastic bottles that may contain harmful chemicals, reusable bottles made from safe materials ensure that our drinking water remains uncontaminated.
Examining The Future Of Eco-Friendly Packaging Options
As the awareness of plastic pollution grows, companies are actively exploring eco-friendly packaging alternatives.
Here are some developments to keep an eye on:
Biodegradable bottles: Researchers are working on creating biodegradable water bottles that can break down naturally without harming the environment. These bottles are made from materials like plant-based plastics or algae extracts, offering a promising solution to the plastic waste problem.
Compostable packaging: Compostable water bottles are designed to be broken down through composting. Made from organic materials such as cornstarch or sugarcane, these bottles can be disposed of in industrial composting facilities, reducing the strain on landfills.
Innovative materials: Scientists are continuously researching and experimenting with various materials to create sustainable packaging options. From seaweed-based bioplastics to mushroom packaging, these innovative alternatives show great potential for reducing our reliance on traditional plastic bottles.
The shift towards eco-friendly packaging options is an exciting step in the right direction. By embracing reusable bottles and supporting innovative solutions, we can collectively make a positive impact on our planet's health.
So, let's raise our reusable bottles and toast to a greener future!
FAQ About A Plastic Water Bottle is Biodegradable
Is A Plastic Water Bottle Biodegradable?
No, plastic water bottles are not biodegradable and can take hundreds of years to decompose in the environment.
What Happens To A Plastic Water Bottle After I Throw It Away?
After you throw away a plastic water bottle, it can end up in landfills, oceans, or be incinerated, contributing to pollution and environmental damage.
Can I Recycle A Plastic Water Bottle?
Yes, plastic water bottles can typically be recycled, but it's important to check with your local recycling guidelines to ensure proper disposal.
Why Should I Avoid Using Plastic Water Bottles?
By avoiding plastic water bottles, you can help reduce the amount of plastic waste, protect the environment, and promote sustainable alternatives.
Conclusion
The question of whether plastic water bottles are biodegradable has significant implications for the environment and our own health.
While some plastic bottles claim to be biodegradable, thorough research reveals that most conventional plastic bottles do not easily break down in the environment.
The use of additives and the characteristics of plastic itself make it a challenge for these bottles to fully degrade. As a result, they contribute to the growing problem of plastic pollution in our oceans, landfills, and wildlife.
To address this issue, it is crucial to opt for alternative options such as reusable water bottles made from materials like glass or stainless steel.
Additionally, reducing overall plastic consumption and increasing recycling efforts are important steps towards mitigating the impact of plastic bottle waste.
Ultimately, our collective actions can make a significant difference in preserving the planet for future generations.