Make Your Own Photo Water Bottle
Water bottles are a dime a dozen, but a custom water bottle with your own photo is priceless. Whether youre looking for a gift for a loved one or want to treat yourself, making your own photo water bottle is easy and fun. Plus, its a great way to stay hydrated and show off your personality at the same time.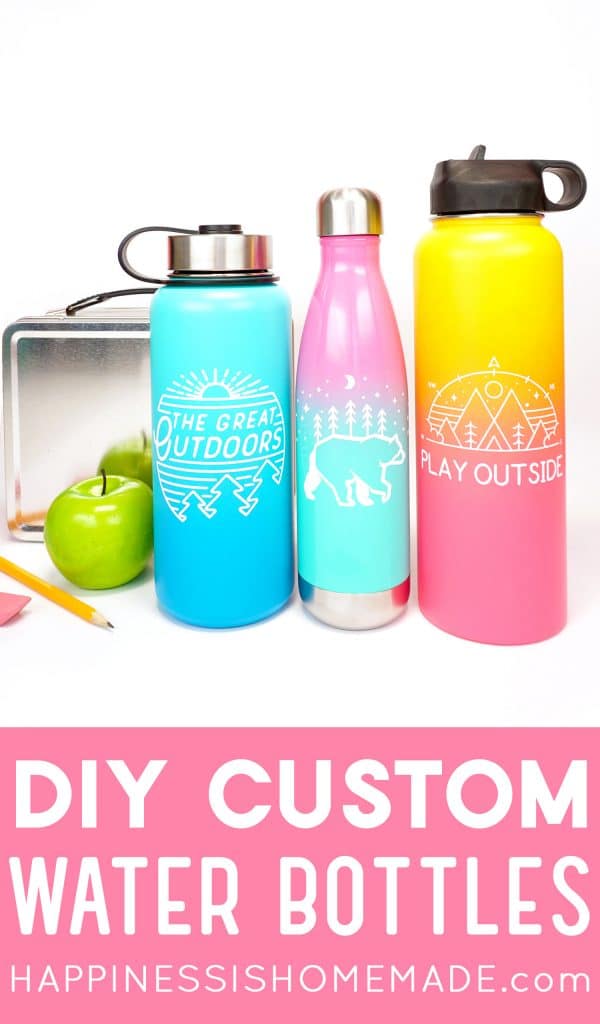 Do you love taking photos? Do you love staying hydrated? Well, now you can combine those two loves with a DIY photo water bottle!

With this easy project, you'll be able to create a one-of-a-kind water bottle that features your favorite photos. All you need is a clear water bottle, some clear tape, and your favorite photos printed out on regular paper. Start by cutting your photos into strips that will fit around the circumference of the water bottle.

Then, use the clear tape to attach the strips of photo paper to the outside of the bottle. Make sure that the seams are well sealed so that no leaks occur. And that's it!

You now have a personalized water bottle that will help you stay hydrated and also showcase your favorite memories.
How Do You Print a Picture on a Water Bottle?
It's easy to print a picture on a water bottle! All you need is a printer and some clear tape. First, find a picture that you want to print on your water bottle.

Then, resize the picture to fit the width of your water bottle. Next, print the picture onto a sheet of clear tape. Be sure to leave enough room around the edges of the picture so that it can be wrapped around the curve of the water bottle.

Now, carefully wrap the printed tape around your water bottle, making sure that the picture is centered and there are no air bubbles. Once you're happy with how it looks, use a hair dryer to heat up the edges of the tape so that they seal onto the glass. That's it!

You now have a custom-printed water bottle that's perfect for taking on hikes, to the gym, or anywhere else you go!
How Do You Print Water Bottles at Home?
If you want to print water bottles at home, you'll need to invest in a quality printer and some special paper. Water-resistant labels are available from most office supply stores. You'll also need to make sure your printing environment is clean and free of dust, as even the smallest particle can ruin a print job.

To begin, set up your printer according to the manufacturer's instructions and load the labels into the feed tray. If you're using an inkjet printer, it's important to use a high-quality setting; otherwise, the ink may run or smear when it comes into contact with water. Selecting a glossy paper setting will also help ensure that your labels come out looking their best.
Once you've loaded the labels and chosen your settings, it's time to start printing! Begin by printing a test page on plain paper first, just to make sure everything is aligned correctly. Then, print your labels one at a time onto the adhesive side of the label sheet.
Make sure to handle them carefully so that they don't smudge or tear. After all of your labels have been printed, it's time to affix them to your water bottles! Be careful not to touch the adhesive surface of the label while you're aligning it on the bottle; even fingerprints can cause problems with adhesion.
Once all of your bottles are labeled, screw on their caps tightly and store them in a cool, dark place until you're ready to enjoy refreshingly printed water!
How Do You Make Personalized Water Bottle Labels?
Personalized water bottle labels can be made at home with a few simple supplies. You will need: -A printer

-Waterproof labels (you can find these at most office supply stores) -Scissors -A pen or marker

First, decide what you want your label to say. You can use a simple phrase like "Stay hydrated!" or get creative and write something more personal. Once you have your text ready, print it out on the waterproof labels.

Cut out each label, then peel off the backing and stick it to your water bottle. Use the pen or marker to write the name of the recipient on each label, if desired. That's it!

Your personalized water bottles are ready to enjoy!
How Do You Make Water Bottles?
Water bottles are made from a variety of materials, but the most common is polyethylene terephthalate (PET). PET is a strong, lightweight plastic that is clear and colorless. It is also shatter-resistant and has good heat resistance.

To make a water bottle, manufacturers start with a large sheet of PET. The sheet is then cut into smaller pieces that will eventually be formed into the shape of a water bottle. These pieces are placed into a mold that gives the water bottle its shape.

Once the mold is filled, it is heated to around 400 degrees Fahrenheit. This causes the PET to soften and take on the shape of the mold. After cooling, the water bottle can be removed from the mold and any excess material trimmed away.
The final step in making a water bottle is to add any desired features, such as a screw-on cap or spout.
Photo Water Bottle With Straw
We all know how important it is to stay hydrated, especially when participating in physical activity. Unfortunately, lugging around a water bottle can be cumbersome and inconvenient. This is where the photo water bottle with straw comes in!

This innovative water bottle allows you to easily carry your water with you while also providing a fun way to personalize your bottle. The photo water bottle with straw features a built-in straw that makes it easy to drink on the go. Simply add your favorite photo to the front of the bottle and enjoy!

The clear design also allows you to see how much water you have left so you can avoid being caught thirsty. Whether you're headed to the gym or taking a hike, this water bottle is a great choice for staying hydrated on the go.
Create Your Own Plastic Water Bottle
Most of us are guilty of it. We buy a water bottle, use it for a few weeks or months, and then toss it in the trash when we're done. But what if there was a way to recycle those water bottles and create something new out of them?

Enter the world of plastic water bottle recycling! By recycling your used water bottles, you can create all sorts of new items, from coasters to plant pots. Not only is this a great way to reduce your carbon footprint, but it's also a fun DIY project that'll keep you busy for hours on end.

Here's everything you need to know about recycling plastic water bottles into new and exciting creations: What You Need: -A used plastic water bottle (or two!)

-A pair of scissors -A hot glue gun & glue sticks
Insulated Photo Water Bottle
When you're out on a long hike or spending a day at the beach, it's important to stay hydrated. But sometimes carrying a heavy water bottle can be a pain. That's where an insulated photo water bottle comes in handy!

An insulated photo water bottle is a great way to keep your water cold (or hot) while also carrying around some of your favorite memories. These bottles usually have a double-wall construction and are made from stainless steel or another type of metal. Some even come with a built-in carabiner, so you can easily clip it onto your backpack.

Most importantly, an insulated photo water bottle is perfect for keeping those precious photos safe and dry. Just upload your favorite pics onto the included SD card and insert it into the slot on the side of the bottle. Now you can have your friends and family with you no matter where you go!
Photo Collage Water Bottle
A photo collage water bottle is a great way to show off your personality and style. They are perfect for carrying around your favorite photos, and they make a great gift for friends and family. Here are some tips on how to choose the perfect photo collage water bottle for you:

1. Decide what size you want. Photo collage water bottles come in all different sizes, so it's important to pick one that will fit everything you want to put inside of it. If you're only planning on carrying a few pictures, then a small or medium sized bottle will suffice.

But if you want to fill it up with tons of pictures, then you'll need to get a large sized bottle. 2. Choose the right material. Photo collage water bottles are usually made from either glass or plastic.

If you're looking for something that's durable and won't break easily, then glass is the way to go. However, if you're worried about the weight of the bottle, then plastic might be a better option for you. 3. Pick a design that fits your personality.

There are all sorts of different designs available for photo collage water bottles. So take some time to browse through all of the options until you find one that really speaks to you personally. Whether you want something funky and fun or sleek and sophisticated, there's definitely a design out there that's perfect for you.

4 . Don't forget about the lid!
Conclusion
Looking to add a personal touch to your water bottle? Making your own photo water bottle is easy, and only requires a few materials. All you need is a water bottle with a wide mouth, some clear packing tape, and a printed photo.

First, clean the surface of the water bottle where you'll be applying the photo. Cut the photo to size, then center it on the packing tape. Apply the packing tape/photo combo to the water bottle, then trim away any excess tape.

Your new custom water bottle is now ready to use!