Rabbit Water Bottle Vs Bowl: Which One Better!
When choosing between a rabbit water bottle and a bowl, the water bottle is often considered the safer, cleaner and more hygienic choice.
However, some rabbits might prefer drinking from a bowl. It's important to try both options and see what your rabbit prefers.
Rabbits may have a preference when it comes to the way they drink water. A water bottle ensures the water stays clean and free from contamination.
On the other hand, a water bowl can be easier for a rabbit to drink from and it's more similar to how they would drink in nature. However, water in bowls can be easily contaminated with food, fur or droppings.
Water Bottles are often cleaner and safer. They prevent water from contamination and prevent spillages, keeping the rabbit's cage cleaner.
Water Bowls provide a more natural way of drinking for rabbits, similar to how they would drink in the wild.
Choice ultimately depends on the rabbit's preference. Some rabbits might struggle to use a water bottle and prefer a bowl, or vice versa.
Trial and Error is the best way to determine what your rabbit prefers. Offer both options and observe which one your rabbit uses more often.
While both options have their pros and cons, it often comes down to the preference of the rabbit. Some rabbits find bottles difficult to use, while others might not like the taste of plastic.
\It might take a bit of trial and error to find out what works best for your rabbit. In the end, the most important thing is to ensure your rabbit is staying hydrated.
Comparison of Rabbit Water Bottles and Bowls
| Aspect | Rabbit Water Bottle | Rabbit Water Bowl |
| --- | --- | --- |
| Ease of Use | May be difficult for some rabbits. | Easy for all rabbits to use. |
| Hygiene | Stays cleaner for longer. | Can get dirty quickly. |
| Risk of Spillage | Low risk of water spillage. | High risk of water spillage. |
| Water Supply | Constant, but small amounts at a time. | Large amount available all at once. |
| Maintenance | Requires regular checks for blockages. | Requires daily cleaning and refilling. |
| Training Required | Some rabbits may need training to use it. | No training required. |
Comparison of Rabbit Water Bottles and Bowls
Key Takeaway
Rabbit water bowls are generally more natural and comfortable for rabbits to use but can easily be soiled with bedding and feces.
Water bottles, although more practical and clean, can often leak causing a mess in the cage and can be harder for the rabbit to use.
Proper sanitation of both the bowl and bottle is crucial to prevent any bacterial build-up.
Regardless of the type of water dispenser used, it is important to regularly check that it is functioning properly to ensure that the rabbit is getting enough water.
Both bowls and bottles have their own advantages and disadvantages, the choice will ultimately depend on the rabbit's personal preference and the owner's willingness to maintain cleanliness.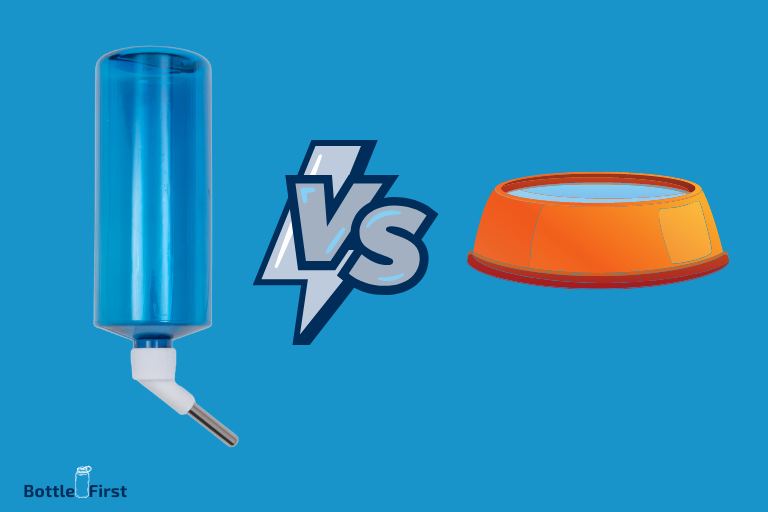 Five Facts About Rabbit Water Bottle Vs Bowl
Using both a water bottle and a bowl can often be a good option, providing the rabbit with a choice while ensuring they always have access to clean water.
Rabbits need constant access to fresh water as they consume a large amount on a daily basis to digest their high-fiber diet.
Water bottles are considered to be the most hygienic way to provide your rabbit with water. They are easy to refill and its content stays clean for longer periods (source: Rabbit Care Tips).
Some vets prefer bowls because rabbits drink more out of them, which is crucial for their kidney health. But owners need to clean them possibly twice a day if the rabbit steps or defecates in it (source: House Rabbit Society).
If using a water bottle, it is best to opt for a glass bottle over a plastic one. Glass bottles are heavier, less likely to leak, and are much more durable than plastic ones. They also don't allow algae growth as a plastic bottle does (source: Rabbit Care Tips).
Advantages Of Rabbit Water Bottles
Providing your rabbit with a consistent and clean water source is essential for their health and well-being.
While there are various options available, such as bowls, rabbit water bottles offer several distinct advantages that make them a preferred choice for many rabbit owners.
Let's explore these advantages in detail:
Convenient And Mess-Free Water Access:
Easy to use: Rabbit water bottles are designed with a convenient sipper tube that allows your bunny to access water whenever they need it. Simply fill the bottle, attach it to the cage, and your rabbit can drink at their convenience.
Reduced spillage: Unlike bowls that can be easily tipped over, water bottles are less prone to accidents, ensuring that your rabbit always has access to hydration, without creating a mess in their enclosure.
Accessibility from various angles: Rabbits can easily access the water bottle from different positions since it can be attached to the side of the cage at an appropriate height. This feature allows bunnies of all sizes and ages to reach the water without straining themselves.
Control Over Water Consumption:
Measure water intake: Rabbit water bottles come in different sizes, allowing you to measure the amount of water your bunny drinks. This helps in monitoring their hydration levels, especially if they have specific health concerns that require close water management.
Hygienic monitoring: Since water bottles are transparent, you can easily observe the water's clarity and cleanliness, ensuring that your furry friend is always drinking from a pristine source. This control over the water quality tremendously benefits your rabbit's overall well-being.
Prevention Of Contamination And Water Waste:
Reduced risk of contamination: Unlike open water bowls, rabbit water bottles provide a sealed environment for the water, minimizing the chances of contamination by droppings, hay, or other debris. This keeps the water fresh and free of potential bacteria, preventing waterborne health issues.
Minimized water waste: Bowls tend to get easily soiled as rabbits tend to scatter bedding or drop food into their water source. Rabbit water bottles, on the other hand, reduce water waste significantly since the water remains enclosed and untouched by external factors.
By opting for a rabbit water bottle, you ensure that your furry companion has a convenient, controlled, and uncontaminated water supply.
From easy accessibility to the prevention of water wastage and contamination, these advantages make it clear why rabbit water bottles are an excellent choice for your bunny's hydration needs.
Keep your rabbit healthy and hydrated with the help of a reliable water bottle tailored to their specific requirements.
Benefits Of Rabbit Water Bowls
Rabbits need access to clean, fresh water at all times to maintain their health and well-being.
While some rabbit owners opt for water bottles, others choose water bowls as the preferred method of providing hydration. There are several benefits of using rabbit water bowls over water bottles, including:
Natural Drinking Behavior Encouragement
Rabbit water bowls promote a natural drinking behavior for your furry friend. Rabbits are designed to drink water from a surface rather than having to lick a spout or ball bearing.
By providing a water bowl, you allow your rabbit to express their natural behavior, which can contribute to a happier and more contented pet.
Water bowls mimic the experience of drinking from puddles or lakes in nature, encouraging a more natural behavior.
Rabbits may find it easier to drink from a bowl, as they can lap up the water as they would in the wild.
It can also encourage rabbits to drink more water, keeping them properly hydrated and reducing the risk of urinary tract problems.
Easy Monitoring Of Water Intake
Using a rabbit water bowl allows for easy monitoring of your bunny's water intake. Unlike water bottles, which can sometimes be difficult to gauge how much your rabbit is drinking, water bowls provide a visible measure of their consumption.
This can be particularly important if you have a rabbit with health issues or specific hydration requirements.
You can easily check the water level in the bowl at a glance, ensuring your rabbit has access to enough water throughout the day.
Monitoring water intake is crucial for rabbits on medication or with specific dietary needs, as it helps ensure they are receiving the necessary hydration.
It also allows you to take note of any changes in your rabbit's drinking habits, which could be indicative of an underlying health issue.
Suitable For Rabbits With Dental Issues
Rabbit water bowls are an ideal choice for rabbits with dental issues. Some rabbits may suffer from dental problems that make it challenging for them to use water bottles effectively.
By using a water bowl, you can ensure that your rabbit can access water without difficulty, even if they have dental concerns.
Water bowls eliminate the need for rabbits to apply excessive pressure on their incisors, which can be problematic for those with dental issues.
The smooth rim of a water bowl is gentle on a rabbit's sensitive mouth, making it easier for them to drink comfortably.
This option ensures that even rabbits with dental difficulties can adequately hydrate themselves, promoting their overall health and well-being.
Using a rabbit water bowl offers several benefits, including promoting natural drinking behavior, easy monitoring of water intake, and catering to rabbits with dental issues.
By choosing the right water dispenser for your rabbit, you can contribute to their happiness, comfort, and long-term health.
Considerations For Choosing The Right Water Source
Rabbit Water Bottle Vs Bowl
Rabbits require a constant supply of clean and fresh water to stay hydrated and maintain their overall health.
When it comes to providing water for your furry friend, you may be wondering whether a water bottle or a bowl is the better option.
Let's explore the considerations for choosing the right water source for your rabbit.
Rabbit'S Age, Size, And Activity Level
Young rabbits: For baby rabbits, a water bottle is usually the preferred option as it keeps the water clean and prevents them from accidentally knocking over a bowl.
Adult rabbits: Adult rabbits can use either a water bottle or a bowl, depending on their preference and behavior.
Size and activity level: Rabbits that are more active or larger in size may benefit from a water bowl, as it allows them to drink more freely and encourages them to stay hydrated.
Health Conditions And Special Requirements
Dental issues: Rabbits with dental problems may find it easier to drink from a bowl, as it requires less effort and strain on their teeth.
Arthritis or mobility issues: If your rabbit struggles with movement or has arthritis, a water bottle placed at a comfortable height may be more convenient for them to access.
Special requirements: Some rabbits may have specific needs or medical conditions that require a certain water source. Consult with your veterinarian for personalized recommendations.
Behavioral Preferences And Ease Of Training
Behavioral preferences: Some rabbits may have a preference for either a water bottle or a bowl. Observe your rabbit's behavior to determine which option they gravitate towards.
Training: Training a rabbit to use a water bottle can be easier for some individuals, while others may resist or have difficulty adapting. Bowls are generally easier for rabbits to use without training.
Remember, regardless of which water source you choose, regular cleaning and refilling are essential to ensure your rabbit always has access to clean and fresh water.
Observing your rabbit's behavior and considering their unique needs will help you make an informed decision on whether a water bottle or a bowl is the right choice.
Is a Zojirushi or Tiger Water Bottle Better for Rabbits?
When it comes to choosing a water bottle for rabbits, the debate of zojirushi vs tiger water bottle arises. Both brands offer reliable options, but the ultimate choice depends on your preferences. Some rabbit owners swear by the durability and insulation of a Zojirushi, while others find Tiger water bottles more convenient to clean and refill. Consider your rabbit's specific needs and your own preferences before making a decision.
FAQ About Rabbit Water Bottle Vs Bowl
Is A Rabbit Water Bottle Or Bowl Better For My Pet?
Water bottles are better for rabbits as they keep the water clean and prevent spillage.
How Often Should I Clean My Rabbit'S Water Bottle?
Clean the water bottle at least once a week to ensure your rabbit has fresh and hygienic water.
Can Rabbits Drink From A Water Bowl?
Rabbits can drink from a water bowl, but it may get dirty quickly and lead to bacterial growth.
Are Water Bottles More Hygienic Than Water Bowls For Rabbits?
Water bottles are more hygienic as they prevent contamination and minimize the risk of water-related illnesses.
What Are The Advantages Of Using A Rabbit Water Bottle?
A rabbit water bottle provides a continuous supply of clean water, is easy to monitor, and reduces the risk of spills.
Conclusion
To summarize, choosing between a rabbit water bottle and a bowl ultimately depends on your rabbit's individual needs and preferences.
Water bottles offer a convenient and hygienic solution, preventing any potential contamination and allowing for easy monitoring of water intake.
They are particularly suitable for rabbits that enjoy spending time outdoors or have a tendency to spill water.
On the other hand, bowls mimic a more natural drinking experience for rabbits, enabling them to drink in the same way they would in the wild.
This can be especially beneficial for young rabbits or those with dental issues. When deciding, it's important to consider factors like the rabbit's behavior, health, and living environment. Ultimately, the well-being and hydration of your furry friend should be the top priority.
Regularly cleaning and inspecting whichever option you choose is essential to ensure a constant supply of fresh, clean water.