Should I Bring a Water Bottle to Disney? Yes!
Yes, it is highly recommended to bring a water bottle to Disney to stay hydrated during your visit.
Disney Parks allow visitors to bring their own water bottles and there are numerous water fountains available for refilling them throughout the park.
Disney parks are big and involve a lot of walking and outdoor activities. This can lead to dehydration, especially during the warm months.
That's why it's essential to have a water bottle handy to sip from periodically. Not only does it keep you hydrated, but it also helps save money as water bottles sold in the park can be expensive.
A reusable water bottle is environmentally friendly than the single-use bottles.
Disney Parks have many water fountains available for refilling your bottles.
It helps you save money that you would spend on buying a water bottle from the park.
Staying hydrated prevents fatigue and keeps you energetic throughout your visit.
Bringing your own water bottle to Disney Parks is a wise decision. It addresses the need for constant hydration during your busy, active day at the park.
Plus, it's an eco-friendly choice and a money-saving strategy. Remember to refill your bottle at the numerous water fountains available throughout the park.
This way, you'll have a ready supply of water without shelling out extra money for it.
Pros and Cons: Bringing a Water Bottle to Disney
| Pros | Cons |
| --- | --- |
| You'll always stay hydrated | You have to carry it all the time |
| Saves money on drinks | It can be lost or forgotten |
| Reduces plastic waste | Not all attractions may allow it |
| Can refill it at water fountains and restaurants | Takes up space in your bag |
| No worries about needing to find a drink vendor | If it's not insulated, the water can get warm quickly |
| Allows you to have a personal, clean drinking source | Filling it up can require time away from fun activities |
Pros and Cons: Bringing a Water Bottle to Disney
Key Takeaway
Bringing a water bottle to Disney can be extremely beneficial as it can keep you hydrated throughout the day and can also help you save money.
Reusing a water bottle is a more sustainable practice than constantly buying and disposing of plastic bottles, aiding in environmental sustainability.
Many places in Disney offer free water fill-ups, which can be convenient for visitors with their own water bottle.
Having your own water bottle at Disney can be essential in hot summer months to prevent dehydration.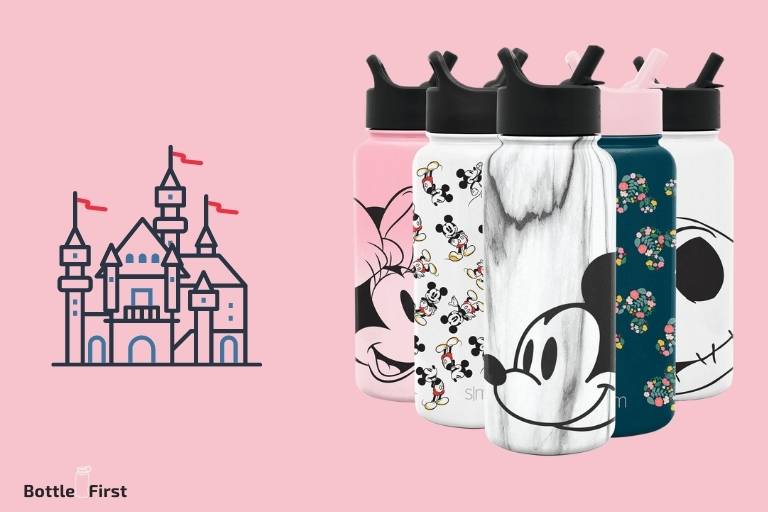 Five Facts About to Bring A Water Bottle To Disney
Disney parks allow guests to bring food items and drinking bottles into their parks, making it possible for you to have your water bottle. (source: Disney parks blog)
Disney provides complimentary cups of ice water at any of their quick service locations throughout the park which can be used to fill up your water bottle. (source: Disney parks blog)
Disney also has numerous water fountains throughout its parks where visitors can conveniently refill their water bottles. (source: Disney parks FAQ)
Having your own water bottle can cut down costs as buying bottled water at Disney can be notably expensive. A single bottle of water at Disney World costs around $3.50. (source: Walt Disney World Menus)
Keeping a refillable water bottle can help in reducing the use of single-use plastic bottles, aligning with Disney's commitment towards reducing its environmental footprint. (source: Disney Corporate Social Responsibility Report)
Why Bringing A Water Bottle Is Essential
Stay Hydrated Throughout The Day
Avoid dehydration: With the florida heat and the excitement of the park, it's easy to forget to drink enough water. By having a water bottle with you, you can continually sip on water throughout the day and avoid the nasty effects of dehydration.
Beat the long lines: Waiting in long lines at disney can be exhausting, especially if the sun is beaming down on you. Having your own water bottle ensures that you can stay refreshed and hydrated while waiting, making the experience more comfortable.
Save money: Buying bottled water at amusement parks can quickly add up, especially for a family. By bringing your own water bottle, you can save money on expensive beverages and use it to enjoy other treats or souvenirs instead.
Convenient refills: Disney parks provide water fountains and refill stations throughout the park, making it easy for you to fill up your water bottle whenever it's empty. This convenience allows you to stay hydrated without having to constantly purchase bottled water.
Eco-friendly choice: By bringing your own water bottle, you're also making an eco-friendly choice. Avoiding single-use plastic bottles helps reduce waste and contributes to a cleaner environment.
Stay energized: Hydrating throughout the day keeps your body functioning optimally, allowing you to stay energized and make the most of your disney adventure. Don't let dehydration dampen your spirits – stay refreshed and ready for all the magical experiences.
The Benefits Of Bringing Your Own Water Bottle
Easy Access To Water
No need to wait in long lines at water fountains when you have your own water bottle. Stay hydrated on-the-go and save time in the process.
Bottled water at disney can be quite expensive, so having your own water bottle allows you to avoid the high costs and stay refreshed throughout the day.
You can refill your water bottle at various drink stations and restaurants throughout the parks. There are even designated refill stations specifically for water bottles, making it quick and convenient.
Environmentally Friendly
By bringing your own water bottle, you're helping to reduce plastic waste in the parks. Disposable water bottles contribute to a significant amount of environmental pollution, so opting for a reusable option is a more sustainable choice.
Disney has implemented initiatives to promote environmental sustainability, and bringing your own water bottle aligns perfectly with these efforts. Play your part in conserving resources and minimizing waste during your visit.
Avoid Long Lines And Crowded Water Fountains
During peak travel times, the water fountains at disney can become quite crowded, leading to long queues just to fill up your water bottle. By bringing your own, you can skip these lines and have access to water whenever you need it.
With a water bottle in hand, you won't have to worry about searching for a drinking fountain or water station. This means more time to enjoy the attractions and less time spent waiting in line.
What Type Of Water Bottle Should I Bring?
Durable And Leak-Proof Features
Opt for a water bottle made of high-quality materials that can withstand the rigors of a disney adventure.
Look for a bottle that has a secure and reliable lid to prevent any leakage.
Consider a water bottle with a durable construction, such as stainless steel or bpa-free plastic, to ensure it can handle any accidental drops or bumps.
Insulated For Keeping Water Cold
Choose an insulated water bottle to keep your water refreshingly cold throughout the day.
Look for bottles with double-wall vacuum insulation, which can maintain the temperature of your drink for hours.
Insulated water bottles also prevent condensation from forming on the outside, keeping your bag dry and mess-free.
Lightweight And Easy To Carry
Select a water bottle that is lightweight and easy to carry around the park.
Consider bottles with a slim and sleek design, making them easy to slide into backpack pockets or drink holders.
Look for bottles with a convenient carrying handle or strap, allowing for hands-free transportation.
Tips For Using Your Water Bottle At Disney
Refill Stations Locations
Familiarize yourself with the locations of refill stations throughout the park. These stations are conveniently placed and can be found near restrooms, dining areas, and attractions. Keep an eye out for signs indicating their presence.
Refill stations can be found in all the disney parks, including magic kingdom, epcot, disney's hollywood studios, and disney's animal kingdom. Make note of their locations before you begin your day to make refilling a breeze.
Some refill stations have a traditional water fountain setup, while others may have high-tech filling stations that allow you to refill your bottle quickly. Take advantage of these locations whenever you find yourself running low on water.
Proper Cleaning And Maintenance
Keep your water bottle clean by washing it regularly. Using a bottle brush or some warm soapy water, scrub the inside of your bottle to remove any residue or bacteria.
Rinse your water bottle thoroughly to ensure all the soap is removed before refilling it. This will keep your water fresh and free from any soapy aftertaste.
If you're on an extended disney vacation, consider packing a travel-sized bottle of dish soap and a small drying rack to clean and dry your water bottle each night. This will ensure you have a fresh start every day.
Stay Aware Of Park Rules And Regulations
Before you bring your water bottle to disney, make sure it adheres to park rules and regulations. Glass containers are not allowed, so opt for a durable plastic or metal bottle instead.
Take note of any restrictions on the size or capacity of your water bottle. Disney may have specific guidelines in place, so it's important to comply with these rules and avoid any inconveniences at security checkpoints.
Remember to keep your water bottle accessible, as you'll need to present it for security checks when entering the park. Storing it in an easily accessible pocket of your bag can save you time and frustration.
Final Thoughts: Don'T Forget Your Water Bottle!
Best Practices For Enjoying A Day At Disney
Plan your day: Before heading to the park, take some time to research the must-visit attractions and create a rough itinerary. This will help you make the most of your time and ensure you don't miss out on any must-see shows or rides.
Arrive early: Disney parks tend to get busier as the day goes on, so it's a good idea to arrive early to beat the crowds. This way, you'll have a better chance of experiencing shorter wait times for popular rides.
Make use of fastpasses: Fastpasses allow you to skip the regular lines for select attractions. Take advantage of this service to reduce your wait times and fit more rides into your day. Be sure to book your fastpasses in advance to secure your spot.
Take breaks: Disney parks are vast, and it's easy to get swept up in the excitement and forget to take breaks. Remember to listen to your body and take short breaks throughout the day. Sit down, relax, and recharge before continuing your adventure.
Stay hydrated: With all the walking and excitement, it's crucial to stay hydrated. Bringing a water bottle to disney is highly recommended. Not only will it save you money by avoiding the need to purchase drinks constantly, but it will also keep you refreshed and energized throughout the day. Fill up your bottle at water fountains located throughout the park.
The Importance Of Self-Care And Staying Hydrated
Avoid dehydration: Dehydration can lead to fatigue, dizziness, and even heatstroke. With the florida heat and long hours spent exploring the park, it's easy to become dehydrated if you don't drink enough water. Carrying a water bottle ensures you have access to hydration whenever you need it.
Save money: Purchasing drinks throughout the day can quickly add up and strain your budget. By bringing your own water bottle, you can save money to spend on other experiences or treats in the park.
Reduce plastic waste: Disney is conscious of its environmental impact and encourages guests to reduce single-use plastic waste. Bringing a reusable water bottle helps minimize the amount of plastic waste generated during your visit.
Keep everyone happy: Staying hydrated keeps you and your travel companions in a better mood. By avoiding dehydration and exhaustion, you'll have the energy to fully enjoy the park and make magical memories together.
FAQ About Should I Bring A Water Bottle To Disney
Is It Recommended To Bring A Water Bottle To Disney?
Bringing a water bottle to disney is highly recommended. Staying hydrated is essential in the park.
Can I Refill My Water Bottle At Disney?
Yes, disney provides water refill stations throughout the park, making it easy to fill up your water bottle.
Are There Drinking Fountains Available At Disney?
Disney has drinking fountains available where you can quench your thirst and refill your water bottle.
Are There Any Advantages To Bringing A Water Bottle To Disney?
Bringing a water bottle helps you save money and time, as you won't have to wait in line or buy expensive drinks.
Are There Any Restrictions On Bringing A Water Bottle Into Disney?
There are no restrictions on bringing a water bottle into disney, as long as it doesn't contain any prohibited substances.
Conclusion