Smartshake Vs Blender Bottle: Which is Better?
Both Smartshake and Blender Bottle are top competitors in the protein shaker bottle market.
While both offer high-quality, durable shaker bottles, the key differences between them lie in their design and functionality features.
Smartshake bottles are known for their unique storage compartments, which allow for the storage of protein powder, supplements, or snacks.
Blender Bottles, on the other hand, are famous for their patented blender ball, a wire whisk ball that ensures a lump-free shake.
Smartshake bottles come with detachable storage compartments making them multi-functional.
Blender Bottle is renowned for its blender ball that guarantees a smooth, lump-free shake.
Both Smartshake and Blender Bottle offer a variety of sizes and colors for their bottles.
Smartshake bottles are typically more expensive than Blender Bottles.
In conclusion, the choice between a Smartshake and Blender Bottle largely depends on your personal preferences and needs.
If convenience and multi-functionality are important to you, you might opt for a Smartshake.
However, if you prefer a smooth, lump-free shake, a Blender Bottle might be more suitable. Both brands promise durability, style, and functionality.
Comparing Smartshake and Blender Bottle
| Feature | Smartshake | Blender Bottle |
| --- | --- | --- |
| Material | High quality plastic | High quality plastic |
| Leak-proof seal | Yes | Yes |
| BlenderBall wire whisk | No | Yes |
| Multiple compartments | Yes | No |
| BPA and DEHP free | Yes | Yes |
| Dishwasher safe | Yes | Yes |
| Microwave safe | Yes | No |
| Freezer safe | Yes | Yes |
| Volume | Varies (500ml, 800ml, etc.) | Varies (590ml, 820ml, etc.) |
| Price | Varies | Varies |
Comparing Smartshake and Blender Bottle
Key Takeaway
Both Smartshake and Blender Bottle are designed for making protein shakes, but they have some notable differences in their features and uses.
Smartshake features multiple storage compartments which makes it uniquely suitable for individuals who also want to carry supplements, vitamins, or snacks.
Blender Bottle, on the other hand, is seen as superior for actual blending performance, often resulting in a smoother protein shake.
The choice between Smartshake and Blender Bottle often comes down to personal preference and specific needs – whether the user prioritizes blending quality or storage convenience.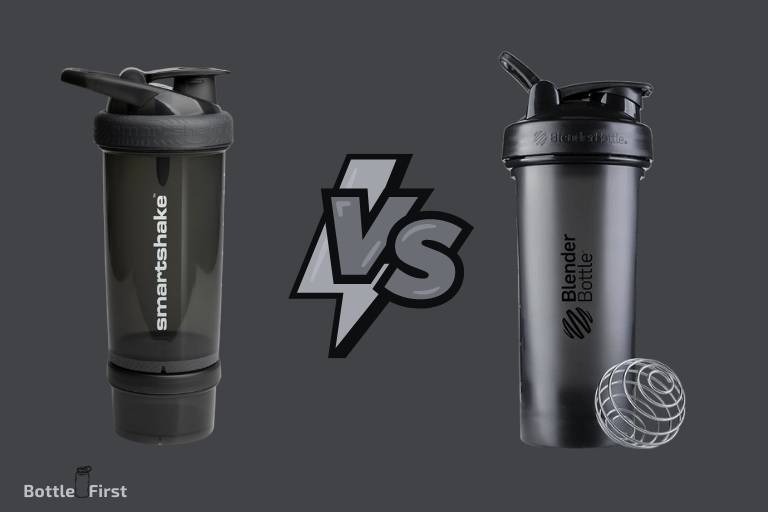 Five Facts About Smartshake and Blender Bottle
Smartshake invented the world's first shaker bottle with storage compartments, allowing users to carry protein powders, pills, or snacks in the same container where they mix their drinks. (source)
Blender Bottle is known for its patented BlenderBall wire whisk, which delivers smooth protein and nutrition shakes with ease. The BlenderBall moves freely inside the bottle as you shake, mixing the thickest ingredients with ease. (source)
Smartshake bottles are both microwave and dishwasher safe, offering more convenience for users who may like to mix warm drinks or prefer dishwasher cleaning. (source)
Blender Bottle provides a wide range of styles, sizes, and colors to suit different tastes and needs, including stainless steel bottles and insulated options for keeping drinks cold. (source)
Both Smartshake and Blender Bottle are made from BPA and Phthalate free plastics, ensuring safe drinking for users. (source, source)
Smartshake: A Versatile Shaker Bottle
If you're a fitness enthusiast looking for a reliable shaker bottle that offers more than just mixing capabilities, the smartshake is the perfect choice for you.
With its innovative design and convenient features, this versatile shaker bottle stands out amidst its competitors.
Features And Benefits Of Smartshake
Leak-proof design and secure lid:
One of the standout features of the smartshake is its leak-proof design. The secure lid ensures that you can enjoy a hassle-free shake, without worrying about any spills or leaks.
Whether you're mixing protein shakes, pre-workout drinks, or even storing snacks, this shaker bottle has got you covered.
Multiple compartments for convenient storage:
Say goodbye to carrying multiple containers for your supplements or snacks.
The smartshake comes with separate compartments that allow you to store your powders, pills, or snacks in one bottle.
Now you can have everything you need in one convenient and compact package.
Bpa-free and dishwasher safe materials:
The health-conscious fitness enthusiasts need not worry when using the smartshake. It is made from bpa-free materials, ensuring that there are no harmful chemicals leaching into your drinks.
Additionally, the bottle is dishwasher safe, making it easy to clean and maintain.
User Reviews And Satisfaction
The smartshake has garnered rave reviews from users who have experienced its versatility and quality firsthand.
Here are some comments from satisfied customers:
"i love how i can mix my protein powder and store my snacks in the same bottle. It's so convenient!"
"finally, a shaker bottle that doesn't leak! The smartshake is a game-changer."
"i appreciate that the smartshake is dishwasher safe. Cleaning it is a breeze!"
Comparison With Traditional Shaker Bottles
When comparing the smartshake to traditional shaker bottles, it's evident that the smartshake takes the lead in terms of functionality and convenience.
Here's how they stack up:
The smartshake offers multiple compartments for storage, whereas traditional shaker bottles only have a single compartment.
Unlike traditional shaker bottles, the smartshake is leak-proof, ensuring mess-free mixing and transportation.
The bpa-free materials used in the smartshake set it apart from some traditional shaker bottles that may contain harmful chemicals.
With its leak-proof design, convenient compartments, and user-friendly features, the smartshake proves to be a versatile and reliable choice for fitness enthusiasts.
Upgrade your shaker bottle game and experience the convenience of the smartshake today!
Blender Bottle: The Ultimate Mixing Solution
Blender bottle is a well-known brand in the fitness industry, offering a range of high-quality shaker bottles designed to make your mixing experience smooth and hassle-free.
With their patented blenderball wire whisk, ergonomic design, and wide selection of sizes and colors, blender bottle stands out as the ultimate mixing solution.
Let's explore the advantages of blender bottle, as well as the customer feedback and testimonials that set this brand apart from the competition.
Exploring The Advantages Of Blender Bottle
Patented blenderball wire whisk for smooth mixes:
The blenderball, made of surgical-grade stainless steel, efficiently blends protein powders, supplements, and ingredients, ensuring a lump-free and consistent mix every time.
Its unique design helps break down clumps and evenly distribute the ingredients throughout the shake.
Ergonomic design for easy grip and use:
The blender bottle's design features a convenient loop top and a flip cap, making it easy to carry and use on the go.
The bottle's shape allows for a comfortable grip while shaking, ensuring that you can easily mix your favorite beverages or ingredients without any discomfort.
Wide range of sizes and colors:
Blender bottle understands that everyone has different needs and preferences.
That's why they offer a wide range of sizes, from their classic 20 oz to larger 32 oz bottles, catering to individuals who require larger servings or multiple shakes.
Additionally, blender bottle offers an array of vibrant colors, allowing you to choose a bottle that matches your unique style.
Customer Feedback And Testimonials
Exceptional performance and durability: Customers rave about the blender bottle's ability to consistently create smooth and well-mixed shakes. Many users praise the durability of the bottle, with some reporting that their blender bottle has lasted for years without any leaks or malfunctions.
Easy to clean: Users appreciate the blender bottle's simple and hassle-free cleaning process. The bottles are dishwasher safe, and the wide-mouth design makes it easy to reach all the nooks and crannies for a thorough cleaning. Say goodbye to residual odors or mold in those hard-to-reach places!
Versatility: Blender bottle is not just limited to protein shakes. Customers love how versatile the bottle is, allowing them to mix pre-workout drinks, meal replacements, pancake batter, and even dressings or sauces. With blender bottle, you can say goodbye to multiple containers cluttering your kitchen!
Differentiating Blender Bottle From Other Brands
Quality and reliability:
Blender bottle has built a reputation for delivering high-quality products that withstand rigorous use.
While there are many shaker bottles in the market, blender bottle's commitment to excellence ensures that you can rely on their products to consistently deliver a smooth and well-mixed drink.
Innovation and attention to detail:
Blender bottle continuously innovates and improves their designs to cater to customer needs and preferences.
Their attention to detail shines through in features such as leak-proof seals, secure lids, and convenient measurement markings.
With blender bottle, you can trust that they have considered all aspects of the mixing experience.
Blender bottle has proven to be a top choice for fitness enthusiasts, athletes, and anyone in need of a reliable mixing solution.
Their patented blenderball whisk, ergonomic design, wide range of sizes and colors, as well as the exceptional customer feedback, differentiate blender bottle from other brands in the market.
Smartshake Vs Blender Bottle: Key Differences
When it comes to choosing the right shaker bottle, there are several factors to consider. Two popular options in the market are smartshake and blender bottle.
Both offer convenience and functionality, but they differ in terms of material quality, design, price range, user preferences, and overall value for money.
Let's dive into the key differences between the two.
Material Quality And Durability Comparison
Smartshake:
Made from bpa and dehp-free plastic, ensuring safety and long-term usability.
Features a sturdy lid and leak-proof design, ideal for carrying protein shakes or other beverages on the go.
The bottle's durable construction guarantees resistance to impact and daily wear and tear.
Blender bottle:
Crafted from high-quality, bpa-free eastman tritan plastic, known for its exceptional durability.
Equipped with a leak-proof lid and a patented mixing system, providing smooth and lump-free shakes.
Designed to withstand rigorous use without compromising on the bottle's structural integrity.
Design And Functionality Variations
Smartshake:
Offers a multi-compartment design, allowing you to store powders, pills, and snacks separately.
Features an integrated strainer, ensuring a smooth and clump-free drink every time.
Comes with a loop top for easy transportation and a separate compartment for storing essentials like keys or supplements.
Blender bottle:
Provides a simple yet effective design, perfect for mixing protein shakes and other beverages.
Incorporates a patented mixing system with a blender ball, resulting in thoroughly mixed drinks.
The flip-top lid allows for easy drinking and prevents any spills or leaks.
Price Range And Value For Money Analysis
Smartshake:
Generally priced in the mid-range, offering good value for money considering its features and durability.
The additional compartments and convenient design make it a popular choice for those seeking versatility.
Provides a reliable and long-lasting shaker bottle that justifies its price.
Blender bottle:
Available at a competitive price point, making it an affordable option for a quality shaker bottle.
The brand's reputation for durability and functional design makes it a trusted choice for many fitness enthusiasts.
Ideal for those seeking a straightforward and efficient shaker bottle without breaking the bank.
User Preferences And Personal Experiences
Smartshake:
Well-regarded by individuals who prioritize compartmentalization and storage convenience.
Preferred by those who require an all-in-one solution for their shakes, supplements, and snacks.
Positive user reviews often highlight the smartshake's versatility and robust construction.
Blender bottle:
Popular among users who value simplicity and ease of use in a shaker bottle.
Appreciated by those who prioritize smooth mixing capabilities and minimalist design.
Many users praise the blender bottle's effectiveness and durability in their personal experiences.
Pros And Cons Of Each Shaker Bottle
Smartshake:
Pros:
Versatile multi-compartment design for convenient storage.
Sturdy and durable construction.
Leak-proof and spill-resistant.
Cons:
Some users may find it bulky due to the additional compartments.
The integrated strainer can sometimes be difficult to clean thoroughly.
Blender bottle:
Pros:
Simple and efficient design for easy mixing.
Affordable and value for money.
Durable and reliable for everyday use.
Cons:
Lacks the additional compartments for storage found in smartshake.
The basic design may not appeal to individuals seeking a more feature-rich shaker bottle.
When choosing between smartshake and blender bottle, consider your specific needs and priorities. If you value versatility and ample storage options, smartshake is an excellent choice.
On the other hand, if simplicity, affordability, and reliable performance are your primary concerns, blender bottle is worth considering.
Ultimately, the decision boils down to personal preferences and the demands of your fitness routine.
FAQ About Smartshake Vs Blender Bottle
Smartshake Vs Blender Bottle: Which One Is Better?
Smartshake and blender bottle are both popular shaker bottle brands, but which one should you choose? Here's what you need to know.
What Are The Key Differences Between Smartshake And Blender Bottle?
While smartshake and blender bottle both serve the same purpose, they differ in terms of design, capacity, and extra features.
How Are Smartshake And Blender Bottle Constructed?
Smartshake and blender bottle are both made from high-quality materials that are durable and bpa-free, ensuring safety and longevity.
Can I Use Smartshake And Blender Bottle For Hot And Cold Drinks?
Yes, both smartshake and blender bottle are designed to handle both hot and cold beverages, making them versatile for any type of drink.
Are Smartshake And Blender Bottle Easy To Clean?
Both smartshake and blender bottle have easy-to-clean designs, with dishwasher-safe components, making maintenance a breeze.
Conclusion
Both the smartshake and the blender bottle are excellent choices for anyone looking to stay hydrated on the go.
The smartshake offers a sleek design, convenient storage compartments, and a leak-proof seal, making it a versatile option for those with active lifestyles.
On the other hand, the blender bottle is a popular choice among fitness enthusiasts, thanks to its patented mixing ball that ensures smooth and lump-free shakes every time.
Whether you prefer the added features of the smartshake or the specialized mixing capabilities of the blender bottle, both brands provide high-quality products that can enhance your hydration routine.
Ultimately, the decision between the two will depend on your personal preferences and needs.
Whichever option you choose, you can't go wrong with either the smartshake or the blender bottle when it comes to staying hydrated and enjoying your favorite beverages on the go.