Water Bottle Caps Craft Ideas – 10 Creative Ideas!
Water bottle caps can be transformed into a wide range of creative items from colorful coasters to decorative wall art.
These innovative crafts are a fun way to repurpose everyday items and reduce waste.
Crafting with water bottle caps is a fantastic way to engage in eco-friendly activities while displaying your creativity.
From kids' projects like photo frames and bracelets to more complex projects like mosaic tabletops, there are numerous ways to use these caps.
Coasters: Arrange the caps with the top side down on a piece of felt, then glue them together. Trim the felt to size, and you have a unique coaster.
Wall Art: Paint the caps and arrange them on a canvas in your desired design to create an eye-catching piece of wall art.
Photo Frames: Glue caps around the edge of a photo frame for a fun, textured look.
Garden Decorations: Paint the caps in various colors and string them together to make a festive garden decoration.
In conclusion, with a bit of creativity and craft supplies, water bottle caps can be turned into functional and decorative items.
Not only does this help in recycling and reducing waste, but it also allows you to add a personal touch to your home or garden decor.
10 Creative Water Bottle Cap Craft Ideas
| Craft Idea | Materials Needed | Craft Steps |
| --- | --- | --- |
| Cap Mosaic | Bottle Caps, Glue, Canvas | Collect different colors of bottle caps, arrange them in a design on the canvas, and glue them down. |
| Cap Magnets | Bottle Caps, Magnets, Glue | Glue a magnet to the inside of the bottle cap and let it dry. You can also add pictures inside if you like. |
| Cap Jewelry | Bottle Caps, String, Paint | Paint the bottle caps, poke a hole in the center, and thread them onto a string to create a necklace or bracelet. |
| Cap Coasters | Bottle Caps, Flat Wood Pieces, Glue | Glue bottle caps onto the wooden pieces in an interesting design to create a unique coaster. |
| Cap Murals | Bottle Caps, Large Board, Glue | Collect and sort bottle caps by color. Glue caps onto the board to create a large piece of art. |
| Cap Wind Chime | Bottle Caps, String, Stick, Hammer, Nail | Make holes in the caps, tie them onto the string at varying heights, then tie the strings onto the stick. Hang the stick somewhere it can catch a breeze. |
| Cap Flowers | Bottle Caps, Wire, Glue | Glue bottle caps on a wire shaped like a flower stem and leaves. Let dry and arrange in a vase. |
| Cap Photo Frames | Bottle Caps, Photo Frame, Glue, Paint | Paint the bottle caps and glue them around the frame in a decorative way. |
| Cap Maracas | Bottle Caps, Beans, Stick, Glue | Glue two caps together with beans inside, secure to a stick to create mini maracas. |
| Cap Mini Planters | Bottle Caps, Soil, Small Plants | Fill bottle caps with soil and plant your small plants inside. Great for succulents! |
10 Creative Water Bottle Cap Craft Ideas
Key Takeaway
Water bottle caps can be an excellent resource for various craft projects, reducing waste and promoting sustainability.
Through crafting with bottle caps, you can teach children about the importance of recycling and reusing materials.
Bottle cap craft ideas range widely from making cute jewelry to functional items like a clock or a photo frame.
Not only is this a creative and fun activity, but it also helps in creating awareness about the environment.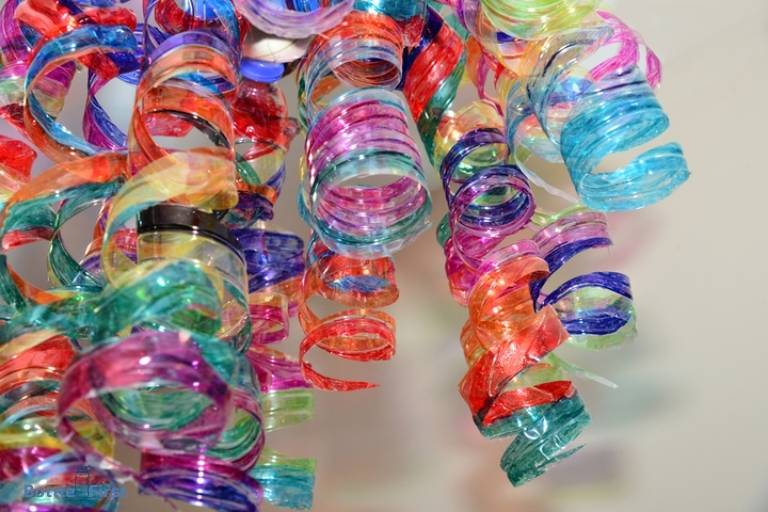 Five Interesting Facts About Crafting with Water Bottle Caps
Every minute, around the world, a million plastic bottles are bought. This massive consumption leads to many bottle caps, which can be turned into a resource by undertaking craft projects.(Source: Forbes)
Bottle cap crafts can be a great way to engage children in creative activities. It helps them enhance their fine motor skills, explore their creativity, and learn about recycling.(Source: Parenting Science)
Numerous DIY blogs and websites provide various ways to transform single-use plastic caps into beautiful items like magnets, mosaics, photo frames, and even outdoor garden decorations.(Source: DIY Network)
Companies like Terracycle are dedicated to recycling bottle caps. They melt them down to create new products, showcasing how 'trash' can be converted into useful items.(Source: Terracycle)
A popular trend in craft beer has led to the rise of bottle cap collecting. Fans often turn these unique caps into craft items like table tops and wall art.(Source: American Homebrewers Association)
Diy Home Decor Crafts
Transform Water Bottle Caps Into Unique Wall Art
If you're looking for diy home decor crafts that won't break the bank, consider repurposing your empty water bottle caps.
These small, often overlooked items can be transformed into unique wall art pieces that add a vibrant and creative touch to your living space.
Let's explore some fantastic ideas to get you started:
Create A Colorful And Vibrant Mosaic Using Bottle Caps
Arrange bottle caps in various colors and sizes to create a mosaic pattern on a canvas or wooden board.
Use strong adhesive to secure the caps in place, ensuring they form a visually appealing design.
Fill the spaces between the bottle caps with colored grout or epoxy for a polished finish.
Hang the finished art piece on your wall to add a pop of color and texture to your home decor.
Craft A Personalized Photo Frame Using Bottle Caps
Gather your favorite photos and select bottle caps that complement the colors or themes of the pictures.
Arrange the caps around the edges of a photo frame, ensuring they fit snugly together.
Secure the caps to the frame using strong adhesive or hot glue.
For a more personalized touch, you can add small trinkets or charms within the bottle caps that represent the memories captured in the photos.
Display your photos in the unique bottle cap frame to create a one-of-a-kind piece of home decor.
Transforming water bottle caps into art is not only a great way to repurpose these small items but also allows you to unleash your creativity.
Whether you choose to create a vibrant mosaic or craft a personalized photo frame, these projects are sure to add a unique touch to your home.
So, gather your bottle caps and get ready to create stunning wall art that showcases your artistic flair.
Fashion And Accessories Crafts
Water Bottle Caps Craft Ideas
Crafting with water bottle caps is not only fun and creative but also an environmentally-friendly way to upcycle these everyday objects.
In this section, we will explore some fashion and accessories crafts that you can make using water bottle caps.
Let's dive in and discover how you can turn these caps into stylish and trendy wearable pieces!
Make Stylish And Trendy Earrings With Water Bottle Caps:
Create a statement with eye-catching earrings made from water bottle caps.
Paint the caps with vibrant colors or use patterned paper to add a unique touch.
Attach a small loop or jump ring to the top of the cap for easy hanging.
Dangle multiple caps from a chain or attach them to ear hooks for a fashionable look.
Experiment with different cap sizes and shapes to find the perfect style for you.
Design A Statement Necklace Using Upcycled Bottle Caps:
Combine multiple water bottle caps to make a statement necklace that will turn heads.
Paint each cap in a matching color or opt for a colorful mix for a playful look.
Use jump rings or small metal findings to link the caps together in a desired pattern.
Add chains and clasps to the ends to create an adjustable and comfortable necklace.
Customize your necklace by adding beads or charms to the caps for extra flair.
Create Fun Keychains Or Charms With Colorful Bottle Caps:
Turn water bottle caps into trendy keychains or bag charms that reflect your personal style.
Paint the caps in different colors and patterns to create a vibrant and eye-catching accessory.
Use a small drill or hole punch to make a hole at the top of the cap for easy attachment.
Attach a keychain ring or a lobster clasp to the hole and add decorative beads or tassels.
Hang your creation on your keys, bag, or backpack to add a touch of fun and personalization.
Remember, when crafting with water bottle caps, let your imagination run wild. Experiment with various colors, patterns, and embellishments to create unique and one-of-a-kind fashion pieces.
These crafts not only showcase your creativity but also promote the importance of repurposing and reducing waste.
So grab your water bottle caps and get ready to take your fashion accessories game to the next level!
That concludes our exploration of fashion and accessories crafts using water bottle caps. We hope you feel inspired to try these ideas and unleash your creative side.
Happy crafting!
Kids Crafts And Games
Craft Adorable Puppets Using Bottle Caps
Looking for a fun craft activity that will keep your kids entertained? Look no further than bottle cap puppets!
These cute little creations are not only easy to make, but they also provide endless hours of imaginative play.
Here are some key points to get started:
Gather your materials: You'll need empty bottle caps, craft foam or paper, googly eyes, glue, and markers.
Design your puppets: Let your child's creativity shine by letting them design their own characters on the craft foam or paper that will be glued to the bottle caps.
Attach the features: Use glue to attach googly eyes and draw on facial features using markers.
Add finishing touches: Encourage your child to get creative by adding accessories like pipe cleaner arms, yarn hair, or even a little paper outfit.
Playtime! Once your puppets are complete, they're ready for some storytelling and imaginative play. Your child can create their own puppet show or use the puppets for interactive storytelling.
Encourage your child's creativity and storytelling skills with this simple and engaging craft activity!
Design A Diy Tambourine With Recycled Bottle Caps
Looking to add some rhythm and music to your child's playtime? Help them create their own diy tambourine using recycled bottle caps.
Here's how:
Gather your materials: You'll need two sturdy paper plates, bottle caps, dried beans or rice, paint or markers, glue, and a stapler.
Decorate the plates: Let your child unleash their artistic side by decorating the paper plates with paint or markers. They can get as colorful and creative as they want!
Attach the bottle caps: Glue the bottle caps onto the inside surface of one of the paper plates. Make sure they are evenly spaced.
Fill with beans or rice: Sprinkle some dried beans or rice onto the paper plate with the bottle caps.
Seal it up: Place the second paper plate on top, aligning the edges, and staple them together. Make sure all the way around to secure the beans or rice inside.
Shake, shake, shake: Your homemade tambourine is now ready to make some music! Your child can shake it, tap it, or even dance along to their favorite tunes.
Get ready for a musical adventure with this delightful and eco-friendly craft!
Create A Fun Memory Game Using Decorated Bottle Caps
Looking for a screen-free activity that will engage your child's memory and creativity? Try creating a fun memory game using decorated bottle caps.
Here's how to get started:
Gather your materials: You'll need bottle caps, craft foam or paper, markers or stickers, and super glue or adhesive tape.
Decorate the bottle caps: Let your child decorate each bottle cap with their favorite colors, patterns, or even small pictures using markers or stickers.
Create matching pairs: Using a variety of bottle cap designs, make sure to create matching pairs for the memory game. For example, if your child decorates two bottle caps with the same pattern, they will be a matching pair.
Arrange the game board: Lay out the bottle caps with their decorated side facing down in a grid formation.
Play the game: Take turns flipping two bottle caps over at a time to try and find a matching pair. If a player finds a match, they keep the pair and get another turn. If not, they must remember where the bottle caps were and try again on their next turn. The player with the most matching pairs at the end wins!
Mix it up: As your child gets more skilled, you can increase the challenge by adding more bottle caps or changing the layout of the game board.
Get ready to exercise those memory skills and have loads of fun with this homemade bottle cap memory game!
Garden And Outdoor Crafts
Craft a wind chime using different-sized bottle caps:
Wind chimes add a delightful touch to any garden or outdoor space and crafting your own using bottle caps can be a fun and creative project.
Here are some key points to consider:
Collect a variety of bottle caps in different sizes and colors. You can either use caps from different beverages or choose a specific theme like soda caps or beer caps.
Clean the caps thoroughly to remove any residue or odors. Soak them in warm soapy water, rinse well, and allow them to dry completely.
Decide on the design and layout of your wind chime. You can create a simple linear design or a more intricate arrangement using different lengths of strings.
Attach a length of strong string or fishing wire to each bottle cap. Make sure the lengths vary to create different pitches when the wind hits them.
Attach the strings to a base of your choice, such as a wooden hoop or a piece of driftwood. Use knots or glue to secure the strings in place.
Hang your wind chime in a location where it can catch the breeze and bring musical sounds to your garden. Experiment with different arrangements to find the perfect spot.
Design a recycled plant marker for your garden:
If you're a gardening enthusiast, keeping track of your plants is important. Creating your own plant markers using bottle caps not only helps you identify your plants, but it also adds a touch of creativity to your garden.
Here's what you need to know:
Gather a collection of bottle caps, either all the same or a mix of colors and sizes, depending on your preference.
Clean the caps thoroughly and allow them to dry completely. You can remove any labels or stickers using warm soapy water or rubbing alcohol.
Decide on a suitable material to serve as the stake for your plant marker. Wooden skewers or popsicle sticks work well, or you can repurpose old cutlery or small branches.
Attach the bottle caps to the stake using hot glue or a strong adhesive. Arrange them in a straight line or staggered pattern, leaving enough space for writing the plant names.
Once the glue is dry and secure, use a permanent marker or paint pen to write the names of your plants on each bottle cap. Make sure the names are clear and easy to read.
Place the plant markers in your garden, near the corresponding plants. The bottle caps will not only provide visual appeal but also serve as a reminder of your plant varieties.
Create an eye-catching garden sculpture with bottle caps:
Bottle caps can be transformed into unique and eye-catching garden sculptures that add a touch of whimsy to your outdoor space.
Here are the key steps to consider:
Gather an assortment of bottle caps in various colors and sizes. Mix and match different brands or stick to a specific theme to create a cohesive design.
Clean the bottle caps thoroughly to remove any dirt or residue. You can soak them in warm soapy water, rinse well, and allow them to dry completely.
Decide on the design of your garden sculpture. You can create shapes like flowers, animals, or abstract designs, depending on your artistic vision.
Attach the bottle caps together using a strong adhesive. Consider adding some smaller caps for detail and texture.
Once the adhesive has dried and the caps are securely connected, you can paint and decorate your sculpture if desired. Use weather-resistant paint or sealant to protect it from outdoor elements.
Find a suitable location in your garden to display your bottle cap sculpture. Be sure to secure it firmly to prevent it from tipping over or being damaged by strong winds.
Let your creativity flow and explore the endless possibilities of using bottle caps to create unique and charming garden and outdoor crafts.
These simple and sustainable projects not only add personal flair to your outdoor space but also contribute to reducing waste and embracing the joys of upcycling.
So gather those bottle caps, unleash your imagination, and get ready to showcase your artistic talent in your very own garden oasis.
How Can I Use Water Bottle Caps to Create Unique Souvenirs?
Water bottle caps can be repurposed to create unique water bottle souvenirs. With a little creativity, these caps can easily turn into quirky keychains or magnets, showcasing memories of places you've visited. By adding photos, stickers, or other personalized elements to the caps, you can transform them into charming keepsakes that capture the essence of your travels.
FAQ About Water Bottle Caps Craft Ideas
What Can I Make With Water Bottle Caps?
Water bottle caps can be used to create various crafts like jewelry, magnets, and art pieces.
How Can I Decorate Water Bottle Caps?
You can decorate water bottle caps using paints, markers, stickers, or by adding small embellishments.
Are Water Bottle Cap Crafts Suitable For Kids?
Yes, water bottle cap crafts are great for kids as they promote creativity, fine motor skills, and recycling awareness.
Can I Use Water Bottle Caps For Organizing?
Absolutely! Water bottle caps can be repurposed as storage containers for small items like buttons, beads, and screws.
Where Can I Find Inspiration For Water Bottle Cap Crafts?
You can find inspiration for water bottle cap crafts on creative websites, diy blogs, and social media platforms like pinterest.
Conclusion
In a world where sustainability and creativity are of utmost importance, water bottle caps present a treasure trove of possibilities.
From simple crafts to intricate masterpieces, the potential for transforming these simple plastic closures into something extraordinary is limitless.
By upcycling water bottle caps, we not only reduce the amount of waste going into landfills but also give them a new lease on life.
Whether it's making jewelry, creating decorative art, or organizing small items, water bottle caps offer a versatile and cost-effective solution.
Not only can these crafts be done by individuals, but they can also be enjoyed as a fun activity for families and a creative outlet for children.
The opportunities are truly endless, inspiring us to think outside the box and turn everyday objects into something extraordinary.
So let's unleash our imagination, gather those water bottle caps, and embark on an exciting journey of creativity, sustainability, and endless possibilities.