Water Bottle Ideas for Plants: Effective Solutions!
Are you looking for creative ways to care for your plants using everyday items? Look no further!
Imagine transforming a simple water bottle into a self-watering planter, allowing your plants to thrive even when you're away.
With upcycled water globes, drip irrigation systems, and hanging planters, you can turn ordinary bottles into functional and eco-friendly plant solutions.
Get ready to unleash your inner green thumb and give your plants the freedom to flourish in style.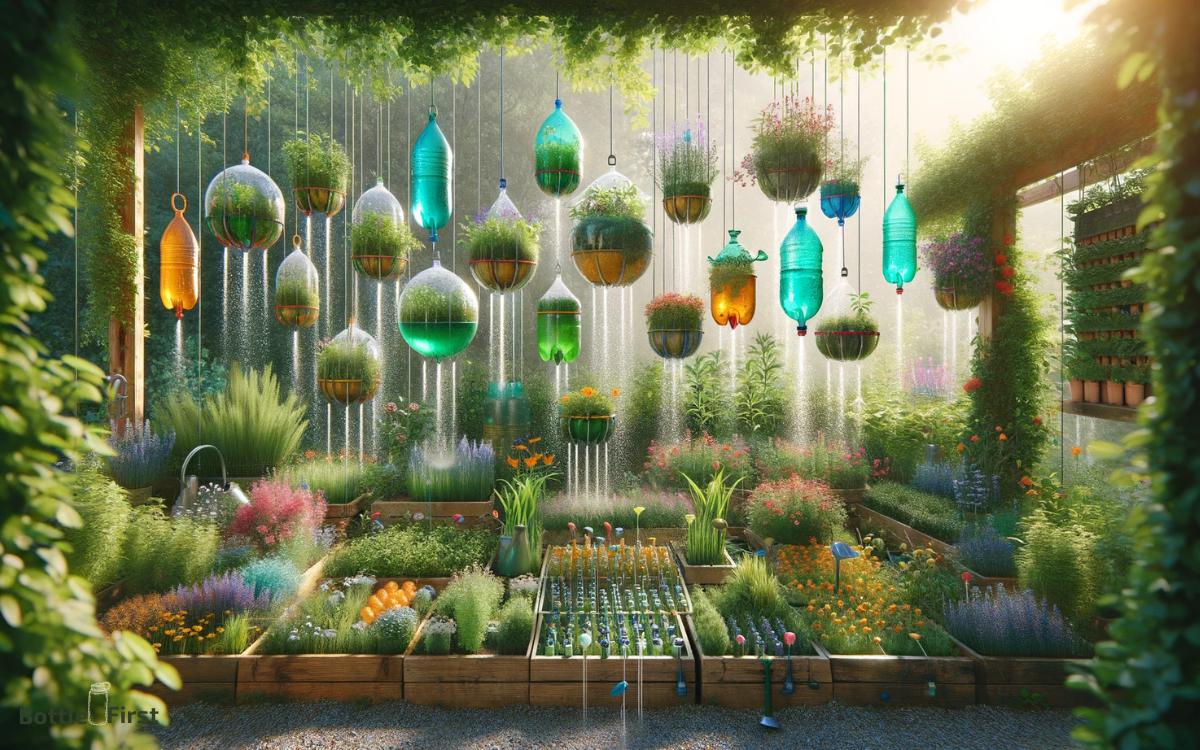 Key Takeaway
Upcycled watering methods like watering globes, self-watering bottle planters, and drip irrigation systems using water bottles provide convenient and sustainable ways to water plants.
Hanging planters made from water bottles offer a creative and space-saving solution for displaying plants indoors or outdoors.
Controlled watering methods, such as filling water bottles with a quantified amount of water or using water bottle cap sprinklers, help prevent overwatering or underwatering and promote healthy plant growth.
Vertical gardening with water bottle pockets maximizes space and allows for growing multiple plants, while a water bottle cap sprinkler system repurposes bottle caps to create a cost-effective and efficient DIY sprinkler system for plants.
Upcycled Watering Globes
One simple way to water your plants using recycled materials is by creating upcycled watering globes. These globes are easy to make and can be a great solution if you're looking for a low-maintenance watering method.
To create your upcycled watering globe, start by collecting empty plastic bottles with caps. Choose bottles that are clear and have a narrow neck. Remove the labels and wash them thoroughly.
Fill the bottles with water, leaving about an inch of space at the top. Replace the cap tightly. Dig a small hole near your plant and bury the bottle, leaving the neck and cap exposed.
The water will slowly release into the soil, providing a steady supply of moisture for your plants. This method is convenient and helps conserve water, while also giving a new life to your old plastic bottles.
Self-Watering Bottle Planters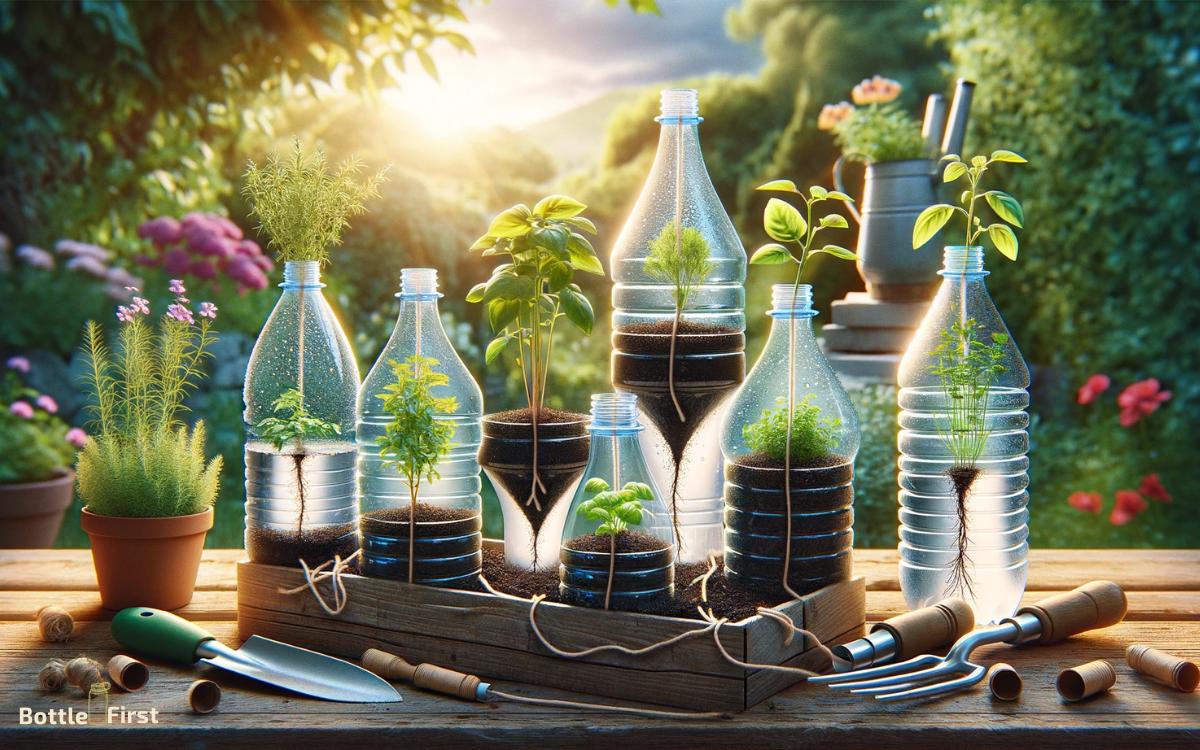 To continue caring for your plants with recycled materials, consider using self-watering bottle planters.
These innovative planters are designed to provide a constant supply of water to your plants, ensuring they stay hydrated even when you're busy or away.
Convenience:
With self-watering bottle planters, you don't have to worry about constantly monitoring the moisture levels of your plants.
These planters have a reservoir at the bottom that holds water, which is gradually released to the plants as needed. This means you can go on vacation or have a busy schedule without the fear of your plants drying out.
Water conservation:
Self-watering bottle planters help conserve water by delivering it directly to the plants' roots. The reservoir only releases water when the soil becomes dry, preventing unnecessary water wastage.
This not only saves you time and effort but also promotes sustainable gardening practices.
Healthy plant growth:
By providing a consistent water supply, self-watering bottle planters promote healthy plant growth. Plants receive the right amount of water they need, preventing overwatering or underwatering.
This ensures that your plants thrive and flourish, giving you the satisfaction of a green and vibrant garden.
Incorporating self-watering bottle planters into your gardening routine is a simple and effective way to care for your plants while also reducing water consumption.
Enjoy the freedom of knowing that your plants are well-nourished, even when you're not around to tend to them.
Drip Irrigation System Using Water Bottles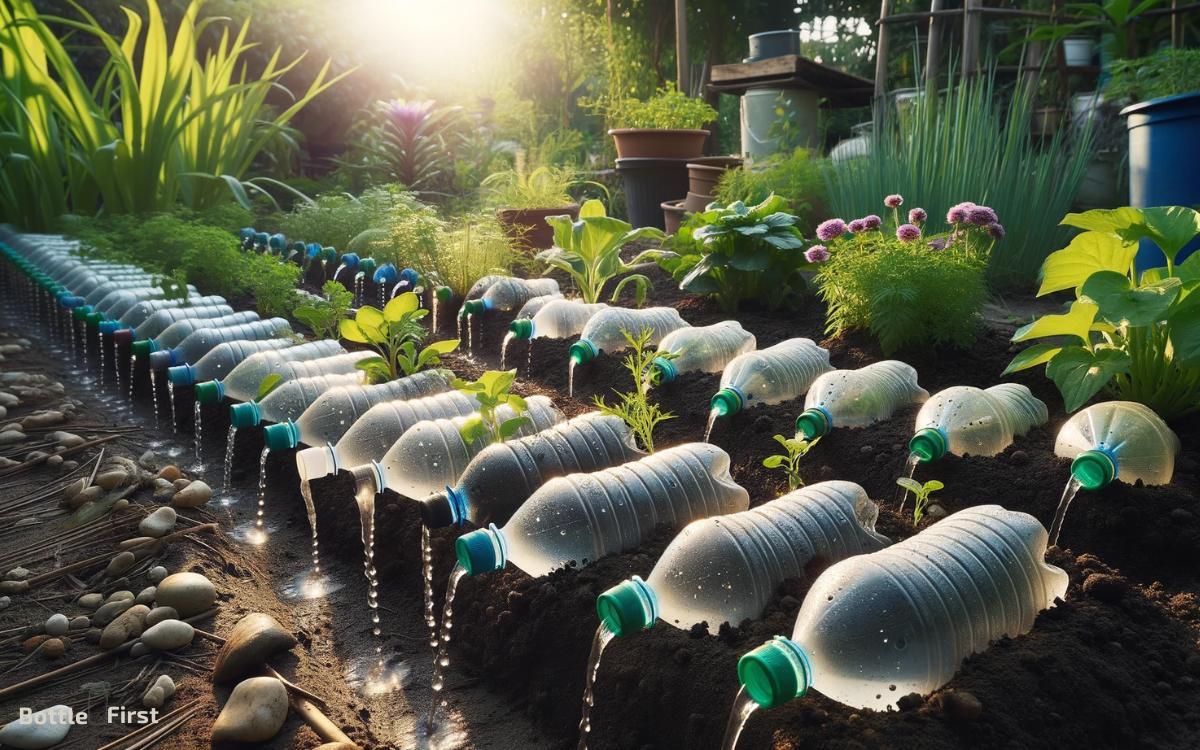 How can you create a drip irrigation system using water bottles? It's actually quite simple and can be a great way to provide a steady supply of water to your plants without constant manual watering.
To start, gather a few empty water bottles and clean them thoroughly. Next, poke small holes in the caps of the bottles using a needle or a small nail.
Fill each bottle with water and screw the caps back on tightly. Dig holes in the soil near your plants and bury the bottles upside down, leaving the caps exposed.
The water will slowly drip out of the holes in the caps, providing a consistent source of moisture for your plants. This drip irrigation system is an affordable and efficient way to keep your plants healthy and hydrated.
Hanging Water Bottle Planters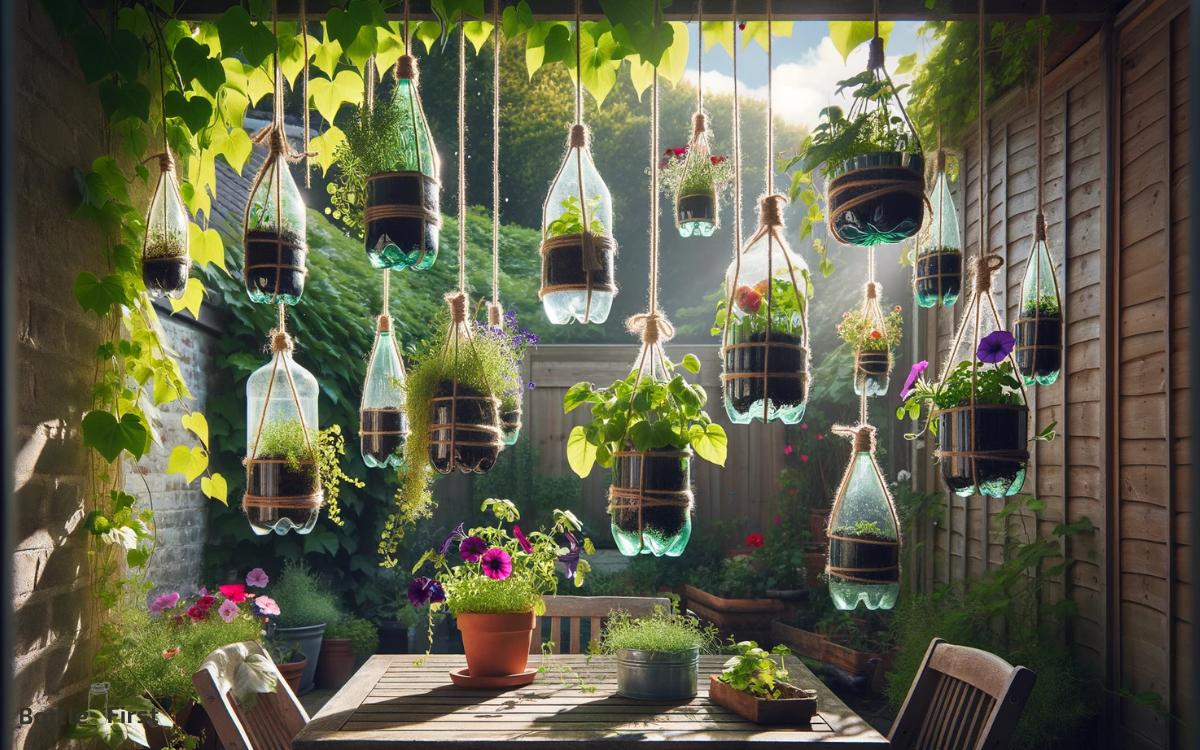 Looking to add a unique touch to your indoor or outdoor space? Hanging water bottle planters are a creative way to display your plants and add a touch of greenery to any area.
Not only do they provide an interesting visual element, but they also serve a practical purpose by allowing you to water your plants without the mess.
With just a few simple steps, you can easily create your own hanging water bottle planters and enjoy the beauty of nature in a whole new way.
Creative Hanging Planters
Hang your plants in style with these unique hanging water bottle planters. They aren't only a great way to showcase your plants, but also a creative and practical solution for small spaces.
Bottle Wall Planter:
Create a stunning vertical garden by attaching several water bottles to a wooden frame or wall. Cut off the bottom of each bottle and make a small hole in the cap for drainage.
Fill the bottles with soil and plant your favorite trailing plants or herbs. Hang the frame on a sturdy hook and watch your plants thrive in this eye-catching display.
Bottle Chandelier Planter:
Transform an old chandelier into a unique hanging planter. Remove the electrical components and replace them with water bottles.
Fill the bottles with soil and plant colorful flowers or succulents. Hang the chandelier planter in your garden or patio and enjoy the whimsical touch it adds to your outdoor space.
Bottle Macrame Planter:
Add a bohemian vibe to your home with a macrame plant hanger made from water bottles. Cut off the bottom of the bottles and wrap them with a macrame cord or rope.
Create a series of knots to secure the bottles and hang them at different lengths. Plant your favorite indoor plants and hang the macrame planter near a window for a beautiful and sustainable display.
With these creative hanging planters, you can bring life and greenery to any space, whether it's a small apartment balcony or a cozy corner in your backyard.
Get creative and let your imagination soar as you repurpose water bottles into stylish and functional planters.
Watering Without Mess
To ensure that your plants receive the proper amount of water without creating a mess, simply fill the water bottles attached to your hanging planters with a quantified amount of water.
This method allows you to control the amount of water your plants receive, preventing over or under-watering.
Start by determining the water requirements of each plant and measure out the appropriate amount.
Fill the water bottle with this measured quantity, making sure not to overfill it. Attach the water bottle to your hanging planter, ensuring that it's securely fastened.
As the plants need water, they'll draw it up through the bottle's opening, providing a steady supply without any mess. This watering method isn't only convenient and mess-free, but it also promotes healthy plant growth.
Now, let's move on to another creative idea for utilizing water bottles in your garden – a vertical garden with water bottle pockets.
Vertical Garden With Water Bottle Pockets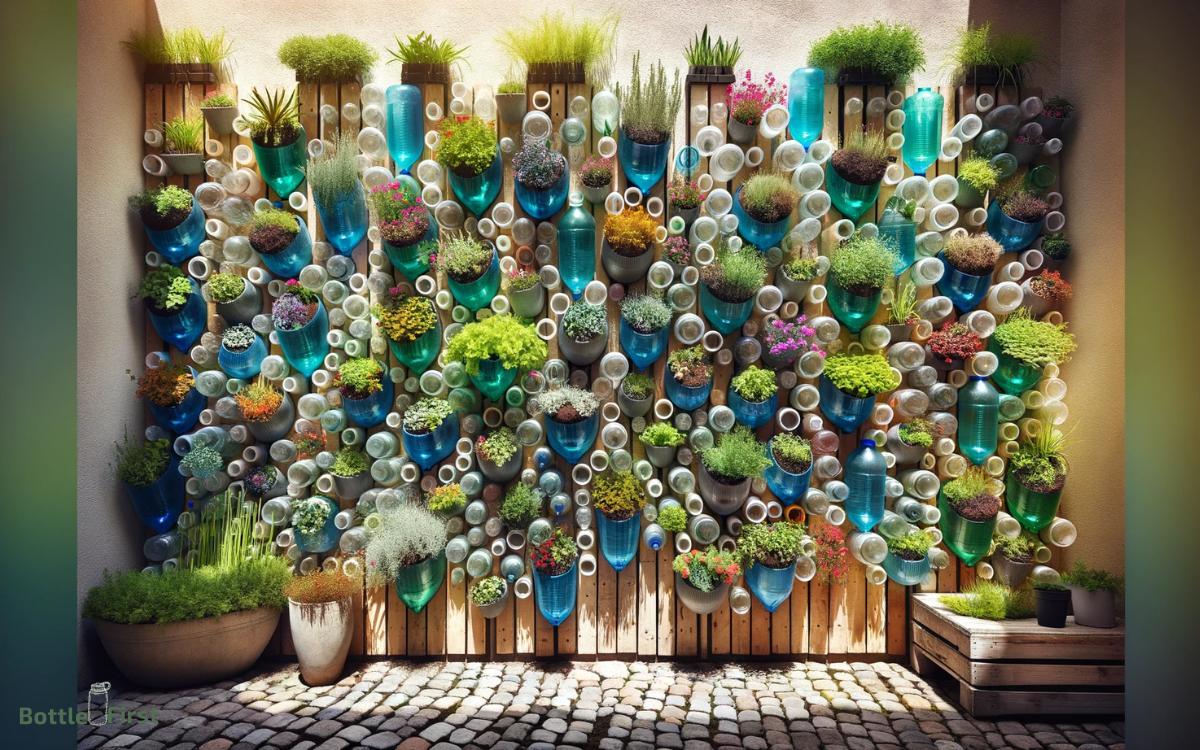 Create a vertical garden using water bottle pockets to maximize space and nurture your plants. This innovative gardening technique allows you to grow a variety of plants without taking up valuable floor space.
Prepare the water bottles: Start by collecting empty plastic water bottles. Remove the labels and caps, and clean them thoroughly. Cut off the bottoms of the bottles to create pockets for your plants.
Install the pockets: Attach the bottles to a wall, fence, or any vertical surface using screws or adhesive hooks. Make sure to space them out evenly to allow enough room for your plants to grow.
Plant your garden: Fill each bottle pocket with soil and plant your desired herbs, flowers, or vegetables. Ensure that each plant has enough space to grow and receive adequate sunlight and water.
Water Bottle Cap Sprinklers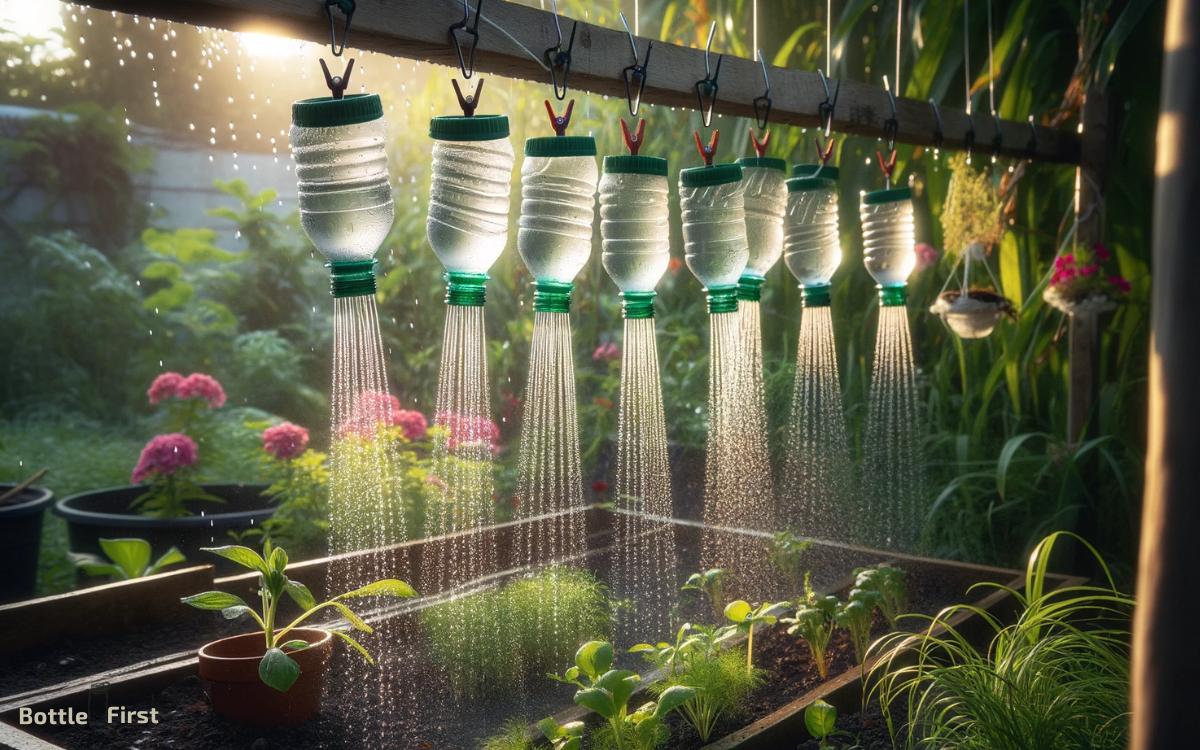 To water your plants efficiently, use your water bottle caps as sprinklers. This simple and practical idea allows you to repurpose your bottle caps and create a DIY sprinkler system for your plants.
First, collect a few water bottle caps that have small holes or slits on the top. Next, fill the bottles with water and tightly screw on the caps.
Then, turn the bottles upside down and push them gently into the soil next to your plants. The water will slowly drip out of the holes in the caps, providing a gentle and consistent water supply to your plants.
This method is ideal for watering small potted plants or individual plants in your garden. It's a cost-effective and efficient way to keep your plants healthy and hydrated.
Conclusion
In conclusion, the possibilities for using water bottles in gardening are endless. These innovative ideas not only help conserve water but also provide practical solutions for plant care.
By repurposing water bottles, we can create self-watering systems, hanging planters, and even drip irrigation systems. It's a creative way to give our plants the care they need while being environmentally conscious.
So next time you finish a bottle of water, think about how it can benefit your garden and give it a new life.