Water Bottle Pocket Tutorial
If you're anything like me, you're always on the go and never have enough hands to carry everything you need. That's why I was so excited to find this water bottle pocket tutorial! It's an easy way to add a little extra storage to your bag without adding any bulk.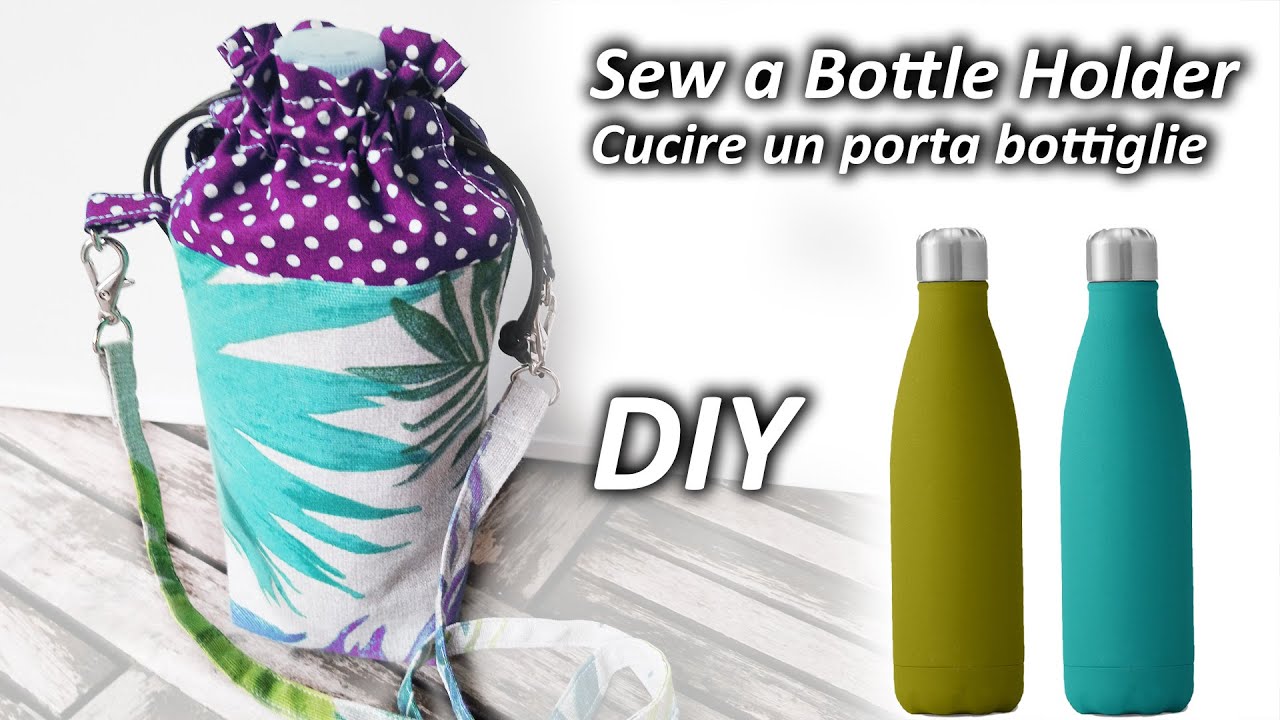 If you're looking for a quick and easy way to add a water bottle pocket to your next sewing project, this tutorial is for you! This method uses a rectangle of fabric and some basic sewing skills to create a handy little pocket that's perfect for holding a water bottle, your phone, or other small items. You'll start by cutting a rectangle of fabric that's slightly larger than your water bottle.

Then, fold the top edge of the fabric down about an inch and sew it in place. Next, fold the bottom edge up so that it overlaps the top edge by about an inch, and sew it in place. Finally, sew along both sides of the rectangle to create a seam that will hold everything in place.

That's all there is to it! Now you've got a functional and stylish water bottle pocket that you can use on any bag or piece of clothing. Give it a try today!
How Do You Make a Water Bottle Pocket?
To make a water bottle pocket, you will need: -a water bottle -a piece of cloth or fabric (preferably waterproof)

-scissors -sewing needle and thread 1. Cut a rectangular piece of fabric that is big enough to wrap around your water bottle.

2. Fold the fabric in half lengthwise and sew along the long side. 3. Turn the tube of fabric inside out so that the seam is on the inside. 4. Sew a gathering stitch along the top edge of the fabric tube.

5. Gather the fabric until it is snug around your water bottle and tie off the thread. 6. Trim any excess fabric and you're done!
How Do You Put a Water Bottle Pocket in a Bag?
One of the most popular questions we get here at waterbottlepocket.com is "How do you put a water bottle pocket in a bag?" The answer is actually pretty simple and only requires a few supplies that you probably already have around your house. Here's what you'll need:

– A sharp knife or scissors – A ruler or measuring tape – A pen or pencil

– Waterproof fabric adhesive (we like this one) – Waterproof seam sealer (this is optional but recommended) First, measure the circumference of your water bottle and add 1/2″ to that measurement. Then, use your ruler or measuring tape to mark out a rectangle on your fabric that is twice as wide as your measurement and the length that you just calculated. For example, if your water bottle has a circumference of 10″, you'll want to cut out a rectangle that is 20″ wide by 11″ long.

Once you have your rectangle cut out, fold it in half width-wise so that the short sides are touching and the long sides are open. Then, use your adhesive to glue the two short sides together. Be sure to apply enough adhesive so that there are no gaps or spaces for water to leak through.

If you're using seam sealer, now is the time to apply it along the glued edge. Let everything dry completely before moving on to the next step.
Starting at one end of your glued edge, use your scissors or knife to make a small slit about 1/2″ long. Then insert one end of your water bottle into this slit and continue pushing it through until it pops out the other side. You may need to wiggle it back and forth a bit until it comes through smoothly.
Once both ends of your water bottle are inserted, adjust the placement of the slits so that they sit evenly on either side of the pocket opening then trim off any excess fabric from around them. And there you have it! Your very own DIY water bottle pocket!
How Do You Make a Water Bottle Sling?
Assuming you would like instructions on how to make a water bottle sling: You will need the following materials: -1/2 yard of cotton fabric (quilting cotton works well)

-1/4 yard of coordinating ribbon or bias tape -Matching thread -Scissors

-Pins -Water bottle -Sewing machine (optional)

Instructions: 1. Cut two pieces of fabric 10"x15". Use a rotary cutter for straight lines and a self healing mat if you have one.

If you don't have either, that's okay, just use regular scissors. Place the cut pieces wrong sides together and pin in place along all four sides, leaving about a 3" opening along one of the long sides. This is where you will turn the project right side out when it's finished being sewn.

If using a sewing machine, set it to a straight stitch and sew around all four sides, backstitching at the beginning and end to secure your stitches. If hand sewing, simply use small stitches all around the perimeter. Remember to leave that 3" opening!

Hand sew or machine sew along both short ends of your ribbon or bias tape. Find the center of one long side by folding in half width wise and finger pressing or marking with chalk or a pen. Do the same thing with one end of your ribbon or bias tape so that it lines up with the center mark on your fabric piece . Pin in place at both center marks . Sew around all three layers at this point , securing everything in place . Trim off any excess threads . Turn right side out through that 3″ gap you left open earlier . Press flat with an iron if desired then fill with your water bottle !
How Do You Make a Water Bottle Crossbody Bag?
If you're like most people, you probably have a water bottle that you take with you everywhere you go. But what if there was a way to make your water bottle even more convenient? With a water bottle crossbody bag, you can!
Here's what you'll need: -1 water bottle -1 crossbody bag
-Scissors -Tape or glue (optional) Instructions:
1. Start by cutting a hole in the side of your crossbody bag, large enough to fit your water bottle. If you're using a reusable water bottle with a screw-on cap, make sure the hole is big enough to accommodate the cap as well. 2. Next, thread the strap of your crossbody bag through the hole and fasten it securely.
If desired, you can reinforce the connection with tape or glue. 3. That's it! Now simply fill up your water bottle and enjoy hands-free hydration on the go!
Bag Pattern With Water Bottle Pocket
Adding a water bottle pocket to a bag pattern is a great way to add function and style to your bag. Here are some tips on how to add a water bottle pocket to your bag pattern: 1. First, decide where you want the water bottle pocket to be located on the bag.

The pocket can be placed on the side of the bag or on the front of the bag. 2. Once you have decided on the location, cut out a piece of fabric that is slightly larger than the dimensions of your water bottle. 3. Sew the sides of the fabric together, leaving an opening at the top for the water bottle to slide through.

4. Finish off the top edge of the fabric with bias tape or another decorative trim. 5. Attach the finished water bottle pocket to your bag pattern following the instructions for attaching pockets in your chosen sewing pattern.
Water Bottle Pocket for Backpack
If you're looking for a way to carry water with you on your next hike or backpacking trip, consider adding a water bottle pocket to your backpack. This simple modification can be a game-changer when it comes to staying hydrated on the trail. Most backpacks already have one or two side pockets that are perfect for holding water bottles.

However, these pockets can be difficult to access while you're wearing the pack. A water bottle pocket that's located in the front of the pack (near the shoulder straps) is much easier to reach and can help you stay hydrated throughout the day. There are a few different ways to add a water bottle pocket to your backpack.

You can purchase a pre-made pocket from an outdoor retailer, sew your own pocket using waterproof fabric, or even repurpose an old fanny pack! If you're handy with a sewing machine, making your own water bottle pocket is a great way to customize your pack and save some money. Once you've added a water bottle pocket to your backpack, be sure to test it out before hitting the trail.

Make sure thepocket is securely attached and that yourwater bottle fits snugly inside. With this simple modification, you'll be able to stay hydrated all day long on your next adventure!
Water Bottle Holder Sewing Pattern
A water bottle holder is a great way to keep your water close at hand, whether you're on a hike or just working around the house. This sewing pattern will show you how to make your own water bottle holder, using just a few basic materials.
I like to use contrasting fabrics so that the finished product looks more interesting, but you can use whatever fabrics you like. Just make sure that they're both lightweight and won't stretch too much when wet. Next, sew the two pieces of fabric together along the sides and bottom, leaving the top open.
Then, turn the whole thing right-side out and stitch up the top opening. Now it's time to add some straps! Cut two strips of fabric (I usually use about 1″ wide) and sew them onto either side of the water bottle holder.
Make sure that they're long enough to go over your shoulder or attach to your belt loops. Finally, add any embellishments you like – I often add a patch pocket on one side for carrying my phone or keys. And that's it!
Your new water bottle holder is ready to use.
How to Make a Water Bottle Holder With String
One of the easiest ways to stay hydrated on the go is to carry a water bottle with you. But if you don't have a place to put it, it can be difficult to keep track of your water bottle and easy to forget to drink. A water bottle holder with string is a great solution!

You can make your own water bottle holder with just a few supplies and in minutes. To make a water bottle holder with string, you will need: -A length of string or cord (about 2 feet long)

-Scissors -A lighter (optional) -A water bottle

First, take your string and tie a knot around the neck of the water bottle. Make sure the knot is tight so that the string doesn't slip off. Then, thread the other end of the string through the loop created by the first knot.

Pull until both ends of the string are even. If you're using thinner cord or thread, you may want to singe the ends with a lighter to prevent fraying. Finally, tie another knot at each end of the string, creating loops large enough to slip over your wrist or attach to a bag strap.

And that's it! Now you have a handy way to carry your water bottle without worrying about losing it.
Conclusion
This tutorial shows you how to make a water bottle pocket that attaches to your belt. This is a great way to keep your hands free while you're out on a hike or run. The pocket is made from a recycled plastic bottle and some fabric.

You can use any type of fabric you like, but something that's lightweight and breathable is best.