Water Bottle to Carry While Running
The best water bottle to carry while running is the CamelBak Quick Grip Chill Handheld Water Bottle.
It is lightweight, insulated to keep water cool, has a small pocket for essentials and is designed for easy, one-handed drinking.
The CamelBak Quick Grip Chill Handheld Water Bottle is perfect for runners because of its ergonomic design and convenience.
The bottle is made of double-walled construction to keep your drink cool for longer, even during hot days.
Its adjustable hand strap gives a comfortable and secure grip, preventing any slips or drops while running. The added small pocket is ideal for storing keys, cash, or gels.
Insulation: The CamelBak Quick Grip Chill Water Bottle is double-walled, keeping liquids cool for a longer period.
Easy Grip: It features an adjustable strap for secure and comfortable handling while running.
Convenient Design: The water bottle allows for one-handed drinking, making it convenient for runners.
Additional Storage: It comes with a small pocket for storing essentials like keys, cash, or energy gels.
Choosing the right water bottle for running is important for staying hydrated, particularly during long runs or on hot days.
The CamelBak Quick Grip Chill Handheld Water Bottle is a great choice due to its user-friendly features tailored for runners.
It not only provides convenient hydration but also offers additional storage for essentials, enhancing your running experience.
Features of Carrying a Water Bottle While Running
| Brand | Model | Capacity (OZ) | Material | Ergonomic Design | Additional Features |
| --- | --- | --- | --- | --- | --- |
| CamelBak | Podium Chill | 21 | BPA-Free TruTaste Polypropylene | Yes | Self-sealing Cap, Insulated |
| Nike | Hyperfuel | 18 | BPA Free Plastic | Yes | Leakproof valve |
| Salomon | Speed Soft Flask | 17 | TPU (thermoplastic Polyurethane) | Yes | Shrink as you drink to limit water bounce |
| Nathan | SpeedDraw Plus Insulated Flask | 18 | BPA-Free Plastic | Yes | Insulated, Zip pocket |
| Hydro Flask | Standard Mouth | 21 | Stainless Steel | No | Insulated, comes with sports cap |
| Contigo | AUTOSPOUT Ashland | 24 | BPA-Free Plastic | Yes | Leak Proof, one-handed drinking |
| Under Armour | Undeniable Squeeze Bottle | 32 | LDPE Plastic | Yes | Quick shot lid, squeeze operation |
| Osprey | Hydraulics LT Reservoir | 70 | TPU film | No | Anti-microbial, wide opening for easy fill and cleaning |
| Polar Bottle | Breakaway Insulated | 24 | BPA-Free and Phthalate-Free Plastic | Yes | Insulated, self-sealing cap |
| YETI | Rambler Bottle | 36 | Stainless Steel | No | Double-wall vacuum insulation |
Features of Carrying a Water Bottle While Running
Key Takeaway
Staying hydrated during a run is crucial, and hence investing in an efficient water bottle can be a major advantage.
Some specialized water bottles can also include additional features like insulation to keep water cool and storage compartments for essential items.
Water bottles designed for runners should preferably be lightweight, non-leak, and easy to hold or attach to the body.
It's important to consider how much water a bottle can hold. For long-distance runners, a bottle with a larger capacity may be necessary.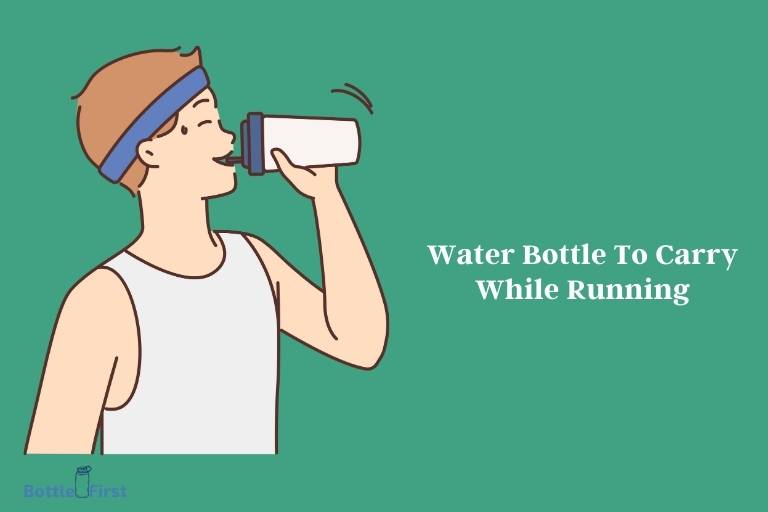 Five Facts About of Carrying a Water Bottle While Running
Dehydration impacts both your physiological function and performance. Staying hydrated can dramatically improve running performance. (Source: Mayo Clinic)
Insulated water bottles can keep your water cold for up to 24 hours, providing refreshing hydration even during long runs.(Source: Healthline)
Some running water bottles come with built-in storage areas, where runners can store keys, ID cards, energy gels, and other small essentials. (Source: Runner's World)
Handheld water bottles for running typically hold between 10 and 20 ounces of liquid and feature a hand strap for easy carrying.(Source: Runner's World)
Hydration belts and vests are also popular among long-distance runners, as they can carry multiple small bottles, distributing weight evenly and allowing for longer runs with sufficient hydration. (Source: Running Shoes Guru)
Staying Hydrated On The Go
How Hydration Impacts Running Performance
Adequate hydration is essential for optimal performance during running sessions.
Here's how it affects your performance:
Maintains body temperature: When you run, your body temperature rises, and sweating helps cool you down. Proper hydration ensures an adequate amount of sweat to keep your body cool and prevent overheating.
Improves endurance: Dehydration can lead to fatigue and decreased endurance levels. By staying hydrated, you help maintain your energy levels and endurance, allowing you to run for longer periods without feeling exhausted.
Enhances cardiovascular function: Hydration supports the optimal functioning of your cardiovascular system by ensuring an adequate blood volume. This improves oxygen delivery to your muscles, enhancing their performance and reducing the risk of cramping.
Boosts cognitive function: Dehydration can impair your cognitive abilities, making it difficult to focus and make quick decisions while running. By staying hydrated, you help optimize your cognitive function, ensuring you can stay focused throughout your run.
Importance Of Carrying Water While Running
Carrying water while running is crucial to prevent dehydration and maintain your performance.
Consider the following key points:
Easy access to hydration: When you carry a water bottle with you, you have easy access to hydration whenever you need it. This eliminates the need to rely on finding water sources during your run, allowing you to stay hydrated consistently.
Customizable hydration: Carrying your own water bottle allows you to customize your hydration needs based on your preferences and the duration of your run. You can choose the volume of water you need and even add electrolytes or energy supplements, ensuring you stay fueled and hydrated.
Prevents performance decline: By carrying water, you can prevent dehydration-induced performance decline. Regularly sipping water during your run helps maintain your fluid balance, preventing fatigue, muscle cramps, and a decrease in overall performance.
Safety during longer runs: If you're planning a longer run, carrying water becomes even more important for your safety. Adequate hydration throughout your run helps prevent heat-related illnesses such as heat exhaustion and heatstroke.
Factors To Consider When Choosing A Water Bottle
Ergonomic Design For Easy Grip
Opt for a water bottle with an ergonomic design that allows for a comfortable grip while running.
Look for bottles that feature non-slip materials or textured surfaces to ensure a secure hold, even when your hands are sweaty.
Consider bottles with contoured shapes that fit snugly in your hand, reducing the chances of dropping or straining your wrist.
Size And Capacity Options For Various Distances
Determine the distances you typically cover during your runs to choose the appropriate water bottle size and capacity.
For shorter distances, such as a 5k, a smaller bottle with a capacity of around 8-12 ounces should be sufficient.
If you're running longer distances, such as a half marathon or marathon, opt for a larger bottle with a capacity of 16-24 ounces or more.
Keep in mind that larger bottles may be heavier, so consider the trade-off between capacity and the added weight.
Material Choices For Durability And Safety
Consider the materials used in the construction of the water bottle for both durability and safety.
Stainless steel bottles are known for their durability and can withstand accidental drops without denting or breaking.
Bpa-free plastic bottles are lightweight and often come in various designs and colors. However, ensure they are labeled as bpa-free for your safety.
Some runners prefer collapsible silicone bottles due to their flexibility and ability to be stored easily when empty.
Different Types Of Water Bottles For Runners
Handheld Water Bottles:
Handheld water bottles are a popular choice among runners who prefer to have quick and easy access to their hydration.
Some key points about handheld water bottles include:
They are typically designed with an ergonomic grip, allowing for a comfortable and secure hold while running.
Many handheld water bottles also come with a strap or handle that helps distribute the weight evenly and reduces hand fatigue.
Most models feature a convenient spout or nozzle, enabling runners to sip water without stopping or slowing down.
Waist Belts With Water Bottle Holders:
Waist belts with water bottle holders are another convenient option for runners who prefer a more hands-free approach to hydration.
Here are some key points about waist belts with water bottle holders:
These belts typically feature an adjustable strap that can be secured around the waist, ensuring a snug and comfortable fit.
The water bottle holders are strategically positioned on the belt, allowing easy access while running without interfering with your stride.
Waist belts often come with additional pockets and compartments, providing runners with storage space for essentials like keys, phone, or energy gels.
Hydration Vests And Backpacks:
For runners who require larger water storage capacity or need to carry additional gear, hydration vests and backpacks are the way to go.
Here are some key points about hydration vests and backpacks:
These vests and backpacks are designed to distribute the weight evenly on the upper body, minimizing strain on the back and shoulders.
They often feature multiple water bottle pockets or hydration bladders with a drinking tube, allowing for easy access to water while on the move.
Hydration vests and backpacks also come with various compartments and storage options, making them ideal for carrying extra items such as snacks, extra layers, or a cell phone.
Features To Look For In A Water Bottle For Running
Leak-Proof And Spill-Proof Design
Seal the deal: Make sure the water bottle has a leak-proof and spill-proof design to prevent any unwanted accidents during your run.
Lock it in: Look for bottles with secure locking mechanisms to ensure that the cap stays tightly sealed, even during intense movements.
No mess, no stress: Opt for bottles with silicone or rubber seals that create an airtight barrier, preventing any leaks or spills.
Easy-Access Drinking Spout
Drink on the go: Choose a water bottle with an easy-access drinking spout that allows you to stay hydrated without slowing down or stopping.
Sip in seconds: Look for bottles with flip-top or push-button lids that can be easily opened with a simple touch, providing quick access to hydration.
Hands-free hydration: Consider bottles with built-in straws or nozzles that allow you to drink without having to tilt or unscrew the cap.
Insulation Properties For Temperature Control
Keep cool or warm: Opt for a water bottle with insulation properties to regulate the temperature of your drink, keeping it cold during hot summer runs or warm during chilly winter workouts.
Sweat-free experience: Choose bottles with double-walled construction or vacuum insulation that prevents condensation from forming on the outside, ensuring a comfortable grip.
Savor the freshness: Look for bottles with insulation properties that maintain the temperature of your drink for extended periods, so you can enjoy it throughout your run.
Top Recommendations For Water Bottles To Carry While Running
Brand A: Lightweight Handheld Water Bottle With A Secure Grip
Designed for runners who prefer to carry their water in their hand, brand a offers a lightweight handheld water bottle with a secure grip.
This water bottle is ergonomically designed to fit comfortably in your hand, allowing you to maintain a natural running form without being weighed down.
The secure grip ensures that the bottle won't slip or bounce as you run, providing you with a hassle-free hydrating experience.
Brand B: Waist Belt With Multiple Water Bottle Holders And Storage Pockets
If you're someone who needs more hydration options and storage space while running, brand b's waist belt is the perfect solution.
This waist belt features multiple water bottle holders, allowing you to carry multiple water bottles with you on your run. This is especially useful for longer runs or when running in hotter climates.
In addition to the water bottle holders, the waist belt also offers storage pockets for essentials such as keys, phone, energy gels, and more. You can have everything you need within easy reach.
Brand C: Hydration Vest With Adjustable Straps And Ample Storage Space
For the ultimate hydration and storage solution, brand c's hydration vest is a game-changer.
The hydration vest is designed to fit snugly against your body, with adjustable straps that allow for a customized fit. This ensures maximum comfort and stability while running.
With ample storage space, you can carry not only water bottles but also other essentials such as snacks, a lightweight jacket, or even a small first aid kit. The vest keeps everything secure and easily accessible, eliminating the need for additional accessories.
FAQ About Water Bottle To Carry While Running
What Is The Best Water Bottle For Running?
The best water bottle for running is one that is lightweight, leak-proof, and easy to carry.
How Much Water Should I Carry While Running?
It is recommended to carry at least 8 to 12 ounces of water per hour of running.
Are There Any Special Water Bottles For Marathon Runners?
Yes, there are water bottles specifically designed for marathon runners, with features like hand straps or waist belts for easy carrying.
Can I Use A Reusable Water Bottle For Running?
Yes, using a reusable water bottle for running is a great choice as it is eco-friendly and can be refilled as needed.
What Features Should I Look For In A Running Water Bottle?
When choosing a running water bottle, consider features like a secure lid, easy-to-use nozzle, and a comfortable grip.
Conclusion