Water Bottle Upcycling Ideas: Eco-Friendliness!
Upcycling water bottles is an innovative way of turning waste into something new and useful while also reducing waste and promoting eco-friendliness.
With creativity, one can transform these water bottles into flower vases, bird feeders, storage containers, or even decorative crafts for home!
Water bottles, especially the plastic ones, cause great harm to our environment. However, by upcycling these bottles, we could not only reduce the waste but also create some useful items out of it.
This practice of converting an unwanted product into something of greater value is known as upcycling.
Water bottle upcycling is an excellent way to teach the importance of reusing and recycling to our younger generation.
Flower Vases: Cut off the top of the water bottle and paint it. It can serve as a perfect vase for your flowers.
Bird Feeders: With a hole in the middle and a stick through it, a water bottle can become a great bird feeder in your garden.
Storage Containers: The bottom part of a large water bottle can be used as a storage container for small items.
Decorative Crafts: With the help of some paints and creativity, water bottles can be transformed into beautiful crafts for your home decoration.
Upcycling water bottles is a true testament to the saying, "One man's trash is another man's treasure."
With some creativity, we can transform these mundane objects into something innovative, reducing our waste footprint.
You can use these upcycled water bottles in your everyday life, helping to create a healthier planet. So, the next time you finish a water bottle,
11 Creative Upcycled Water Bottle Ideas
| Idea Number | Upcycling Idea | Required Materials |
| --- | --- | --- |
| 1 | Plant Container | Empty Water Bottle, Soil, Seeds |
| 2 | Bird Feeder | Empty Water Bottle, Twine, Bird Seed |
| 3 | Craft Supply Organizer | Empty Water Bottle, Scissors |
| 4 | Homemade Sprinkler | Empty Water Bottle, Hose, Drill |
| 5 | DIY Lamp | Empty Water Bottle, Light Bulb, Lamp Wire |
| 6 | Magazine Holder | Empty Large Water Bottle, Scissors |
| 7 | Coin Bank | Empty Water Bottle, Marker, Scissors |
| 8 | Candle Holder | Empty Water Bottle, Candle, Paint |
| 9 | Flower Vase | Empty Water Bottle, Flowers |
| 10 | Bangle Stand | Large Water Bottle, Scissors |
| 11 | Liquid Soap Dispenser | Small Water Bottle, Pump Dispenser |
11 Creative Upcycled Water Bottle Ideas
Key Takeaway
Upcycling water bottles can help reduce the amount of waste in our environment and conserve natural resources.
There are many creative DIY projects that one can initiate with old water bottles.
Upcycling water bottles is both a cost-effective and sustainable way to utilize a plastic product that would otherwise have been discarded.
Teaching children about the benefits of upcycling can be a great way to instill eco-friendly habits at an early age.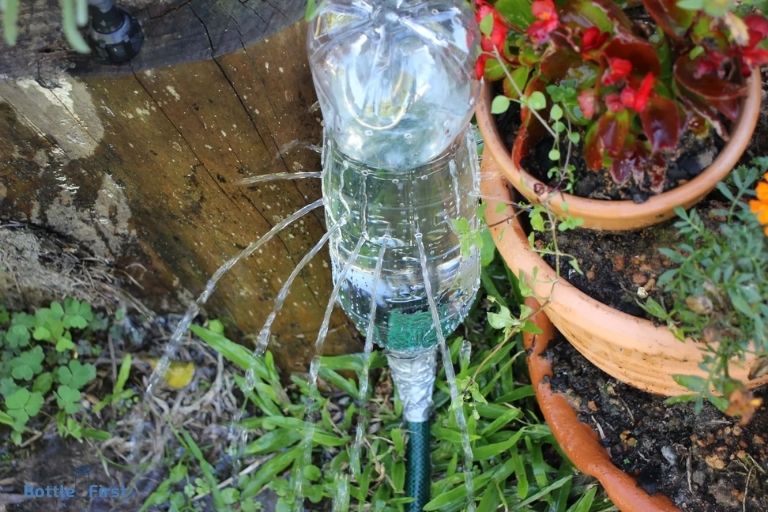 Five Facts About Water Bottle Upcycling Ideas
More than one million plastic bottles are sold every minute around the globe. This translates to about 1.3 billion plastic bottles per day, creating a significant amount of waste. (Source: Forbes)
Besides cutting down on waste, upcycling plastic bottles can result in useful items like planters, bird feeders, and storage containers. (Source: DIY Inspired)
Plastic bottles take 450 years or more to decompose, making their upcycling contribution vital in fighting environmental pollution. (Source: South & Associates Environmental Engineers)
It is possible to upcycle a water bottle into a creative light fixture that could add a unique touch to your home decor. (Source: Today)
Certain companies are turning recycled plastic bottles into sophisticated products, such as clothes, shoes, and bags, thus proving that upcycling can also be a profitable business. (Source: PlasticOceans.org)
Introduction To Water Bottle Upcycling Ideas
Water Bottle Upcycling Ideas
Are you tired of seeing empty plastic water bottles piling up in your home? Don't throw them away just yet!
With a little creativity and some crafty techniques, you can easily transform those discarded bottles into useful and unique items.
We'll explore the benefits of upcycling and the environmental impact of plastic bottles, as well as provide you with some fantastic ideas for upcycling those old water bottles.
Benefits Of Upcycling
Upcycling not only helps reduce waste but also brings a multitude of benefits that you may not have considered. Here are some key points to keep in mind:
Cost-effective: Upcycling water bottles is a budget-friendly way to create new items without spending a fortune on materials.
Creative outlet: Upcycling allows you to unleash your creativity and turn ordinary items into extraordinary pieces of art or practical objects.
Personal touch: By repurposing water bottles, you can add a personal touch to your living space or gifts, making them truly one-of-a-kind.
Promotes sustainability: Upcycling is an eco-friendly practice that helps reduce the demand for new products and minimizes the consumption of resources.
Environmental Impact Of Plastic Bottles
Plastic bottles have a significant environmental impact that we should be aware of. Consider the following points:
Landfill pollution: When plastic bottles end up in landfills, they contribute to pollution, taking hundreds of years to break down.
Marine life threat: Plastic bottles that make their way into our oceans pose a serious threat to marine life, often leading to entanglement or ingestion.
Energy consumption: The production and transportation of plastic bottles require vast amounts of energy, contributing to carbon emissions and climate change.
Non-biodegradable: Plastic bottles are made from materials that do not naturally decompose, posing long-term challenges for the environment.
Now that you understand the benefits of upcycling and the environmental impact of plastic bottles, let's dive into some creative ideas to give those water bottles a new lease on life.
Stay tuned for the upcoming sections, where we will explore various upcycling projects that are both practical and visually appealing.
Remember, upcycling is not only about repurposing items but also about making a positive difference in the world. So gather those empty water bottles and get ready to create something extraordinary!
Stylish And Functional Water Bottle Planters
How To Turn A Water Bottle Into A Planter:
Transforming a simple water bottle into a stylish and functional planter is not only an environmentally friendly choice but also a fun and creative way to upcycle.
Follow these simple steps to create your own water bottle planter:
Start by thoroughly cleaning and drying the water bottle to ensure it's free from any residue or impurities.
Use a sharp pair of scissors or a craft knife to carefully cut off the top portion of the water bottle. Aim for a size that will allow enough space for your chosen plants to grow.
Poke a few drainage holes in the bottom of the bottle to prevent water from pooling and causing root rot.
Fill the bottom of the bottle with small stones or pebbles to further improve drainage and create a stable base.
Add a layer of potting soil on top of the stones, leaving enough space for your plant's roots.
Gently place your chosen plant or seeds into the soil, ensuring it is positioned correctly.
Finally, add more soil around the plant and gently pat it down to secure it in place.
Your water bottle planter is now ready to be displayed and enjoyed!
Unique Plant Options For Water Bottle Planters:
Water bottle planters offer a versatile and cost-effective way to showcase a variety of plants. Consider these unique plant options to add interest and beauty to your upcycled water bottle planters:
Succulents: Drought-tolerant succulents such as echeverias, haworthias, or jade plants thrive in water bottle planters. They require minimal maintenance and can add a touch of greenery to any space.
Herbs: Create your own mini herb garden by planting herbs like basil, mint, or parsley in water bottle planters. Enjoy fresh herbs for cooking right at your fingertips.
Cacti: These resilient plants are perfect for water bottle planters, as they are adapted to arid conditions. Choose a variety of cacti with different shapes and sizes to create an eye-catching display.
Air plants: Also known as tillandsias, air plants are unique and easy to care for. As they don't require soil, they can be creatively displayed in water bottle planters. Simply mist them with water occasionally to keep them healthy.
Creeping plants: Opt for trailing plants like ivy, pothos, or creeping thyme to create a cascading effect in your water bottle planters. These plants will beautifully spill over the edges, adding a touch of elegance to your display.
Tips For Maintaining Water Bottle Planters:
To ensure the longevity and health of your water bottle planters, follow these simple tips for maintenance:
Watering: While water bottle planters provide good drainage, it's important not to overwater. Check the soil moisture regularly and water only when it feels dry.
Fertilizing: Apply a balanced liquid fertilizer to your plants every four to six weeks or as recommended by the specific plant's care instructions. This will provide them with essential nutrients for healthy growth.
Sunlight: Place your water bottle planters in an area that receives adequate sunlight according to your plants' requirements. Most plants thrive in bright, indirect light.
Pruning: Regularly trim back any dead or overgrown foliage to promote new growth and maintain the overall appearance of your water bottle planters.
Repotting: As your plants grow, they may outgrow the water bottle planters. Keep an eye on the root system and repot your plants as necessary into larger containers to ensure their continued health.
By following these tips, your water bottle planters will flourish, bringing beauty and a touch of nature into your living space. So, let your creativity bloom and start upcycling those water bottles today!
Diy Water Bottle Organizer
Step-By-Step Guide To Creating A Water Bottle Organizer
If you're looking for a fun and creative way to upcycle your old water bottles, why not try making a diy water bottle organizer?
Not only will you be reducing waste, but you'll also have a practical and unique storage solution for your home.
Follow these simple steps to create your own water bottle organizer:
Gather your materials:
Empty water bottles (preferably of the same size and shape)
Scissors
Adhesive tape or glue
Decorative paper or fabric
Marker or pen
Prepare the bottles:
Remove the labels from the water bottles by soaking them in warm soapy water.
Rinse and dry the bottles thoroughly to ensure they're clean and free of any residue.
Cut the bottles:
Using the scissors, carefully cut off the top portion of the bottles, leaving the bottom part intact.
The size of the cut will depend on the height you want for your organizer. Aim for about 4-6 inches in height.
Arrange the bottles:
Take the cut bottles and arrange them in a row or any configuration of your choice.
Make sure the bottoms of the bottles are facing upwards to create individual compartments for your items.
Secure the bottles:
Using adhesive tape or glue, attach the bottles together at the sides to form a sturdy structure.
Ensure that the bottles are aligned and evenly spaced to create a cohesive organizer.
Personalize your organizer:
Wrap the outside of the bottles with decorative paper or fabric, covering the entire surface.
This step will not only add a touch of style but also help to hide any imperfections or labels that couldn't be removed.
Label the compartments:
Use a marker or pen to label each compartment according to the items you plan to store in them.
This step will make it easier to find and organize your belongings.
Organizational Ideas For Different Spaces
Now that you've created your water bottle organizer, let's explore some creative ways to use it in different spaces of your home.
Here are some organizational ideas to get you started:
Kitchen:
Use the compartments to store kitchen utensils, such as spoons, spatulas, and whisks.
Organize herbs and spices, keeping them easily accessible while cooking.
Bathroom:
Store toothbrushes, toothpaste, and other dental hygiene items in separate compartments.
Use the organizer to hold makeup brushes, hair accessories, or small toiletries.
Office:
Keep your writing instruments neatly organized, separating pens, pencils, highlighters, and markers.
Store small office supplies like paper clips, pushpins, and thumbtacks for easy access.
Craft room:
Sort and store different types of crafting materials, such as beads, buttons, sequins, or small sewing supplies.
Use the organizer to keep paintbrushes, scissors, and other tools within reach.
Remember, the possibilities are endless, and you can adapt the water bottle organizer to fit your specific storage needs in any room of your home.
Embrace your creativity and enjoy the organization and functionality this diy project brings to your space.
Upcycled Water Bottle Crafts For Kids
Fun And Educational Craft Ideas For Children
Are you looking for fun and educational craft ideas to keep your little ones entertained? Look no further! Upcycled water bottle crafts are a fantastic way to repurpose old bottles and unleash your child's creativity.
These crafts not only provide an opportunity for interactive fun but also teach valuable lessons about recycling and the environment.
Here are some exciting ideas to get you started:
Mini greenhouses: Teach your child about plants and the importance of taking care of our environment by creating mini greenhouses. Cut the bottom off a water bottle, add soil and seeds, and watch as your child witnesses the magic of growth.
Water bottle rockets: Combine science and creativity by transforming a simple water bottle into a rocket. Launch it into the air using a mixture of vinegar and baking soda. Your child will be thrilled watching their handmade rocket soar high above.
Sensory bottles: Develop your child's senses with sensory bottles. Fill a bottle with water, glitter, and small objects such as buttons or beads. This calming and engaging activity not only provides visual stimulation but also enhances fine motor skills.
Materials Needed For Each Project
Before diving into these entertaining crafts, make sure you have the necessary materials. Here's a list of what you'll need for each project:
Mini greenhouses:
Empty water bottles
Scissors
Soil
Seeds
Water bottle rockets:
Empty water bottle
Vinegar
Baking soda
Cork
Tissue paper
Decorative materials (optional)
Sensory bottles:
Empty water bottles
Clear glue
Water
Glitter
Small objects (e.g., buttons, beads, sequins)
Food coloring (optional)
Safety Tips For Working With Water Bottles
While these upcycled water bottle crafts can be loads of fun, it's important to prioritize safety. Follow these tips to ensure a safe crafting experience:
Adult supervision: Always supervise your child during the crafting process, especially when using scissors or other potentially hazardous materials.
Use child-safe materials: Ensure that all materials used are child-friendly and non-toxic.
Sharp edges: Be mindful of any sharp edges on the water bottle after cutting. Sand down the edges or cover them with tape to prevent any accidents.
Proper disposal: Remember to properly dispose of any excess materials or empty water bottles to prevent potential accidents or injury.
Now that you have these exciting upcycled water bottle craft ideas, gather your materials, and let the creative journey begin!
Watch as your child learns, explores, and has a blast with these engaging and educational projects. Get ready for a fun-filled and environmentally conscious crafting experience!
Upcycled Water Bottles As Home Decor
Water Bottle Upcycling Ideas
Are you tired of throwing away empty water bottles? Don't discard them just yet! Get ready to explore the world of upcycling with these creative ideas to transform your used water bottles into stunning home decor pieces.
From eye-catching light fixtures to beautiful flower vases and decorative wall art, the possibilities are endless.
Let's dive in and discover the art of upcycling!
Using Water Bottles To Create Striking Light Fixtures
Transforming your water bottles into unique light fixtures is a brilliant way to add a touch of charm to your living space.
Here are some key points to keep in mind:
Cut the bottom of the water bottle and use it as a shade for a pendant light. By painting the interior with your favorite color or adding decorative elements, you can create a customized and striking new look.
String multiple water bottles together vertically and insert fairy lights inside them for a mesmerizing chandelier effect. This diy project will instantly elevate the ambiance of any room.
Experiment with different bottle shapes and sizes to create a cluster of hanging lights. This eclectic display is sure to become a conversation starter!
Creating Eye-Catching Flower Vases From Plastic Bottles
Why spend money on expensive vases when you can make your own stunning flower vessels from water bottles?
Here's what you need to know:
Cut the top portion of a water bottle to create a makeshift vase. You can leave it as is or decorate it with paint, ribbons, or even wrap it in fabric for a personalized touch.
Paint or spray the exterior of the bottle to give it a smooth, chic look. Metallic or pastel colors work particularly well, depending on the style you're aiming for.
Experiment with different cutting techniques to create unique shapes and designs. From geometric patterns to intricate cutouts, your imagination is the only limit!
How To Turn Water Bottles Into Decorative Wall Art
Looking to add a pop of color and texture to your walls? Repurposing water bottles as decorative wall art is a creative and budget-friendly solution.
Consider the following ideas:
Cut the bottom of several water bottles and attach them to a canvas or wooden board in a visually pleasing arrangement. By painting or spraying them in coordinating colors, you can create a captivating piece of art.
Flatten water bottles by heating them and pressing them between heavy objects. Cut them into various shapes and arrange them on your walls to create a unique and captivating installation.
Use water bottles as a stencil to create patterns or designs on your walls. Spray paint or brush vibrant colors through the cutout shapes for an instant burst of creativity.
With these exciting upcycling ideas, you can transform your used water bottles into stunning home decor pieces.
From captivating light fixtures to eye-catching flower vases and decorative wall art, your creativity knows no bounds.
Let your imagination soar and bring a touch of uniqueness to your living space with these easy and eco-friendly diy projects.
Start upcycling today and enjoy the satisfaction of giving new life to ordinary objects!
What Makes the National Parks Bucket List Water Bottle Eco-Friendly?
The National Parks Bucket List Water Bottle is an eco-friendly solution for nature enthusiasts. Made from sustainable materials, this national parks eco-friendly water bottle helps reduce single-use plastic waste. Its durable design ensures long-term use, while promoting responsible consumption and conservation of our precious natural resources.
FAQ About Water Bottle Upcycling Ideas
Can I Reuse A Plastic Water Bottle?
Yes, you can reuse a plastic water bottle, but it's recommended to avoid excessive reuse to prevent potential chemical leaching.
How Can I Upcycle A Water Bottle?
There are numerous ways to upcycle a water bottle, such as creating a self-watering planter, organizing small items, or making a bird feeder.
What Are Some Creative Water Bottle Crafts?
Get crafty with your water bottles by making flower vases, pencil holders, decorative lights, camping lanterns, or even a diy sprinkler for your garden.
Are There Any Safety Concerns With Upcycling A Water Bottle?
Ensure the upcycled water bottle is cleaned thoroughly, avoid using it for storing beverages, and be cautious of sharp edges or potential choking hazards.
Can Upcycling Water Bottles Help The Environment?
Yes, upcycling water bottles helps reduce waste, promotes recycling awareness, and encourages creativity while reducing the demand for new plastic products.
Conclusion
Water bottle upcycling offers endless possibilities for creativity and sustainability. By repurposing these everyday items, we can reduce waste and contribute to a greener planet.
From simple projects like turning them into planters or vases, to more intricate designs such as creating jewelry or lamps, there is something for every skill level.
These upcycling ideas not only help us minimize our environmental impact, but they also serve as a reminder of the importance of rethinking our consumption habits.
With just a little imagination and effort, we can transform discarded water bottles into unique and useful objects.
So, next time you reach for a plastic bottle, think twice before tossing it in the bin. Consider how you can give it a new lease on life and contribute to the growing movement of upcycling.
Let's join hands and make our world a better place, one upcycled water bottle at a time!