Water Bottle Wind Spirals How to Make
To make a water bottle wind spiral, you will need: 1 empty plastic water bottle, scissors, tape, and a marker. Cut the bottom off of the water bottle. Tape the cut end of the water bottle to the side of the body near your waist.

Make sure that the opening of the bottle is facing outwards. Use the marker to draw a line from the top of the water bottle to the bottom. This will be your guide for cutting.

Cut along the line you just drew, making sure not to cut through the tape. Once you have cut all around the water bottle, carefully remove it from your body. You should now have a long strip of plastic with jagged edges.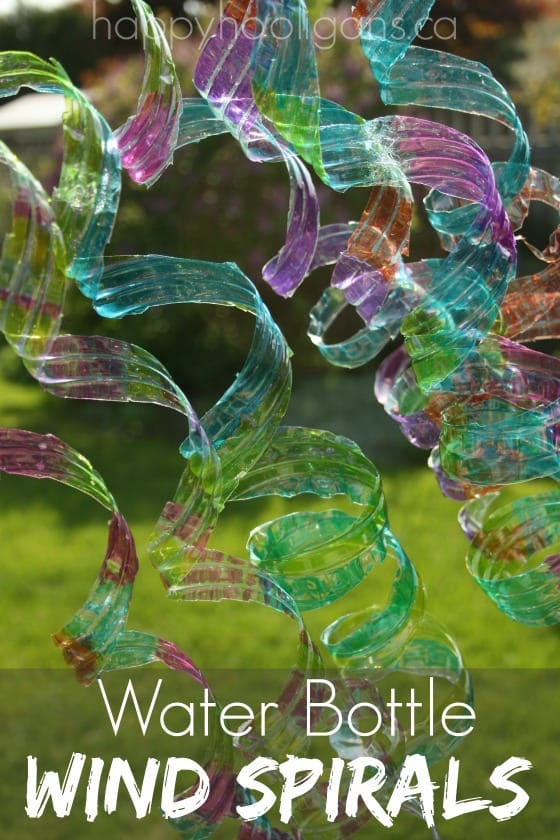 Water bottles are a great way to recycle and upcycle plastic! You can use them to make all sorts of things, including these water bottle wind spirals. They're perfect for adding a touch of whimsy to your garden or outdoor space.

To make these water bottle wind spirals, you'll need: -3 empty water bottles -Scissors

-Ruler or measuring tape -Hot glue gun and glue sticks -Paint (optional)

First, cut the bottom off of two of the water bottles. These will be the top and bottom pieces of your spiral. Then, cut a long strip from the remaining water bottle.

This will be wrapped around to create the spiral shape. Next, use hot glue to attach the top piece to the strip. Start wrapping the strip around itself, gluing as you go.

Once you reach the end, glue on the bottom piece. If you want, you can paint your spiral any color or colors you like! We went with a bright rainbow design, but you could also do something more subdued if that's your style.

Let your paint dry completely before displaying your new water bottle wind spiral in all its glory!
How Do You Make a Swirl Bottle?
If you want to make a swirl bottle, there are a few things you need to do. First, gather your materials. You will need a bottle with a screw-on cap, food coloring, and water.

Fill the bottle about halfway with water. Add 10-15 drops of food coloring, depending on how dark you want the color to be. Screw the cap on tightly and shake the bottle until the water is evenly mixed with the food coloring.

Now it's time to start swirling! Place your thumb over the opening of the bottle and quickly turn it upside down and then right side up again. Repeat this motion several times until you see the color starting to swirl around inside the bottle.

Once you're happy with the way it looks, screw the cap on tightly and put it in the fridge to cool for an hour or so before enjoying your new creation!
How Do You Make a Plastic Bottle Windsock?
What is a Windsock? A windsock is a tube- or cone-shaped fabric bag that hangs from a pole, typically at airports. It is used to indicate wind direction and speed by the movement of the sock in response to wind blowing across it.

The shape of the windsock allows the wind to enter and exit at different speeds, which makes it an ideal tool for measuring both wind direction and speed. How do you make a plastic bottle windsock? 1. Cut the bottom off of a 2-liter soda bottle using scissors or a utility knife.

The bottom half of the bottle will be your windsock body. 2. Decorate the outside of your windsock body if desired. You can use paint, markers, stickers, etc.

Let dry completely if using anything that needs to dry first. 3. Poke two holes near the top of your decorated bottle using a pencil or skewer. These will be where you thread your string or ribbon to hang up your finished windsock later on.

4. Cut eight strips of colorful duct tape, each about 8 inches long. 5 Streamers: Take one strip of duct tape and adhere it sticky-side up to your work surface. Place another strip sticky-side down on top of it so that they are both facing sticky-side outwards (this creates one streamer).

Repeat this step until all eight strips have been used and you have four streamers total.. To add interest and variety, try using patterned duct tape or multiple colors per streamer!

5a) Attach four streamers to each hole poking out from the top of your Windsock Body: Turn your Windsock Body upside down so that the holes are at the bottom pointing upwards towards you., take one end of a streamer and place it over one hole,, then poke the other end through from underneath so that both ends are now sticking out through the same hole (like shoelaces), Tie knots in both ends underneath so that they stay put., Repeat with remaining three streamers & holes.. Now turn Windsock right side up again.. All done!
Water Bottle Wind Spirals
How to Make Wind Spinners Out of Plastic Bottles
Wind spinners are a fun and easy way to add some flair to your yard or garden. You can make them out of just about anything, but plastic bottles work great! With a little bit of time and effort, you can have your very own wind spinner made from recycled materials.

Here's how: 1. Gather your supplies. You will need two plastic bottles (water or soda), scissors, a drill with a small bit, fishing line or string, and tape.

2. Cut the bottoms off of both bottles. Discard the bottom halves or recycle them. 3. Make a hole in the center of the bottle caps using the drill bit.

This will be where you thread the string through later on. 4. Thread one end of the string through one bottle cap hole and tie it off securely. Repeat with the other end of the string and second bottle cap hole.

5 Now that both ends of the string are secure, tie them together in the middle so that you have one long loop of string connecting both bottle tops together . This is what will allow your wind spinner to spin! 6 Hang your wind spinner up in a spot where there is good airflow .

A tree branch , fence , or clothesline are all good options . 7 Sit back and enjoy watching your new creation spin in the breeze !
Water Bottle Mobile
We all know how important it is to stay hydrated, especially when we're on the go. But lugging around a heavy water bottle can be a pain, and sometimes we forget to bring one with us altogether. That's where the water bottle mobile comes in!

This nifty little gadget attaches to your water bottle and allows you to carry it hands-free. Whether you're out for a run or just running errands, this is the perfect way to keep yourself hydrated without having to worry about carrying a heavy water bottle around. The water bottle mobile has an adjustable strap that fits most standard size water bottles, and it also has a small pocket that's perfect for storing your keys or other small items.

This is truly the ultimate hands-free solution for staying hydrated on the go!
How to Make a Wind Spinner Spin
If you're looking for a fun and easy project to add some visual interest to your yard or garden, look no further than a wind spinner! Wind spinners are simple devices that use the power of the wind to rotate. They come in all sorts of shapes and sizes, and can be made from a variety of materials.

In this tutorial, we'll show you how to make a basic wind spinner using just a few inexpensive supplies. To get started, you'll need: A piece of cardboard (we used an old cereal box)

A sharp knife or scissors Some string or twine A pencil or pen

First, use your pencil or pen to trace a shape onto your piece of cardboard. We opted for a simple spiral design, but feel free to get creative! Once your design is traced out, carefully cut it out with your knife or scissors.

Next, poke a small hole in the center of your cut-out shape. This is where your string will go later on. Now it's time to start adding some color!

You can either paint or decorate your wind spinner however you like. We went with a rainbow theme, but again, feel free to get creative! Once you're satisfied with your design, set it aside to dry.

Once your paint is dry (or if you skipped this step altogether), it's time to add the finishing touches! Cut a length of string or twine and thread it through the hole in the center of your spiral. Tie the ends together so that they're secure, then find somewhere outdoors where there's plenty of room for your new creation to spin freely!
Conclusion
In this blog post, the author explains how to make a water bottle wind spiral. You will need a empty water bottle, scissors, and tape. First, cut the bottom off of the water bottle.

Next, make four cuts around the circumference of the water bottle, making sure that the cuts are evenly spaced. Once you have made your cuts, use tape to secure the end of the water bottle so that it does not come undone. Finally, twist the water bottle so that it forms a spiral shape and enjoy!