Where to Put Water Bottle on Bike? | 5 Best Locations!
The ideal places to put a water bottle on a bike are the frame-mounted cage, handlebars, behind the saddle, and in a backpack or hydration pack. These locations offer convenient reach and stability while cycling.
Water is crucial on any bike ride, long or short. It's essential to keep your body hydrated for optimal performance and safety.
The water bottle placement should allow easy access without interfering with the bike's operation.
Some bikes come with a built-in frame-mounted cage, which is the most common place to keep a water bottle.
If your bike doesn't have one, you can get one installed. Alternatively, you can use a handlebar-mounted cage or a seat-post mount, especially for long rides where more fluids are needed.
Some cyclists prefer carrying a hydration pack or a backpack with a water bladder.
Frame-mounted cage: This is the most common and convenient location for most cyclists. It allows easy access to the water bottle while riding.
Handlebar-mounted cage: This placement is ideal for those who prefer the water bottle within their sight and reach.
Behind-the-saddle mounts: These are common in triathlon bikes. They can carry more than one water bottle at a time.
Hydration pack/Backpack: These are especially useful for long rides as they can hold a large quantity of water in a bladder with a feeding tube for easy drinking.
For cyclists, proper hydration is key. Therefore, having a water bottle within easy reach can make a huge difference in performance and comfort.
Whether it's a frame-mounted cage, a handlebar-mounted cage, behind-the-saddle mounts, or a hydration pack,
5 Best Locations to Place a Water Bottle on a Bike
| Mounting Location | Pros | Cons |
| --- | --- | --- |
| Bottle Cage on Frame | Easily accessible, most common location | May interfere with pedaling if too large |
| Behind the Saddle | Aerodynamically efficient | Can be difficult to reach while riding |
| Handlebars | Easy to reach, ideal for frequent sips | May affect bike handling |
| On the Fork | Good option for long distance rides | Can affect steering due to weight |
| Under the Downtube | Out of the way, leaves space on the frame | May get dirty from road spray |
Best Locations to Place a Water Bottle on a Bike
Key Takeaway
Positioning the water bottle on a bike is essential for comfort and easy accessibility while cycling.
Most bikes come with built in cage mounts for water bottle placement, which are typically located on the down tube or the seat tube.
Placement of the water bottle on the handlebars or behind the saddle are other options, which appeal to long-distance cyclists or triathletes.
The choice of placement can depend on the type of cycling – such as mountain biking or road cycling – and the personal preference of the cyclist.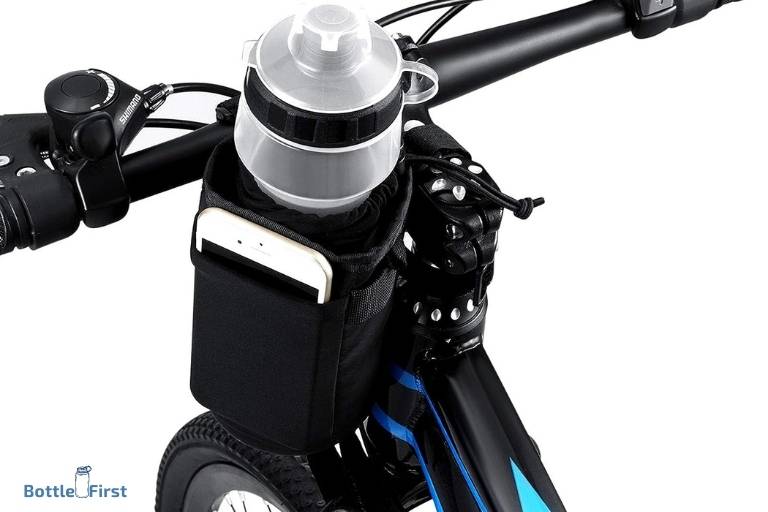 Five Facts About to Put Water Bottle on a Bike
Bikes usually contain one or two cage mounts for water bottles on the frame, with the most common locations being the down tube and the seat tube.
Long-distance cyclists or triathletes sometimes opt to put their water behind the saddle or on the handlebars, with special mounts necessary for these placements.
Mountain bikers often prefer to carry their water in a hydration pack on their back, rather than on the frame of the bike, to lower the center of gravity and improve balance (mountbikepros.com).
The material of the water bottle cage can impact the ride; aluminum cages are lightweight but rigid, while carbon fiber cages offer flexibility, grip, and a lighter weight (bikeradar.com).
Some modern city or electric bikes lack traditional cage mounts, but there are a variety of universal mounts and brackets available on the market that allow cyclists to customize their water bottle placement (cyclingweekly.com).
Handlebar Mounts
Benefits And Drawbacks Of Handlebar Mounts:
Convenience: With a handlebar mount, you can keep your water bottle within easy reach, allowing you to stay hydrated without needing to stop and reach for your bottle in a bag or pocket.
Accessibility: Having your water bottle right in front of you on the handlebars ensures that you can quickly grab a drink whenever you need it, without taking your eyes off the road.
Easy installation: Handlebar mounts are typically easy to install and can be adjusted to fit different sizes of water bottles, providing a secure and snug fit.
Versatility: Handlebar mounts are not limited to holding just water bottles. You can also use them to hold sports drinks, energy gels, or even your smartphone for easy access to navigation or fitness apps.
Limited space: Mounting a water bottle on your handlebars may take up valuable space that could be used for other accessories like bike lights, a bike computer, or a bell. Make sure you have enough room on your handlebars to accommodate both your bottle mount and other accessories you may need.
Potential interference: Depending on the design of your bike's handlebars and the mount, having a water bottle on your handlebars may interfere with your hand position or limit your access to the brakes. Ensure that the position of the mount does not impede your ability to ride safely.
Positioning Options For Handlebar Mounts:
Center mount: This is the most straightforward and commonly used position. The mount is placed in the center of the handlebars, allowing equal access to the water bottle from both sides.
Side mount: For those who prefer to have their water bottle positioned to the side, a side mount can be used. This position may provide easier access to the bottle, especially if you have limited space on your handlebars.
Diagonal mount: If you want to maximize the space on your handlebars, a diagonal mount can be a good option. It allows you to position the water bottle at an angle, utilizing the available space efficiently.
Frame Mounts
Frame Mounts: Pros And Cons
Pros Of Frame Mounts
Convenience: With frame mounts, your water bottle is easily accessible while you ride. You can simply reach down and grab it without having to stop or slow down.
Minimal interference: Mounting your water bottle on the frame allows for less disruption in terms of bike handling and aerodynamics. This is particularly important for competitive cyclists or those seeking optimal performance.
Versatile placement: Frame mounts can be installed on various parts of the bike frame, giving you the flexibility to choose the most suitable location.
Compatibility: Most bikes are designed to accommodate frame mounts, making it a widely available option for cyclists.
Cons Of Frame Mounts
Limited space: Depending on the size and shape of your bike frame, you may have limited space for mounting multiple water bottles. This could be a drawback for cyclists who prefer to carry more than one bottle.
Potential for scratches: Mounting a water bottle on the frame can potentially cause scratches on the surface. This is especially true if the bottle holder is not securely fastened or if the bike experiences rough terrain.
Reduced aesthetic appeal: Some cyclists may prefer a clean and clutter-free look for their bikes. Frame mounts can add visual bulk, which might not appeal to all riders.
Suitable Locations For Frame Mounts
Down tube: Mounting the water bottle cage on the down tube provides easy access, especially for larger-sized frames.
Seat tube: Installing the frame mount on the seat tube is a popular choice for many riders. This location is particularly suitable for bikes with smaller frames.
Top tube: Placing the water bottle cage on the top tube can be convenient for quick hydration, as it is within easy reach without having to bend down.
Seatstay or chainstay: Some bikes offer additional mounting points on the seatstay or chainstay, providing alternative locations for the water bottle cage.
Seatpost Mounts
Advantages Of Seatpost Mounts:
Easy installation: Seatpost mounts can be easily installed on the seatpost without the need for any additional tools. This makes them a convenient option for cyclists who want a quick and simple solution for carrying their water bottle.
Versatility: Seatpost mounts are compatible with a wide range of bike frames, making them a versatile option for cyclists of all types. Whether you have a road bike, mountain bike, or hybrid bike, you can easily find a seatpost mount that fits your bike.
Adjustable position: Most seatpost mounts allow for adjustable positioning, allowing you to find the ideal placement for your water bottle. This flexibility ensures that your water bottle is always within reach during your ride.
Disadvantages Of Seatpost Mounts:
Limited space: The main drawback of seatpost mounts is that they can take up valuable space on the seatpost. If you have a seat bag or other accessories attached to your seatpost, it may be challenging to find a suitable spot for your water bottle mount.
Potential interference: Depending on the design of your bike and the size of your water bottle, a seatpost mount may interfere with your legs while pedaling. This can be uncomfortable and may affect your cycling performance.
Stability: Seatpost mounts can sometimes be less stable than other mounting options, such as frame mounts. If you frequently ride on bumpy or uneven terrain, your water bottle may be more prone to falling out of the mount.
Optimal Placement For Seatpost Mounts:
Mount height: The optimal placement for a seatpost mount is generally within easy reach while riding. It should be high enough on the seatpost that you can easily access the water bottle without having to stretch or bend too far.
Clear of obstacles: When positioning a seatpost mount, make sure it does not interfere with any other accessories or components on your bike, such as saddlebags or rear lights. This will help ensure that your water bottle is easily accessible and does not get in the way of other equipment.
Secure attachment: It is essential to securely attach your seatpost mount to the seatpost to prevent any movement or wobbling while riding. Follow the manufacturer's instructions for installation to ensure a secure and stable attachment.
Alternative Mounting Options
Creative Solutions For Carrying Water Bottles On A Bike
Handlebar-Mounted Bottle Cages
Handlebar-mounted bottle cages offer a convenient and easily accessible option for carrying water bottles on your bike.
These bottle cages can be attached to the handlebars using straps or clamps, keeping your water bottle within arm's reach.
Frame-Mounted Bottle Cages
Frame-mounted bottle cages are a popular choice for many cyclists, as they are easy to install and keep the water bottle securely in place.
These cages can be attached to the bike's frame using screws or straps, and are typically positioned either inside the main triangle or on the seat tube.
Saddle-Mounted Bottle Cages
Saddle-mounted bottle cages provide a unique solution for carrying water bottles on a bike.
These cages are attached to the rails of the saddle, allowing you to keep your water bottle out of the way and easily accessible while riding.
Handlebar Bags With Built-In Hydration Systems
Handlebar bags with built-in hydration systems are a versatile option for carrying water bottles on a bike.
These bags not only provide storage space for your belongings but also feature a dedicated compartment for a water bladder, allowing you to stay hydrated without the need for additional bottle cages.
Backpack Hydration Systems
Backpack hydration systems offer a convenient and practical solution for carrying water on a bike.
These systems include a backpack with a built-in water bladder and a drinking tube, allowing you to stay hydrated while keeping your hands free for steering and maneuvering.
Waist-Mounted Water Bottle Holders
Waist-mounted water bottle holders provide a unique and unconventional way to carry water bottles on a bike.
These holders are typically worn around the waist or hips, allowing for easy access to your water bottle without the need for traditional bottle cages.
Diy Solutions
If you're feeling creative, you can explore various diy solutions for carrying water bottles on your bike.
From repurposing old accessories to using bungee cords or straps, there are plenty of inventive ways to secure your water bottle during rides.
Considerations For Alternative Mounting Options
When choosing alternative mounting options, it's important to consider factors such as stability, accessibility, and compatibility with your bike and riding style.
Test the stability of the chosen option before heading out on a ride to ensure that your water bottle stays securely in place.
Additionally, make sure to choose a placement that doesn't interfere with your bike's balance or hinder your ability to reach the water bottle comfortably.
FAQ About Where To Put Water Bottle On Bike
Where Should I Position My Water Bottle On A Bike?
Position your water bottle on the downtube or seat tube for easy access while maintaining balance.
How Do I Attach A Water Bottle Cage To My Bike?
Attach a water bottle cage to your bike using screws or zip ties, ensuring it is secure and within reach.
Can I Put A Water Bottle On The Handlebars Of My Bike?
While it may be convenient, it is not recommended to put a water bottle on the handlebars as it can affect steering.
What Are The Advantages Of Using A Hydration Pack Instead Of A Water Bottle On A Bike?
Hydration packs offer larger capacity, hands-free drinking, and easy access to water while cycling.
How Can I Carry Multiple Water Bottles On My Bike?
You can carry multiple water bottles on your bike by using a dual bottle cage or installing additional bottle cages.
Conclusion