Write Name on Water Bottle: Step By Step Guide!
Writing your name on a water bottle can be done easily through various methods such as using permanent markers, custom stickers, or engraving. Each method has its advantages and is suitable for different types of water bottles.
Putting your name on a water bottle is a practical way to personalize and identify your bottle, especially in a crowded environment like a school or a gym. It prevents mix-ups and ensures that you always know which bottle is yours.
There are different ways to write your name on a water bottle and the best method depends on the material of your bottle and your personal preference.
Using a permanent marker is a quick and easy solution. Just make sure to write your name on a spot where it won't be touched too often to avoid smudging.
Custom stickers can be designed in various styles and colors. They're best for plastic or metal bottles.
Engraving is a more permanent solution and works great on metal or glass bottles.
You could also use washable paint markers ideal for short-term use and on bottles that are frequently washed.
Choosing the best method to write your name on your water bottle depends largely on the type of bottle you have. If you have a plastic bottle, a permanent marker or custom sticker might be a good choice.
For stainless steel or glass bottles, engraving could be a more durable and permanent solution. When writing your name, consider the size and placement to make your name clear and visible.
5 Steps: Write the Name on the Water Bottle
| Steps | Materials Needed | Instructions |
| --- | --- | --- |
| 1 | Water Bottle | Obtain a clear water bottle of any size. |
| 2 | Decal / Permanent Marker | Choose whether to use a decal or a permanent marker. A decal is a design prepared on special paper for durable transfer on to another surface such as glass, porcelain, or metal. |
| 3 | Write Name | If using a permanent marker, ensure it is waterproof and simply write the name on the desired area of the bottle. If using a decal, write or print the name on the decal. |
| 4 | Apply Decal | If you chose to use a decal, after writing the name, wet the decal and apply it to the desired area of the bottle. |
| 5 | Allow to Dry | Leave the bottle to dry for a few hours before use. If you used a permanent marker, this step is not necessary. |
5 Steps: Write Name on Water Bottle
Key Takeaway
Personalizing water bottles has become a popular trend for individuals, companies, and sports teams.
It's an effective method for promoting brand awareness and encouraging hydration.
Personalization can also help in reducing waste by promoting the use of reusable water bottles.
There are many ways to write on a water bottle, including using permanent markers, stickers, or personalized engraving.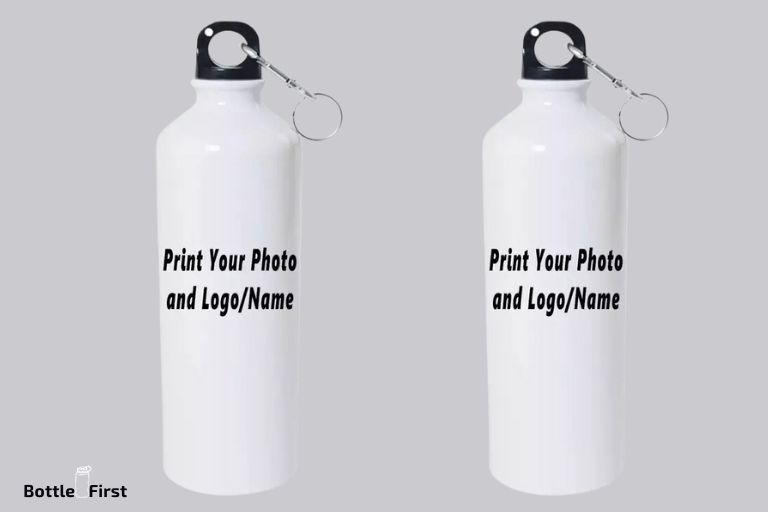 Five Facts About Write Name On Water Bottle
The trend of personalizing water bottles started as a way to identify one's drink in a crowd or at a public event, reducing waste and preventing the spread of germs.
Common ways to personalize a water bottle include etching, painting, using decals, or writing with a permanent marker. Some people even use DIY Cricut machine for personalization.
Nowadays, several companies offer custom printing or engraving on water bottles as part of their services. They often use this as a promotional strategy.
Personalized water bottles are a popular item for event souvenirs, corporate gifts, and sports team merchandises. They love this idea as it promotes the idea of sustainability by embracing the concept of 'reuse' which is a part of the eco-friendly movement.
In recent years, parents have started writing their kid's name on their water bottles to prevent loss or mix-up at school. This practice has been encouraged by many schools too.
Why Personalizing Your Water Bottle Is Important
Express Your Individuality
Personalizing your water bottle allows you to express your unique personality and style.
It gives you the opportunity to stand out from the crowd and showcase your individuality.
By adding your name or a customized design to your water bottle, you can make it truly one-of-a-kind.
Prevent Mix-Ups And Theft
Personalizing your water bottle helps you avoid mix-ups with others who may have similar bottles.
It decreases the chances of your water bottle being accidentally taken by someone else.
Adding your name or a distinctive design makes it easier to identify your bottle in a busy setting, such as the gym or office.
Promote A Healthy Lifestyle
Having a personalized water bottle can serve as a constant reminder to stay hydrated throughout the day.
It encourages you to drink more water and maintain a healthy lifestyle.
Personalization can motivate you to carry your water bottle with you everywhere, ensuring you always have access to hydration.
Different Ways To Write Name On Water Bottle
If you want to add a personal touch to your water bottle or keep track of which one is yours, writing your name on it is a great idea.
There are various methods you can use to achieve this, such as permanent markers, vinyl stickers, custom engraving, and personalized decals.
Let's explore these options in detail:
Using Permanent Markers
Permanent markers are an easy and cost-effective way to write your name on a water bottle.
Ensure that the surface of the bottle is clean and dry before starting.
Use a high-quality permanent marker to ensure the longevity of your writing.
Write your name clearly on the desired spot of the bottle.
Allow the marker ink to dry completely before using the bottle.
Understand that while permanent markers are quite durable, they may fade over time with regular use and washing.
Using Vinyl Stickers
Vinyl stickers are a popular choice for adding customization to water bottles.
You can purchase ready-made name stickers or create personalized ones using online design tools.
Clean the surface of the water bottle thoroughly before applying the sticker.
Carefully peel off the backing from the sticker and position it on the bottle.
Smooth out any air bubbles and press the sticker firmly onto the surface.
Vinyl stickers are water-resistant and durable, making them a great long-term option.
Using Custom Engraving
Custom engraving gives your water bottle a professional and stylish look.
Look for specialized services that offer custom engraving on water bottles.
Choose the font and style of lettering that you prefer for your name.
Provide the necessary details to the engraver and specify the placement of your name on the bottle.
The engraving process uses a high-powered laser to etch the name onto the surface of the bottle permanently.
Custom engraving guarantees a long-lasting, high-quality finish.
Using Personalized Decals
Personalized decals provide a creative way to write your name on a water bottle.
You can design your own decal using various online platforms or purchase pre-made ones.
Clean the water bottle surface before applying the decal.
Gently peel off the backing and carefully position the decal on the bottle.
Smooth out any air bubbles and press the decal firmly onto the surface.
Personalized decals offer versatility, allowing you to choose different fonts, colors, and designs.
Now that you know different ways to write your name on a water bottle, you can choose the method that suits your preferences and style.
Whether you opt for permanent markers, vinyl stickers, custom engraving, or personalized decals, adding your name will make your water bottle unique and easily identifiable.
Stay hydrated in style!
Step-By-Step Guide: Writing Your Name On A Water Bottle
Choose A Suitable Method
When it comes to personalizing your water bottle, there are a few different methods you can choose from.
Depending on your preferences and the materials you have available, you can select the most suitable method for writing your name on the water bottle.
Here are a few options to consider:
Permanent marker: Using a permanent marker is one of the easiest and most accessible methods for writing on a water bottle. It provides a bold and long-lasting result, making your name stand out.
Stickers or decals: If you want a more decorative option, you can use stickers or decals with your name. This method allows for greater creativity and customization, as there are various designs and styles available.
Engraving: For a more professional and durable option, you can engrave your name onto the water bottle. This method requires specific tools and may not be as accessible as the previous methods.
Paint or acrylic markers: If you want to create a more artistic look, you can use paint or acrylic markers to write your name on the water bottle. This method allows for more creativity and customization of colors and designs.
Clean And Dry The Surface Of The Bottle
Before you start writing your name on the water bottle, it is important to ensure that the surface is clean and dry.
This will help the chosen method adhere better and prevent any smudging or imperfections in the final result.
Follow these steps to clean and dry the surface properly:
Wash the water bottle with soap and warm water.
Rinse thoroughly to remove any residue.
Use a clean towel or cloth to dry the bottle completely.
Let it air dry for a few minutes to ensure there is no moisture left.
Prepare Your Chosen Materials
Once the surface of the water bottle is clean and dry, gather all the materials you need for writing your name.
Depending on the method you have chosen, here are a few common materials to consider:
Permanent marker or paint/acrylic markers
Stickers or decals
Engraving tool
Painter's tape or stencils (if necessary)
Any additional decorations or accessories you want to use
Make sure you have everything ready and easily accessible before moving on to the next step.
Plan The Design And Placement Of Your Name
Before you start writing your name on the water bottle, it's a good idea to plan the design and placement of your name.
Consider the following points:
Decide on the font style and size you want to use.
Choose whether you want to write your full name or just initials.
Consider any additional graphics or designs you want to incorporate.
Determine the location on the bottle where you want to write your name.
Taking a few moments to plan will help you achieve a more polished and visually appealing final result.
Write Your Name On The Bottle Using The Selected Method
Now it's time to write your name on the water bottle! Follow the steps below, based on the chosen method:
For permanent marker or paint/acrylic markers:
Start by shaking the marker to ensure a smooth flow of ink.
Hold the marker at a slight angle and apply gentle pressure while writing your name.
Use smooth and steady strokes to create each letter.
Allow the ink to dry completely before handling the bottle.
For stickers or decals:
Peel off the backing of the sticker or decal.
Carefully place it on the desired location on the water bottle.
Press down firmly to ensure it adheres properly.
Smooth out any air bubbles or wrinkles.
For engraving:
Follow the instructions provided with the engraving tool.
Use steady and controlled movements to engrave your name onto the bottle.
Take breaks if needed to avoid any mistakes or unevenness.
For paint or acrylic markers:
Shake the marker to mix the paint thoroughly.
Use painter's tape or stencils to create an outline if desired.
Apply the paint or acrylic markers within the desired area.
Let the paint dry completely before handling the bottle.
Remember to take your time and be patient throughout the process. With a steady hand and a bit of creativity, you'll have a personalized water bottle in no time!
Tips And Tricks For A Perfect Water Bottle Personalization
Personalizing your water bottle can be a fun and creative way to showcase your personality and style.
Whether you're looking to add your name, a favorite quote, or a unique design, here are some tips and tricks to ensure a perfect water bottle personalization.
Use Contrasting Colors For Better Visibility
Opt for colors that stand out from the background of your water bottle.
Choose a color combination that offers high contrast, such as black on white or white on black.
Avoid using colors that blend in with the bottle, as it may make your personalization difficult to read or notice.
Test The Method On A Small Area First
Before diving into the full personalization process, it's always a good idea to test the method on a small area of the bottle.
This allows you to see how the materials and techniques work on the specific type of water bottle you have.
It also gives you an opportunity to make adjustments and ensure that you achieve the desired result before applying it to the entire bottle.
Apply A Clear Protective Coat For Longevity
Once you have completed your personalization, it's crucial to apply a clear protective coat to help preserve the design.
This coat serves as a barrier, protecting the personalization from scratching, fading, or peeling off over time.
Choose a high-quality clear coat designed for use on water bottles, ensuring it won't compromise the safety or taste of your drinking water.
Get Creative With Fonts And Styles
Don't be afraid to let your creativity shine when selecting fonts and styles for your water bottle personalization.
Experiment with different fonts, lettering sizes, and styles to find the perfect combination that represents your unique taste.
Consider the overall theme or message you want to convey and choose fonts and styles that complement it.
With these tips and tricks, personalizing your water bottle will be a breeze. So go ahead, unleash your creativity, and make your water bottle truly your own!
Showcasing Your Personalized Water Bottle
Are you tired of using the same generic water bottles that don't stand out from the crowd? Personalizing your water bottle is not only a great way to make it your own, but it also allows you to showcase your style and personality.
Here are a few reasons why you should consider customizing your water bottle:
Take Amazing Photos To Share On Social Media
Capture attention: Having a unique and personalized water bottle will make your photos stand out on social media. People love scrolling through aesthetically pleasing pictures, and your customized bottle can become the star of your feed.
Brand yourself: By showcasing your personalized water bottle in your photos, you can create a consistent and recognizable theme. This can help you build your personal brand and attract more followers who resonate with your style.
Share your creativity: Personalizing your water bottle allows you to tap into your creative side. Get artsy with designs, patterns, or even inspirational quotes. Your followers will appreciate your unique touch and might even get inspired themselves.
Use Your Personalized Bottle As A Fashion Accessory
Stay on-trend: Customized water bottles have become a must-have fashion accessory. With the rise of sustainable fashion and eco-friendly choices, carrying your own stylish bottle has never been more in vogue.
Coordinate with your outfits: Match your personalized water bottle to your outfit for a cohesive and fashionable look. Coordinate colors, patterns, or even add stickers and decals that complement your style.
Make a statement: Your water bottle can be more than just a vessel for hydration. It can be a fashion statement that reflects your personality and values. Carry your personalized bottle with pride and let it speak for you.
Gift Personalized Water Bottles To Friends And Family
Show you care: Giving personalized water bottles as gifts is a thoughtful way to show your loved ones how much you care about their well-being. It's a practical and meaningful present that they can use and cherish.
Demonstrate uniqueness: Personalized water bottles make for a unique gift that stands out from the typical options. Your friends and family will appreciate your attention to detail and the effort you put into customizing their bottles.
Spread eco-consciousness: Customized water bottles promote sustainability and reduce single-use plastic waste. By gifting personalized bottles, you're not only showing consideration for the recipient, but also for the environment.
Encourage Others To Personalize Their Bottles Too
Lead by example: When others see your personalized water bottle and the enjoyment you get from it, they might be inspired to do the same. Be an advocate for personalization and encourage others to make their bottles unique.
Promote individuality: Personalizing your water bottle is an opportunity to express yourself and embrace individuality. Encourage others to showcase their creativity and authenticity by designing their own customized bottles.
Make a positive impact: By personalizing their water bottles, individuals can contribute to a more sustainable and environmentally-friendly future. Spread awareness about the benefits of personalized bottles and inspire others to make the switch.
Now that you know the various ways to showcase your personalized water bottle, it's time to get creative and make your own.
Whether you're taking amazing photos for social media, using it as a fashion accessory, gifting it to loved ones, or encouraging others to do the same, personalized water bottles are a versatile and impactful way to express yourself and make a statement.
Get started on creating your own customized bottle today!
Enjoy The Benefits Of A Personalized Water Bottle
Whether you're hitting the gym, staying hydrated during a busy day at the office, or enjoying outdoor activities, having a personalized water bottle adds a touch of style and functionality to your everyday routine.
Not only does it allow you to stand out in a crowd, but it also comes with several benefits that you may not have considered.
Let's dive into the advantages of owning a customized water bottle.
Stay Hydrated In Style
Quench your thirst in a personalized way:
Having your name or a custom design on your water bottle makes it easily distinguishable from others, reducing the chances of accidentally grabbing someone else's drink. Plus, it adds a personal touch that reflects your unique style and personality.
Motivate yourself to drink more:
With a customized water bottle, you'll feel a sense of ownership and attachment, encouraging you to reach for it more frequently throughout the day. Staying hydrated has never been so effortless and enjoyable.
Keep track of daily water intake:
Many personalized water bottles come with measurements marked on the side, allowing you to track the amount of water you consume. Meeting your daily hydration goals becomes a breeze when you have a visual reminder right in front of you.
Stand Out In A Crowd
Express your individuality:
In a sea of generic water bottles, having a personalized one will make you instantly recognizable and memorable.
Whether it's a vibrant pattern, your favorite quote, or your initials, a customized design ensures that your water bottle truly reflects your unique identity.
Start conversations and make connections:
A personalized water bottle is an excellent conversation starter. It opens the door for people to approach you and strike up a discussion about your design or where you got it.
Who knows, you might even meet like-minded individuals or discover new interests through these interactions.
Promote Environmental Consciousness
Reduce plastic waste:
By investing in a reusable personalized water bottle, you actively contribute to reducing single-use plastics that harm our environment.
It's a small but significant step towards a greener future, and every refill you make is a vote against disposable bottles.
Spread awareness and inspire others:
Whenever you use your personalized water bottle in public, you're showcasing your commitment to the planet.
This incidental form of activism can inspire others to rethink their own habits and make more sustainable choices.
You become a silent advocate for the environment, influencing others simply by leading by example.
Customizing your water bottle not only adds a touch of style to your daily routine but also carries several benefits that enhance your overall well-being and support environmental sustainability.
So why settle for a generic, disposable bottle when you can enjoy the advantages of a personalized water bottle?
Stay hydrated, stand out, and make a positive impact on the world, one sip at a time.
FAQ About Write Name On Water Bottle
How Can I Get My Name Printed On A Water Bottle?
You can get your name printed on a water bottle by choosing a customization service that offers personalized bottle printing options. Some online stores and local print shops provide this service.
What Are The Benefits Of Having My Name On A Water Bottle?
Having your name on a water bottle helps you easily identify your bottle in a crowd, reduces the chances of someone accidentally taking your bottle, and adds a personal touch to your hydration routine.
Can I Customize The Font And Color Of My Name On The Water Bottle?
Yes, many customization services allow you to choose the font style, size, and color for your name on the water bottle. This allows you to create a unique and personalized design that fits your preferences.
Is It Possible To Remove The Printed Name From A xWater Bottle?
The ability to remove a printed name from a water bottle depends on the printing technique used.
Some methods, such as vinyl stickers, can be removed easily. However, other methods like direct printing or engraving may be more permanent.
Can I Order Personalized Water Bottles In Bulk For Events Or Organizations?
Yes, many customization services offer bulk ordering options for personalized water bottles. This is a great choice for events, organizations, or businesses looking to promote their brand or create a personalized gift for their attendees or employees.
Conclusion
Personalizing your water bottle by adding your name is a fun and trendy way to showcase your individuality and make your bottle stand out.
Whether you are using it for sports, travel, or everyday hydration, having your name on your bottle adds a unique touch.
Not only does it help prevent mix-ups and loss, but it also acts as a motivational tool, reminding you to stay hydrated and take care of yourself.
With the wide range of customization options available, you can explore various styles, colors, and fonts to create a design that truly reflects your personality.
So why wait? Start personalizing your water bottle today and bring a touch of your personal brand wherever you go. Stay hydrated, stay stylish!