Alternative to Hot Water Bottle: Explore!
Explore the Best Modern Alternatives to Hot Water Bottles for Effective Heat Therapy
Looking for alternatives to the hot water bottle for heat therapy? Discover a range of innovative options including microwaveable heat packs, electric heating pads, and wearable heat wraps.
These alternatives offer convenience, safety, and targeted pain relief. Upgrade your heat therapy experience with these advanced solutions designed to soothe aches and pains.
Traditional hot water bottles have been used for years to provide heat therapy, but new alternatives offer enhanced features:
Microwaveable Heat Packs: Filled with materials like rice, wheat, or gel, these can be quickly heated in the microwave.
Electric Heating Pads: Provide consistent heat levels and often come with adjustable settings for personalized comfort.
Wearable Heat Wraps: Designed to fit specific body parts, these provide mobility while delivering heat therapy.
Herbal Compresses: Often infused with therapeutic herbs, these can be heated and applied to the body for additional benefits.
For example, a microwaveable heat pack can be a convenient option for someone who needs quick heat relief without the risk of spills or leaks associated with traditional hot water bottles.
Embrace the evolution of heat therapy with these efficient and user-friendly alternatives to the classic hot water bottle, designed for your modern lifestyle and comfort needs.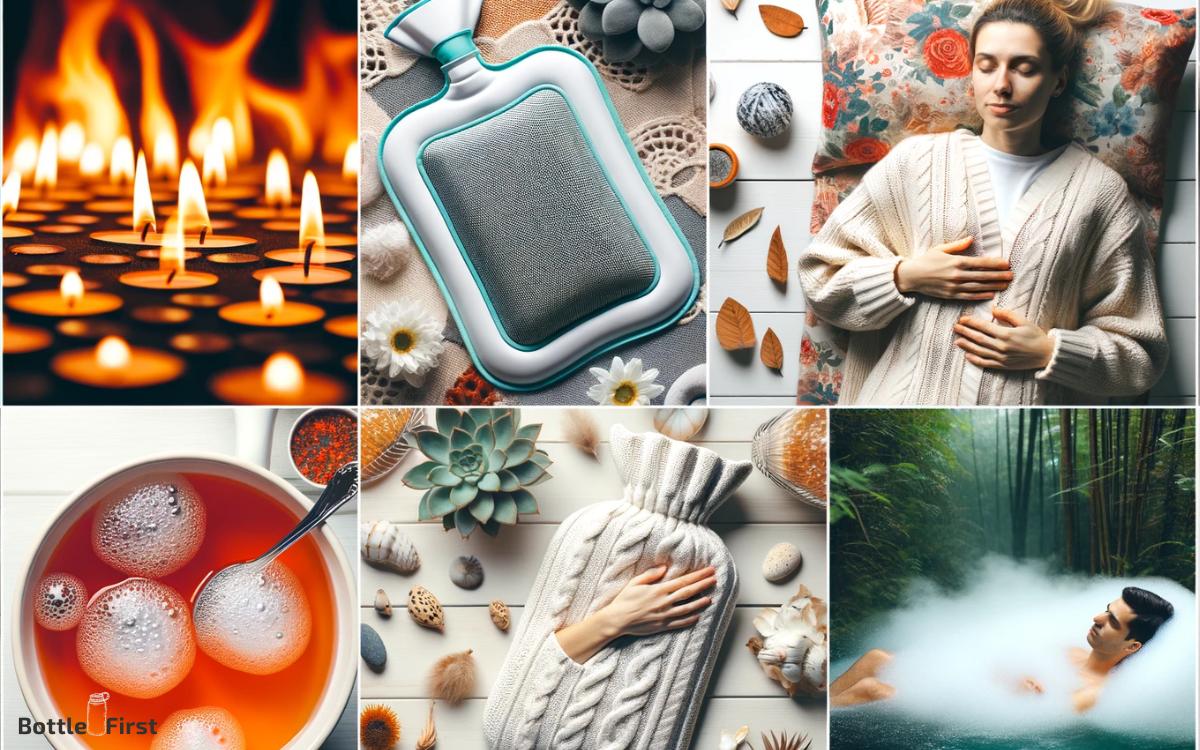 Key Takeaway
Microwaveable heat packs, electric heating pads, and wearable heat wraps provide convenient and targeted heat relief.
Herbal compresses and homemade rice socks offer additional benefits and enhance the heat therapy experience.
Targeted heat therapy delivers heat directly to the affected area, increasing blood flow and promoting healing.
Natural pain management using herbal ingredients reduces reliance on pharmaceutical painkillers and provides a holistic approach to pain relief.
Homemade Rice Sock
A homemade rice sock is a simple and effective alternative to a hot water bottle for soothing muscle aches or providing warmth.
This innovative solution involves filling a clean sock with uncooked rice, tying off the open end, and heating it in the microwave for a couple of minutes.
The rice retains heat well and conforms to the body's contours, providing targeted relief. This DIY approach allows for customization by adding soothing essential oils or dried herbs to the rice.
Not only is a homemade rice sock cost-effective, but it also offers a natural and sustainable option for heat therapy.
However, for those seeking a more modern solution, an electric heating pad provides consistent and adjustable warmth, which we'll explore next.
Electric Heating Pad
Electric heating pads offer a safe and reliable alternative to traditional hot water bottles. Their effectiveness in providing targeted heat therapy for pain relief and relaxation is well-documented.
Additionally, the portability and convenience of electric heating pads make them a popular choice for individuals seeking quick and efficient relief from discomfort.
Safety of Electric Pads
The safety of electric heating pads is a critical consideration for individuals seeking an alternative to hot water bottles.
When considering the safety of electric pads, it is important to keep in mind the following points:
Auto Shut-Off Feature: Look for pads with an automatic shut-off feature that turns the pad off after a certain period to prevent overheating.
Quality Certification: Choose pads that are certified by recognized quality assurance organizations to ensure they meet safety standards.
Moisture Resistance: Opt for pads that are moisture-resistant to prevent the risk of electric shock.
Even Heat Distribution: Ensure that the pad provides even heat distribution to avoid hot spots that could lead to burns.
Heating Pad Effectiveness
For achieving effective heat distribution and consistent warmth, an electric heating pad remains a reliable alternative to traditional hot water bottles.
Electric heating pads are designed to provide targeted heat therapy, offering customizable temperature settings and prolonged heat exposure.
Their effectiveness lies in the ability to deliver a constant and regulated level of heat, promoting muscle relaxation and soothing pain.
Unlike hot water bottles, electric heating pads eliminate the need for boiling water and the risk of leaks or burns. The innovative technology integrated into these heating pads ensures even heat distribution, covering a larger area for enhanced relief.
With advanced safety features and various heat intensity options, electric heating pads offer a modern and efficient solution for managing discomfort and promoting relaxation.
Portability and Convenience
When considering portability and convenience, an electric heating pad offers a practical solution for targeted heat therapy and pain relief.
The innovative design and features of electric heating pads make them a versatile choice for on-the-go heat therapy.
Here are some key points to consider:
The compact and lightweight design allows for easy portability.
Some models come with rechargeable batteries for use without being plugged in.
Adjustable temperature settings provide personalized comfort and relief.
Quick heating capabilities ensure rapid pain relief wherever you are.
Electric heating pads are an ideal alternative to traditional hot water bottles, offering the convenience and portability desired for modern heat therapy needs.
Microwavable Heat Pack
An effective alternative to a hot water bottle is a microwavable heat pack, which provides targeted heat therapy for soothing aches and pains.
These innovative packs are designed to be heated in a microwave and then applied to the affected area for localized relief.
The convenience of being able to quickly and easily heat the pack makes it a popular choice for individuals seeking efficient pain management.
Additionally, microwavable heat packs come in various shapes and sizes, allowing for versatile application on different body parts.
The ability to retain heat for an extended period ensures continuous relief, making them a practical solution for muscle soreness, cramps, and tension.
With their customizable features and portability, microwavable heat packs offer a modern and convenient approach to targeted pain relief.
Gel Ice Pack
The gel ice pack is a versatile tool for targeted cold therapy that offers a complementary solution to the microwavable heat pack for addressing a variety of aches and pains. This innovative alternative provides several benefits.
The gel ice pack is flexible and moldable, allowing it to conform to the body's contours for targeted relief.
Additionally, it is reusable, making it a cost-effective and environmentally friendly option.
It is also quick and easy to use, requiring only a few hours in the freezer to attain the desired temperature.
Moreover, it is safe and convenient, as it doesn't involve boiling water or require a microwave.
Transitioning from cold therapy, the gel ice pack can be paired with an infrared heat lamp for a comprehensive approach to pain management and relaxation.
Infrared Heat Lamp
The infrared heat lamp is an effective tool for providing targeted heat therapy to alleviate muscle pain and promote relaxation. This innovative technology penetrates deep into the muscles, stimulating blood flow and easing tension.
The infrared heat lamp's ability to deliver heat directly to the affected area sets it apart from traditional heating methods.
By emitting infrared light, this device generates warmth that can be focused on specific body parts, offering a more efficient and convenient solution for muscle relief.
Its non-invasive nature makes it an appealing option for individuals seeking natural pain management.
The targeted heat therapy provided by the infrared lamp can aid in reducing stiffness, improving flexibility, and accelerating the body's natural healing processes.
With its potential to enhance comfort and promote wellness, the infrared heat lamp stands as a promising alternative to conventional heat therapy methods.
Therapeutic Herbal Compress
How can the therapeutic herbal compress provide targeted heat therapy and natural pain management similar to the infrared heat lamp?
The therapeutic herbal compress harnesses the power of nature to deliver targeted heat therapy and pain relief.
Here are some key benefits of using a therapeutic herbal compress:
Localized Heat Therapy: The compress delivers targeted heat to the affected area, promoting increased blood flow and relaxation of muscles.
Natural Pain Management: Herbal ingredients such as lavender, chamomile, or ginger possess natural pain-relieving properties, offering a holistic approach to pain management.
Ease of Use: The compress is easy to heat and apply, providing convenience for at-home use.
Reusable and Eco-Friendly: Many herbal compresses are reusable, making them a sustainable alternative to single-use heat therapy products.
Conclusion
In conclusion, there are several alternatives to using a hot water bottle for heat therapy.
From homemade rice socks to electric heating pads and microwavable heat packs, there are plenty of options to choose from.
Each alternative offers a unique way to provide comforting warmth and relief for aches and pains.
By exploring these alternatives, individuals can find the perfect solution to soothe their discomfort and promote relaxation.
Frequently Asked Questions
Are There Any Potential Hazards or Safety Concerns When Using These Alternative Methods for Heat Therapy?
When using alternative methods for heat therapy, it's crucial to consider potential hazards and safety concerns.
Improper use of heating pads, electric blankets, or hot packs can lead to burns, skin irritation, or overheating. Always follow the manufacturer's instructions and use caution.
Can These Alternatives Be Used for Specific Medical Conditions, Such as Arthritis or Muscle Pain?
Heating alternatives like electric heating pads and microwavable packs can effectively alleviate specific medical conditions such as arthritis or muscle pain.
These innovative methods provide targeted heat therapy, offering relief with safety and convenience.
How Long Do These Alternatives Typically Retain Their Heat, and Are There Any Tips for Prolonging Their Effectiveness?
The typical retention of heat for alternative hot packs varies but can range from 30 minutes to 2 hours.
To prolong effectiveness, ensure proper insulation, use high-quality materials, and follow manufacturer guidelines for heating.
Are There Any Specific Maintenance or Cleaning Instructions for These Alternative Heat Therapy Options?
What specific maintenance or cleaning instructions are needed for alternative heat therapy options?
It's essential to follow manufacturer guidelines to ensure longevity and safety. Regular cleaning and proper storage can help maintain their effectiveness.
Can These Alternatives Be Used in Combination With Other Heat Therapy Methods or Treatments?
Yes, these alternatives can be used in combination with other heat therapy methods or treatments.
It's important to consult with a healthcare professional to ensure the safe and effective integration of different heat therapy options.