Can a Dirty Water Bottle Give You a Sore Throat? Yes!
Yes, a dirty water bottle can give you a sore throat.
Keeping your water bottle clean is an essential part of maintaining good health. Even though it may seem harmless, drinking from a dirty water bottle harbors many risks, one being the development of a sore throat due to bacterial or viral infection.
This becomes even more crucial in times when contagious illnesses are prevalent. To avoid this, ensure regular cleaning of your personal bottles and avoid sharing them whenever possible. Remember that prevention is much better than cure!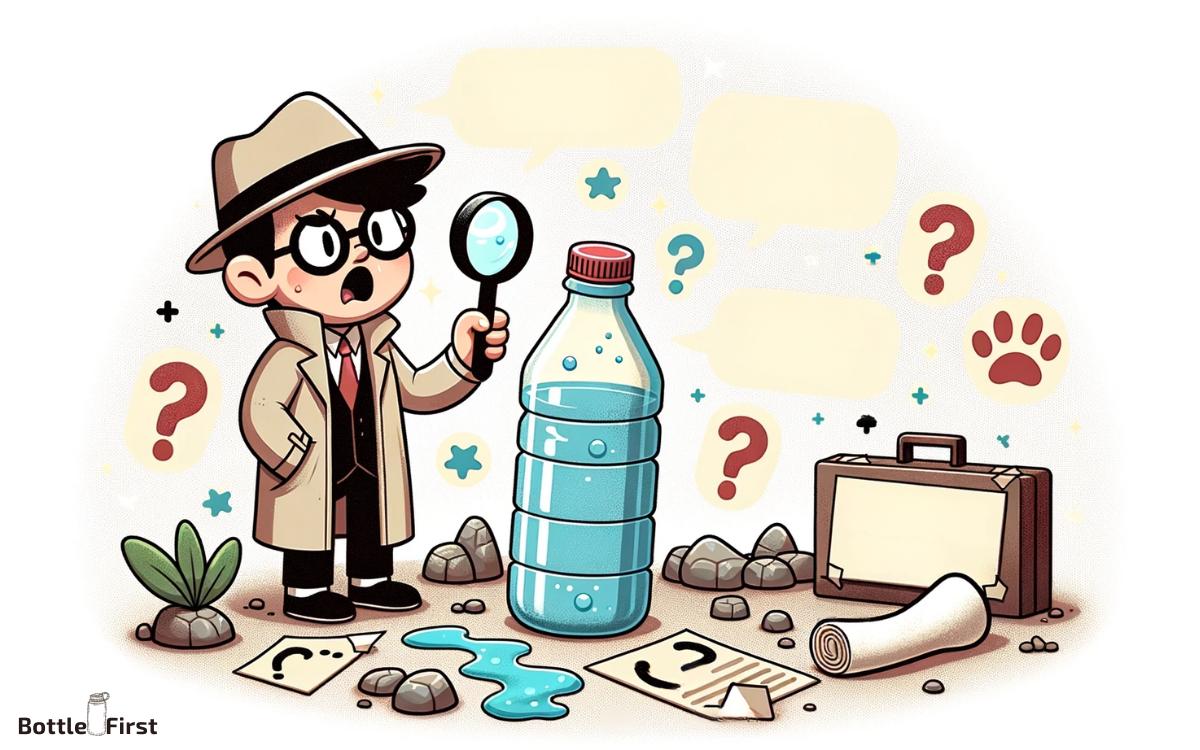 Key Takeaway
A not properly cleaned water bottle can become a breeding ground for bacteria and viruses.
These microorganisms may cause infections when ingested which could lead to symptoms like sore throat.
The risk is higher if the water bottle is often touched with unclean hands or shared with others.
6 Factors and Relationship to Sore Throat & Explanation
| Factor | Relationship to Sore Throat | Explanation |
| --- | --- | --- |
| Bacteria | Positive | Dirty water bottles can harbor bacteria, which may cause infection and lead to a sore throat. |
| Mold | Positive | Mold can grow in damp environments like water bottles, and exposure to mold spores may lead to a sore throat. |
| Biofilm | Positive | A dirty water bottle may accumulate biofilm, a slimy layer of bacteria and other microorganisms, which can cause a sore throat when ingested. |
| Contaminants | Positive | Contaminants from dirty water, such as pollutants or chemicals, may contribute to a sore throat when ingested. |
| Viruses | Positive | Dirty water bottles can harbor viruses, which may cause a sore throat when ingested or through contact with the mouth. |
| Hygiene | Negative | Properly cleaning and maintaining a water bottle can reduce the risk of developing a sore throat from dirty water. |
Exploring the factors related to sore throat from dirty water bottles, including bacteria, mold, biofilm, contaminants, viruses, and hygiene practices.
Contaminants in Dirty Water Bottles
Dirty water bottles can harbor a variety of contaminants that may pose health risks when consumed or even come into contact with your mouth. These contaminants can contribute to the development of a sore throat and other health issues.
Bacteria: Bacteria can proliferate in the moist environment of a water bottle. Harmful bacteria like E. coli or coliform bacteria can lead to gastrointestinal issues and sore throats if ingested.
Mold and Fungi: If water bottles are not properly dried after use, mold and fungi can grow inside them. Inhaling or ingesting mold spores can irritate the throat and respiratory system.
Viruses: Dirty water bottles may potentially harbor viruses if they have been in contact with contaminated water sources. Viral infections can lead to sore throats and other illnesses.
Mineral Deposits: Over time, minerals from tap water can accumulate on the interior surfaces of water bottles. These deposits can alter the taste of water and potentially irritate the throat.
Chemicals: Some plastic water bottles may contain harmful chemicals like phthalates or bisphenol A (BPA). These chemicals can leach into the water, and long-term exposure may have adverse health effects, including throat irritation.
Biofilm: A biofilm is a slimy layer that can form on the interior of water bottles, providing a breeding ground for various microorganisms. It can be challenging to clean thoroughly.
Foreign Particles: Particles like dirt, debris, or food remnants left in a dirty water bottle can introduce foreign substances that may lead to throat discomfort if consumed.
It's important to note that not all dirty water bottles will contain all these contaminants, and the level of risk depends on the specific conditions and cleanliness of the bottle.
Regular cleaning and maintenance of water bottles are crucial to minimize these risks and prevent potential health issues, including sore throats.
Bacterial Growth
Bacterial growth refers to the process by which bacteria reproduce and multiply in numbers. Bacteria are single-celled microorganisms that can grow and divide rapidly under favorable conditions.
Understanding the factors that influence bacterial growth is essential in various fields, including microbiology, food safety, healthcare, and environmental science.
Nutrient Availability: Bacteria require a source of nutrients, including carbohydrates, proteins, and minerals, to grow. These nutrients are used for energy production and building cellular components.
Temperature: Bacterial growth rates are highly dependent on temperature. Different bacteria have specific temperature ranges at which they thrive, with categories like psychrophiles (cold-loving), mesophiles (moderate temperature), and thermophiles (heat-loving).
pH Level: The acidity or alkalinity of the environment, measured by pH, can influence bacterial growth. Most bacteria prefer a near-neutral pH, but some are adapted to acidic or alkaline conditions.
Oxygen Availability: Bacteria can be classified into aerobes (requiring oxygen for growth), anaerobes (growing in the absence of oxygen), or facultative anaerobes (capable of growing with or without oxygen).
Moisture: Bacteria thrive in moist environments, as water is essential for their metabolic processes. Lack of moisture can inhibit bacterial growth.
Competition and Inhibition: Bacteria can compete with other microorganisms for resources, and some produce antimicrobial compounds to inhibit the growth of neighboring bacteria.
Generation Time: Generation time is the time it takes for a bacterial population to double in size. Different bacteria have varying generation times, which can range from minutes to hours.
Biofilm Formation: Bacteria can form biofilms, which are structured communities of microorganisms attached to surfaces. Biofilms provide protection and can be more resistant to antibiotics and disinfectants.
Sanitation and Hygiene: Proper sanitation and hygiene practices are essential to control bacterial growth and prevent the spread of infectious diseases, both in healthcare settings and in everyday life.
Food Safety: Bacterial growth in food can lead to spoilage and foodborne illnesses. Temperature control and hygiene are critical for preventing bacterial contamination in the food supply chain.
Microbiological Studies: In microbiology, the study of bacterial growth is essential for understanding the behavior of various bacterial species, developing antibiotics, and conducting research on bacterial diseases.
In summary, bacterial growth is a fundamental biological process influenced by several factors. Proper control and management of these factors are crucial to prevent the proliferation of harmful bacteria and maintain public health and safety.
Sore Throat Causes
A sore throat is a common medical condition characterized by pain, irritation, or discomfort in the throat. It can be caused by various factors, and the underlying cause can range from benign to more serious.
Viral Infections: Most sore throats are caused by viral infections, such as the common cold, flu (influenza), or mononucleosis (mono). Viral sore throats are often accompanied by other cold or flu symptoms.
Bacterial Infections: Bacterial infections like streptococcal pharyngitis (strep throat) can lead to sore throats. Strep throat can be more severe and may require antibiotic treatment.
Allergies: Allergic reactions to pollen, dust, pet dander, or certain foods can cause throat irritation and a sore throat.
Environmental Irritants: Exposure to smoke, air pollution, chemicals, or other irritants can lead to throat discomfort and soreness.
Dry Air: Breathing dry air, especially in arid or indoor environments, can dry out the throat lining and cause soreness.
Gastroesophageal Reflux Disease (GERD): Acid reflux can result in stomach acid moving into the esophagus, leading to throat irritation and a sore throat.
Postnasal Drip: Excess mucus from conditions like allergies, sinusitis, or the common cold can drip down the back of the throat, causing irritation and a sore throat.
Tonsillitis: Inflammation of the tonsils, usually due to infections, can result in a sore throat, along with symptoms like fever and swollen tonsils.
Infectious Mononucleosis: Also known as mono, this viral infection can cause severe sore throat, along with fatigue, swollen lymph nodes, and fever.
Irritation: Overusing the voice, shouting, or singing loudly for an extended period can irritate the throat and lead to soreness.
Trauma: Physical injury to the throat, such as swallowing a sharp object or sustaining a blow to the throat, can cause pain and a sore throat.
Cancer: While relatively rare, throat cancer can lead to persistent sore throat, as well as other symptoms like difficulty swallowing, voice changes, and unexplained weight loss.
HIV/AIDS: In the advanced stages of HIV infection, a sore throat can occur due to a weakened immune system, which makes the body more susceptible to infections.
It's important to note that while many sore throats are self-limiting and can be managed with home remedies and over-the-counter treatments, a sore throat caused by a bacterial infection (like strep throat) may require antibiotic treatment.
If you have a persistent or severe sore throat, or if it's accompanied by other concerning symptoms, it's advisable to seek medical evaluation and diagnosis.
Infections
Infections are a broad category of illnesses caused by the invasion and multiplication of microorganisms, such as bacteria, viruses, fungi, or parasites, in the body.
These microorganisms can disrupt the body's normal functioning and lead to a wide range of symptoms and health issues.
Bacterial Infections: Bacterial infections occur when harmful bacteria invade the body. They can affect various body systems and cause illnesses such as strep throat, urinary tract infections (UTIs), and skin infections.
Viral Infections: Viral infections are caused by viruses, which are smaller than bacteria. These infections include the common cold, influenza (the flu), HIV/AIDS, and COVID-19.
Fungal Infections: Fungal infections result from the overgrowth or invasion of fungi. Conditions like athlete's foot, ringworm, and candidiasis (yeast infection) are examples of fungal infections.
Parasitic Infections: Parasitic infections are caused by parasites, which can be single-celled (protozoa) or multicellular organisms. Malaria, giardiasis, and parasitic worms are examples of such infections.
Respiratory Infections: These infections affect the respiratory system and can lead to illnesses like bronchitis, pneumonia, and tuberculosis.
Gastrointestinal Infections: Infections of the digestive system can result in conditions like gastroenteritis, food poisoning, and hepatitis.
Sexually Transmitted Infections (STIs): These infections are transmitted through sexual contact and include conditions like chlamydia, gonorrhea, syphilis, and herpes.
Skin Infections: Infections affecting the skin can lead to conditions such as cellulitis, impetigo, and fungal skin infections.
Ear, Nose, and Throat Infections: These infections can manifest as sinusitis, otitis media (ear infection), or tonsillitis, causing symptoms like ear pain, sinus congestion, and sore throat.
Urinary Tract Infections (UTIs): UTIs primarily affect the urinary system and can lead to discomfort, pain, and frequent urination.
Bloodstream Infections: Infections that enter the bloodstream can result in sepsis, a severe and life-threatening condition.
Central Nervous System Infections: Infections of the brain and spinal cord can lead to conditions like meningitis and encephalitis.
Reproductive System Infections: These infections can affect the reproductive organs and may lead to conditions such as pelvic inflammatory disease (PID) and prostatitis.
Infections can vary in severity, with some being mild and self-limiting, while others can be chronic, severe, or even life-threatening.
Proper diagnosis, treatment, and prevention measures are crucial to managing and preventing infections.
These measures may include vaccinations, antibiotics, antiviral medications, antifungal treatments, and lifestyle modifications to reduce the risk of infection.
Regular Cleaning
Regular cleaning is an essential practice for maintaining cleanliness, hygiene, and a healthy living or working environment. It involves routine cleaning tasks to remove dirt, dust, germs, and other contaminants from surfaces and spaces.
Surface Hygiene: Regular cleaning helps eliminate dirt, bacteria, and viruses from frequently touched surfaces, reducing the risk of illnesses and the spread of infections.
Allergen Reduction: Cleaning removes allergens like dust mites, pet dander, and pollen, making indoor spaces more comfortable for individuals with allergies or asthma.
Preventing Mold and Mildew: Regular cleaning in damp or humid areas helps prevent the growth of mold and mildew, which can lead to health problems and property damage.
Odor Control: Cleaning helps remove sources of bad odors, keeping indoor spaces smelling fresh and pleasant.
Prolonging the Lifespan of Materials: Regular cleaning and maintenance can extend the lifespan of furniture, flooring, and other materials by preventing the buildup of dirt and grime.
Improved Aesthetic: Clean spaces look more appealing and inviting, creating a positive impression for visitors and occupants.
Organization: Cleaning promotes organization by tidying up spaces, reducing clutter, and improving overall functionality.
Enhanced Productivity: A clean and organized workspace can boost productivity and focus by reducing distractions.
Safety: Regular cleaning helps eliminate slip and trip hazards and prevents accidents due to clutter and hazards.
Peace of Mind: Knowing that your environment is clean and well-maintained can contribute to a sense of well-being and peace of mind.
Preventing Pest Infestations: Regular cleaning removes food residues and other attractants that can draw pests like insects and rodents.
Sustainability: Using eco-friendly cleaning products and practices reduces the environmental impact of cleaning routines.
To maintain the benefits of regular cleaning, it's important to establish a cleaning schedule that suits the specific needs of your environment.
This schedule should include daily, weekly, monthly, and seasonal cleaning tasks, and it's essential to use appropriate cleaning products and methods for different surfaces and materials.
Whether in homes, offices, healthcare facilities, or public spaces, regular cleaning is an integral part of maintaining health, safety, and overall well-being.
Conclusion
In conclusion, drinking from dirty or contaminated water bottles can indeed cause sore throats. Bacteria and viruses can grow in moist environments like water bottles, leading to infections when consumed.
It is important to always keep your water bottle clean and properly sanitized to prevent illness.
Using a reusable water bottle that is made of safe materials can also reduce your risk of exposure to harmful contaminants.
In order to prevent sore throats from contaminated water bottles, it is recommended to clean your bottle regularly, avoid sharing water bottles with others, and replace disposable plastic bottles frequently.
If you do experience a sore throat from drinking contaminated water, it is best to seek medical attention and follow the recommended treatment plan.
FAQ
Can a dirty water bottle cause a sore throat?
Yes, a dirty water bottle can cause a sore throat if bacteria and fungi get into the water and are swallowed. This can lead to an infection and cause a sore throat.
How do I prevent getting a sore throat from a water bottle?
To prevent getting a sore throat from a water bottle, you should clean it regularly with soap and hot water, or put it in the dishwasher.
Additionally, make sure to not reuse water bottles for more than 24 hours as bacteria can accumulate inside.
Are there any health risks from drinking from a dirty water bottle?
Yes, there are health risks associated with drinking from a dirty water bottle as bacteria and fungi can accumulate inside and are swallowed when drinking.
This can lead to an infection and cause different health issues such as a sore throat.
How often should I replace my water bottle?
You should replace your water bottle every few months or so in order to ensure you have a clean and fresh container to drink from.
However, make sure to not reuse water bottles for more than 24 hours as bacteria can accumulate inside.