Can Hot Water Bottle Shrink Fibroids? No!
No, a hot water bottle cannot shrink fibroids. However, it can help alleviate some of the discomfort and pain caused by fibroids.
A hot water bottle is often used as a source of comfort and relief for a variety of aches, pains and menstrual cramps.
However, its effects on fibroids, benign tumors that grow in or on the uterus, are symptomatic relief rather than a cure.
The heat can help relax the uterine muscles, reducing pain and discomfort, but it will not shrink fibroids.
Fibroids are benign (non-cancerous) tumors that grow in or on the uterus.
The use of a hot water bottle can provide symptomatic relief from fibroid-related discomfort.
A warm bottle will not shrink fibroids, but it can help to alleviate the associated pain and discomfort.
Other treatments for fibroids include hormonal therapy, non-invasive procedures, minimally invasive procedures and traditional surgeries.
While a hot water bottle can provide temporary relief from the pain or discomfort associated with fibroids, it does not have the ability to shrink them.
If you or someone you know is suffering from fibroids, please reach out to a healthcare provider to discuss potential treatment options.
Key Takeaway
Hot water bottles can help to alleviate the discomfort caused by fibroids but they do not have the ability to shrink them.
Fibroids are benign tumors that grow in or on the uterus and are not affected by the external application of heat.
Medical intervention and certain lifestyle changes are typically needed for the size of fibroids to be reduced.
Using a hot water bottle may be part of a larger strategy to manage fibroid symptoms, which can include pain and bloating.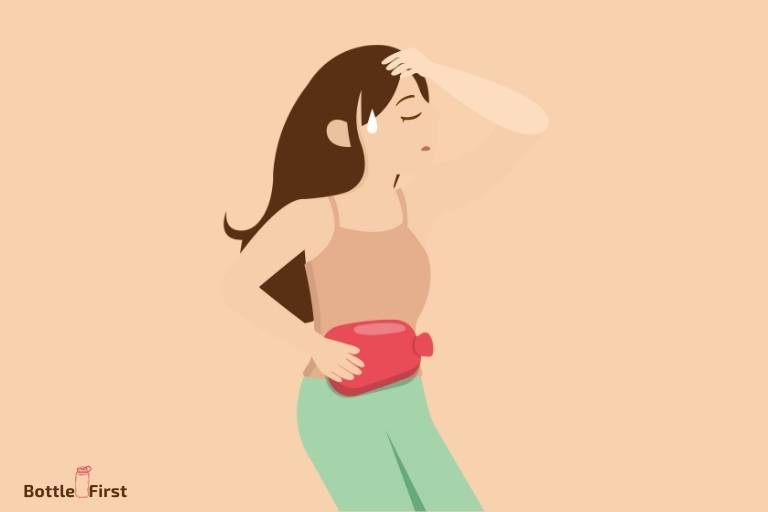 Five Facts About the Effects of Hot Water Bottle Use on Fibroids
Fibroids, also known as leiomyomas, are very common, occurring in 70 to 80% of women by the age of 50, as per data by the U.S Department of Health & Human Services' Office on Women's Health (source: Womenshealth.gov).
They are influenced by reproductive hormones, which is why size fluctuations may occur with menstruation or pregnancy. Treatment typically involves managing these hormone levels medically (source: Mayo Clinic).
The simple external application of heat through a hot water bottle does not have the ability to impact the size of fibroids, though it may cause temporary relief of symptoms.
It is essential to see a healthcare provider for a thorough evaluation and treatment options if you are experiencing severe symptoms of fibroids, such as heavy menstrual bleeding and pelvic discomfort (source: American College of Obstetricians and Gynecologists).
Some suggest that lifestyle changes such as regular exercise, a healthy diet, and stress management may have an impact on the size and growth of fibroids, but more research is needed to definitively prove these effects (source: American Family Physician).
Understanding Fibroids And Their Symptoms
Fibroids are a common health issue that affect many women worldwide. If you're unfamiliar with fibroids, you might be wondering what they are and how they develop.
In this section, we'll explore the key points about fibroids and their development.
What Are Fibroids And How Do They Develop?
Fibroids, also known as uterine leiomyomas, are benign tumors that develop in the uterus.
These tumors are made up of muscle and connective tissue, and their sizes can vary from small, undetectable growths to large masses that can distort the shape of the uterus.
The exact cause of fibroids is still unknown, but several factors are believed to contribute to their development, including hormonal imbalances, genetic predisposition, and estrogen dominance.
Estrogen, a hormone that plays a crucial role in the female reproductive system, can stimulate the growth of fibroids. Increased levels of estrogen, therefore, may promote their development.
Other factors like age, race, and family history can also increase the risk of fibroid growth.
Common Symptoms Of Fibroids In Women:
Experiencing symptoms related to fibroids can be distressing for many women.
Here are some common signs to look out for:
Heavy or prolonged menstrual bleeding: Fibroids can cause heavy and prolonged periods, often accompanied by severe cramping. This can lead to fatigue and even anemia in some cases.
Pelvic pain and pressure: Large fibroids can put pressure on surrounding organs, causing discomfort or pain in the pelvic region.
Frequent urination: Fibroids located near the bladder can lead to increased urgency and frequency of urination.
Difficulty conceiving or recurrent miscarriages: Depending on their size and location, fibroids can interfere with fertility and increase the risk of miscarriages.
Lower back pain: Fibroids can cause lower back pain and discomfort, especially if they press on the nerves in the lower spine.
Abdominal swelling: Large fibroids can cause the abdomen to protrude, leading to a swollen or bloated appearance.
It is important to note that not all women with fibroids experience symptoms. The severity and type of symptoms can vary greatly from person to person.
Understanding fibroids and their symptoms is the first step towards managing this condition.
If you suspect you have fibroids or are experiencing any related symptoms, it's important to consult with a healthcare provider for proper diagnosis and treatment options.
The Benefits Of Heat Therapy For Fibroids
Hot water bottles have long been known for their soothing properties, providing warmth and comfort during cold winter nights.
But did you know that heat therapy can also offer relief for fibroids? In this section, we will explore the science behind using heat therapy for pain relief and how it can help shrink fibroids.
The Science Behind Using Heat Therapy For Pain Relief
Heat therapy works by improving blood circulation and relaxing the muscles, resulting in pain relief.
Applying heat to the affected area can help reduce muscle spasms and release tension.
Heat can stimulate the sensory receptors in the skin, distracting the brain from the sensation of pain.
It can also increase the threshold for pain perception, making the discomfort of fibroids more manageable.
How Heat Therapy Can Help Shrink Fibroids
Heat therapy can promote the shrinking of fibroids by improving blood flow to the affected area.
Increased blood circulation can help carry oxygen and nutrients to the fibroids, promoting their breakdown and eventual shrinkage.
The heat can also help soften the fibroids, making them more susceptible to natural processes that lead to their reduction in size.
Heat therapy can be used in conjunction with other treatments for fibroids, such as medication or surgery, to enhance their effectiveness.
Remember, while heat therapy can provide temporary relief for fibroids, it is important to consult with your healthcare provider for a comprehensive treatment plan.
Heat therapy should be used as a complementary approach and not as a sole treatment method.
Take care to avoid excessive heat or prolonged use of hot water bottles to prevent skin damage or burns.
So, if you're looking for a natural and non-invasive way to alleviate the pain and discomfort of fibroids, heat therapy may be an option worth exploring.
Its benefits in improving blood circulation, reducing muscle spasms, and promoting the shrinkage of fibroids make it an appealing choice for many individuals.
Just remember to consult with your healthcare provider to ensure that you are using heat therapy safely and effectively in your fibroid management plan.
Hot Water Bottle: An Effective Home Remedy For Fibroids
Fibroids are non-cancerous growths that develop in the uterus and can cause various symptoms such as heavy menstrual bleeding, pelvic pain, and pressure.
While medical treatments are available, some women prefer to explore natural remedies to alleviate their symptoms. One popular choice is using a hot water bottle for heat therapy.
In this section, we will explore why the hot water bottle is a popular choice for heat therapy and how to use it effectively for fibroid shrinkage.
Why Hot Water Bottle Is A Popular Choice For Heat Therapy
Heat therapy has long been used as a natural remedy to relieve pain and promote healing.
When it comes to fibroids, applying heat to the pelvic area can help reduce discomfort and improve blood circulation.
Here are the key points to consider:
Heat application can relax the muscles in the pelvic area, providing relief from pain and cramping caused by fibroids.
Increased blood flow to the uterus and surrounding tissues can help in reducing inflammation and promoting the healing process.
Heat therapy is non-invasive and can be easily administered at home, making it a convenient option for many women.
How To Use A Hot Water Bottle For Fibroid Shrinkage Effectively
Using a hot water bottle properly is crucial to maximize its benefits for fibroid shrinkage.
Here are the steps to follow:
Prepare the hot water bottle: Begin by filling the hot water bottle with hot (but not boiling) water. Avoid using boiling water to prevent scalding.
Test the temperature: Before applying the hot water bottle to your abdomen, test the temperature on a small area of your skin to ensure it is comfortable and not too hot.
Position yourself comfortably: Find a comfortable position, either lying down or sitting up, where you can easily apply the hot water bottle to your lower abdomen.
Apply the hot water bottle: Place a towel or fabric barrier between the hot water bottle and your skin to prevent direct contact. Then, gently position the hot water bottle on your lower abdomen, covering the area where you feel the most discomfort.
Relax and enjoy the heat: Allow the hot water bottle to provide heat therapy for at least 15-20 minutes. During this time, try to relax and find comfort in the soothing warmth.
Repeat as needed: You can use the hot water bottle multiple times throughout the day as needed to relieve pain and promote relaxation.
Remember to be cautious when using a hot water bottle and always follow the manufacturer's instructions.
If you experience any discomfort or if your symptoms worsen, consult with a healthcare professional for further guidance.
A hot water bottle can be an effective home remedy for fibroids by providing heat therapy.
By understanding why the hot water bottle is a popular choice and how to use it effectively, you can take steps towards managing your fibroid symptoms naturally.
Give it a try and see if this simple yet soothing method brings you the relief you seek.
Other Natural Remedies To Enhance The Effects Of Heat Therapy
Heat therapy using hot water bottles is often recommended as a natural remedy for managing fibroids.
While hot water bottles can provide relief from symptoms such as pain and discomfort, they may not directly shrink fibroids.
However, there are other natural remedies that can enhance the effects of heat therapy and support fibroid shrinkage.
In this section, we will explore two important aspects: diet and lifestyle changes, as well as herbal remedies and supplements.
Diet And Lifestyle Changes That Can Support Fibroid Shrinkage:
Increase your intake of fruits and vegetables: These food groups are rich in antioxidants, which help combat inflammation in the body. Opt for colorful fruits and vegetables such as berries, spinach, kale, and sweet potatoes.
Choose organic foods: Pesticides and hormones present in conventionally grown foods can disrupt hormone balance, potentially aggravating fibroid growth. By opting for organic foods, you can minimize exposure to these harmful substances.
Reduce consumption of processed foods: Processed foods often contain additives, preservatives, and unhealthy fats that can contribute to hormonal imbalances. Instead, focus on whole foods such as lean proteins, whole grains, and healthy fats.
Avoid excessive alcohol consumption: Alcohol can interfere with liver function and contribute to hormonal imbalances. Limit alcohol intake or avoid it altogether to support your body's natural healing processes.
Manage stress levels: High stress levels can impact hormone production and exacerbate fibroid symptoms. Incorporate stress management techniques such as meditation, yoga, or deep breathing exercises into your daily routine.
Stay physically active: Regular exercise can help regulate hormone levels, improve blood circulation, and promote overall well-being. Aim for at least 30 minutes of moderate-intensity exercise most days of the week.
Herbal Remedies And Supplements For Fibroid Management:
Chaste tree berry (vitex): This herb is known for balancing hormone levels and reducing estrogen dominance, which can be beneficial for fibroid shrinkage.
Milk thistle: Milk thistle is a liver-supporting herb that can aid in detoxification, potentially reducing the burden on the liver and promoting hormonal balance.
Green tea: Rich in antioxidants, green tea has anti-inflammatory properties and may help reduce fibroid size. However, limit your consumption to 2-3 cups a day to avoid excessive caffeine intake.
Turmeric: Turmeric contains curcumin, a compound with anti-inflammatory properties. Incorporating turmeric into your diet or taking curcumin supplements can help reduce inflammation associated with fibroids.
Black cohosh: Black cohosh has been traditionally used to alleviate menopausal symptoms and may also help manage fibroid symptoms due to its hormone-regulating properties.
Dong quai: This herb is commonly used in traditional chinese medicine to balance hormones and promote blood circulation, potentially helping with fibroid shrinkage.
Remember that it's important to consult with a healthcare professional or a qualified herbalist before starting any new diet, lifestyle changes, or supplements.
These natural remedies can complement heat therapy and may contribute to fibroid management and shrinkage over time.
Seek Professional Guidance For Fibroid Treatment Options
If you're experiencing symptoms of fibroids or have been diagnosed with this condition, it's essential to seek professional guidance and explore the various treatment options available.
While there are natural remedies like using hot water bottles that may provide temporary relief, consulting a doctor or healthcare professional is crucial for a comprehensive and personalized treatment plan.
They can guide you with expert knowledge and recommend the most appropriate treatment options based on your specific situation and the severity of your fibroids.
When To Consult A Doctor Or Healthcare Professional
It is important to consult a doctor or healthcare professional for fibroid treatment under the following circumstances:
Experiencing severe pain: If you are experiencing intense pain due to fibroids that interferes with your daily activities, it's recommended to seek immediate medical attention.
Heavy or prolonged menstrual bleeding: Fibroids can cause heavy or prolonged periods, leading to anemia or other complications. If you notice significant changes in your menstrual cycle, it's best to consult a healthcare professional.
Difficulty conceiving: Fibroids can affect fertility by interfering with the implantation of a fertilized egg or blocking the fallopian tubes. If you're having trouble getting pregnant, seeking medical advice can help identify if fibroids are the underlying cause.
Rapid increase in fibroid size: If you notice a sudden increase in the size of your fibroids or have concerns about their growth, it's essential to discuss these changes with a healthcare professional.
Worsening symptoms: If your fibroid symptoms are getting worse, causing discomfort, or affecting your quality of life, a doctor or healthcare professional can provide guidance and evaluate potential treatment options.
Other Medical Treatment Options For Fibroids And Their Pros And Cons
When it comes to fibroid treatment, several medical options are available.
Here are some common treatments recommended by healthcare professionals:
Medications:
Hormonal medications: Such as hormonal birth control pills or a progestin-releasing intrauterine device (iud), can help regulate menstrual bleeding and reduce fibroid size.
Gnrh agonists: These medications create a temporary menopause-like state, reducing fibroid size and alleviating symptoms. However, they are not suitable for long-term use due to potential side effects and a risk of bone density loss.
Non-invasive procedures:
Uterine artery embolization (uae): This procedure involves blocking the blood supply to the fibroids, causing them to shrink. It is a minimally invasive option, but it may not be suitable for all types and sizes of fibroids.
Magnetic resonance-guided focused ultrasound surgery (mrgfus): This non-invasive procedure uses high-intensity ultrasound waves to destroy fibroid tissue while leaving surrounding tissues unharmed. It can be effective for small to medium-sized fibroids.
Surgical options:
Myomectomy: This surgical procedure involves removing individual fibroids while leaving the uterus intact, making it a suitable option for those who wish to preserve their fertility.
Hysterectomy: In cases where fibroids cause severe symptoms or fertility is not a concern, a hysterectomy may be recommended. This involves the surgical removal of the uterus and is considered a definitive treatment for fibroids.
It is important to note that each treatment option has its own pros and cons, and the most suitable choice depends on individual circumstances.
Seeking professional guidance is crucial to determine the best treatment plan for your fibroids.
Always consult your healthcare professional to assess the risks, benefits, and potential complications associated with each option.
FAQ Aboout Can Hot Water Bottle Shrink Fibroids
Can Hot Water Bottles Help Shrink Fibroids?
Yes, hot water bottles can provide temporary relief from fibroid pain by improving blood circulation and reducing muscle tension.
How Does Heat Therapy Affect Fibroids?
Heat therapy helps relax uterine muscles, reduces pain and inflammation, and can temporarily alleviate symptoms associated with fibroids.
Is It Safe To Use Hot Water Bottles For Fibroids?
Using hot water bottles for fibroids is generally safe but should be done with caution. Always follow proper safety guidelines and consult a healthcare professional if in doubt.
Can Hot Water Bottles Eliminate Fibroids Completely?
No, hot water bottles cannot eliminate fibroids completely. They can only provide temporary relief from symptoms and help manage pain associated with fibroids
What Are Some Other Home Remedies For Fibroid Pain Relief?
In addition to hot water bottles, other home remedies for fibroid pain relief include applying a heating pad, taking over-the-counter pain medication, practicing relaxation techniques, and using herbal supplements.
However, consult a healthcare professional before trying any remedies.
Conclusion
While the use of hot water bottles may offer temporary relief for fibroid symptoms, it is important to note that they do not have the ability to shrink fibroids themselves.
Fibroids are non-cancerous growths that occur in the uterus, and their size is primarily influenced by hormones.
Hot water bottles can help alleviate symptoms such as cramps and discomfort by promoting relaxation and improved blood flow to the uterus.
However, it is crucial for individuals with fibroids to seek professional medical advice and explore appropriate treatment options.
This may include hormone therapy, surgical procedures, or other interventions tailored to the individual's specific needs.
Remember, always consult with a healthcare provider for a comprehensive evaluation and personalized treatment plan.