Can You Put Fizzy Drinks in a Plastic Water Bottle? Yes!
Yes, you can put fizzy drinks in a plastic water bottle, but it's important to ensure the bottle is designed to handle the pressure from carbonation.
Not all plastic water bottles are created equal; some may not withstand the pressure and could potentially burst or leak.
Carbonated beverages produce gas that can build up pressure inside a container. If a plastic water bottle is not specifically made to withstand this pressure, it may not be safe to use for storing fizzy drinks.
For instance, single-use plastic bottles that originally contained water or non-carbonated drinks might not be suitable for carbonation due to their thinner plastic and the potential for deformation or failure.
On the other hand, reusable plastic bottles made for carbonated drinks are thicker and more durable.
Here are some considerations:
Check the material: Ensure the plastic bottle is made from PET or another suitable material designed for carbonation.
Look for signs of wear: Repeated use can weaken the plastic, making it less safe for carbonated beverages.
Opt for commercial carbonation-safe bottles: These are specifically designed to handle the pressure and are a safer choice.
When opting to reuse plastic bottles for carbonated drinks, prioritize safety and sustainability. Choose high-quality, carbonation-safe bottles to enjoy your fizzy beverages without compromising on taste or environmental responsibility.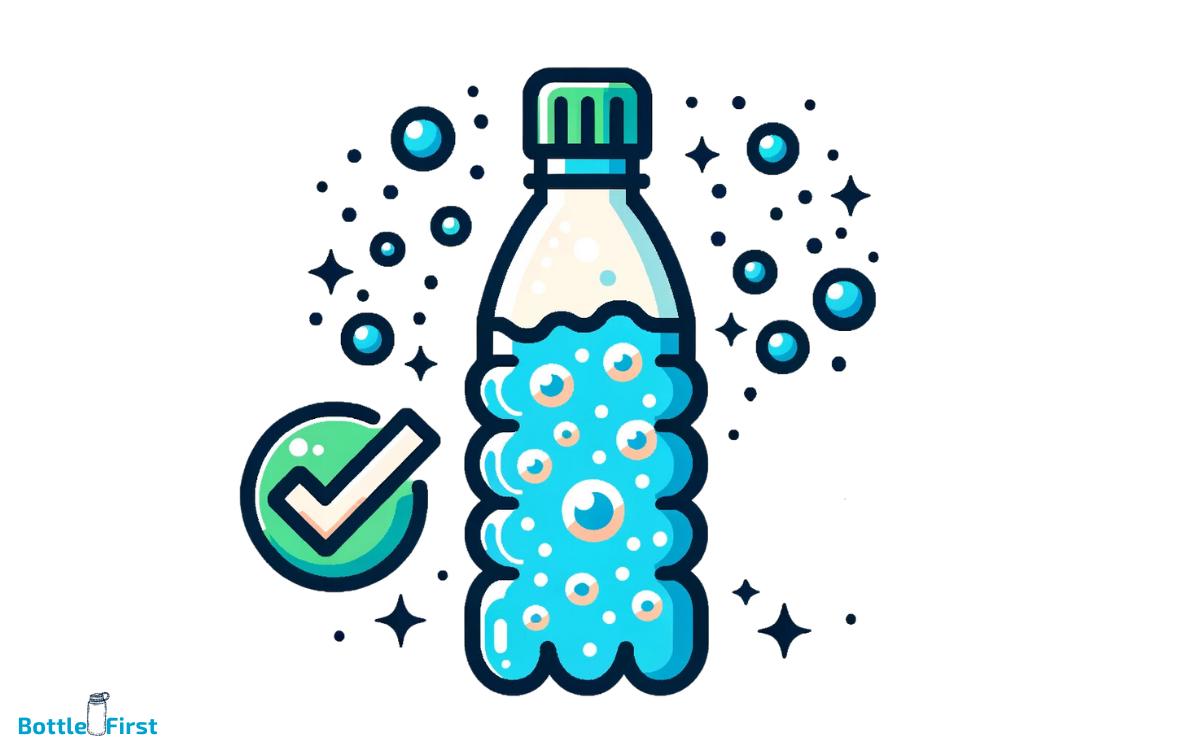 Key Takeaway
The design and material of the plastic bottle, as well as signs of wear, should be considered when choosing a bottle for fizzy drinks.
Plastic bottles may pose risks such as the potential leaching of chemicals and loss of carbonation over time due to gas permeation.
PET, HDPE, and Tritan plastic bottles are suitable options for maintaining carbonation and ensuring strength and durability.
Safely using plastic bottles for fizzy drinks involves selecting bottles specifically designed for carbonated beverages, avoiding reusing old or damaged bottles, and storing drinks in a cool place to maintain carbonation and prevent leaks.
Compatibility of Plastic With Carbonation
Discussing the compatibility of plastic with carbonation necessitates considering the potential risks and implications. Plastic bottles are widely used for containing carbonated beverages due to their lightweight and durable nature.
However, the carbonation process leads to increased pressure inside the bottle, which can result in the plastic leaching chemicals into the drink. This raises concerns about the safety and quality of the beverage.
Additionally, plastic bottles are permeable to gases, potentially allowing the carbonation to escape over time.
As a result, innovative approaches such as utilizing specialized barrier coatings or alternative materials like glass or stainless steel are being explored to address these challenges.
Understanding the interaction between plastic and carbonation is crucial in determining the suitability of plastic bottles for fizzy drinks.
Transitioning into the subsequent section, it is essential to delve into the potential risks of using plastic bottles.
Potential Risks of Using Plastic Bottles
Plastic bottles are susceptible to both leaching chemicals and allowing gas permeation, posing potential risks for containing fizzy drinks.
When considering the use of plastic bottles for carbonated beverages, it's crucial to be aware of the potential drawbacks.
Here are some risks associated with using plastic bottles for fizzy drinks:
Chemical Leaching: Plastic bottles can leach harmful chemicals, such as BPA and phthalates, into fizzy drinks, especially when exposed to heat or acidic beverages.
Gas Permeation: The porosity of plastic allows carbon dioxide to escape, leading to a loss of carbonation over time.
Potential Contamination: Plastic bottles are more prone to harboring bacteria and other contaminants, affecting the quality and safety of the fizzy drinks.
Environmental Impact: Single-use plastic bottles contribute to environmental pollution, prompting the need for sustainable packaging alternatives.
Best Types of Plastic Bottles for Carbonated Drinks
Selecting suitable polymer bottles is crucial for preserving carbonation in fizzy drinks.
When it comes to containing carbonated beverages, PET (polyethylene terephthalate) plastic bottles are the most commonly used due to their ability to withstand the pressure from carbonation.
These bottles are lightweight, durable, and have good barrier properties, making them ideal for maintaining the fizz in carbonated drinks.
Another suitable option is HDPE (high-density polyethylene) plastic bottles, known for their strength and resistance to chemical corrosion. Their robust nature helps to contain the pressure of carbonation effectively.
Additionally, Tritan plastic bottles are gaining popularity for their clarity, durability, and resistance to odor and stains, making them a reliable choice for preserving the effervescence of fizzy drinks.
When selecting plastic bottles for carbonated drinks, it is essential to prioritize materials that can uphold the beverage's carbonation levels effectively.
Tips for Safely Using Plastic Bottles for Fizzy Drinks
One important consideration when using plastic bottles for fizzy drinks is to ensure that they are specifically designed to withstand the pressure of carbonation.
To safely enjoy your fizzy drinks in plastic bottles, consider the following tips:
Use PET (polyethylene terephthalate) bottles designed for carbonated beverages, as they are engineered to handle the pressure.
Choose bottles with secure caps or closures to prevent leaks and maintain carbonation.
Avoid reusing old or damaged bottles, as they may be weakened and prone to bursting under pressure.
Store the fizzy drinks in a cool place to minimize the pressure build-up and prolong the carbonation.
Environmental Impact of Using Plastic for Carbonated Beverages
The environmental impact of utilizing plastic for carbonated beverages extends beyond the immediate concerns of bottle strength and carbonation retention.
While plastic bottles provide convenience and portability, they contribute significantly to environmental pollution and resource depletion.
The production of plastic bottles requires fossil fuels and results in greenhouse gas emissions, exacerbating climate change.
Moreover, the disposal of plastic bottles poses a major environmental threat, as they take hundreds of years to decompose and often end up in oceans and landfills, harming marine life and ecosystems.
To address this issue, innovative solutions such as biodegradable plastics and increased recycling efforts are being explored to minimize the environmental impact of using plastic for carbonated beverages.
It is imperative for the industry to prioritize sustainable packaging alternatives to mitigate the environmental consequences of plastic bottle usage.
Conclusion
In conclusion, while it is technically possible to put fizzy drinks in a plastic water bottle, there are potential risks and considerations to keep in mind. Using the right type of plastic bottle and following safety tips can help minimize these risks.
However, it is important to note that approximately 91% of plastic bottles are not recycled, contributing to environmental pollution. Consider using alternative, more sustainable options for carbonated beverages.
Frequently Asked Questions
Can I Reuse a Plastic Water Bottle for Carbonated Drinks?
Reusing a plastic water bottle for carbonated drinks can be risky due to potential pressure buildup.
Carbonation can weaken the bottle, leading to leakage or explosion. It's safer to use containers designed for carbonated beverages to prevent accidents.
How Long Can I Keep a Fizzy Drink in a Plastic Water Bottle Before It Goes Flat?
The effervescence of a fizzy drink in a plastic water bottle can be retained for up to 2-3 days if stored in optimal conditions. After this period, carbonation may diminish, affecting the drink's sensory experience.
Will the Taste of the Fizzy Drink Be Affected if It's Stored in a Plastic Water Bottle?
Storing fizzy drinks in plastic water bottles can alter the taste due to the permeability of plastic, affecting carbonation and flavor. Consider using airtight, non-reactive containers to maintain the drink's original taste and quality.
Can I Freeze a Plastic Water Bottle Filled With a Fizzy Drink?
Freezing a plastic water bottle filled with a fizzy drink can cause the carbonation to expand, potentially leading to the bottle bursting. This is due to the pressure build-up from the frozen carbon dioxide, posing a safety risk.
Are There Any Special Precautions I Should Take When Opening a Plastic Water Bottle Filled With a Carbonated Beverage?
When opening a plastic water bottle filled with a carbonated beverage, it's important to handle it with care. Due to the build-up of pressure, slowly release the cap to avoid spillage and be cautious of potential fizz.