Can You Spray Paint Glass Bottles? Yes, 9 Steps!
Yes, you can certainly spray paint glass bottles.
Using a proper technique and suitable material, such as enamel or acrylic paint, spray painting glass bottles can offer a quick way to give them a refreshing and stylish makeover.
Spray painting is a versatile technique that can be applied to various surfaces, including glass.
With the correct preparation and using paint specifically designed for glass, you can transform old, used glass bottles into decorative pieces, vases, or customized drink ware.
Always clean and dry the glass bottle before spray painting.
You need to choose a spray paint that is specially designed for glass surfaces.
It's essential to apply multiple thin coats instead of one thick coat for better results.
After painting, it's recommended to let the painted glass item cure for at least 24 hours.
Spray painting glass bottles is not only a creative way to upcycle used bottles but also a cost-effective method to add a personal touch to your home decor.
Just remember to prep the glass surface properly and use the right type of paint for a sleek, professional finish.
Spray Painting Glass Bottles: Step by Step Instructions
| Steps | Instructions | Required Materials |
| --- | --- | --- |
| 1. | Clean the bottle thoroughly | Dish soap, Warm water, Towel |
| 2. | Dry the bottle completely | Towel, Air dry |
| 3. | Apply a base coat (optional) | Base coat spray paint |
| 4. | Spray paint the bottle | Spray paint of desired color |
| 5. | Let the paint dry | None |
| 6. | Apply a second coat (if desired) | Same spray paint |
| 7. | Let the second coat dry | None |
| 8. | Seal the paint (optional) | Clear sealant spray |
| 9. | Let the sealant dry | None |
Spray Painting Glass Bottles: Step by Step Instructions
Key Takeaway
Glass bottles can be successfully painted with spray paint, providing a new use for old bottles and a fun opportunity for craft projects.
The surface of the glass bottle should be clean and dry before applying spray paint.
Using a primer before spray painting can help the paint adhere better to the glass surface.
Spray painting glass bottles can transform them into decorative items like vases, candle holders, or even light fixtures.
Using different colors and finishes of spray paint can result in a wide variety of artistic and aesthetic effects on glass bottles.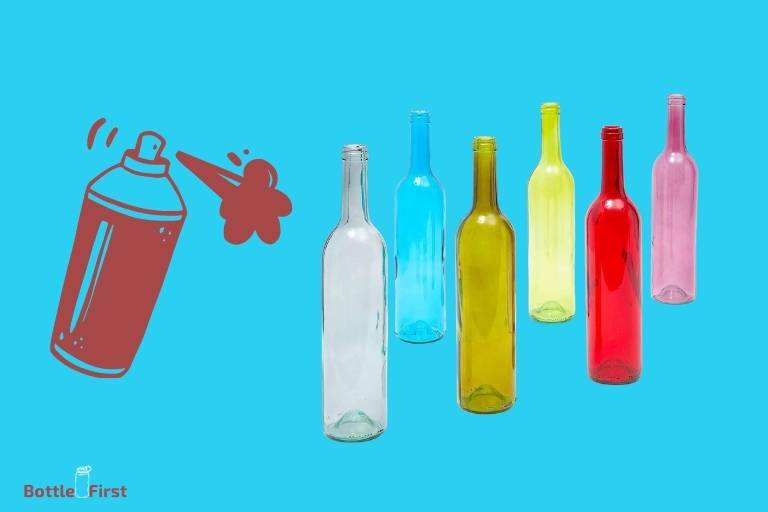 Five Facts About Spray Painting Glass Bottles
Spray painting glass bottles is a sustainable way to reuse and recycle old bottles. This reduces waste and can add a personal touch to your home decor.
While regular spray paint can be used on glass bottles, there are also speciality glass paints available which are formulated to adhere better to smooth surfaces. This can result in a more durable and long lasting finish.
To achieve the best results, spray paint should be applied in multiple thin layers rather than one thick layer. This prevents the paint from dripping and creating an uneven surface.
You can create interesting effects by masking areas of the glass bottle before spray painting. Once the paint is dry, removing the mask will reveal a pattern or design in the original glass color.
Spray painting glass bottles is not food-safe unless a food-safe sealant is applied over the paint. However, painted glass bottles can be used for storing non-edible items or for purely decorative purposes.
Choosing The Right Spray Paint For Glass Bottles
Can You Spray Paint Glass Bottles
Considerations For Selecting The Appropriate Spray Paint
Adhesion: Look for spray paints specifically designed for glass surfaces. These paints have better adhesion properties and are formulated to adhere well to glass without peeling or chipping.
Transparency: Decide whether you want the paint to be opaque or translucent on the glass surface. Some spray paints are more transparent, allowing the glass to show through, while others provide a solid opaque finish.
Drying time: Consider the drying time of the spray paint you choose. Quick-drying paints can be more convenient, especially if you're working on multiple bottles or need to handle them soon after painting.
Coverage: Check the spray paint's coverage capabilities to ensure you have enough paint to cover your bottles fully. It's essential to have even coverage to achieve a professional-looking finish.
Durability: If you plan to use or display the painted bottles outdoors or in high traffic areas, opt for spray paints that offer durability and uv protection. This will help prevent the paint from fading or deteriorating over time.
Understanding Different Types Of Spray Paint Finishes For Glass Bottles
Gloss: This finish offers a shiny and reflective surface, adding a sleek and modern touch to glass bottles. It's an excellent choice for creating a polished and vibrant look.
Matte: Matte finishes provide a non-reflective and smooth surface. They give a subtle and sophisticated appearance to glass bottles, perfect for achieving an understated elegance.
Satin: Satin finishes fall between glossy and matte, offering a soft sheen that is less reflective than gloss but more than matte. The result is a refined and slightly lustrous look for your glass bottles.
Metallic: Metallic spray paints contain fine metallic particles that create a shimmering effect on the glass surface. They add a touch of glamour and can be used to create stunning decorative accents.
Translucent: These spray paints create a stained glass effect, allowing light to pass through the painted glass bottles. They are perfect for adding a colorful and ethereal touch to your creations.
Preparing Glass Bottles For Spray Painting
Can You Spray Paint Glass Bottles?
Cleaning And Removing Labels From Glass Bottles
Fill a sink or basin with warm water and add a few drops of dish soap.
Place the glass bottles in the soapy water and let them soak for about 15-20 minutes to loosen the labels.
After soaking, use a sponge or a scrub brush to gently scrub off the labels. You can also use a razor blade to scrape off any stubborn residue.
Rinse the bottles with clean water to wash away any soap residue.
Finally, dry the bottles completely with a clean cloth or let them air dry.
Sanding Or Etching Glass Surfaces For Better Adhesion
Sanding: Use fine-grit sandpaper (around 320 to 400 grit) to lightly sand the glass surface. This will create tiny scratches that will help the paint adhere better. Make sure to wipe away any dust or debris before painting.
Etching: Etching the glass surface with a glass etching cream can provide an even better surface for the paint to stick to. Apply the cream according to the manufacturer's instructions, let it sit for the recommended time, and then rinse it off thoroughly.
Techniques For Spray Painting Glass Bottles
Proper Spraying Distance And Angle
Maintain a distance of 6-8 inches between the spray nozzle and the glass bottle to ensure even coverage.
Hold the bottle at a slight angle while spraying to prevent drips and pooling of paint.
Move the spray can smoothly and steadily across the surface of the bottle to avoid overspraying in one area.
Avoiding Drips And Uneven Coverage
Start by thoroughly cleaning the glass bottle to remove any dirt, grease, or labels that may interfere with the adhesion of the paint.
Apply a primer specifically designed for glass surfaces to create a smooth base for the paint.
Shake the spray can vigorously before use and periodically during spraying to prevent clogging and ensure consistent paint flow.
Use light coats of paint, allowing each coat to dry completely before applying the next, to avoid drips and ensure an even finish.
Rotate the bottle as you spray to ensure all sides are evenly covered.
Tips For Achieving Smooth And Professional-Looking Results
Choose a high-quality spray paint formulated for glass surfaces to ensure durability and a long-lasting finish.
Experiment with different paint finishes, such as matte, metallic, or glossy, to achieve the desired look.
Optional: Use stencils or masking tape to create patterns or designs on the glass bottle before spray painting.
Apply a clear top coat or sealer to protect the paint and increase its resistance to chipping or peeling.
Allow the painted bottle to dry completely in a well-ventilated area before handling or displaying.
Adding Creative Designs To Spray Painted Glass Bottles
Using Stencils Or Masking Tape For Patterns And Designs
Choose or create stencils: You can find a variety of pre-made stencils or create your own. Stencils with floral patterns, geometric shapes, or words are popular choices for glass bottle designs.
Secure the stencil or tape: Once you have selected your stencil or masking tape design, make sure it adheres firmly to the glass bottle. This will prevent any paint from seeping underneath, resulting in clean and crisp lines.
Spray paint carefully: Apply the spray paint evenly over the stencil or masking tape, making sure to cover the entire design area. Multiple light coats are usually better than one heavy coat.
Remove the stencil or tape: After the paint has dried, carefully remove the stencil or masking tape to reveal your beautifully designed glass bottle.
Incorporating Different Colors And Textures For Artistic Effects
Choose complementary colors: Select a color palette that complements each other to create an aesthetically pleasing contrast or blend. Look for color combinations that evoke the desired mood or theme of your design.
Experiment with textures: Besides using plain spray paint, consider adding additional texture to your glass bottles. You can use textured spray paints or even spray adhesive followed by sprinkling fine glitter, sand, or small decorative elements like beads or pearls.
Layer and blend colors: Apply multiple colors to your glass bottle in layers or use gradient effects to create depth and visual interest. Allow each layer to dry before adding the next, ensuring a clean application.
Add finishing touches: Once you are satisfied with the colors and textures, you can enhance your design further by adding details with paintbrushes or markers. This will give your spray painted glass bottle a unique and personalized touch.
Sealing And Caring For Spray Painted Glass Bottles
Applying A Protective Sealant To Prolong The Paint'S Durability
Choose the right sealant: Opt for a clear, glossy sealant specifically formulated for glass surfaces. Make sure it is compatible with the type of paint used on your glass bottles.
Preparation is key: Before applying the sealant, ensure that the spray paint has completely dried for at least 24 hours. Clean the surface with a lint-free cloth to remove any dust or residue, ensuring a smooth finish.
Apply in thin coats: Using even, sweeping motions, apply the sealant in thin coats, allowing each layer to dry completely before adding another. This technique will prevent excess product build-up and potential drips.
Allow proper curing time: Once you have applied the sealant, allow sufficient time for it to cure. Refer to the manufacturer's instructions for the recommended curing time to ensure optimal results.
Handle with care: After sealing, handle the spray-painted glass bottles gently to avoid impacting the integrity of the sealant. By doing so, you can extend the lifespan of your painted surface.
Tips For Cleaning And Maintaining The Spray-Painted Surface
Use gentle cleaning methods: When cleaning spray-painted glass bottles, avoid abrasive cleaners or rough scrub brushes, as they can damage the painted surface. Instead, use a mild soap or glass cleaner and a soft cloth to gently wipe away any dirt or fingerprints.
Avoid soaking or scrubbing: While cleaning, avoid soaking or submerging the spray-painted glass bottles in water for prolonged periods. Additionally, refrain from vigorous scrubbing, which can cause the paint to peel or fade prematurely.
Dry thoroughly: After cleaning, ensure that the glass bottles are dried thoroughly to prevent water spots or streaks. Use a soft, lint-free cloth to gently pat the surface dry, taking care not to rub too harshly.
Store with care: When not in use, store your spray-painted glass bottles in a safe place to minimize the risk of accidental damage. Consider using tissue paper or bubble wrap to protect the painted surface from any potential scratches.
FAQ About Can You Spray Paint Glass Bottles
Can You Spray Paint Glass Bottles?
Yes, you can spray paint glass bottles to give them a new look and add a personalized touch to your décor.
What Type Of Paint Do You Use On Glass Bottles?
For painting glass bottles, it is recommended to use enamel paint or acrylic paint specifically designed for glass surfaces.
Do You Need To Prepare Glass Bottles Before Painting?
Yes, it is important to clean the glass bottles thoroughly and remove any labels or residues before painting. You can use rubbing alcohol for better adhesion.
How Do You Spray Paint Glass Bottles Without Streaks?
To avoid streaks while spray painting glass bottles, make sure to apply thin and even coats with smooth and controlled movements.
Can You Use Regular Spray Paint On Glass Bottles?
Regular spray paint can adhere to glass bottles but may not provide a long-lasting finish. It is better to use paint formulated for glass surfaces.
Conclusion